Every week we're getting into and out of various asset classes like stocks, cryptos, gold, silver, precious metals, commodities, etc. with several strategies. Want to learn about these strategies, subscribe to our YouTube Channel. Let's have a look at this week's trades.
Betz
Ticker: BETZ
For Roundhill Sports Betting and iGaming ETF, we've moved our stop loss down to three and a half percent. So we've locked him free.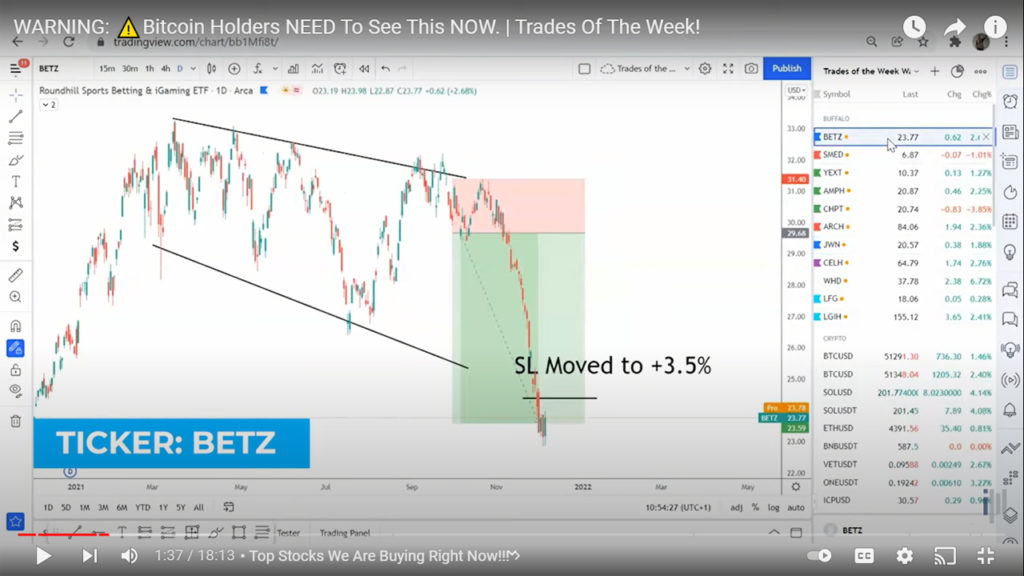 N

ordstrom
Ticker: JWN
For Nordstorm Inc., we've now moved our stop-loss down to three and a half percent.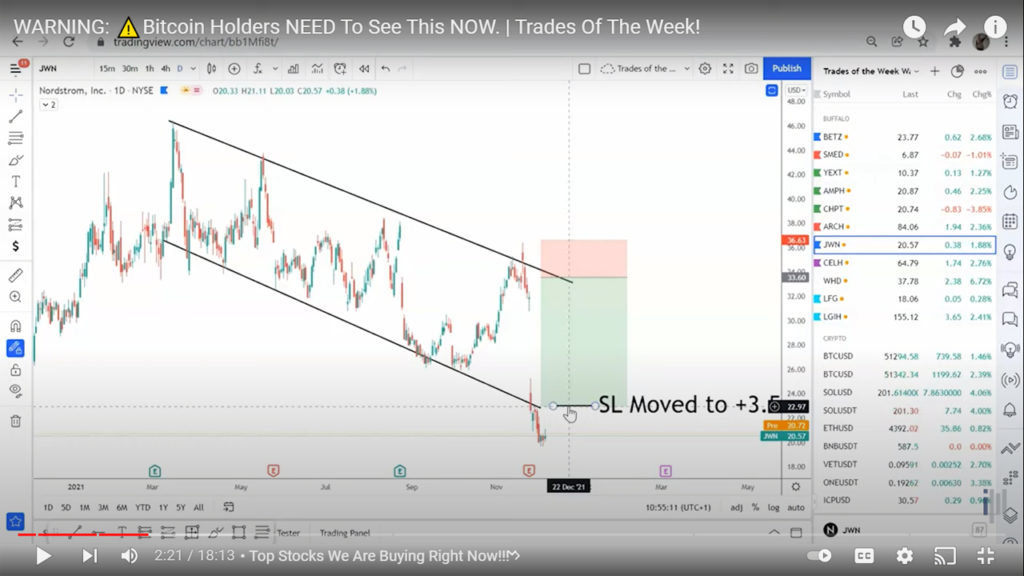 Yext
Ticker: YEXT
Here we've moved our stop loss to 3% and that 3% has now been a hit.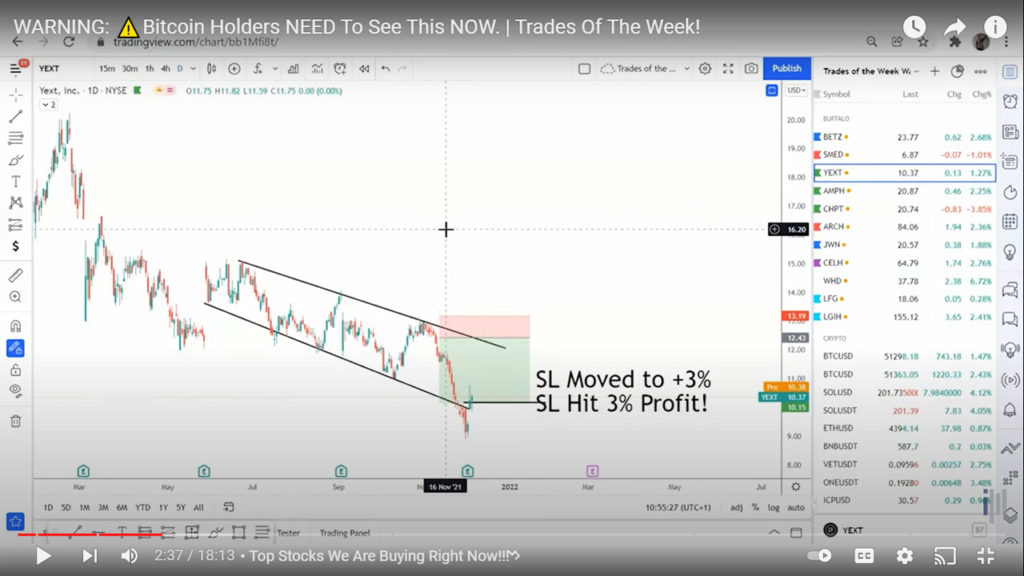 Golden Rule: Cut your losses short and allow your profits to run as long as possible.
Amphetamine
Ticker: AMPH
For Amphastar Pharmaceutical Inc., we've moved our stop-loss down to 1% and got triggered out over last few Days. This means, we have a 1% gain on that one.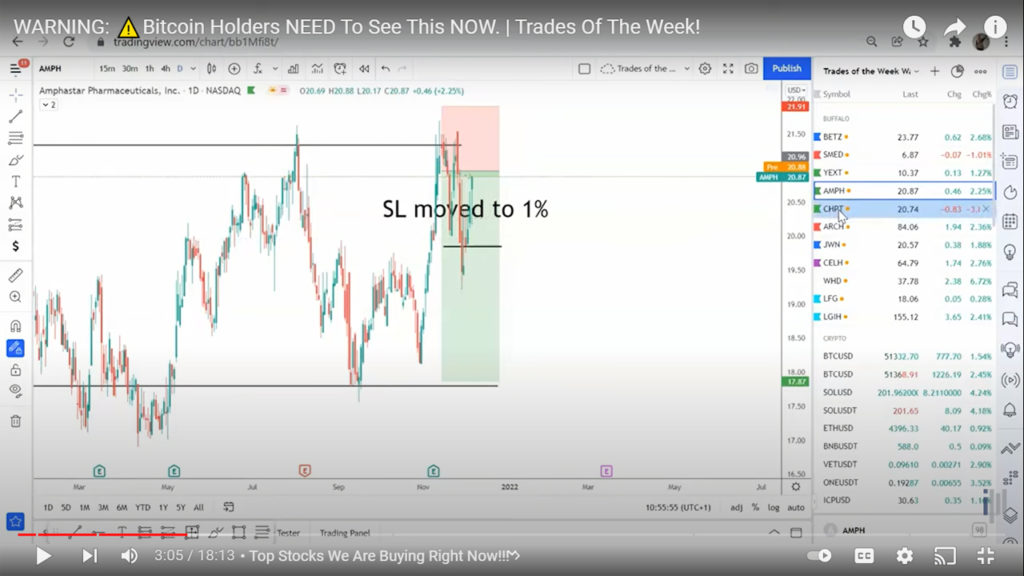 ChargePoint Holdings
Ticker: CHPT
For Chargepoint Holdings Inc., we've moved our stock down to 1% as well. This will make one realize the importance of having long positions and short positions. Since we haven't gone onto the long positions yet, we're assuming we've got some losses.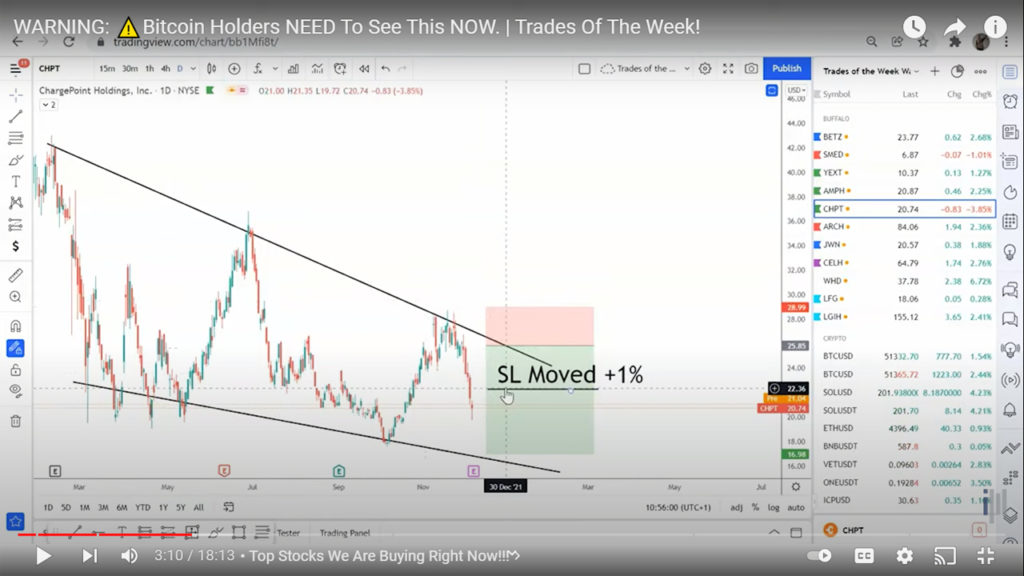 Sharps Compliance Corp.
Ticker: SMED
For Sharps Compliance Corp., we got triggered in and the market just turned against us. So, it's only a 1% loss for our portfolio.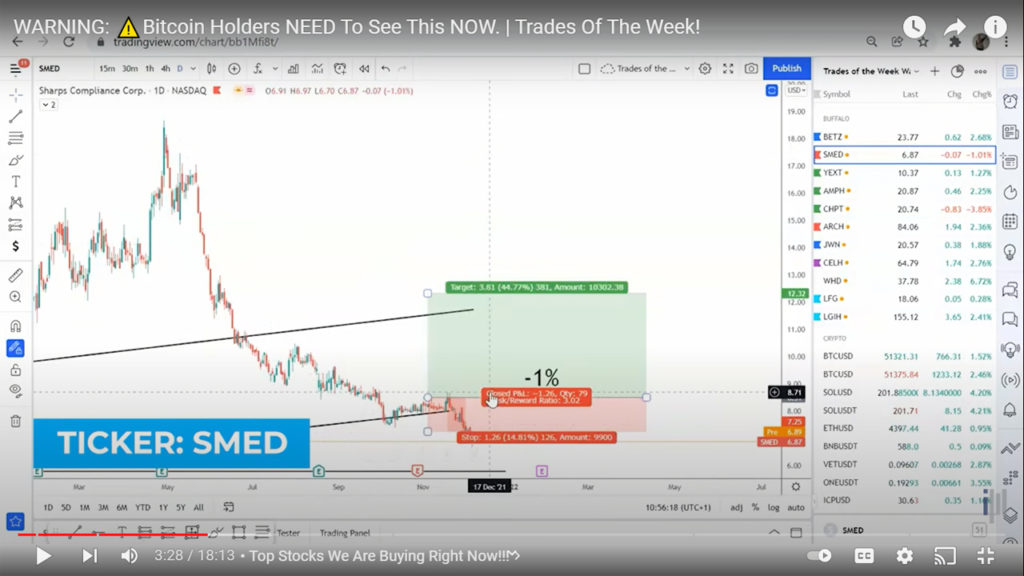 Arch Resources
Ticker: ARCH
For Arch Resources Inc., we got triggered in and we got our stop loss at 1%.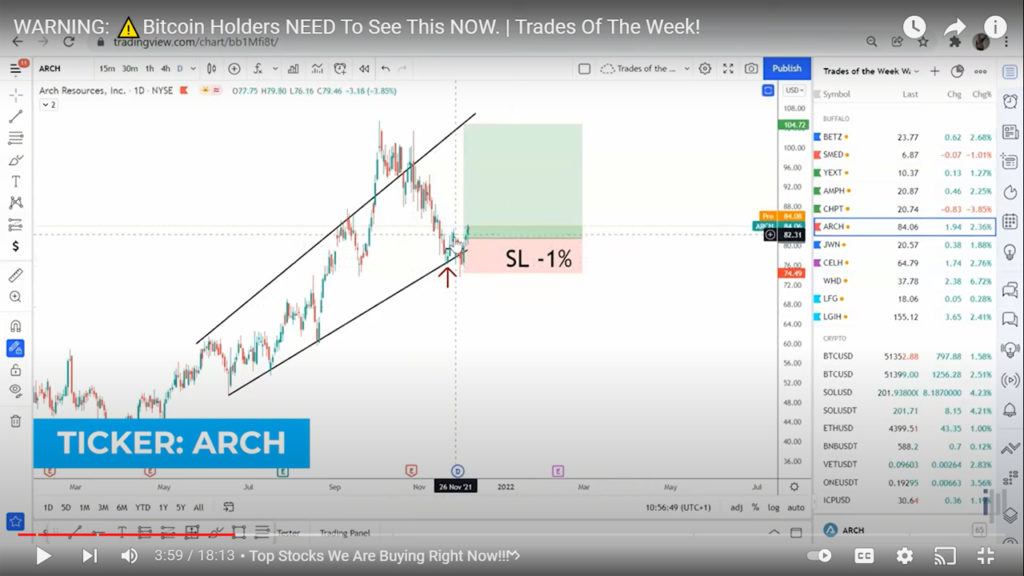 Market News
Due to the outburst of Omicron and the fear of another lockdown, oil prices continue to go lower. Also, oil prices will take a dip further because there's going to be an increase in supply of oil and the decrease in demand. You can also trade more for gold and silver because they are a safer bet during ETF.
New Cryptos
Archaea Energy Inc.
Ticker: LFG
Archaea Energy Inc., we have a nice upper strand and we've got free bounces where the market is making high after high. We are going to wait for a green candle just to represent buyers who can enter into the market.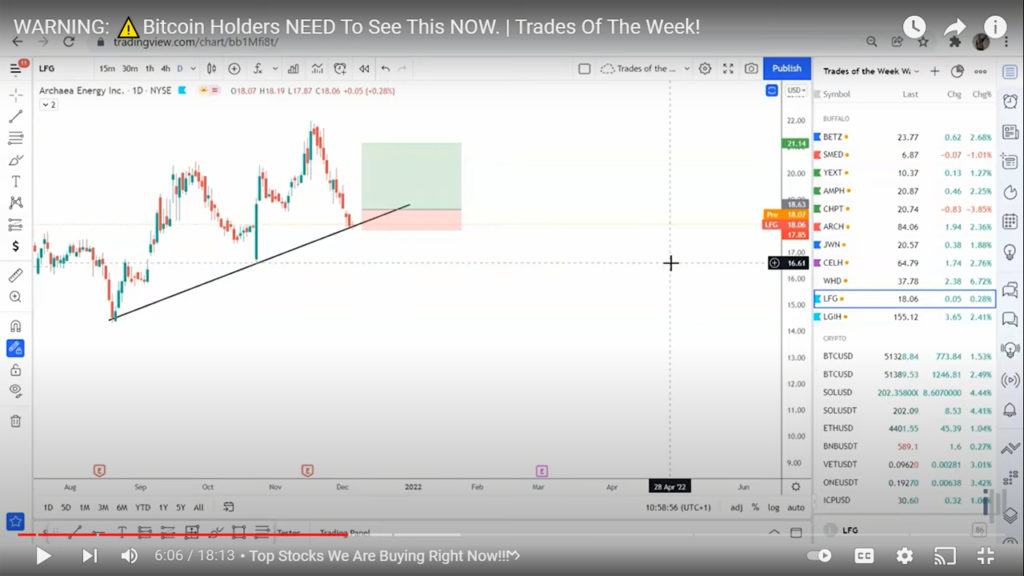 LGI Homes Inc.
Ticker: LGIH
For LGI Homes Inc., we are seeing a nice downward trend where the market is coming to our assistance to make new lows. So it's showing the strength in trend. We are waiting for a red candle here. This is a higher low which gets us in a slightly better at a higher price.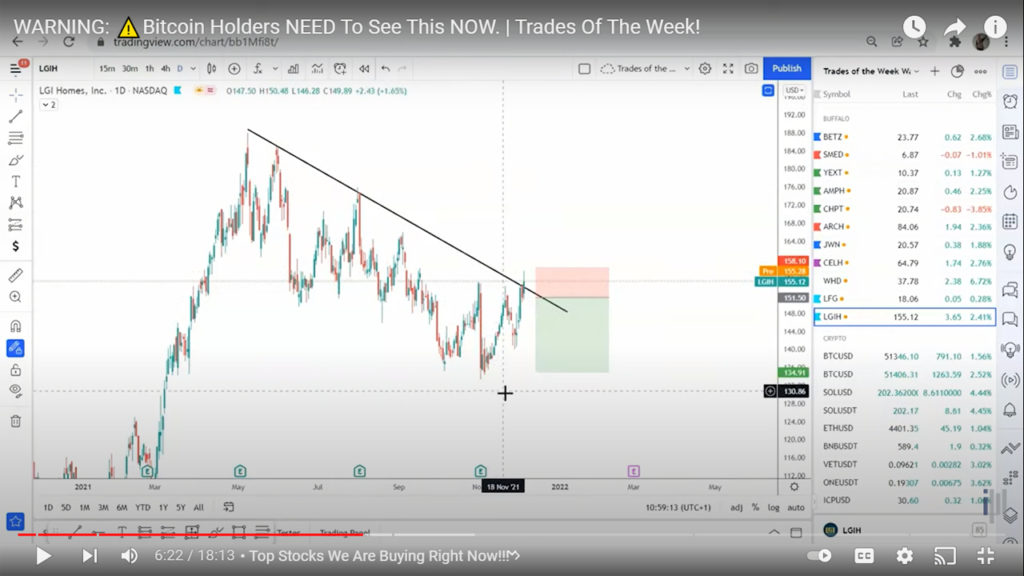 Bitcoin
Ticker: BTC
For Bitcoin, we went down to 42,000. We now have broken operas trending support. We're skyptical about this market now being deemed as bearish? We're not seeing a trade below these lows of 40,000 mark. We are still fairly bullish with Bitcoin and Yeoville crypto market which naturally cause a retracement. The market itself was overvalued. We needed see a drop in the market to entice big players in the game for buying cheaper Bitcoin.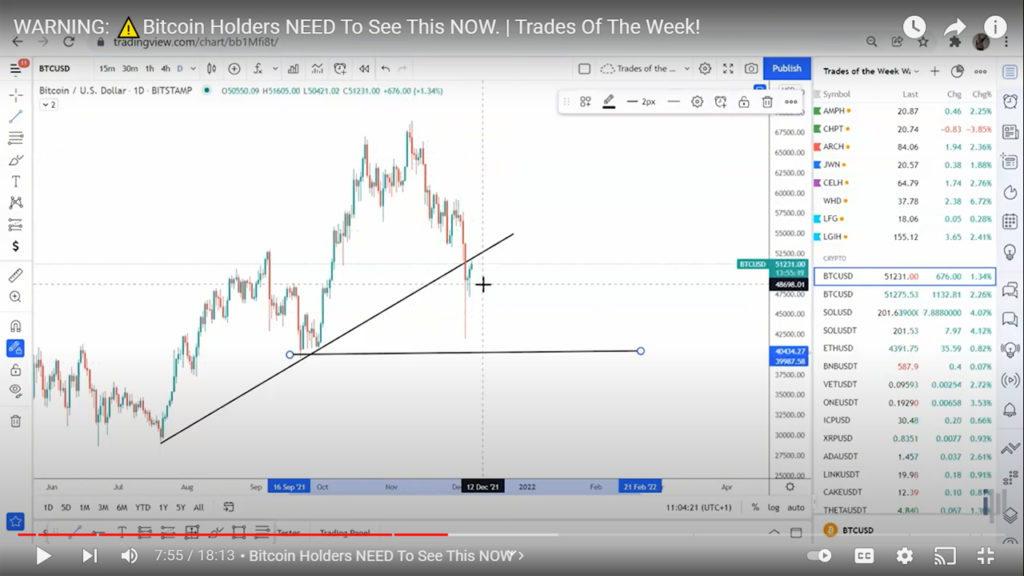 Polka DOT
Ticker: DOT
Polka Dot is allowing people to build on their ecosystem and invest onto their ecosystem. Since it is 53% down, it could be a good investment. At -56$, this has proved to be a real solid project to invest in.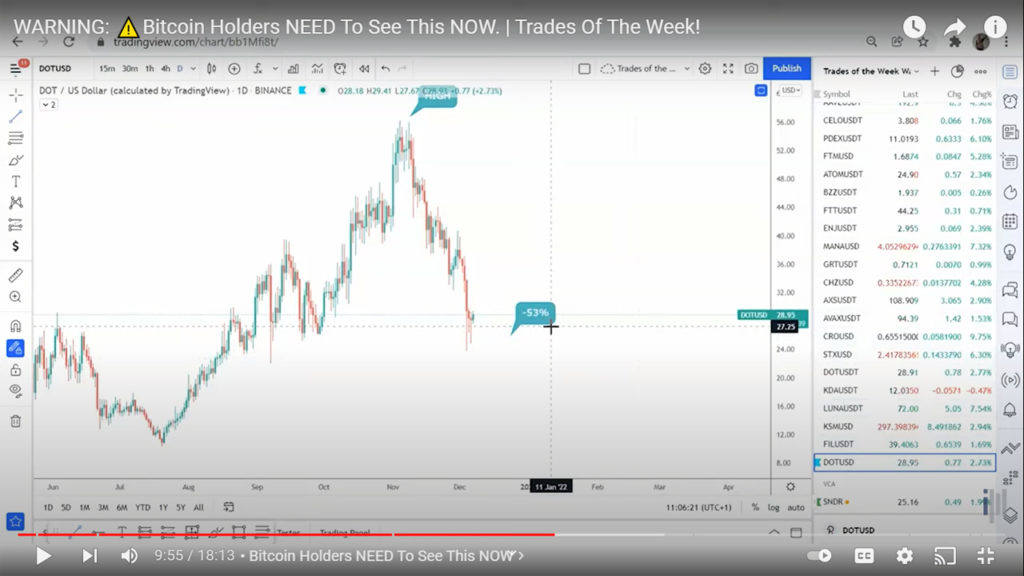 Schneider National Inc.
Ticker: SNDR
For Schneider National Inc., we've moved our stop-loss up to 20% and now have been triggered out.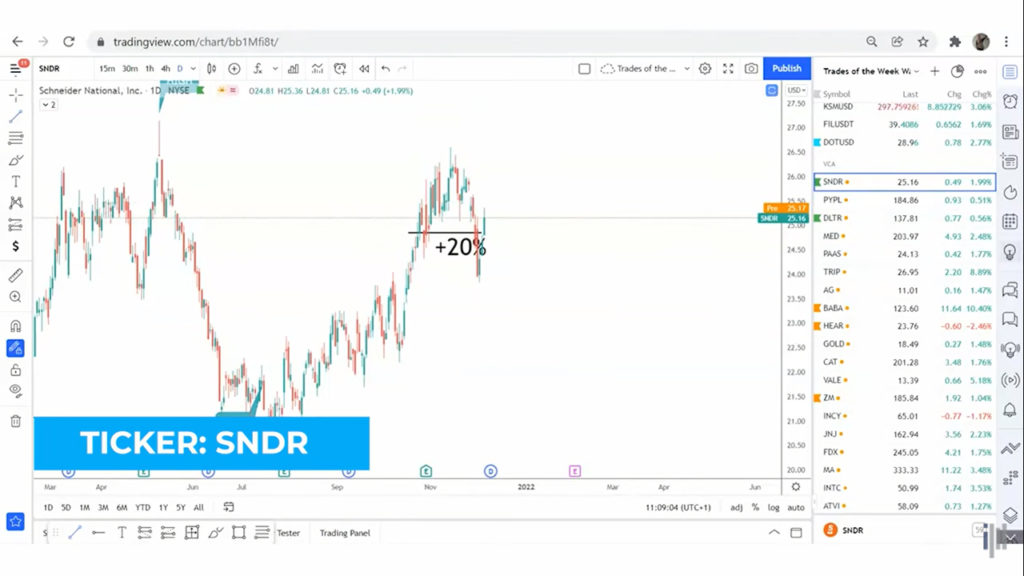 Dollar Tree
Ticker: DLTR
For Dollar Tree, we've moved our stop-loss to 50% and now have been triggered out.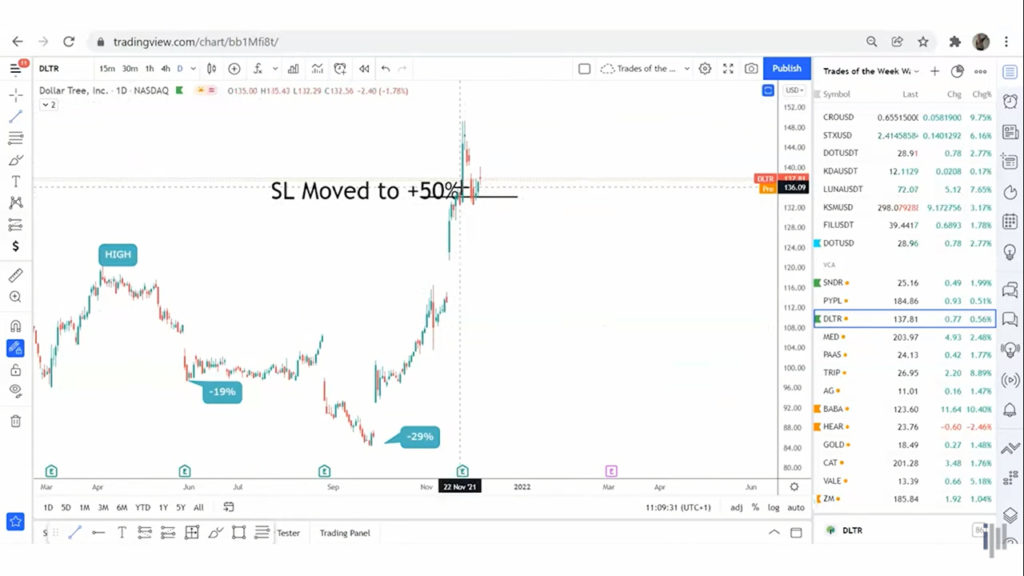 FAQ: Why don't shouldn't we just do cryptos?
Because when crypto start going down, we can't sell short. With Stocks, we can sell short. That's why it's so important to be hedged. You don't want to put all your eggs into one basket.
New Entries
Alibaba
Ticker: BABA
We've had Alibaba that we go in at 60% drop.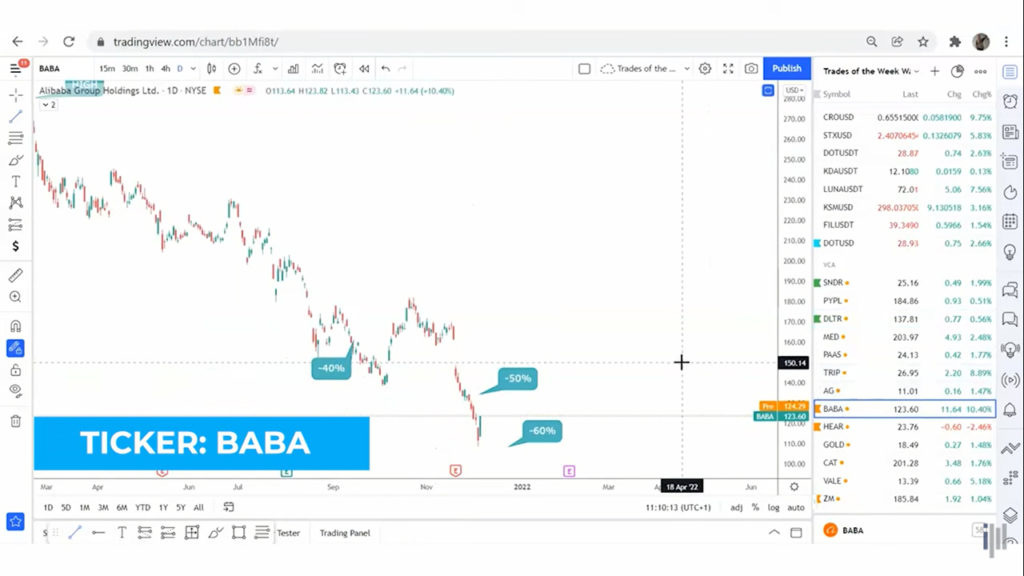 Turtle Beach Corp.
Ticker: HEAR
For Turtle Beach Corp., we've have gotten at 40% profit.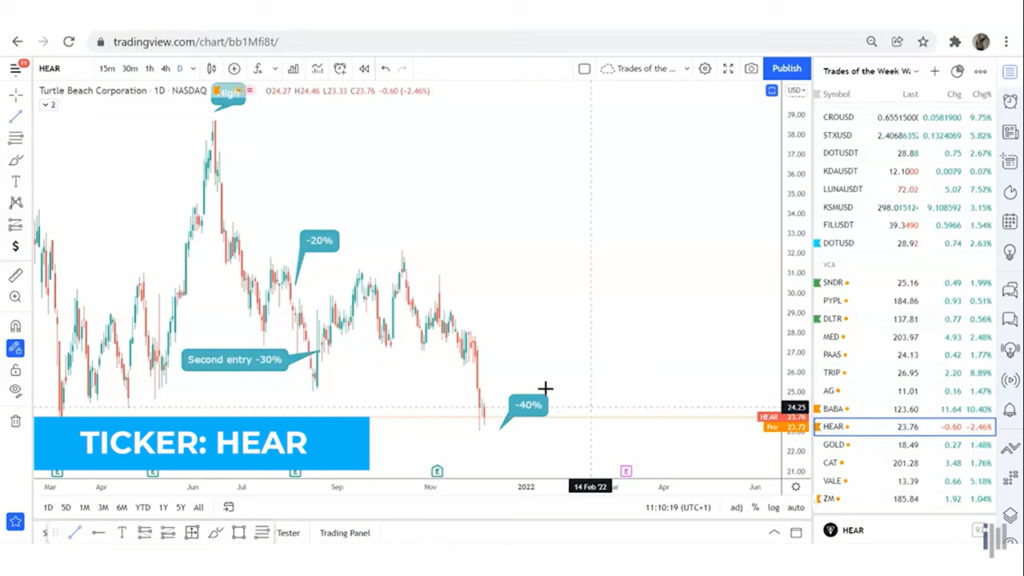 ZOOM
Ticker: ZM
For Zoom Video Communications, we've got in at 54% now on zoom.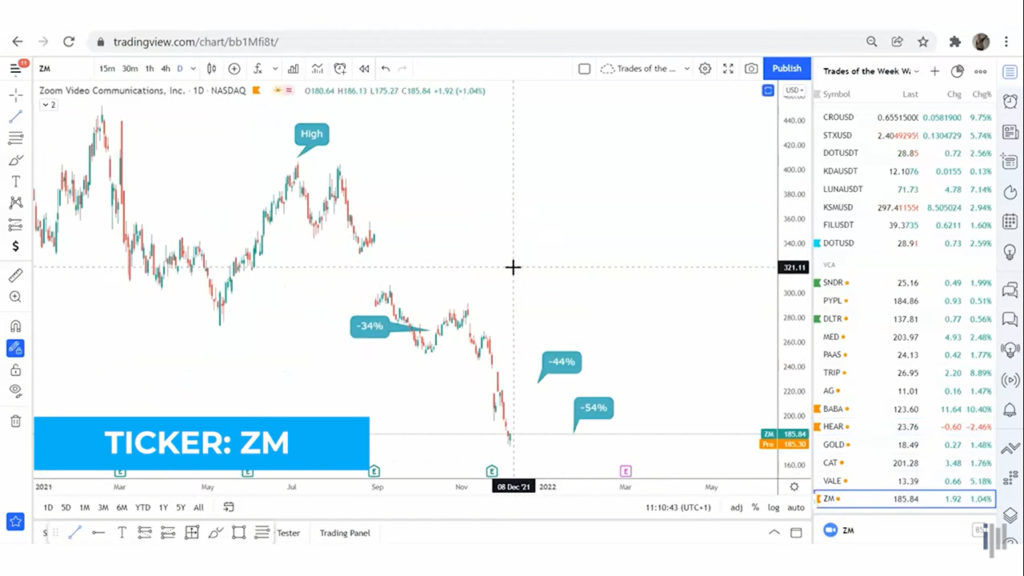 IBM
Ticker: IBM
IBM is the original blue chip company. It's minus 18% for this company.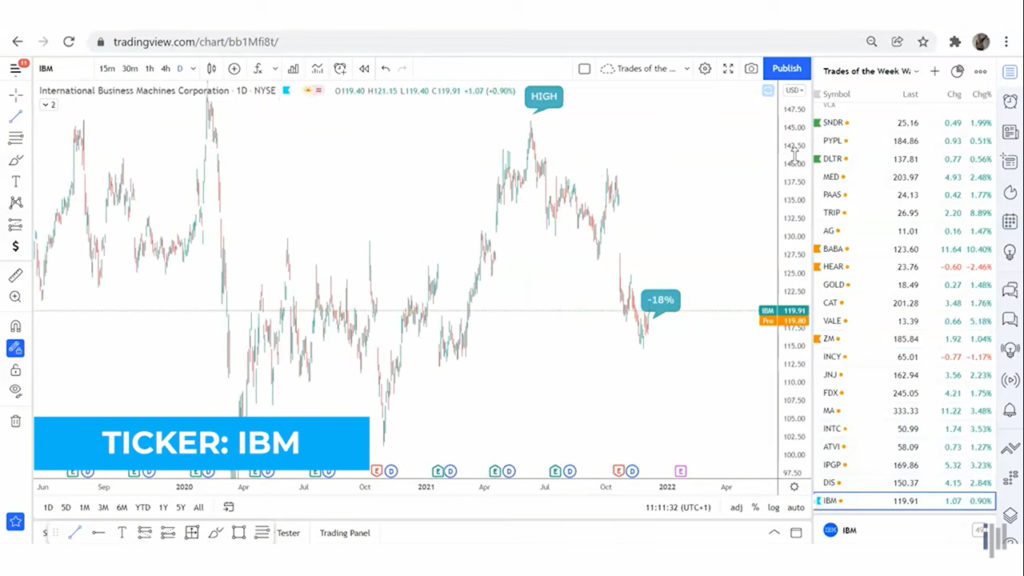 We always say that we'll get positive income, positive return on assets and positive earnings per share in the next five years. It's going to be very interesting. Obviously we're still in a lot of positions. So if you want to know how we're doing this or how are we getting these kinds of positive results with simple-to-use strategies that you can follow at home, make sure you don't miss the Facebook live on Wednesday 8th December at 6:00 PM. Gain further insights on trading, investing and mastering cryptocurrency. We'll also be giving out a lot of freebies for you all on the occasion of Christmas. So click here to access our Private Facebook Group and be involved in our Festive Facebook Live!
If you are a client of Investment Mastery, send us a mail at gabriella@investment-mastery.com to become the client of the week. It'll be an honour for us to have you featured on our Instagram where your progress will be shared to inspire others for investing and trading. It will make a huge difference in the life of others!
---
Not much of a reader? No problem, watch the video below: