Greedy Markets! Time for a pullback?
Stocks this week have been on a roller-coaster ride but we will be taking lots of profits. Let's take a deep dive into stocks and cryptos looking at how the market is behaving.
Roundhill Sports Betting and Gaming ETF (BETZ)
It is going down, so you can see with bets that the market is finally trading in our way. We have been waiting a long time for this moment where we get 1% profit. So we've reduced our stop loss down to breakeven, which means we now have a risk-free trade. If it continues to fall, we simply increase our stop loss lower.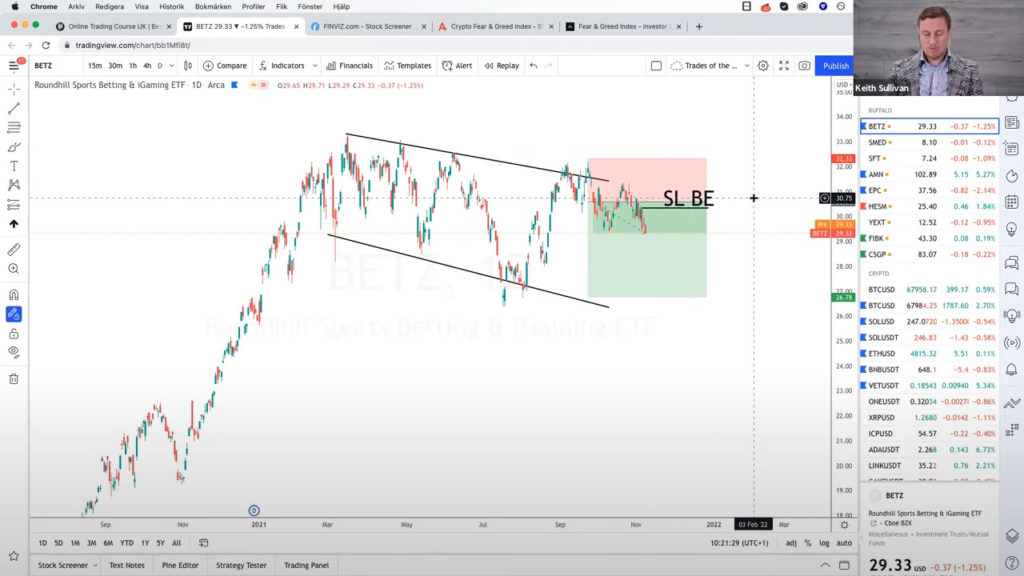 AMN Healthcare Services
We got a terrific trade here – the market triggered up and it fell during that next day, so we made 3% on it. This is the consequence or result of the earnings period when the market tends to gap and the market gapped in our direction this time. This is the power of having a take profit in place until it goes up in a few minutes. At this point, you remove it and replace it with a stop loss.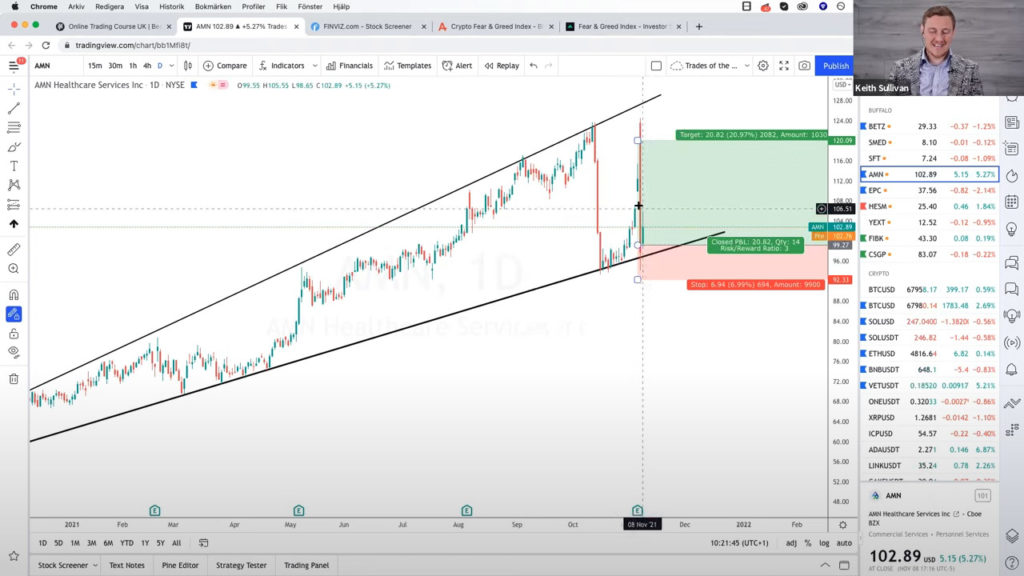 Golden Rule: Never chase a trade when it's not the right time. Wait for the right opportunity to strike!
AP EPC Edgewell Personal Care Company (EPC)
Here we have now reached our one-cent profit; therefore we've adjusted our stop loss to breakeven. Nonetheless, we've locked this in as a risk-free trade. However, keep in mind that earnings season is approaching, and the market may be prone to gapping. So setting your stop loss around break-even is the best strategy here!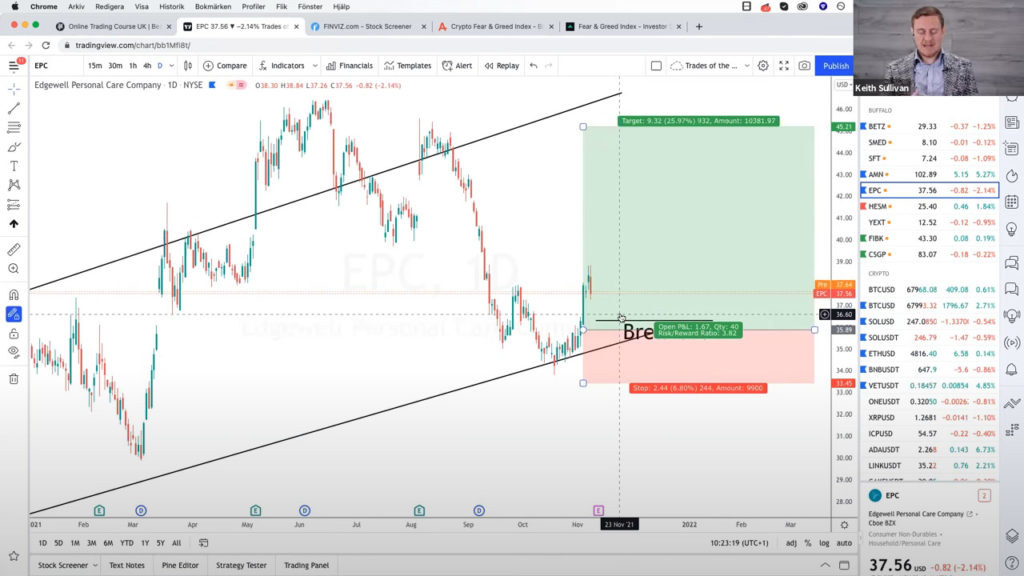 Hessem (HESM)
If the trade goes back down, you can go in or place an order around the entry point. If you are getting lower and putting the stop loss even lower, you're still in the game. Even if this looks like a terrific trade now, we're out with a 1% loss.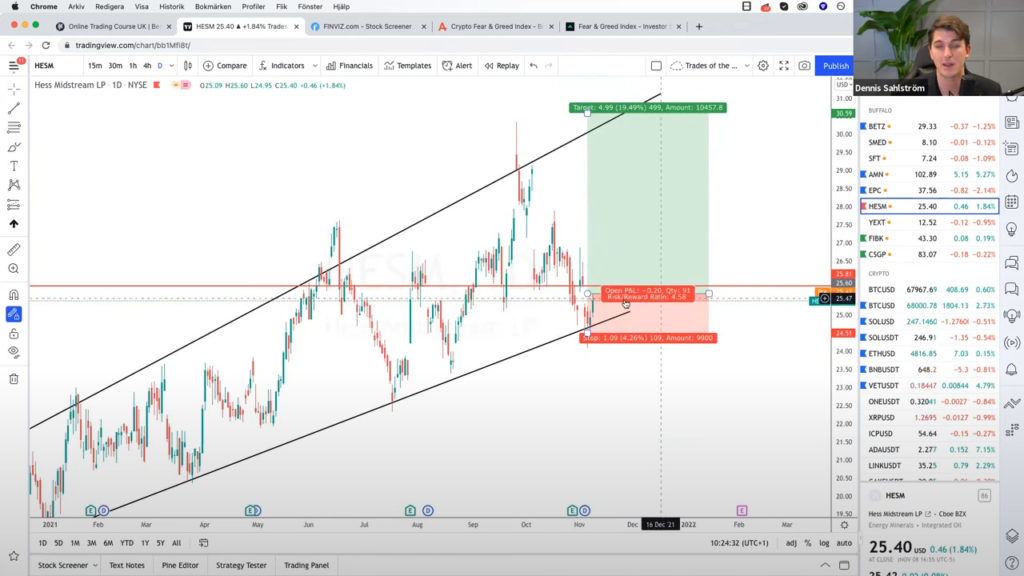 The Week's Result: We are up 2%, 3% win and 1% loss. That's the risk award ratio we made!
NASDAQ
NASDAQ created an all-time high. Dow Jones wants to do the same, and the S&P 500, which is made up of the 500 largest firms in America, is looking to do the same. So, if we look at the NASDAQ from a technical standpoint, we can see that the market is experiencing a normal downturn.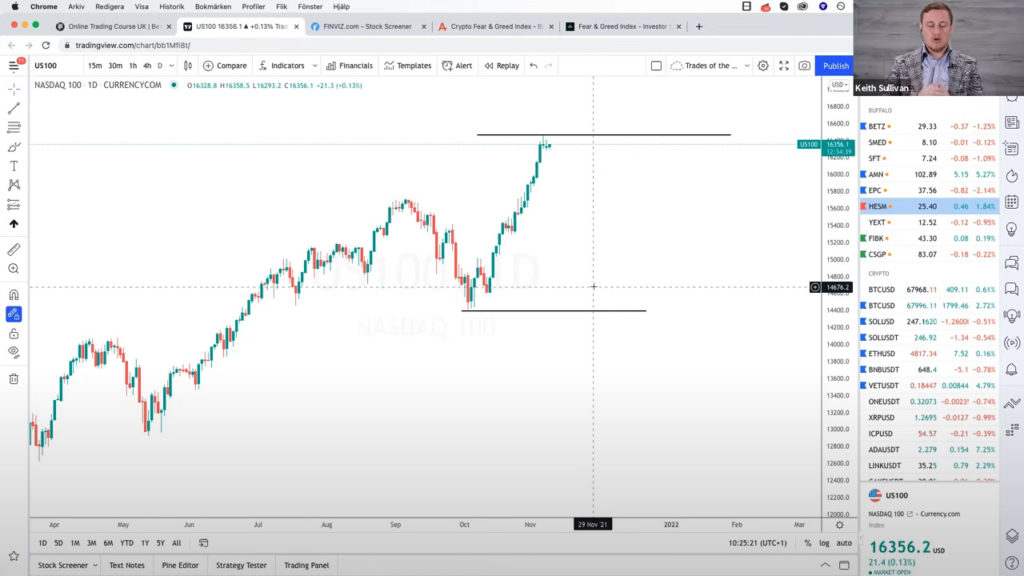 Market Hotshot News
The market can't be parabolic, which means it can't move in one direction all of the time; it has to move up, pull back, and continue higher. That's what we're seeing here – a slight pullback when the market will make another new high.
There are two major pieces of news coming out at the end of the week from the Fed. They're going to talk about:
#1 Inflation: how much does it cost to buy and use services in America?
#2 Tapering: How it is slowing down the stimulus packages?
If we look at the fear and greed cycle or index in the stocks we can see that the stock market is at extreme greed. Remember when others are greedy, we must be a bit more conservative in the way that we invest in trade by moving our stop losses to break even as quick as one percent profits, locking in profits with VCAs because with extreme greed we might see a sharp pullback in the market again.
Cryptos
We predicted that crypto would go to an all-time high, and then we got the slump. It is rightly said that that the supply of Bitcoin increases, but the fresh amount released from mining decreases. This creates scarcity in the market!
We're in the last two most bullish months, November and December, so who knows if it'll be more or less, but with that said, it's critical that we take money off the table. Prediction is such that it will rise to 70,000 by the end of the year, with others predicting 100,000. When we witness a pullback or retracement, we have another wonderful buying opportunity!
Crypto News: Market will try to push the mark of 70 – 80 thousand before the end of the year
We are marking these levels of 80-100 thousand because they're the Fibonacci numbers (mathematical formulas used in trading that dictate where we might or might not see resistance). This is the new territory where 80,000 and 100,000 would be the next two levels!
Bitcoin (BTC)
Bitcoin is currently at 100%, so we're taking another 50% off the table. With our CCA strategy, every time it reaches 50-100% or 150-200%, we're taking another 20% off the table.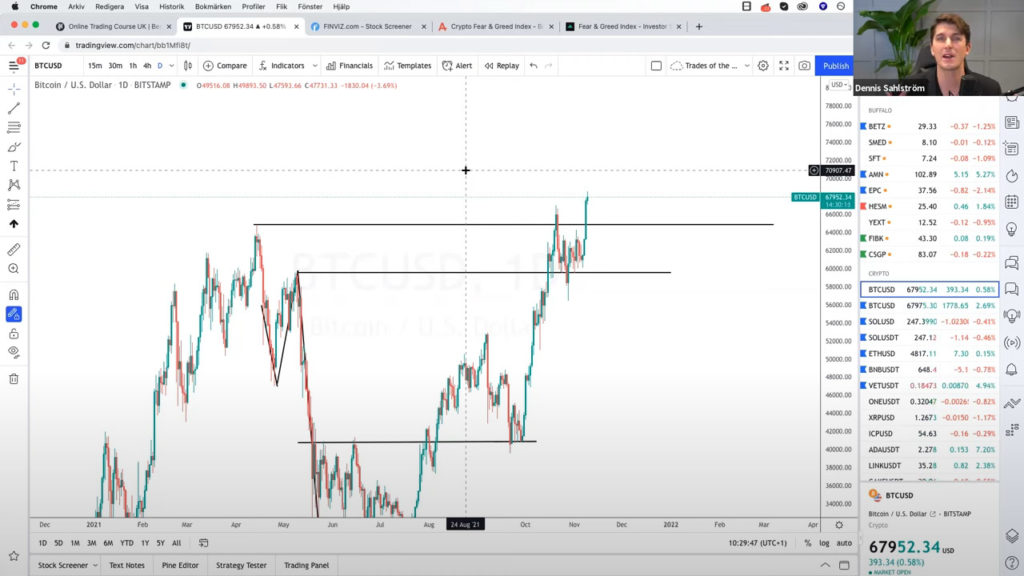 Solana (SOL)
We bought another one for Solana in September that went down to 32 and now we're up 50% with our CCA strategy. The one which we bought for Solana is up by 750. So we're taking another 100% off every time it reaches the 20 + 20 mark. This is the highest we can go!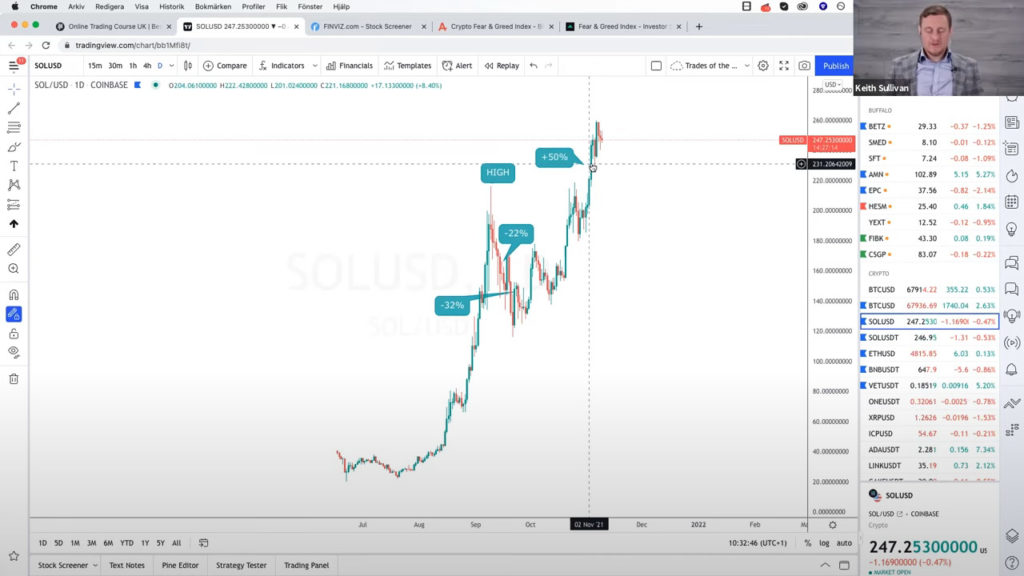 Avalanche (AVAX)
This is up 100 percent for the small caps.
Cardano (ADA)
Ada is finally going higher down 26% still so I think this is a sleeping giant. Make sure you do your research on this, so it is fairly safe to buy with the CCA strategy.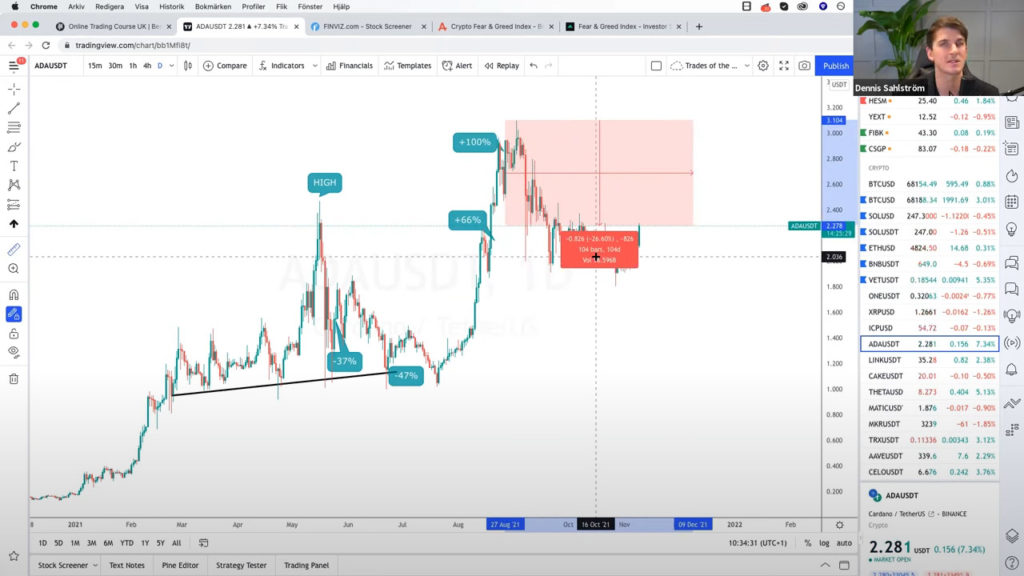 Ripple (XRP)
XRP hasn't broken out yet. From the peak, it's still down 36%, which is a significant loss from the top. A lot of cryptos have rebounded to establish those higher levels but XRP hasn't been updated in a long time.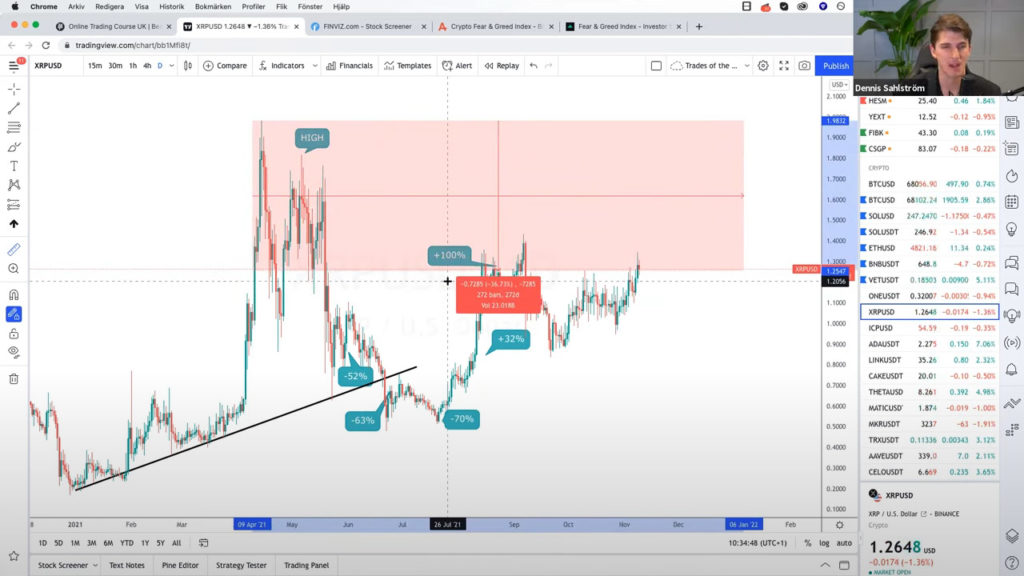 Mana (MANA)
This one went higher and has now dropped 46 percent. This is a great one to get as it's building a big metaverse.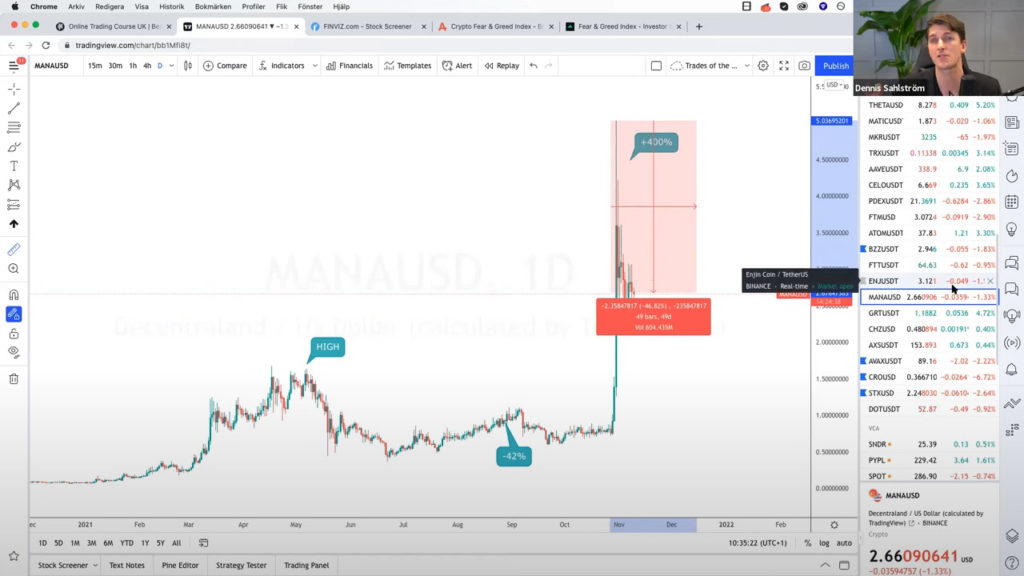 Paypal (PYPL)
PayPal is down quite a bit. If you are not into cryptos yet, do not invest in cryptos yet. This can prove to be a great way to diversify your crypto investments since it appears to be down in the pre-markets at the moment. After a 30% drop, make sure you have your order ready for you to enter on the way down here.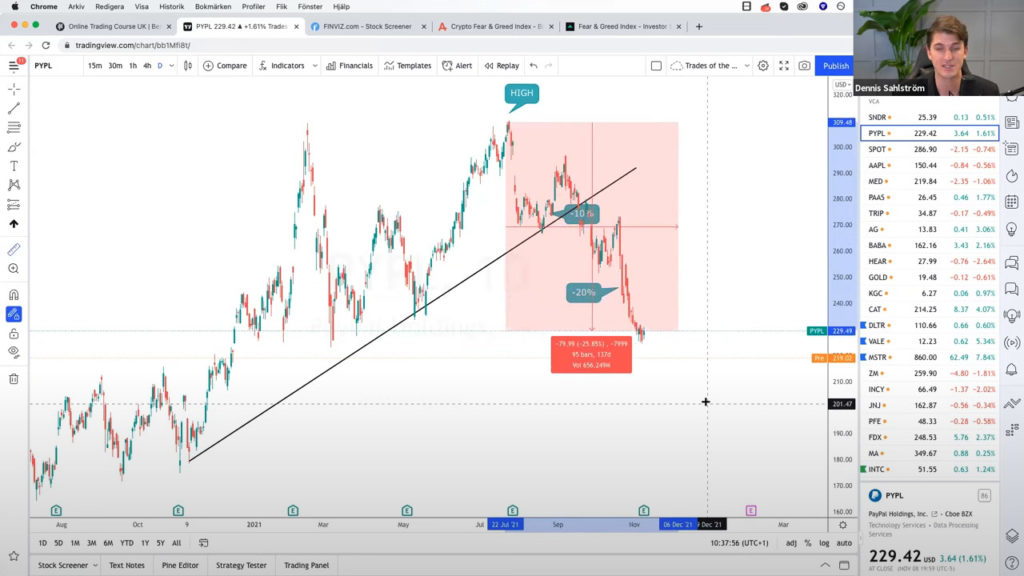 Silver Corporation
Great News is that we're about to break even on Silver Corp. and hopefully, it'll go higher. After looking at are our Dollar Tree, we made 20%. So now it's worth moving.
Vale S. A.
Vale is down by 47%, so we're performing a second entry there.
MicroStrategy Incorporated (MSTR)
Here we are putting a stop loss at around the 23% mark, just below this consolidation. MicroStrategy incorporated also encrypts us. They're one of the largest Bitcoin holders among companies, and Michael Sailor is the CEO. He just keeps buying and adding to his positions, just like Tesla.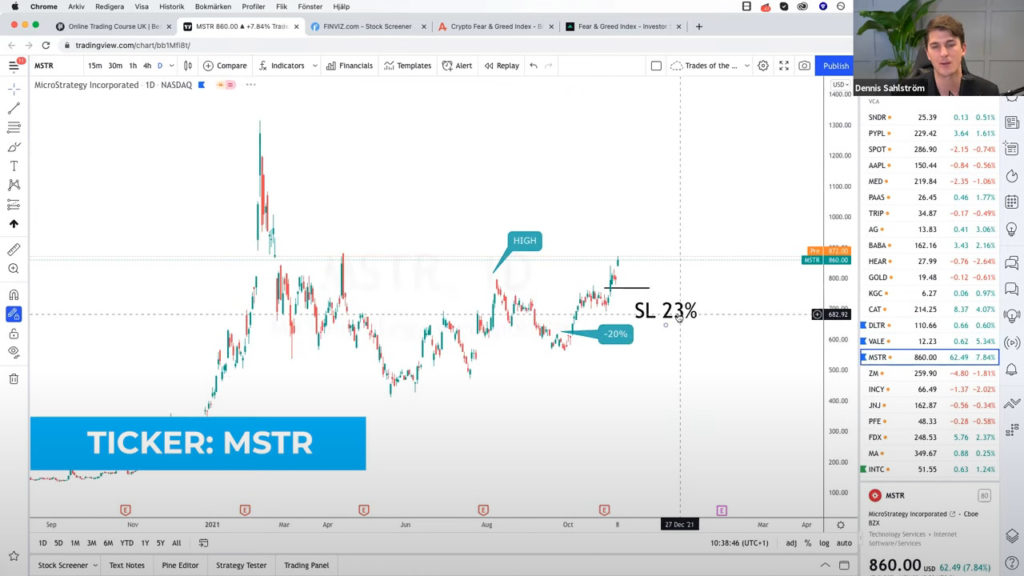 Pfizer, Inc. (PFE)
We are adding a stop loss here as we enter the 20% drop putting a stop loss at 15%.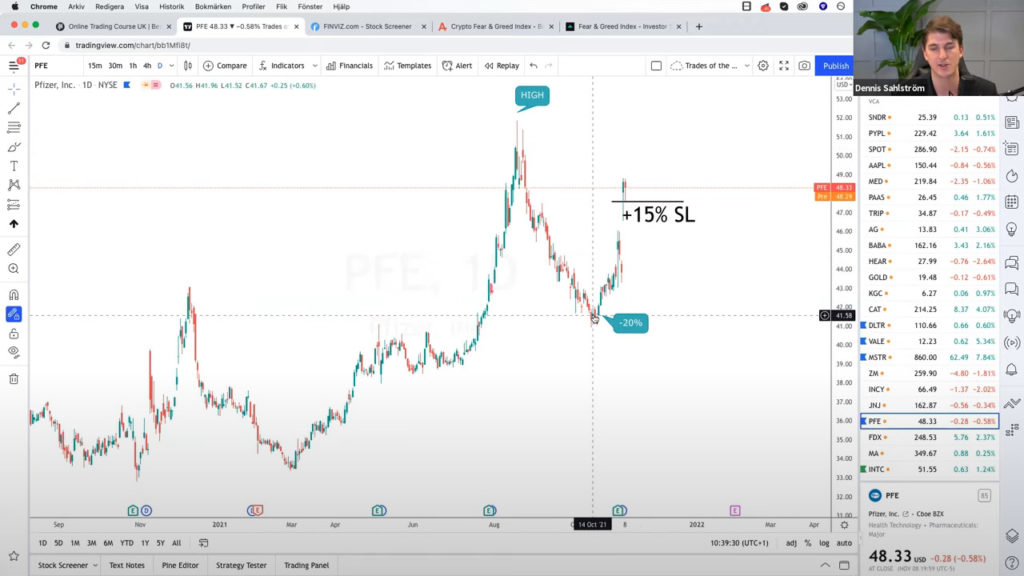 Intel Corporation (INTEL)
Intel is a globally recognised blue-chip business. It's a component of the S&P 500. It has a good market cap with good income over the last 12 months. It's overvalued as a company with a PEG ratio. We're seeing low debt here with a good current ratio at 2:1. This means they are doubling the amount of equity they are bringing in the next 12 months as compared to their debt. Here we are seeing really good earnings per share. Our return on assets equity investment indicator shows how good the company is at creating money inside itself.
We had a 24 percent dip with Intel, which means we can get into a company that is still reasonably valued and now becomes a bit cheaper for us to acquire. We can further get in on the low-end market and push up higher. If it drops more, we'll keep adding. There are two requirements for the visa – it must be a worldwide company and it must have diverse product lines.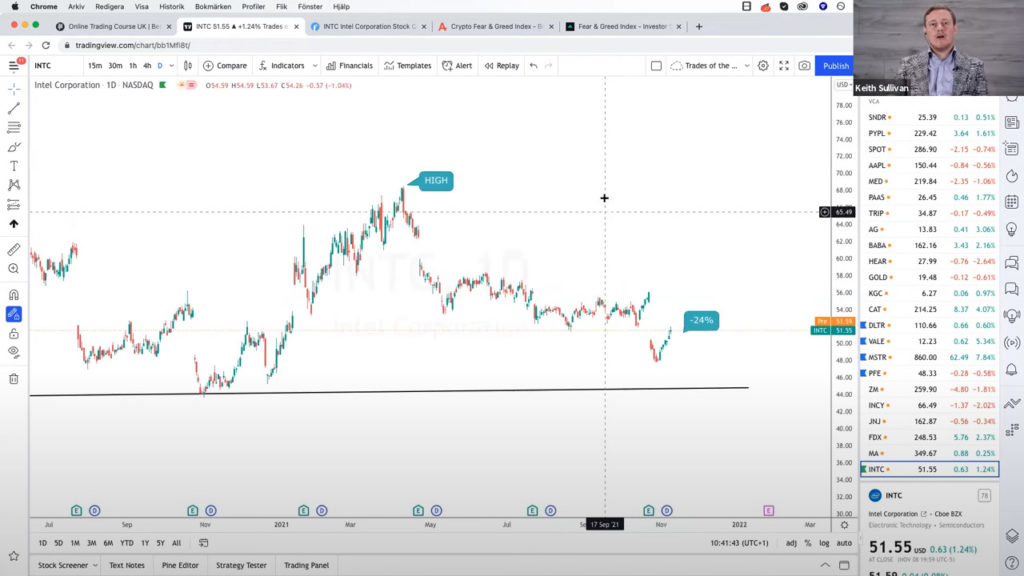 New Opportunities
First Interstate BancSystem, Inc (FINK)
This is the first time we've entered the Interstate BancSystem, and we're looking at the fact that we have a wonderful reversal candle here. The risk word ratio is above three or even five. This may be a terrific chance.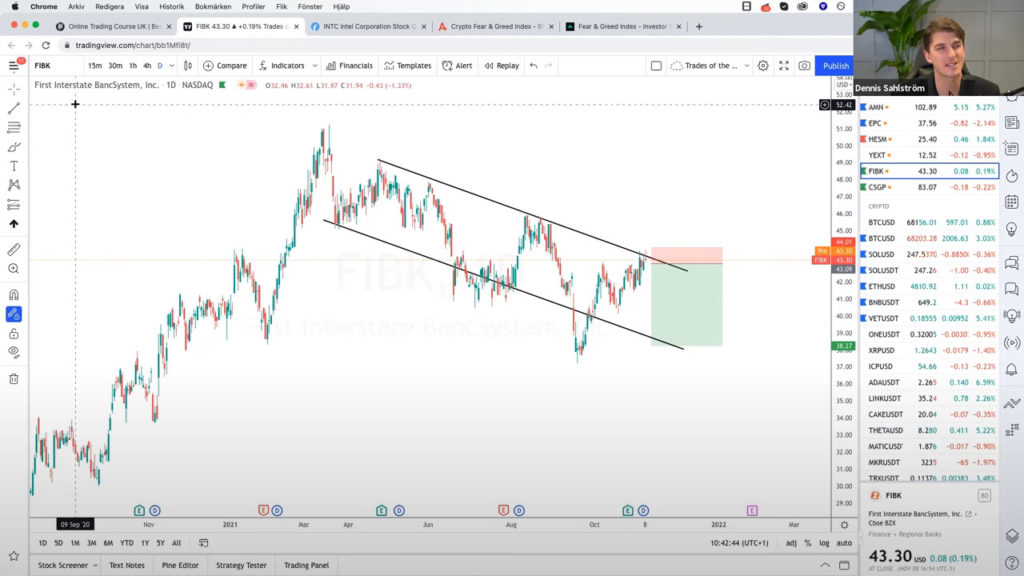 CoStar Group (COSTAR)
We've had a good drop in the market but with good earnings. Remember, we don't want any candles closing below, which we don't have at the moment.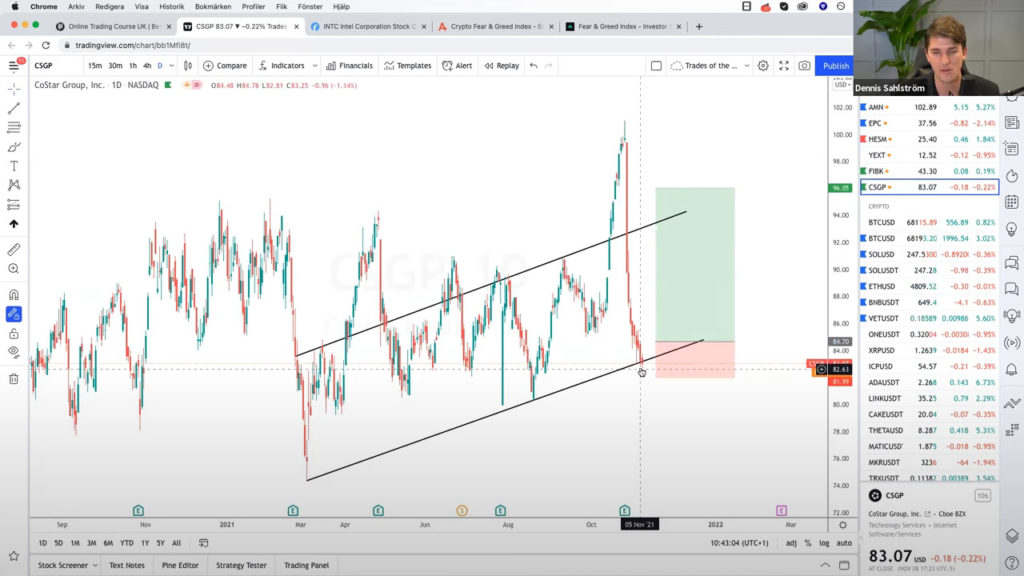 If you are a client of Investment Mastery, send an email to gabriella@investment-mastery.com to become the client of the week. It'll be an honour for us to have you featured on our Instagram where your progress will be shared to inspire others for investing and trading. It will make a huge difference in the life of others!
---
Not much of a reader? No problem, watch the video below: