We are super excited for 2022 and we're starting up in a great way. Since inflation goes up in December, a lot of companies sell shares or funds. They take this action because they want to earn well. They sell their losses in order to make sure they pay fewer taxes. What we're seeing in January usually is a January effect, where businesses start the buyback programs to build their positions again. So historically speaking, January has always been a very positive month. Let's see if that plays out this year as well. We are off to a good start here.
We will take you through what we're getting into and out of several asset classes and different strategies and show you our results as well.
STOCKS
ChargePoint Holdings Inc.,
Ticker: CHPT
For ChargePoint Holdings Inc., we all have our stop-loss at plus 2%. So if we get a few more bullish days, we will probably be going to be stopped out at plus 2%.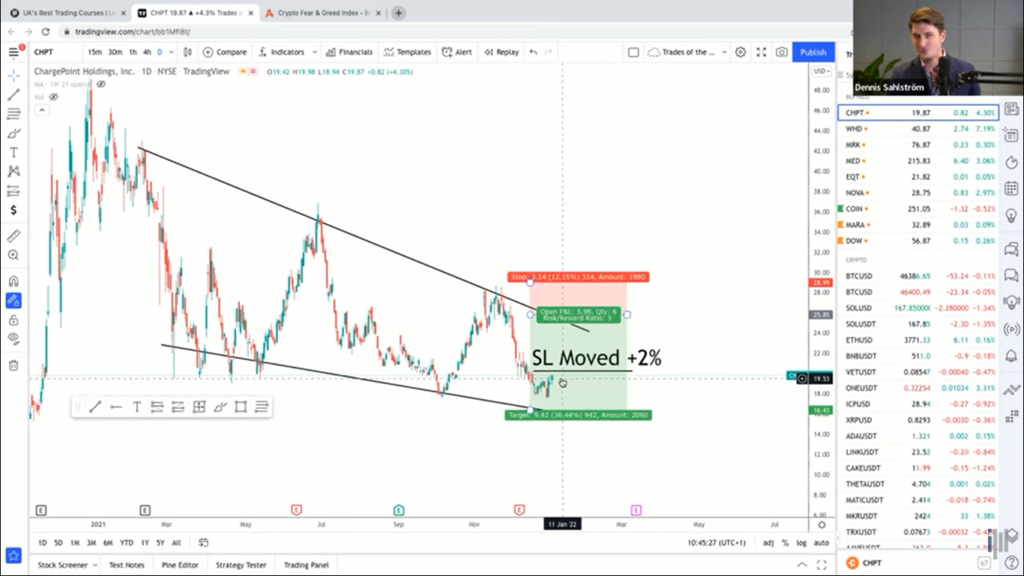 Cactus Inc.,
Ticker: WHD
For Cactus Inc., we've got a big green candle. We have moved our stop loss to break even to make sure we don't have any losses.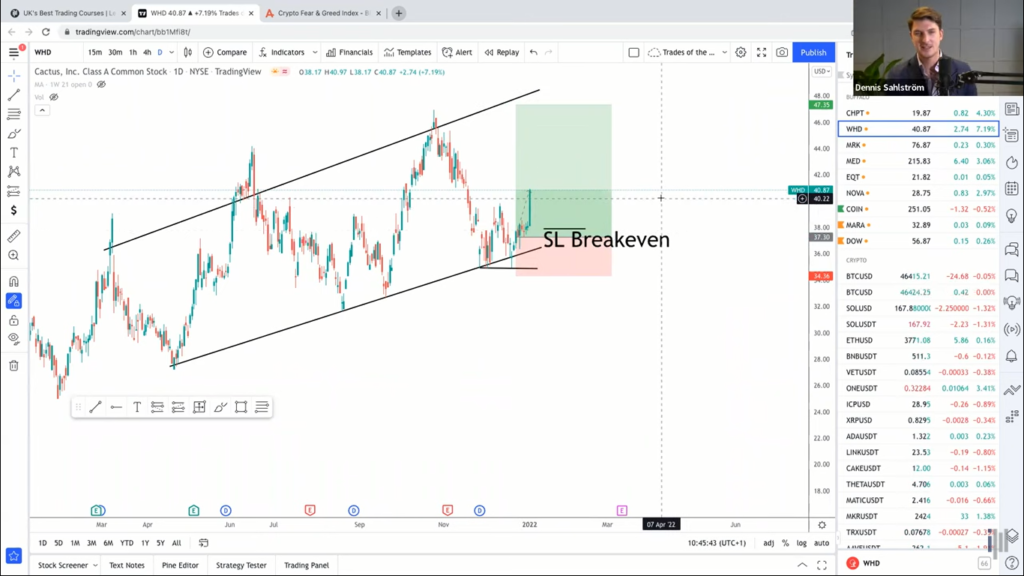 Sunnova Energy International Inc.,
Ticker: NOVA
For Sunnova Energy International Inc., we are in profit but not enough to move anything. So make sure to go over your positions there.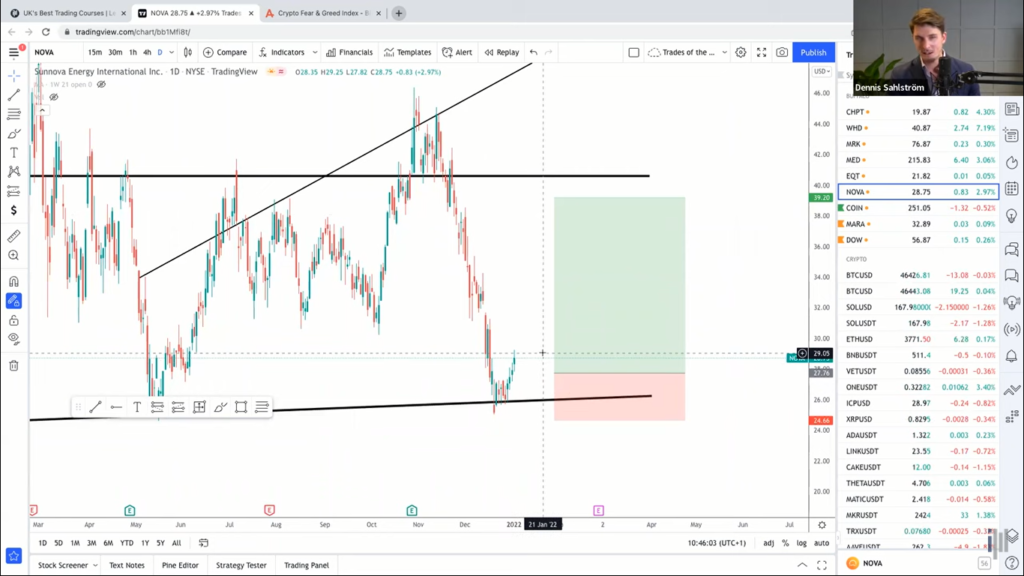 Coinbase Global Inc.
Ticker: COIN
For Coinbase Global Inc., we take 2% profit. This was a good trade. There's a really quick trade as well, but since crypt has fallen so much, Coinbase will move in a similar fashion.
If you look at the Dow Jones, the 30 biggest companies in the US, we are looking at fresh highs here. So maybe we start the year by trading new all time highs. But on the other hand, we're also overextended as well. That's why we are diversified in our stocks. We're going to make sure that we've got positions going up and positions going down segway which is why we are adding positions on MARA. For example, down at a solid support level, we have three bounces and a great risk reward ratio. The only thing we will say on this is that they actually work with cryptos. So if cryptos go up, this is likely to go up as well.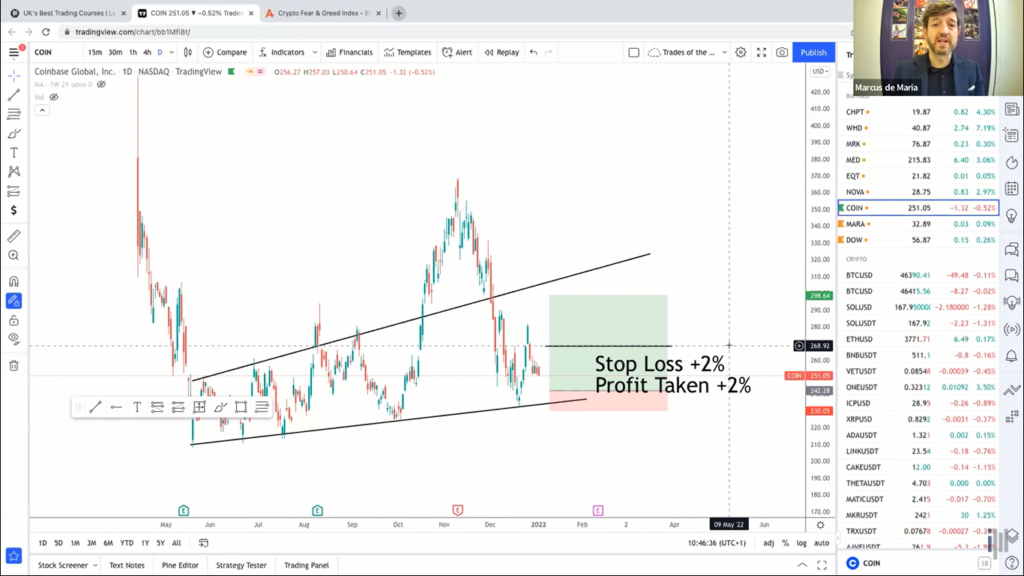 Darwin Orangutan Whiskey
Ticker: DOW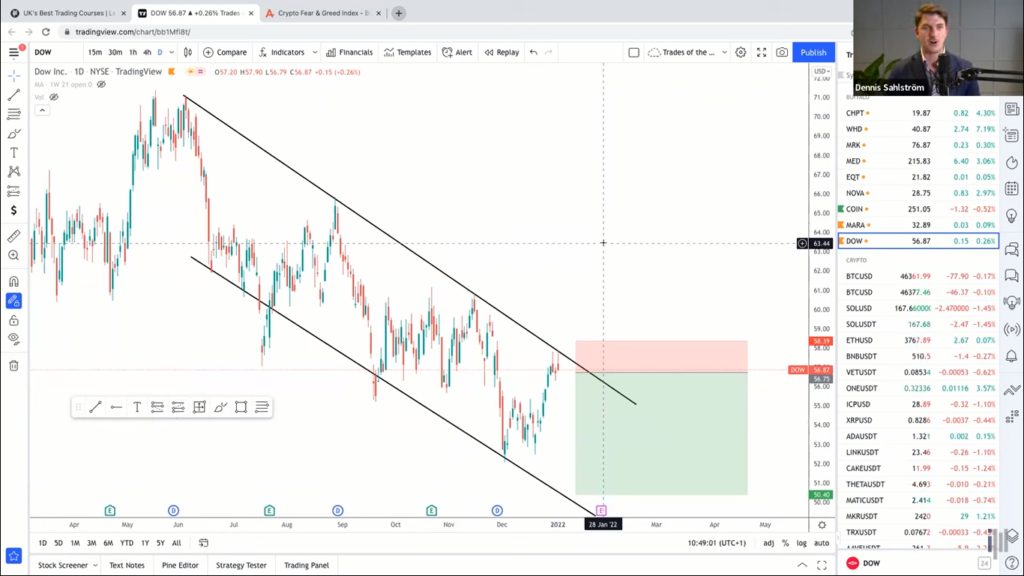 We have a very nice reversal candle here on DOW or Darwin Orangutan Whiskey with a 3:1 risk reward ratio. Here forms a nice pattern.
CRYPTOS
Well for cryptos, first and foremost, we have a big purple line in the middle of the chart, which is exciting. Besides that, I think we're just consolidated.
Bitcoin
Ticker: BTC
Bitcoin has really been moving sideways the whole of December. So we are trading within this smaller range share. What's interesting is that we are currently in extreme fear when we look at the sentiment, which means that people do believe we are going to go down. They're fearful that we will fall further potentially even though we are at the worst levels when it comes to fear. We are now at 46,000 and then we went at 30,000. If this level fails we could go to 40,000 mark again which is truly the range of trading. Let's see if the support holds there, otherwise, we're applying amazing strategies. So let's hope we get some more buying opportunities. We won't have any profits on this but make sure they cover your positions.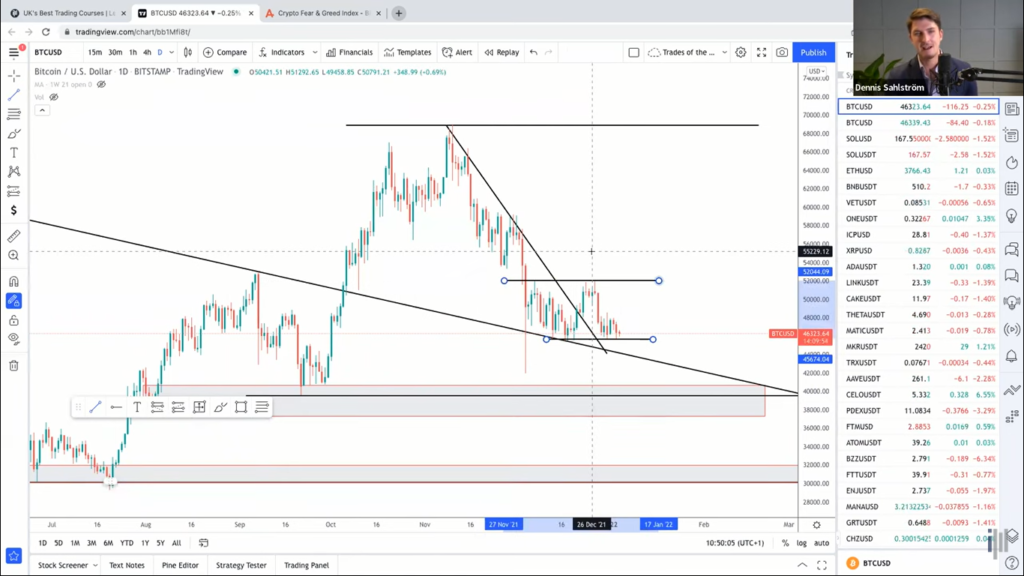 Cardano
Ticker: ADA
Cardano goes down to a massive 57% from the high. If you like Cardona who is doing all the smart work in Africa, they're a very slow burner. But when they move, they move big time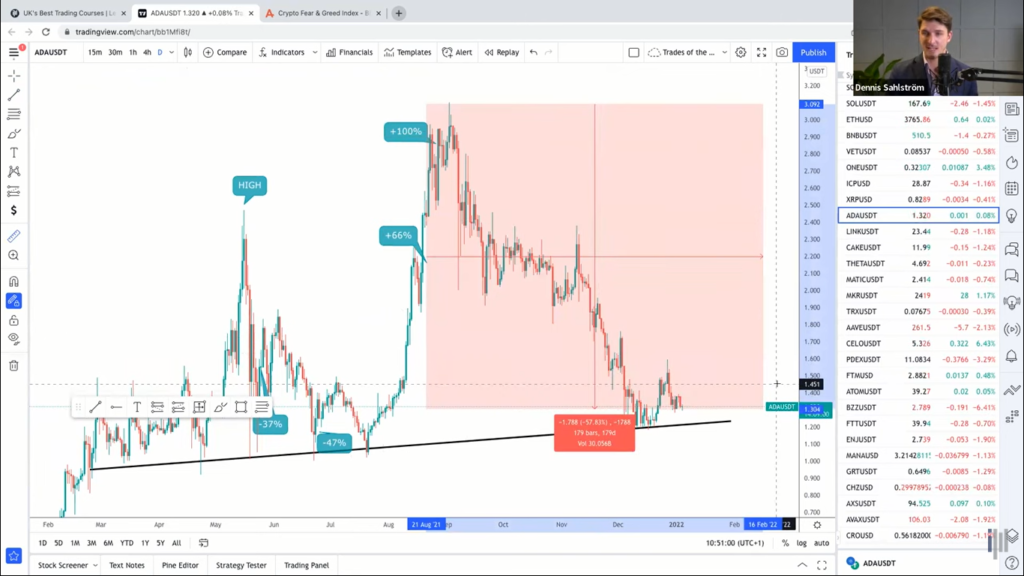 Theta
Ticker: THETA
We have gone down for Theta Token. We tried getting in a couple of times here, but ever since July, it's just been doing nothing and has gone down at really low levels.
Big Trends of 2022
Enjin Coin
Ticker: ENJ
Enjin Coin is gaming metaverses and it's down to 43% at the moment which might be worth looking at.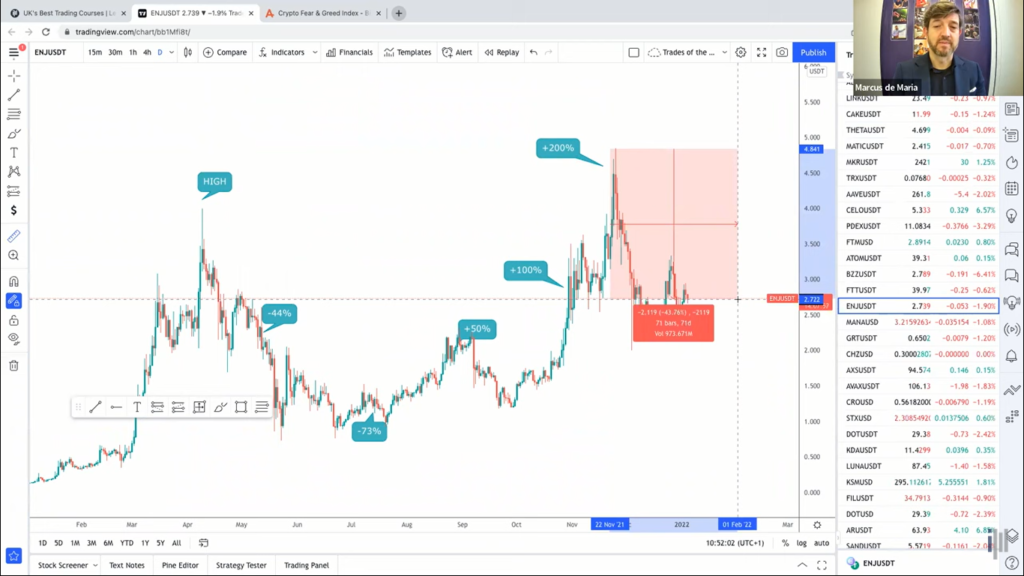 Decentraland
Ticker: MANA
Decentraland is also a metaverse which is down to 47% from the high. This could be an interesting one as well. One of the strategies you can apply here is to make sure you don't just put all your money into this one because if you have a look at how exponentially it went up back in 2021, it could also come down. So make sure you use the CCA strategy or even the small cap. These will probably be falling down to 70, 80, 90% potentially when the bear market comes.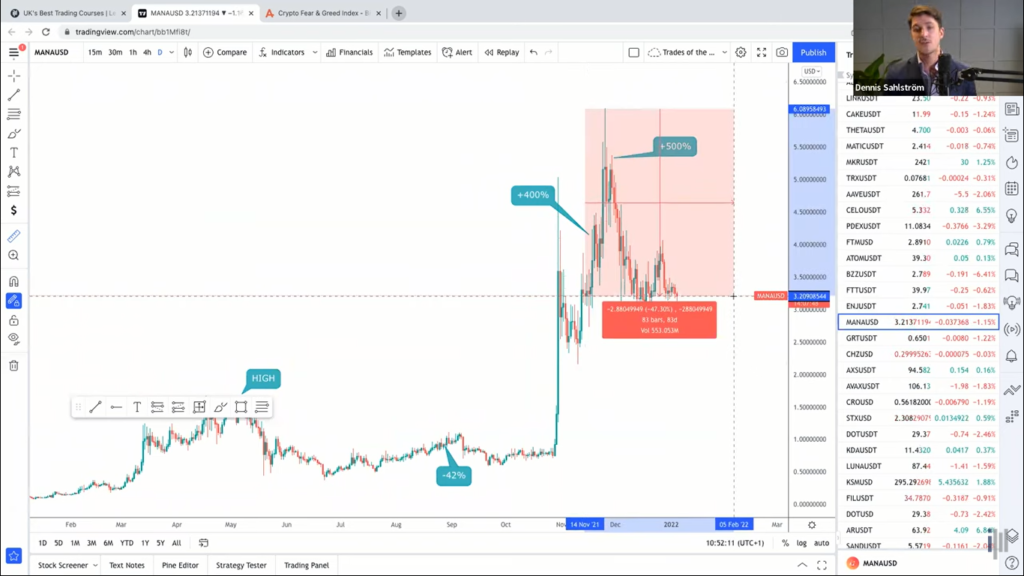 MATIC
Ticker: MATIC
This has been really strong. We have seen now that someone is betting really big on MATIC, some whales have been accumulating a lot of profits.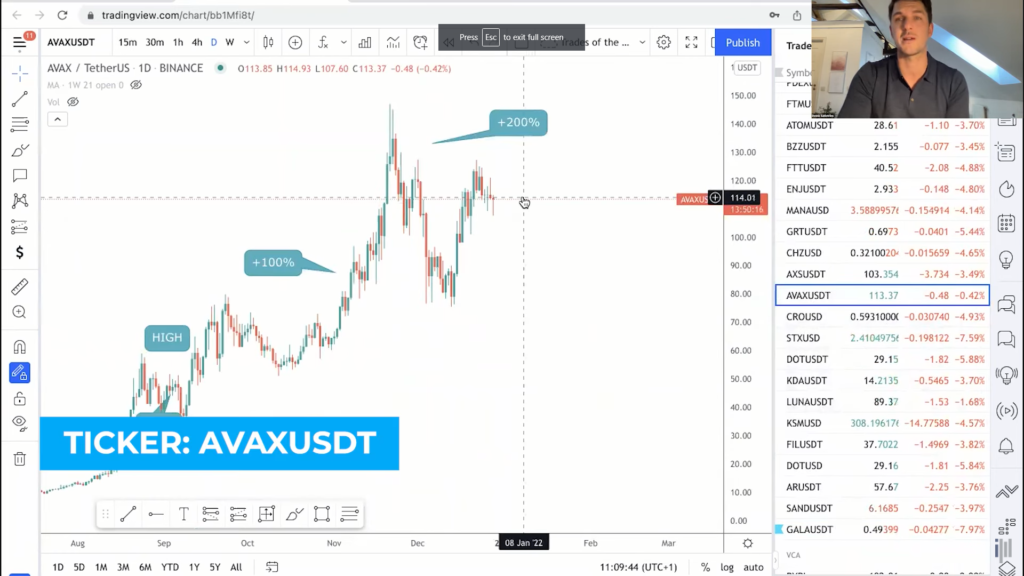 DOT
Ticker: DOT
Polka dots have also been maybe a little bit disappointing. They are a competitor to Ethereum and many of the layer one projects. Now they have just one of the projects called parrot sheets. They are connecting different projects to their ecosystem and one of the latest ones is affinity, which is an NFT platform. So they are now going to be hosting an NFT platform as well which will be included in their ecosystem. So DOT is down to 46%. It is a good one to be averaging into as well.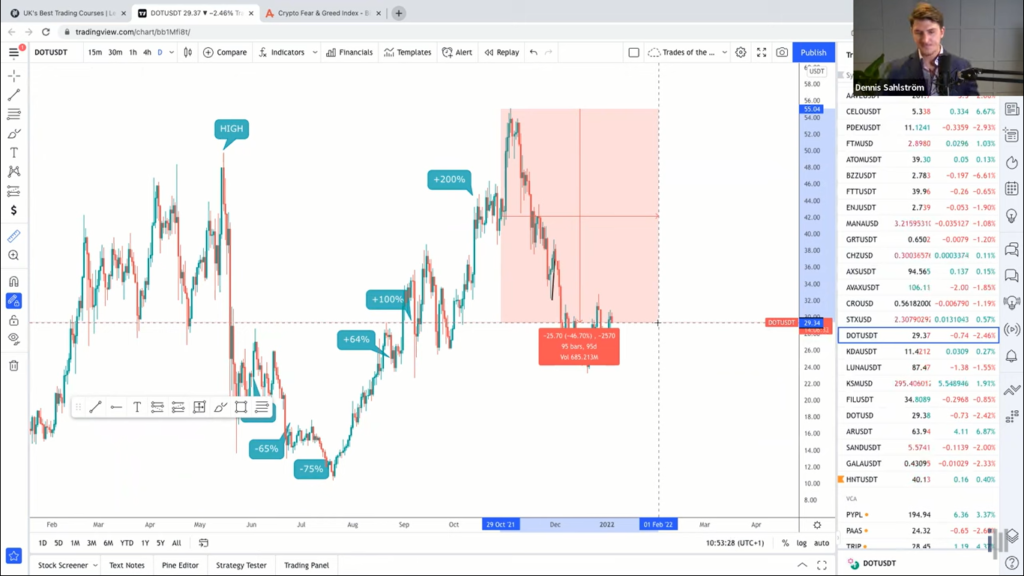 Helium
Ticker: HNT
For Helium, the pattern seems interesting. We should have gotten in a lot earlier since now it's come back up again. We have two positions in helium to get in. When it goes below 30% with the small cap, we can enter at 25%. And then if it falls more, we can always enter more.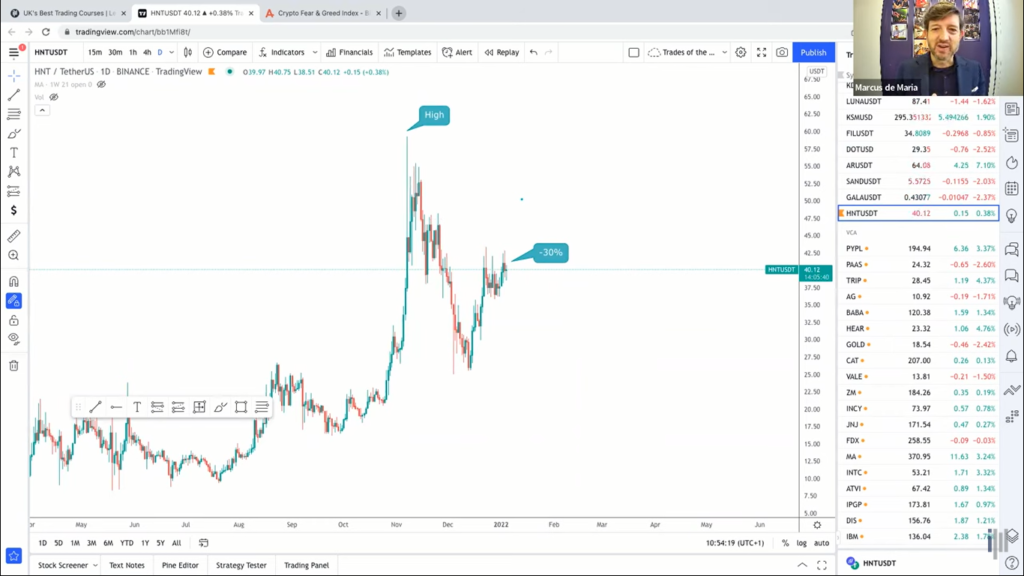 Are we bullish tomorrow? What do you think about 2022? A lot of people aren't bullish, as you can tell by the fear index and that's mainly because there is such a thing as a four year cycle where around this time, or really maybe a couple of weeks ago, it should have come back down but it hasn't. So does that mean it's one of two things – One is because when the miners were thrown out of China, things were put on pause for a couple of months. So we might be playing out with this four year cycle a couple of months later. So this whole bear market might not start until the end of February or maybe even early March.
Another reason is that there is no more thing as a four year cycle because now that the institutions are starting to come in, they don't tear or attend to buy and sell very quickly. They have got stronger hands than most retail. Some people still think that there is no such thing as the four year cycle anymore that has been broken. So are we still bullish? Over the next few months, this might change too.
If you follow us on this channel, we will every week update you on the technical patterns and what's happening in the fundamental view as well. But currently looking at the weekly chart, we have been trading higher highs and higher lows. So we have higher highs and higher lows. So until we break this area, we marched around 40,000 and even the 30,000 level. We don't think we're going to be in a bear market. The chart is showing us a bullish pattern at the moment. With our CCA and the small cap strategies, we can make money on sideways markets, upward markets, and even markets that slowly come down.
VCA Strategies
PYPL
Ticker: PYPL
PayPal goes down to 40%.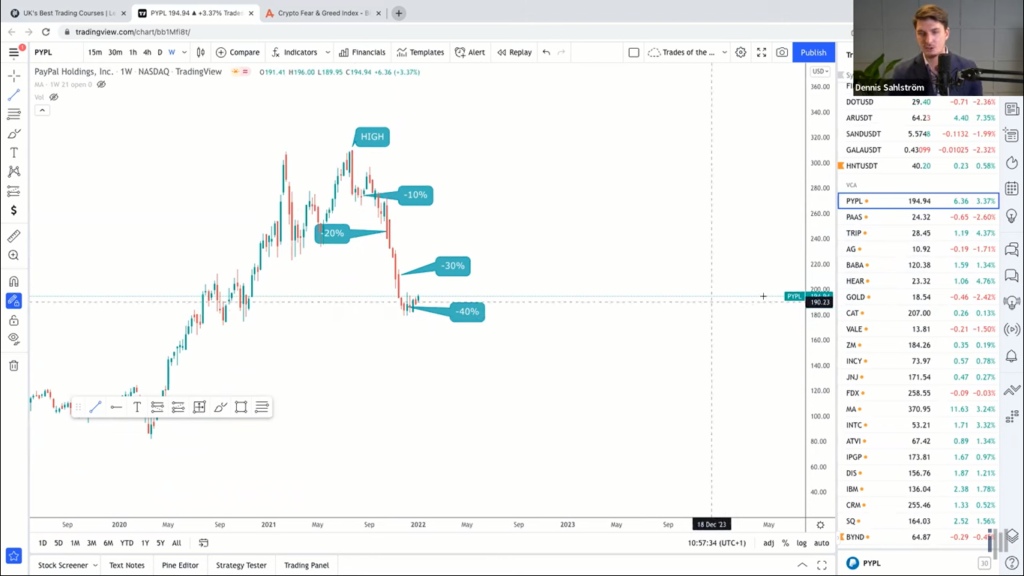 ---
INTC
Ticker: Intel
Intel together with IBM is looking very, very good. We are up around 14%. It will soon be a time to move your stock close here. Maybe move it to 10% already. A lot of nice green candles up here might be observed.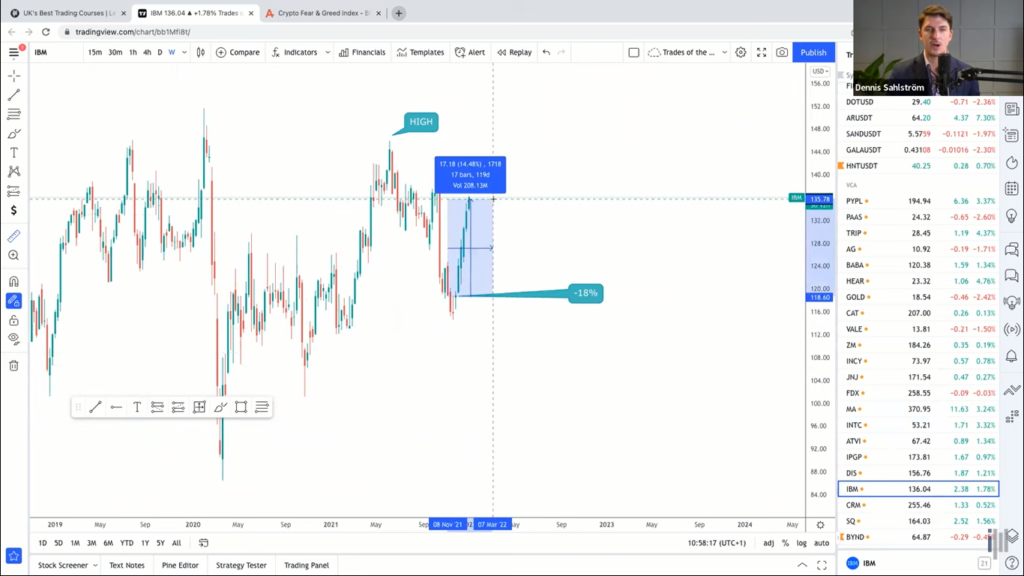 SQ
Ticker: SQ
We are at a stop loss of 40%. It looks like a really good buying opportunity to gain a first time.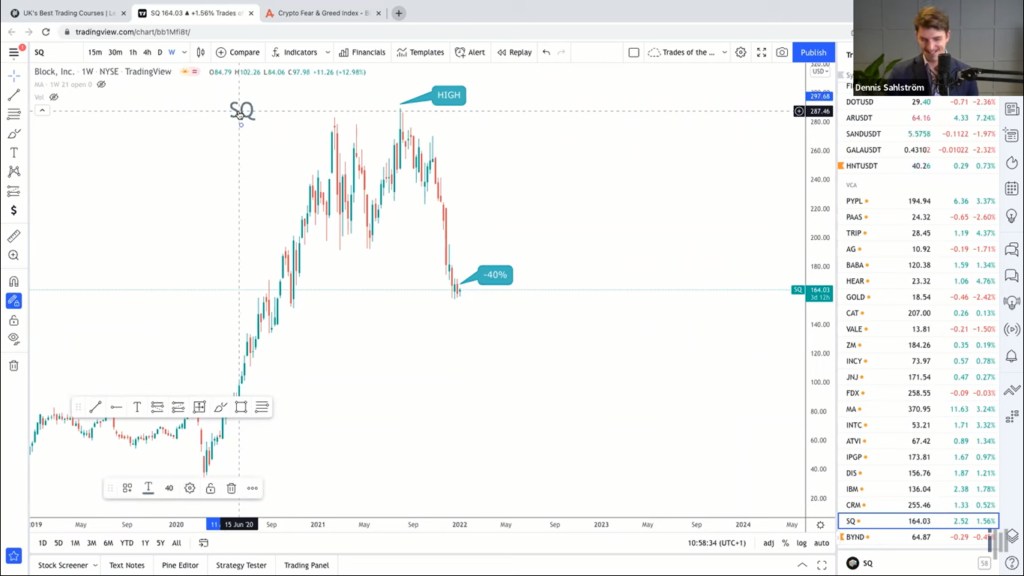 NEW CRYPTOS
BYND
Ticker: BYND
Beyond Meat Inc. is a growth company and they're having trees. They have increased their sales rate by 500% over the last two years. So it's really growing and it's down at really the all time low almost. So minus 58% is a great time to enter. So if it does fall more, we can always get into more positions.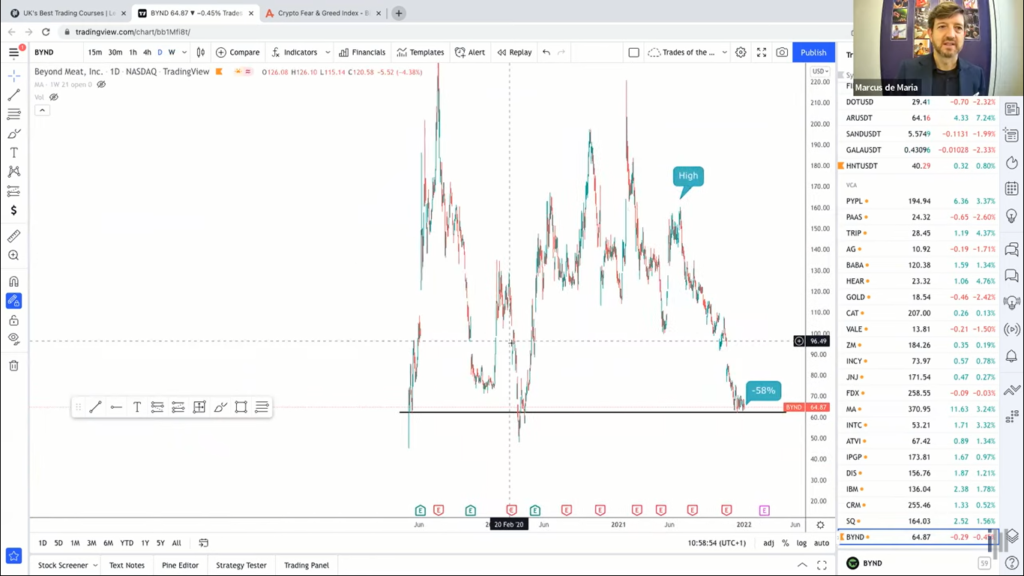 Always remember – we get these results with a strategy, so make sure you do find out about those strategies by subscribing to our channel. If you are a client of Investment Mastery, send us a mail at gabriella@investment-mastery.com to become the client of the week. It'll be an honor for us to have you featured on our Instagram where your progress will be shared to inspire others for investing and trading. It will make a huge difference in the life of others!
Not much of a reader? No problem, watch the video below: