Inflation is at its highest for 40 years. This is huge and will have an impact on all of us.
Read on to find out why…
STOCKS
We've had two profitable positions regarding the Buffalo strategy – for CHPT and STC.
ChargePoint Holdings Inc.,
Ticker: CHPT
As you can see with this, we were in a short position when we moved our stop loss down, and finally stopped out at 3.5%. Stopped out with 3.5% profit, which is pretty amazing. This is why trade management is so crucial.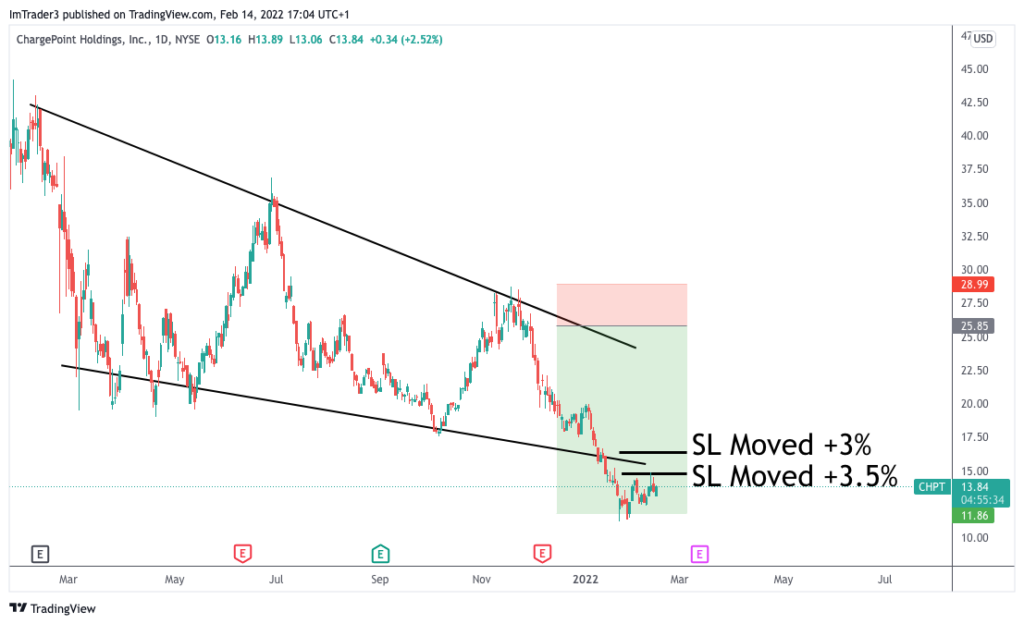 Stewart Information Services
Ticker: STC
Unfortunately, on this one, we did get stopped out at break-even. We were in profit. We moved our stop-loss to a break-even trade with no risk, and then the market just went against us — nothing we can do on that.
We didn't make any money on this one, nor did we lose any money. That's just part of trading!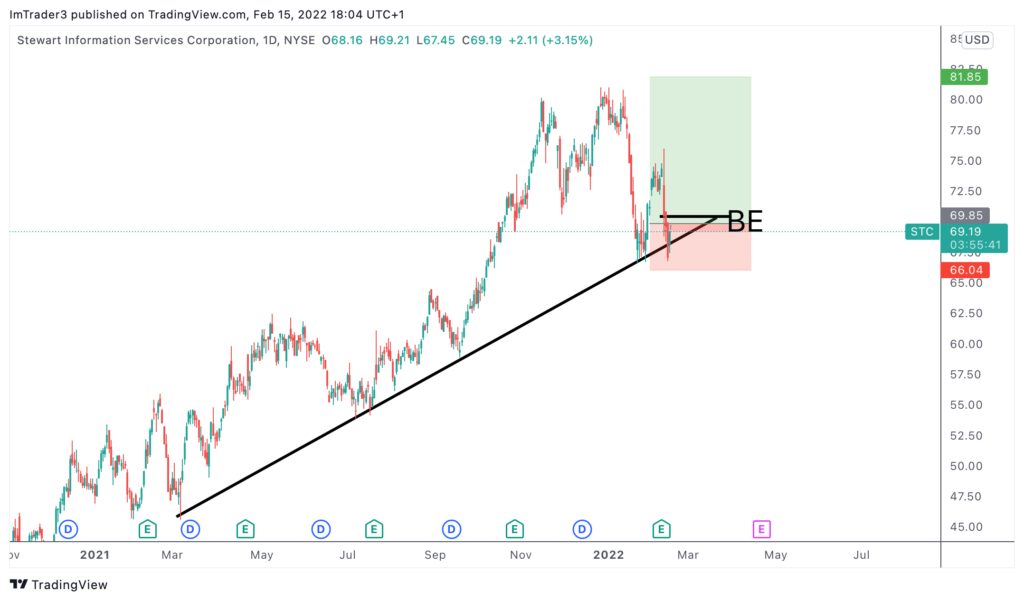 Albireo Farmer Inc.
Ticker: ALBO
We had no trade for this one. As you can see, the market that was down ran up and broke our resistance level. So, no trade here, which is not too bad.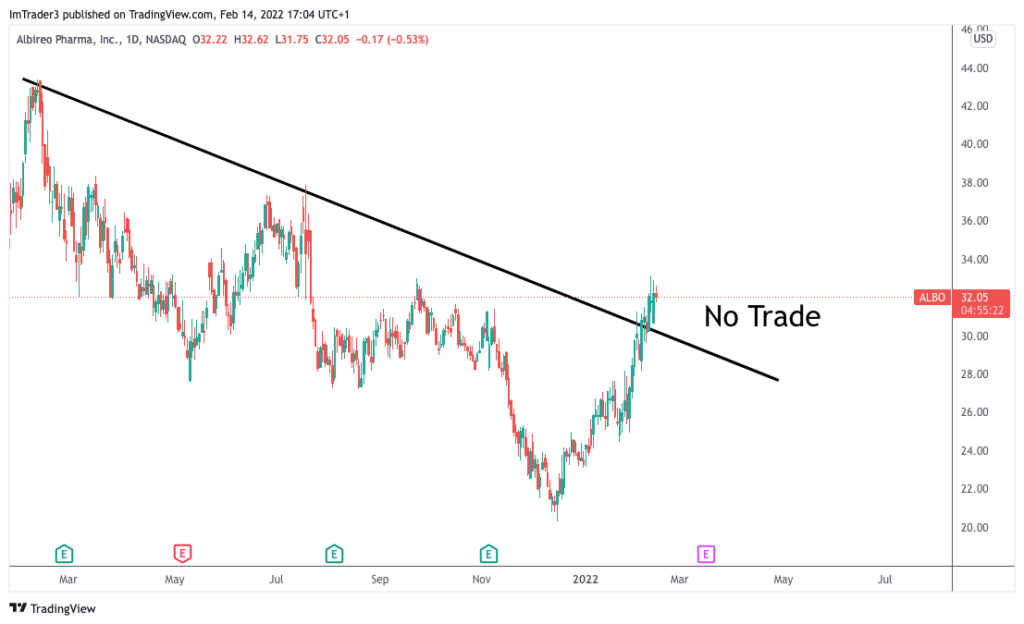 New Stocks
Warner Music Group Corp.
Ticker: WMG
With Warner Music Group, we have a nice upward trend when the market is making higher-highs and higher-lows. We are currently sitting on our level of support. But we would want to see a green candle here to get that confirmation of buying. Maybe we'll get the green candle this week. We're not too sure, but it's a nice little ratio. It's 3.28% which is not bad if it does go up to the new high. So, that's an upward trending one.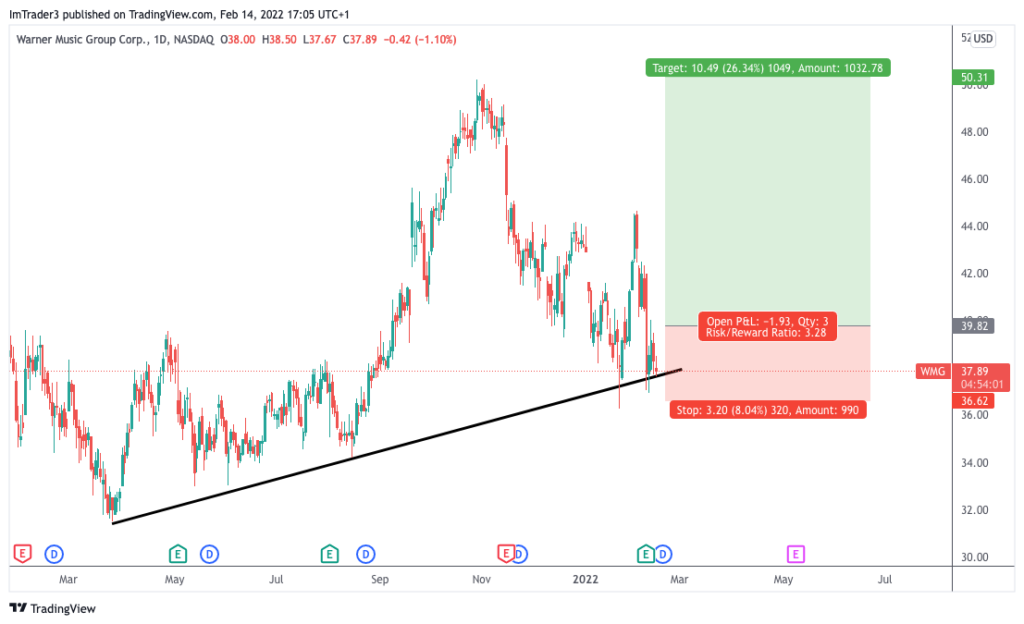 Texas Roadhouse Inc.
Ticker: TXRH
TXRH is our downward-trending asset. What we see here, once again, is a nice downward trend where the market is making lower-highs and lower-lows, which is perfect. We see the red candle, which shows selling in the market. It's a nice reversal candle which is a good sign for us. We're going to get around a 3:1 if it does push lower. We're hedged over here.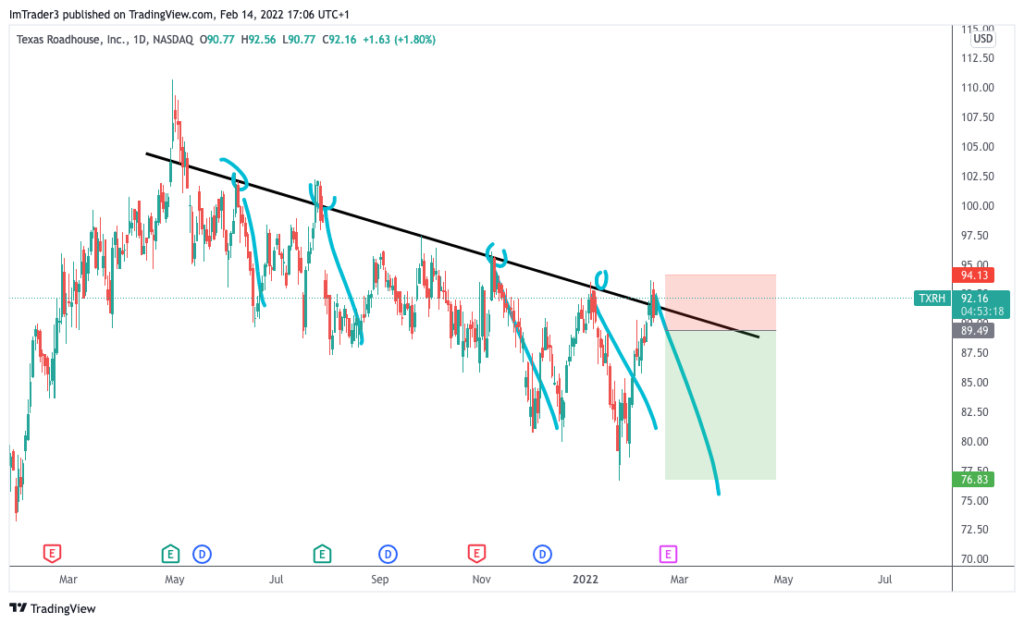 Stock Market News
We've got some going up, some going down with stocks. Why is that? Why do we need that?
Well, it's all about what's happening in the markets. It's the same kind of news once again this week as the rise in inflation continues to dominate the headlines and then have a huge impact on the economy in various ways. 
CPI came out last week, showing spending has decreased, and inflation is increasing faster than expected. Now, what does that mean?
It means the Federal Reserve might have to be a bit more aggressive on increasing interest rates. Why does this matter?
It matters because if interest rates increase, more people save money rather than spend money. It means the economy is shrinking, and it also costs more for businesses to run, so they may not be making as much money as they would like or have forecast. The consequences?
We could see a bit of a bearish move in the market.
Another big bit of news, not just for the stock market but worldwide, is Russia's potential invasion of Ukraine. Is it going to happen? We don't know yet.
But what that is doing is causing fear in the market. We are seeing a lot more investors become fearful. And if we look at the 30 largest companies in the US over the last few days, there is a bit of a bearish move. Now, does this mean the market is overall bearish? No, we are still on this nice upfront trend and support level. We are still expecting the market to make new highs. If we start seeing breaks and trading, it is more on the lower-level then we could potentially see a longer-term retracement.
Does that mean we should be scared? Does that mean we jump out the window? No. All it means is we follow the rules. It's a great opportunity when the market falls because we can get into fundamentally strong companies like Facebook, Nike, Amazon, and so on.
But watch out if you are trading Buffalo. Earnings are coming up for some of the bigger companies.
Point to remember: We don't want to be trading near earnings because it could cause the market to be more volatile and even gap. Just watch your Buffalos if you are trading near earnings.
If you're getting into new positions, watch out for the earnings of that particular company. There's nothing to do if you're already in a trade. You don't get out of any positions.
CRYPTOS
What is happening with some of our positions?
As you may remember, Dennis and Keith recently laid down the gauntlet for a "moo-off." Well guess what? Marcus has now joined the challenge! He's here for the milking, he has declared and he is pretty sure he would win as "his cow is pretty amazing."
What has this got to do with anything? Well, "milking the cow" is an interesting topic, as you will see when you read on! 
With cryptos, once again, it's still just an accumulation. With Bitcoin, we did break our downward trending resistance level, two of them. So we had our longer-term resistance and our counter trend line. But we do want to start seeing trading above the 44,000 mark because this is the last time we saw resistance pushing the market down, and we're seeing it again. As soon as we break above that, we can start looking to test some of the lower-highs and push higher and higher.
But overall, the longer-term sentiment of the market is still bullish with crypto. We're seeing positive news coming out, and we're just waiting for this break.
In regards to the positions. We are still looking at positions and not entering new ones. Sometimes it's like that for periods of time. There's absolutely nothing to do. And that's when people get bored and come out of position. Don't do that. Always follow the strategy. When you least expect it, that's when to make that move. And remember, if it goes up, it's great. If it goes down, it is still great.
Crypto Market News
Cardano – People have been a little bit disappointed about Cardano. Cardano outpaced Bitcoin and Ethereum, ranking the number one in the category of most transactional activity in the last 24 hours. It is amazing! But that has to do with costs because Cadano is a lot cheaper than Ethereum, especially when those gas fees are very expensive with Ethereum.
Uber – is saying that they could adopt cryptocurrencies in the future. That's another tick for crypto.
Canada – Canada passed a Cryptocurrency Bill and appear to be getting ahead of the U.S. But it raises the question – What is going on in the U.S.? They could be leaders in this but they are dithering.
Russia – Russia is moving closer to accepting Crypto as a currency as opposed to an asset which is something to keep an eye on.
VALE S. A.
Ticker: VALE
In regards to Vale, we've now moved our stop-loss up to 25%. So we are milking this cow. We're waiting for this either to come down to our stop-loss, or we move it up to 30%. This does have the potential to go higher.
Now, spoiler alert – we're about to go back to the subject of "milking."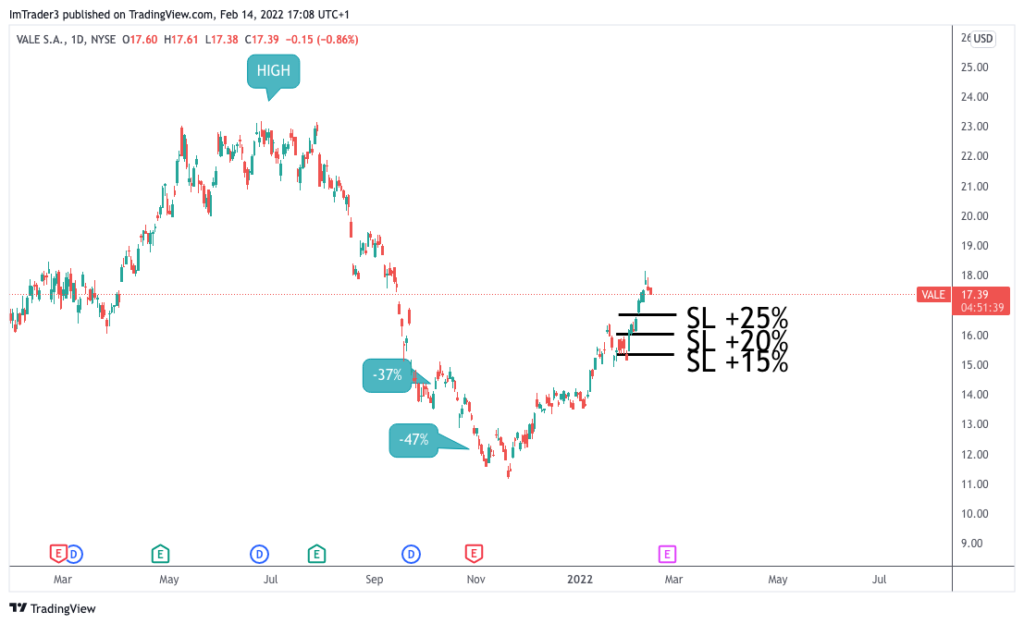 Mastercard Inc.
Ticker: MA
For this, we stopped-out at 10%. So we have taken profit on this one. Keith was all ready to moo – but Marcus reminded Keith that this was not a moo.
This is getting out of a position.
"It's still money, though," Keith points out. But there is a difference, as Marcus explained.
What we are doing here is killing the cow because we are coming out of the position. Milking the cow means we take a percentage off, so we're milking the cow.
With Mastercard, we've taken 10%. We've now had a new current high, so it could be a new position for us to take if it does drop a bit further, which is perfect for us.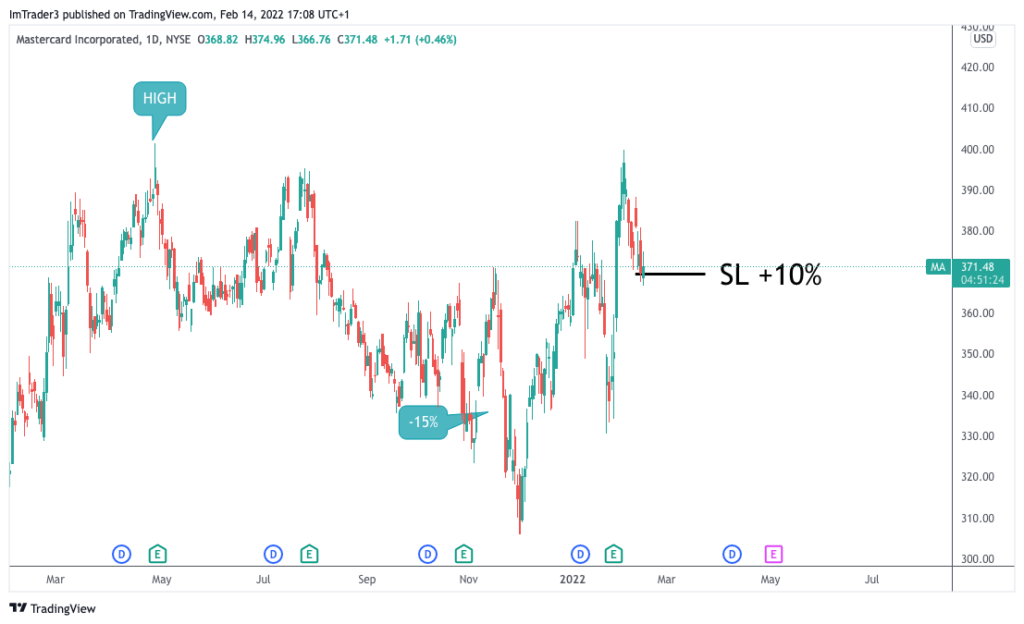 Estee Lauder Companies Inc.
Ticker: EL
Estee Lauder is currently down at around 19%. Estee Lauder is fundamentally pretty strong. Really good income. Earnings per share is 318% growth. Which is very, very good. Good return on assets, equity and investment. Institutions see this as a good investment. So they are investing in other people's money. It's a solid company, great brand name. International, thousands of products. What is there not to like.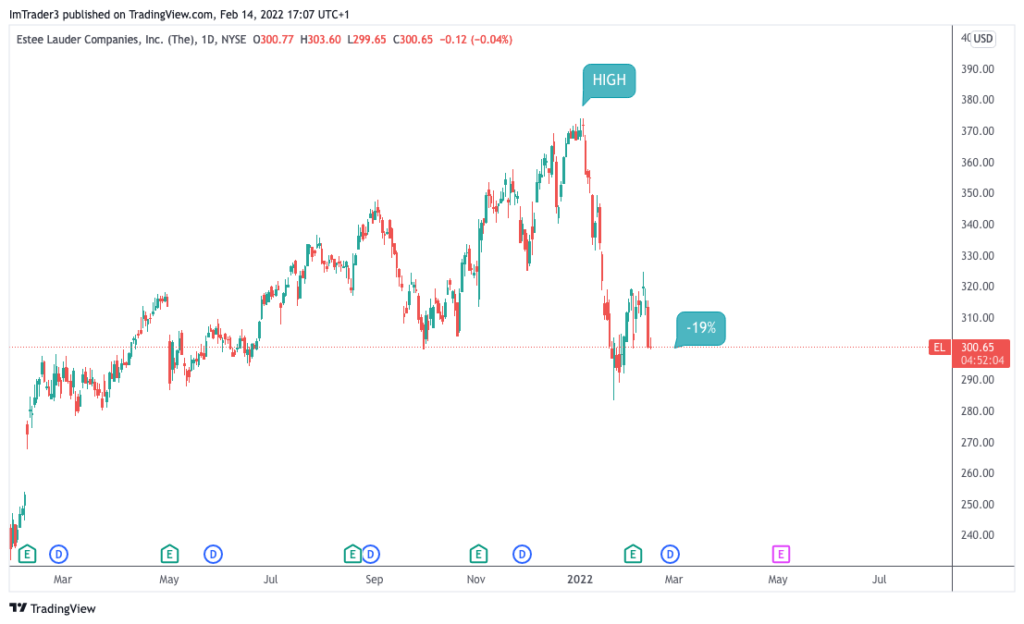 RESULTS!
As you can see, it's been a good week. We are aiming for 3% a month with the Buffalo and we are on target for that which is fantastic.
Okay, so that's it for this week.
Please do subscribe to our Trades of the Week channel because you can use us as a springboard to do be doing your own research and getting the same kind of potential profits we do.
If you are a client of Investment Mastery, send us a mail at gabriella@investment-mastery.com to become the client of the week. It'll be an honour to have you featured across our social platforms, where we will share your progress to inspire others to invest and trade. It will make a huge difference in the life of others!
Not much of a reader? No problem, watch the video below: