It's almost New Year and it's going to be an amazing year. Inflation might be a problem for the stock market next year and maybe even for cryptos. Word has spread that we might get a bear market too. And by you following trades of the week, we'll try to guide you through Trades of the Week updates as much as we can. Before we get into what is happening in the market, we want to ask you a very important question – what have you accomplished this year? What is your greatest win? We want you to comment below on what your greatest win is in 2021 in terms of trading and investing. Let's dig into this week's stock market news.
STOCKS
We took a lot of profit last week, that is, 5%. We have started well this week and we are sure to end the year in a really strong fashion. So let's have a look at the stock market this week.
Archaea Energy Inc.
Ticker: LFG
For Archaea Energy Inc., we moved the stop-loss to 1% profit, fortunately. So it dipped down, took us out, and now it just continued down. We were very fortunate that we actually took profit on this.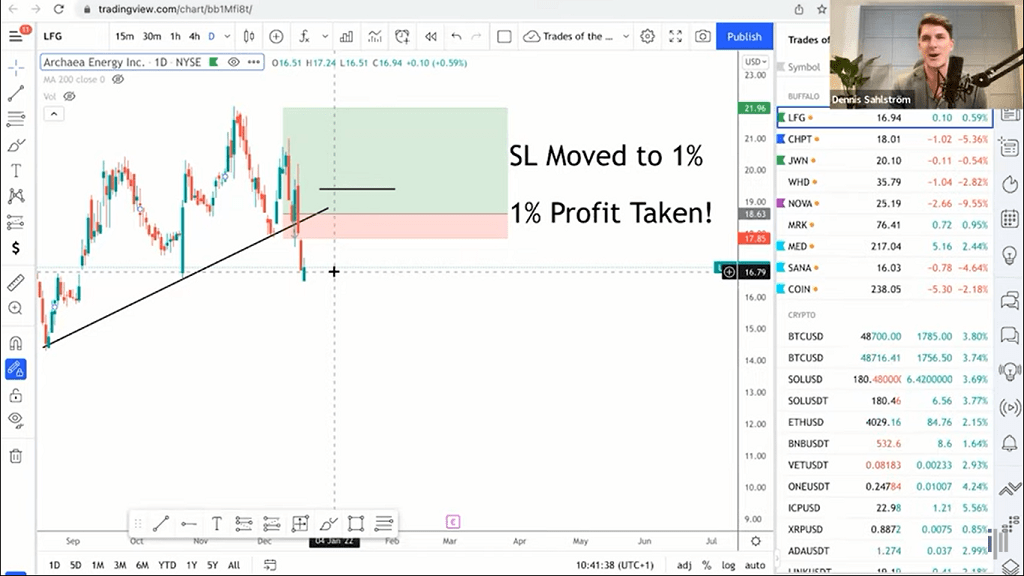 ChargePoint Holdings
Ticker: CHPT
For ChargePoint Holdings Inc., we moved the stop-loss down now to 2%.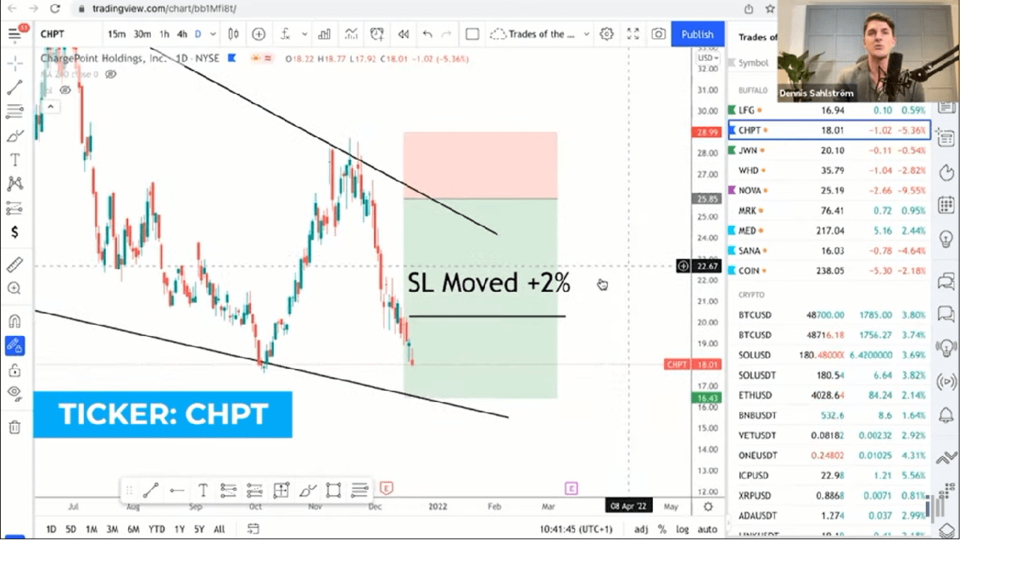 Nordstorm
Ticker: JWN
For Nordstorm Inc., the stock was down to 4%. That's 4% profit for us.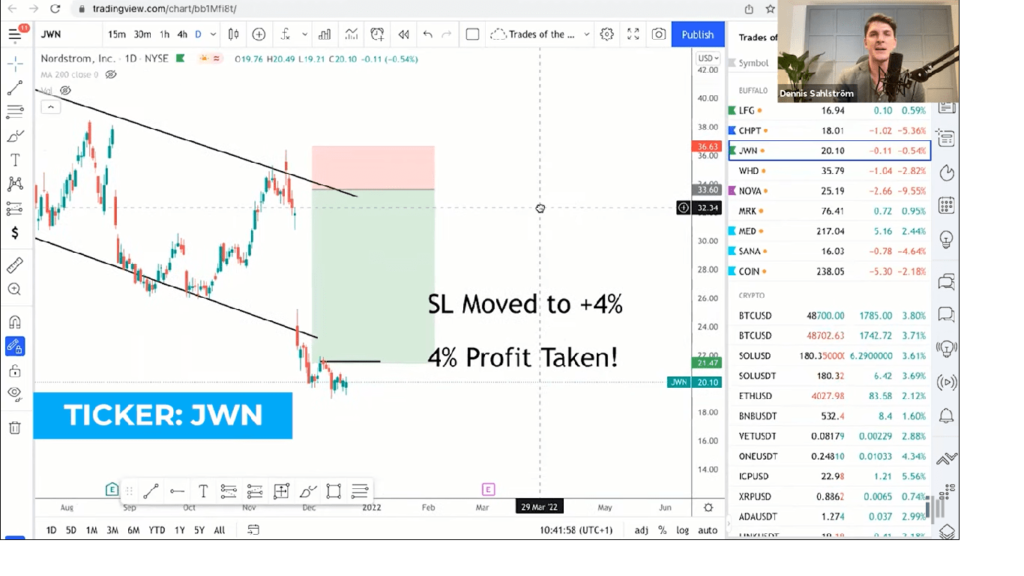 Cactus Inc.
Ticker: WHD
For Cactus Inc., we are in a losing position currently.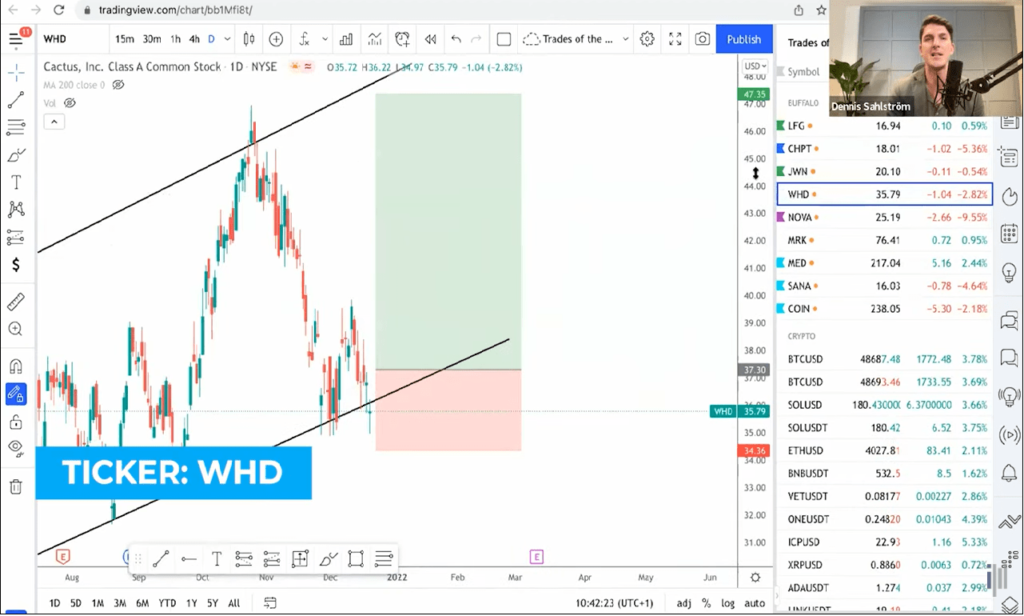 Sunnova Energy International
Ticker: NOVA
For Sunnova Energy International Inc., the stock just continued to go down. No trade for us here. That's why we use a stock board. Well, that's the power of a stop order!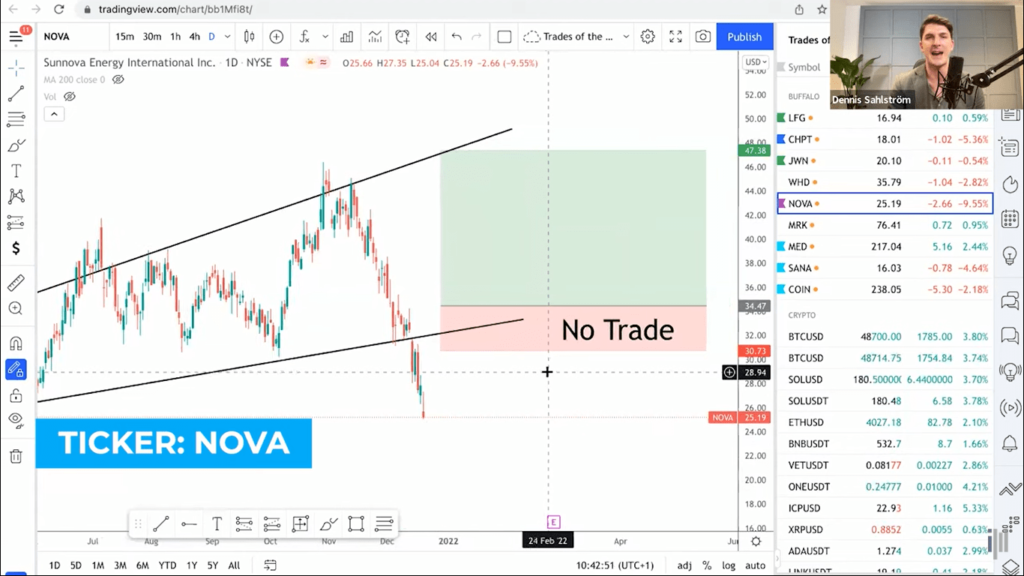 Merck & Company Inc.
Ticker: MRK
For Merck & Company Inc., we're in it as a VCA. Currently, we're up by 1%. This means we're moving this stock close to the 1% profit or sort of to the breakeven point.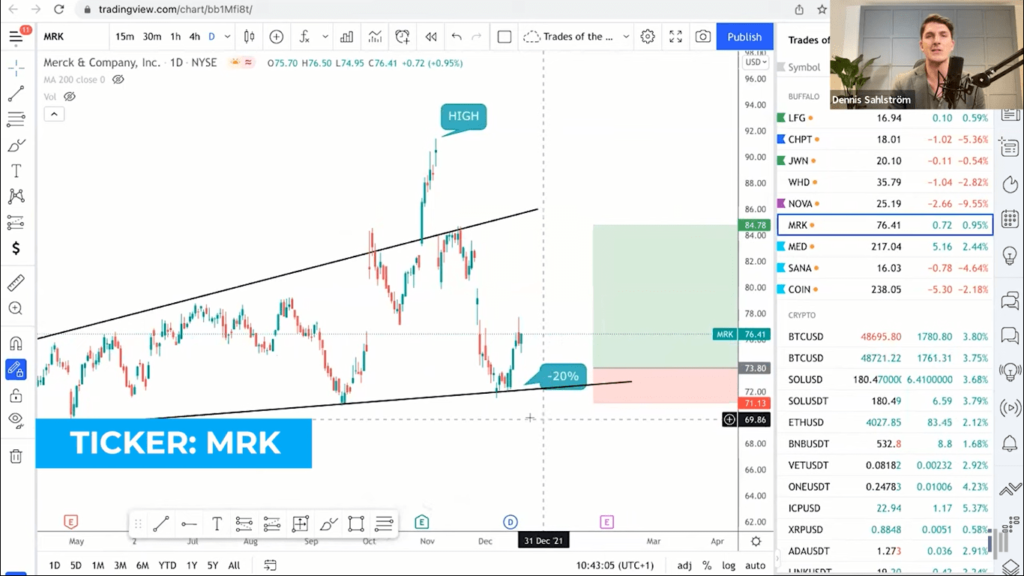 Medifast, Inc.
Ticker: MED
For Medifast, Inc., we are looking for a good trade to the downside. It might continue to break higher. And in that case, we would just cancel the order. This is still a good opportunity.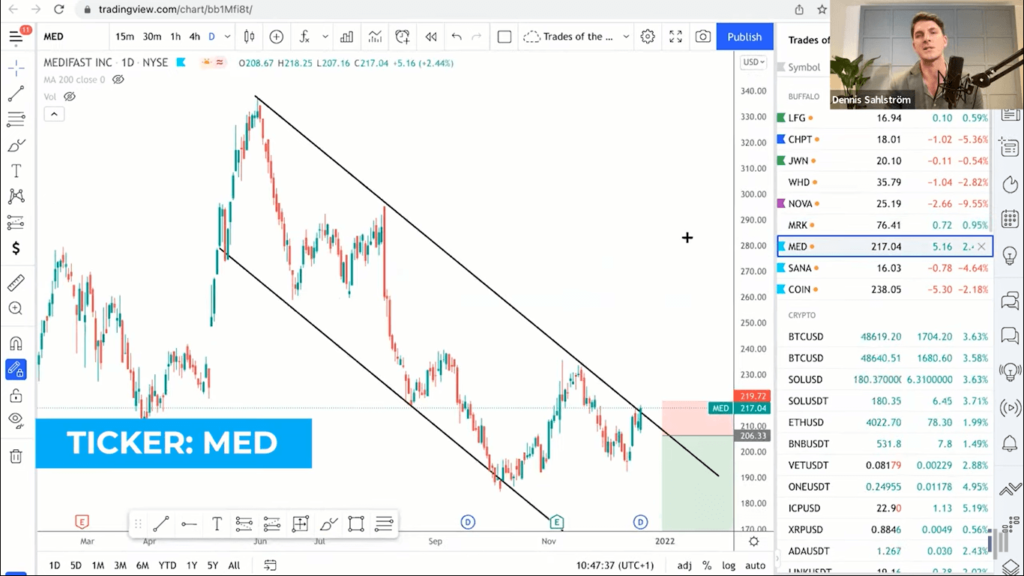 Sana Biotechnology Inc.
TICKER: SANA
For Sana Biotechnology Inc., we have three nice bounces here. It's a perfect Buffalo! We will wait for the green candle to bring about a change in the markets.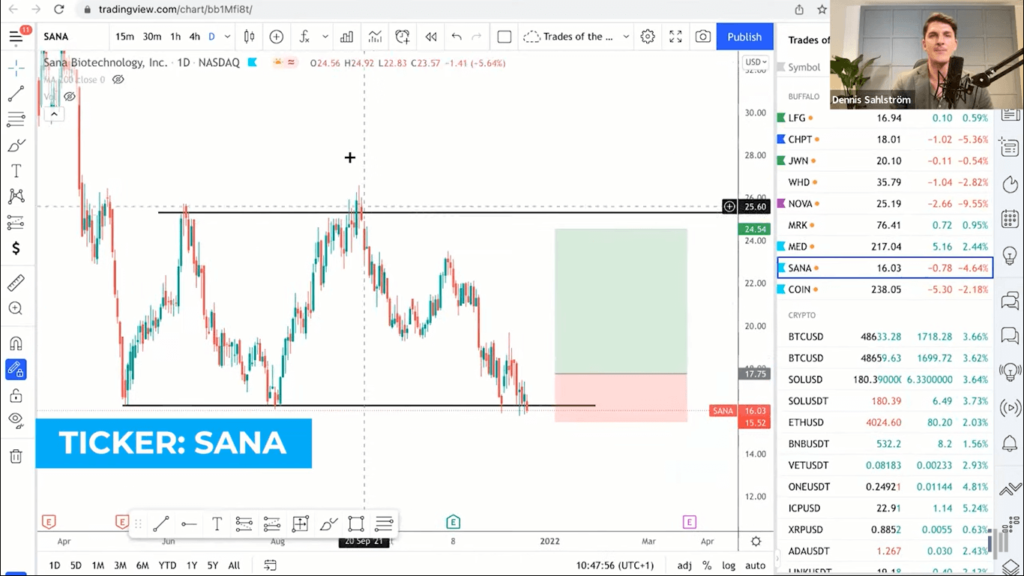 Coinbase Global Inc.
TICKER: COIN
Coinbase Global Inc. is one of the biggest crypto exchanges in the world and they give outstanding results. The Crypto market has been falling with the changes in Coinbase. If the crypto market does change now and start to go up, Coinbase is very likely to go up with it. So we think that it looks like a trending Buffalo. Even as VCA goes down to 35%, it looks very tempting to get into this market.
Market News
Two major driving forces are driving the market right now with actual inflation. This has been accelerating as quickly as
It's all down to the inflation because of the COVID fear that has been surfacing. We expected positive news, especially with JP Morgan, looking at the 2022's pandemic situation. Inflation is still steadily increasing and the Federal Reserve and the FOMC have highlighted this as a potential problem for 2022. They are taking the following measures to combat this issue:
They are tapering which is the money that's been given to centralized banks. They are slowing down the amount that they can spend in the market, which is slowing down for utility or stocks.
They are also slightly increasing the interest rates.
If they want to slow down its growth and also stabilize inflation, they need to slowly increase interest rate which in turn stops businesses and people spending into the economy. So rather than spending money, they are saving money. Now with the inflation news, it's caused a bit of a server up with the investors. So they're seeing more fear in the market. As per the fear-greed index, we are now in extreme fear.
"When the market looks fearful, it's our time to be greedy because fear naturally brings the market down"
This automatically means we're not only going to have a good position in the market but for all investments. Presently, we have been investing and taking profits, but now it could be a time to accumulate new shares.
If we look at the US30, this market did have a recovery over the previous drop. And now we could potentially see that this market is making a lower high. Now, what does that mean? It means the buyers may not have pushed up the market strong enough to make an all-time high. So this is the first indication of a potential reversal in the market.
Cryptos
Bitcoin
Ticker: BTC
For Bitcoin, we do have a downward trend here and that will probably determine the shorter-term moving the market.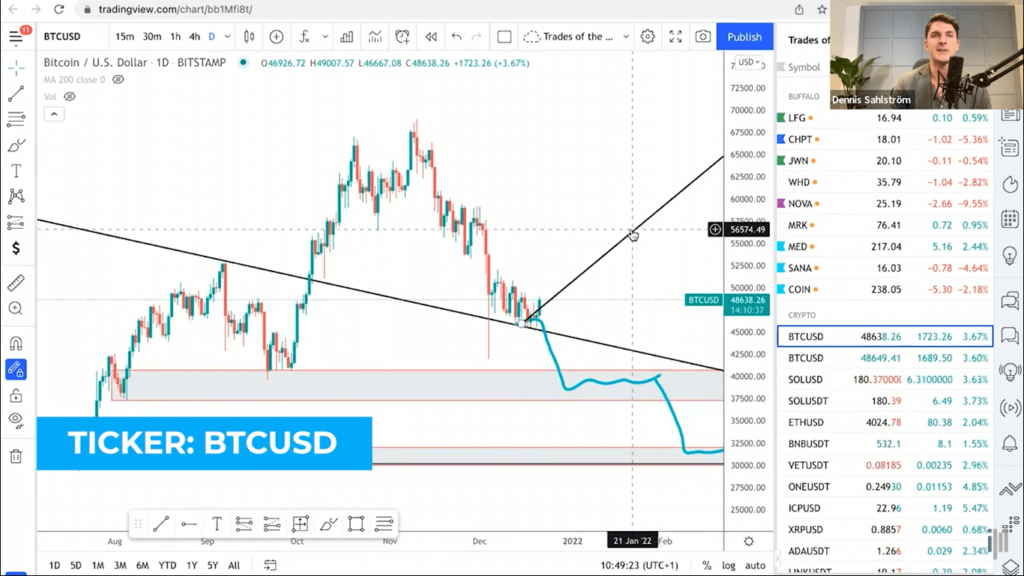 Solana
Ticker: SOL
Currently, Solana is down by 30%.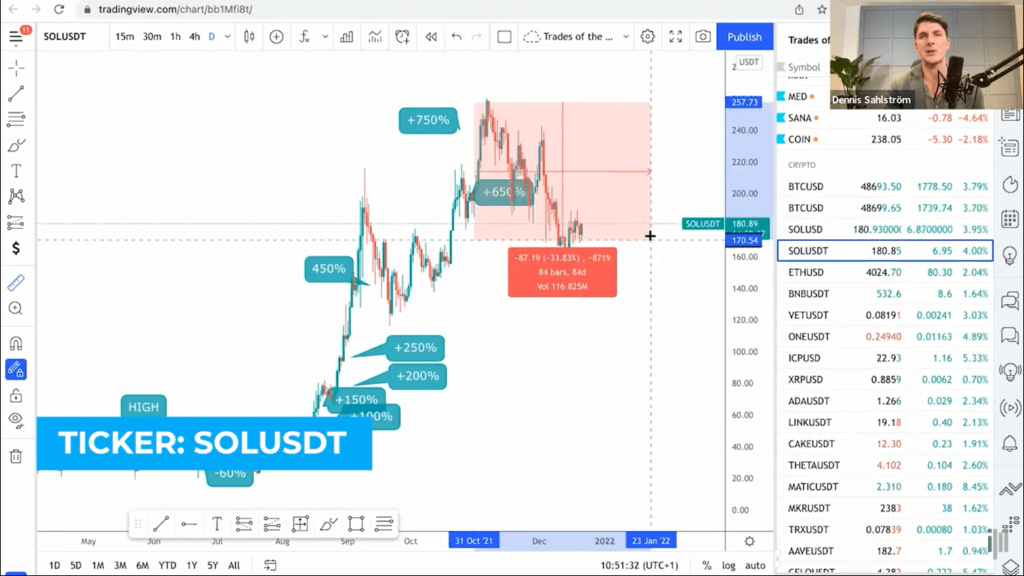 THETA
Ticker: THETA
It is currently down by 75% from the high. So we're down in this. So if you didn't get into this last time, now you have a golden chance to average on the position there.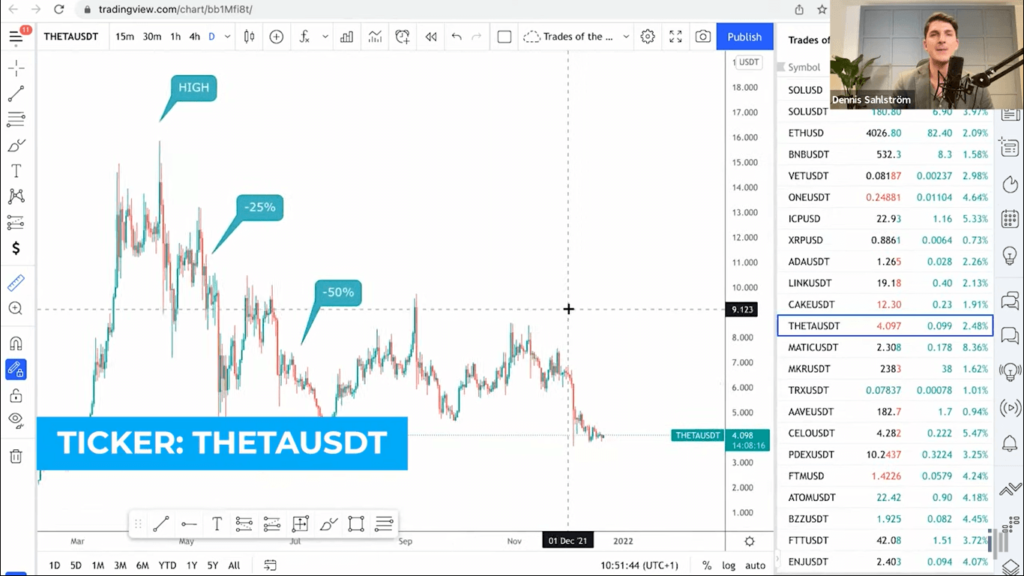 XRP
Ticker: XRPUSD
XRP is down by 40% from its high which proves to be a good development for 2022. It's getting a lot of traction with banks all across the globe. Also, they had over 60 partnerships with different crypto companies all around the world as well. So keep contributing to crypto ecosystems. That being said, we suggest you look over your positions well and do your research well.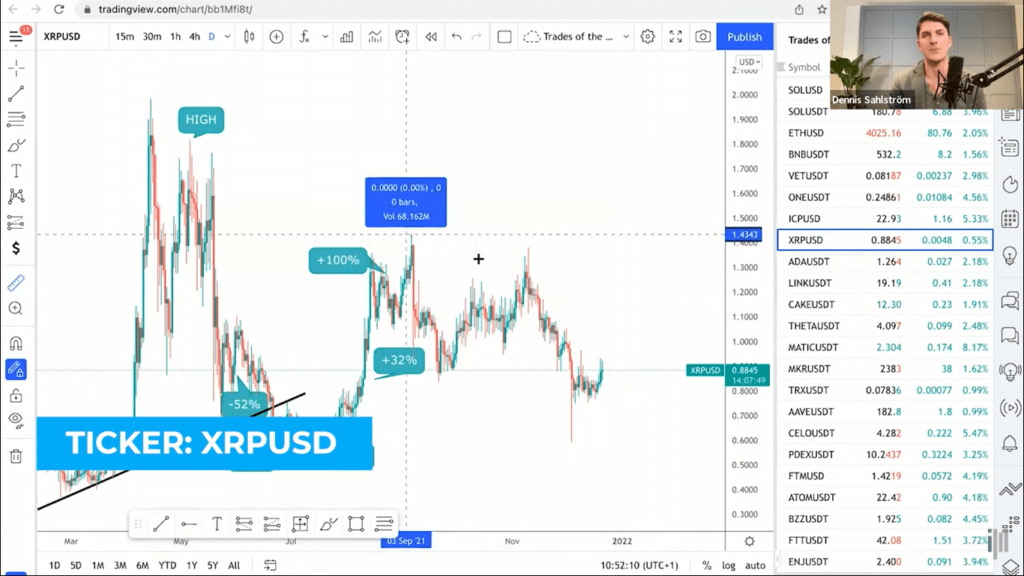 Cardano
Ticker: ADAUSDT
Cardano has fallen down a lot and we might be getting the profits again after 60% drop.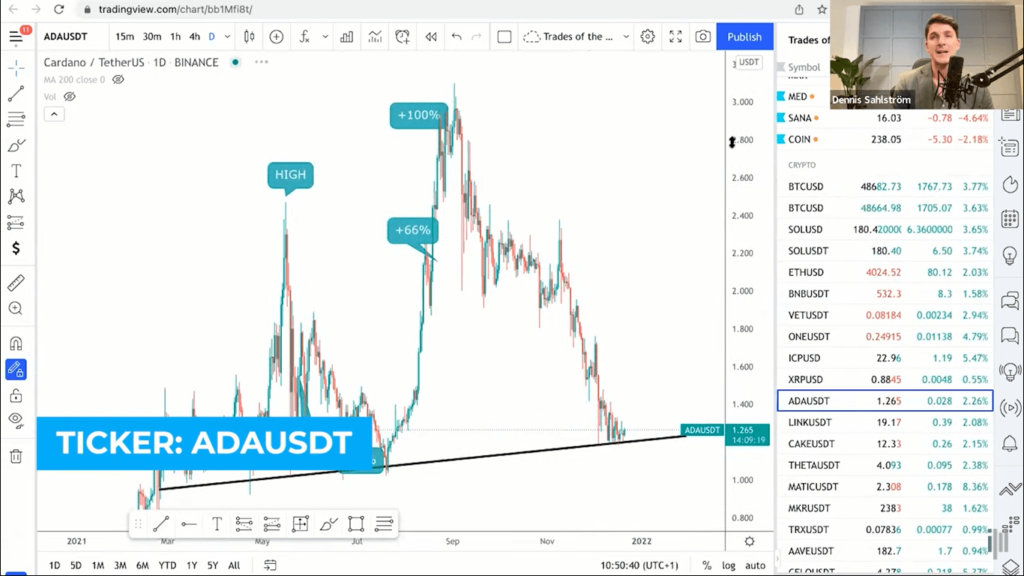 MANA
Ticker: MANA
It is down by 46% at the moment.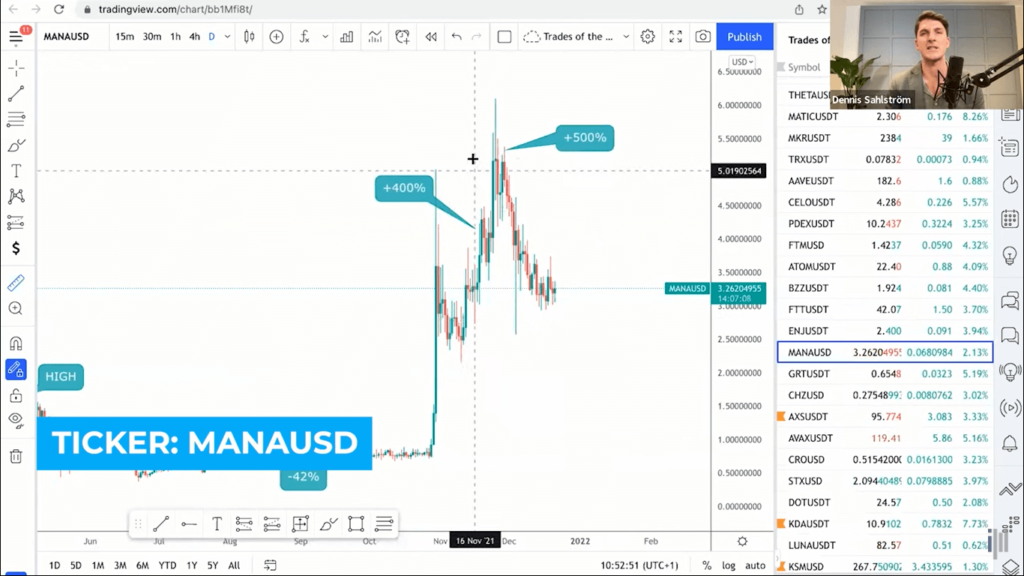 Axie Infinity
Ticker: AXUSDT
Axie Infinity is down by 35%.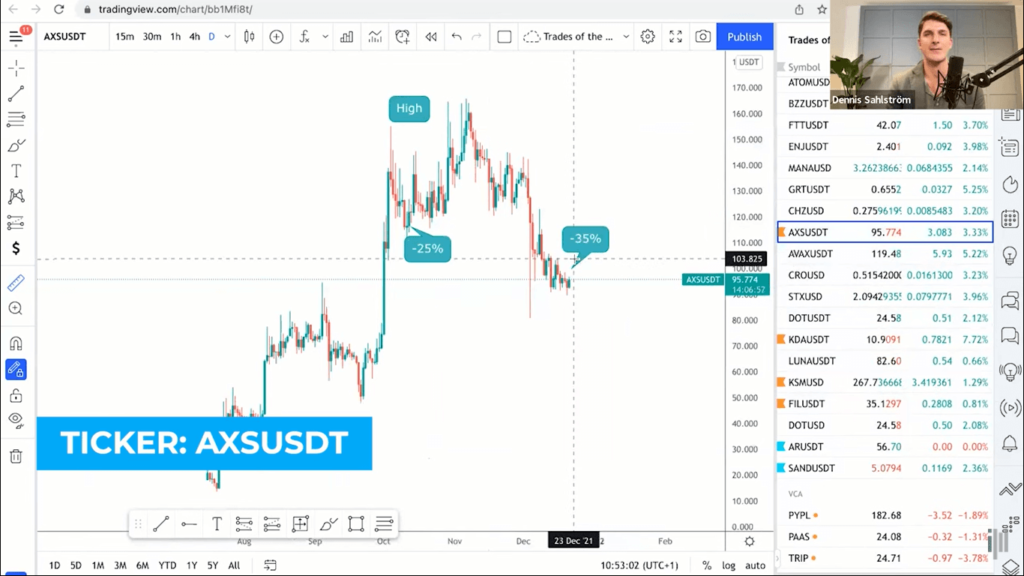 Kadena
Ticker: KDA
We're adding – We added another entry on Kadena which is down by 64%.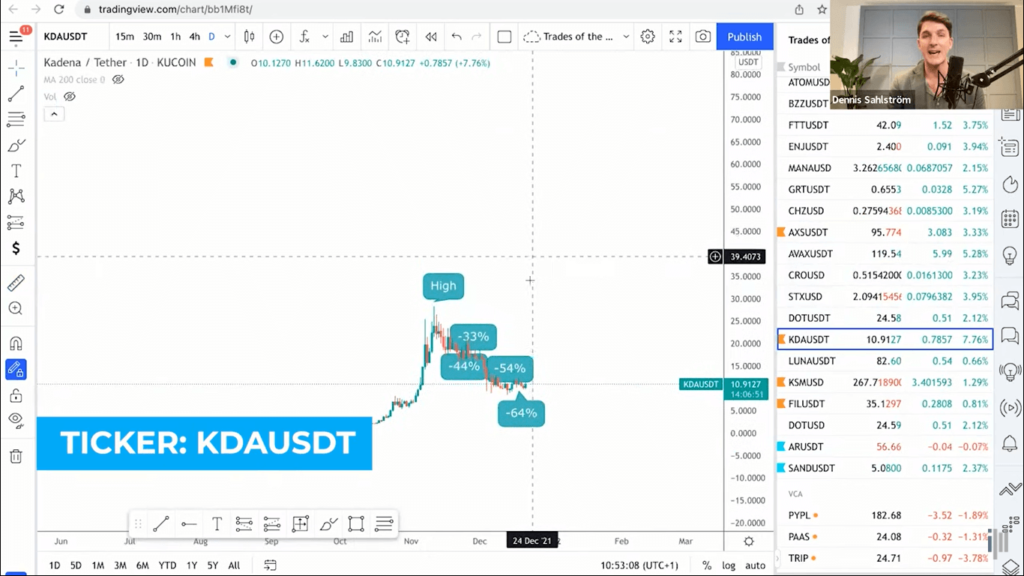 Kusama
Ticker: KSMUSD
Kusama is down by 44% at the moment.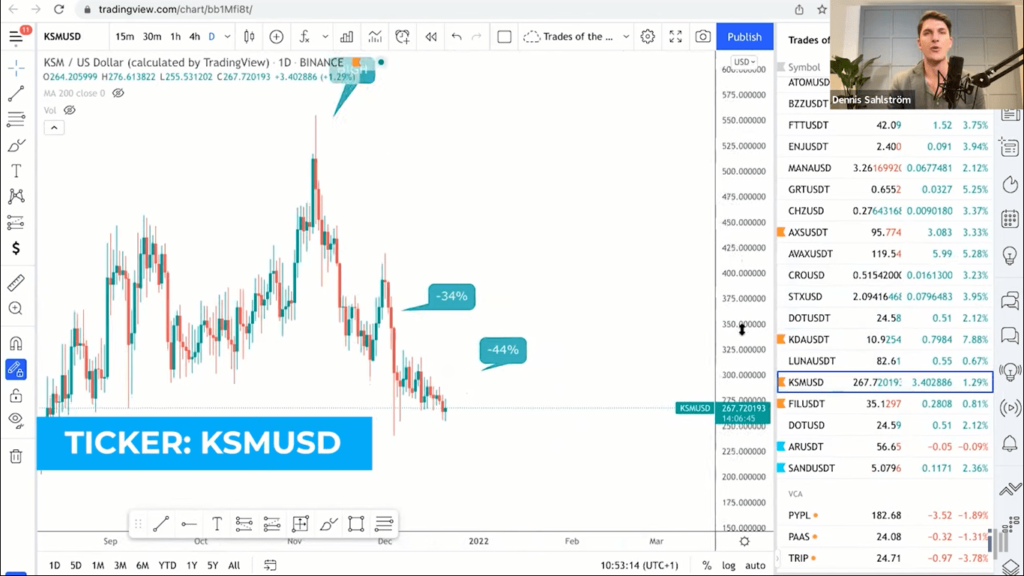 FileCoin
Ticker: FILUSDT
We add another entry on FileCoin which is down by 64%.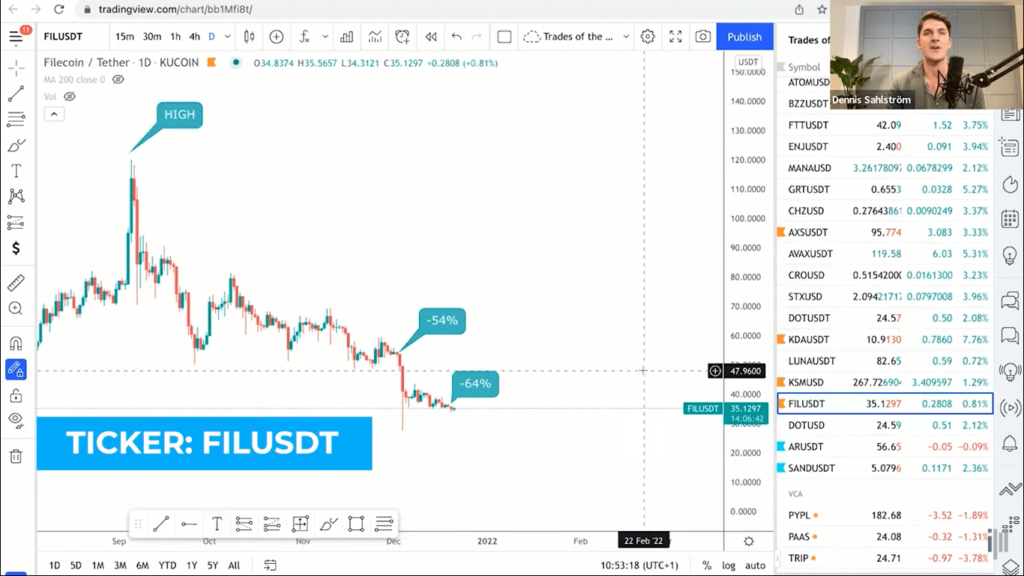 AR
Ticker: ARUSDT
We have a minus 60% here. currently up 50, 60% of well done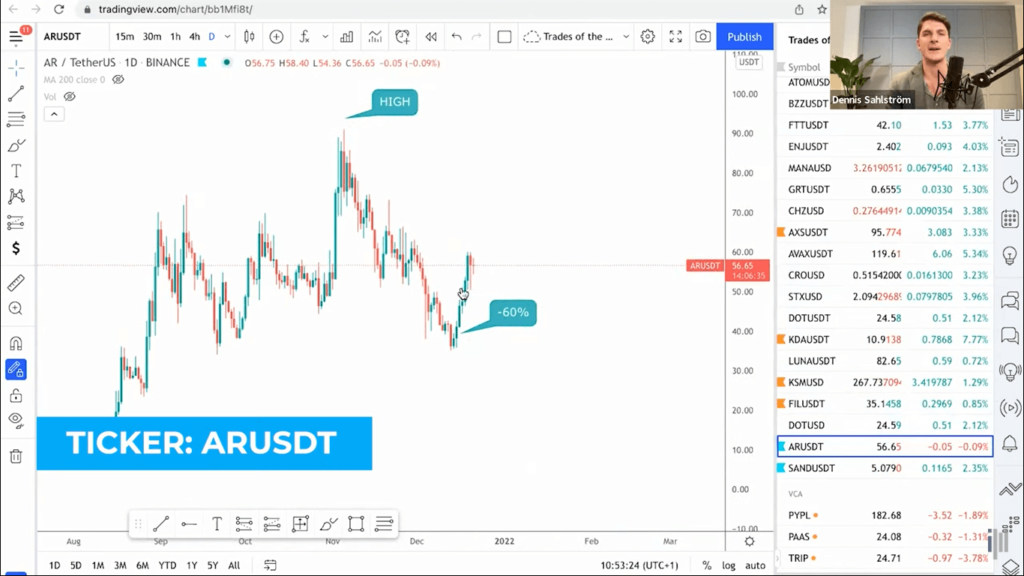 SANDBOX
Ticker: SAND
Sandbox is down by 44% which we bought last week.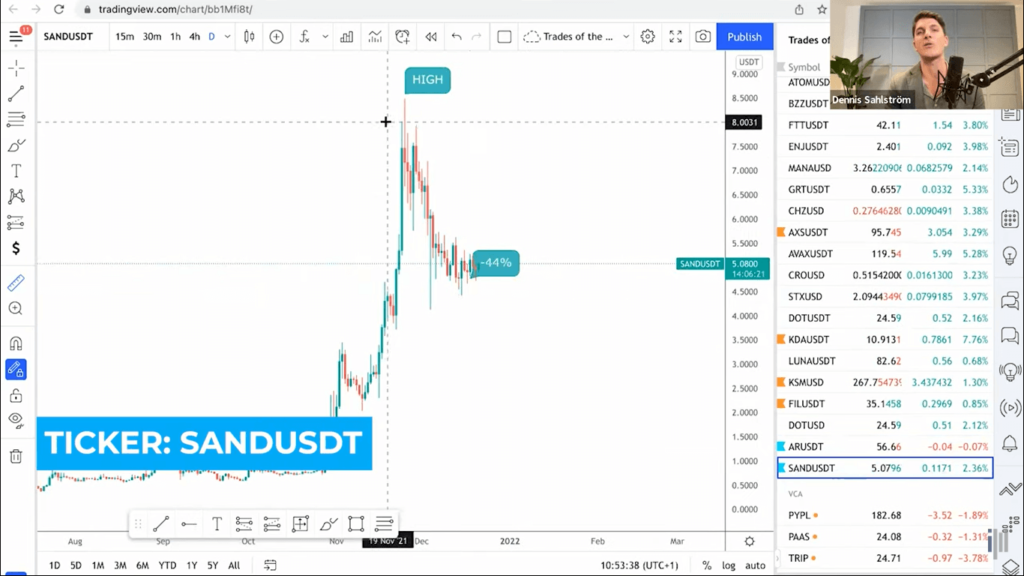 LUNA
Ticker: LUNAUSDT
For Luna, we're up 100% percent.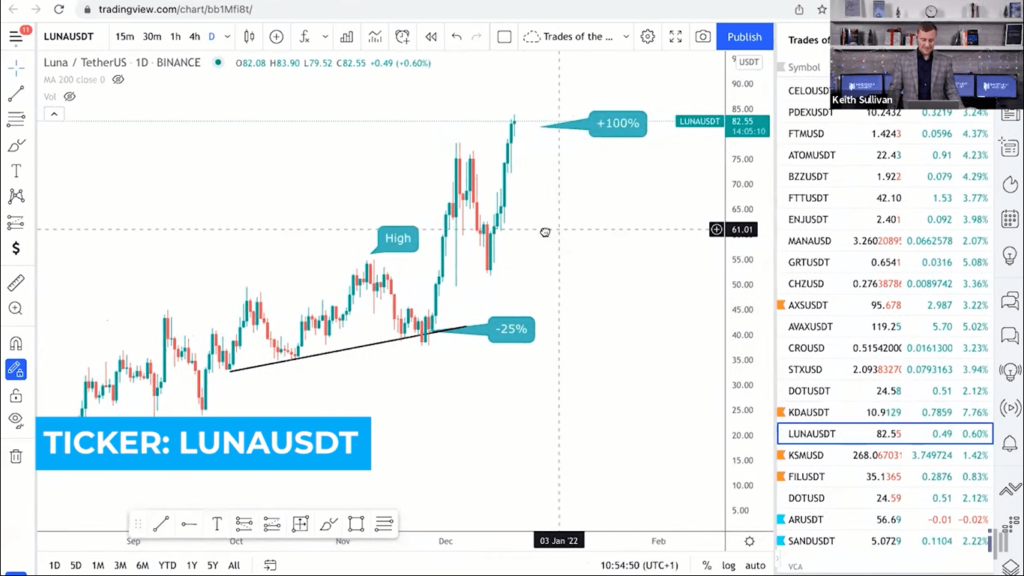 PAYPAL
Ticker: PYPL
For Paypal, we're down by 40%.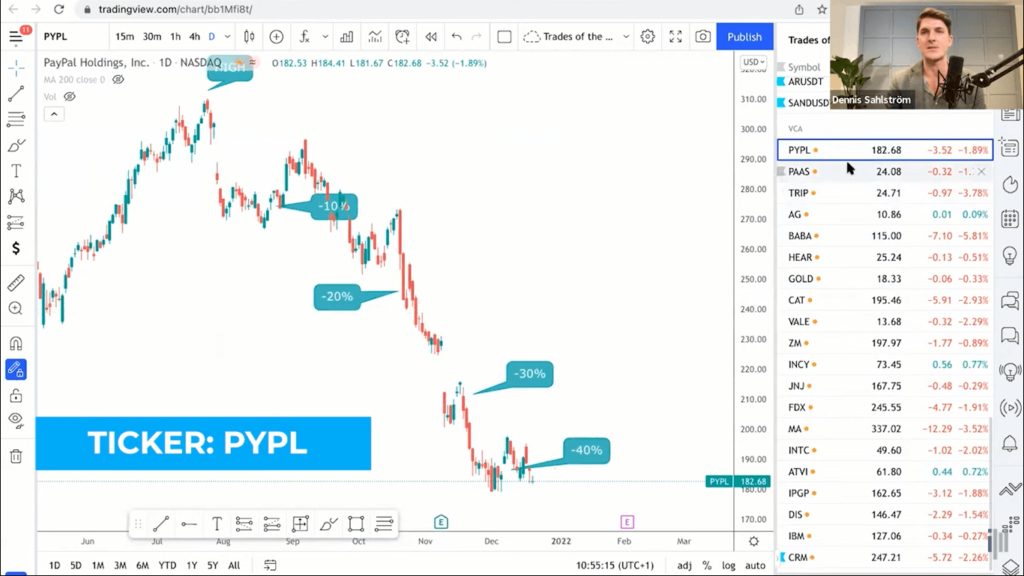 Pan American Silver Corp.
TICKER: PAAS
For Pan American Silver Corp., we are down by 40%.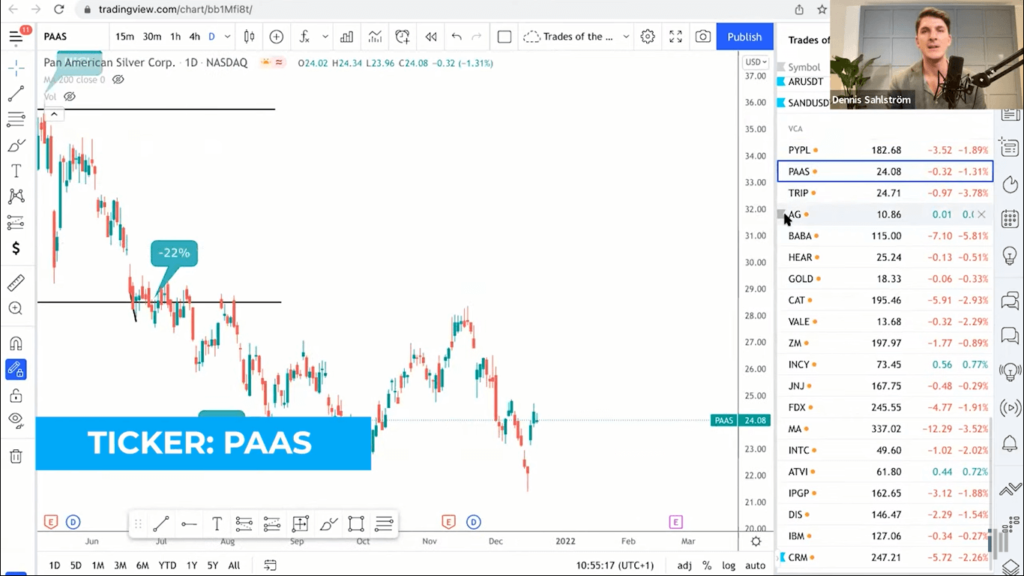 New Opportunities for 2022
It's the accumulation period of cryptocurrencies because there is a market drop. Bitcoin Exchanges is at a one-year all Salesforce.com Inc. is building a giant CRM System that people all across the world will use it. Companies will have a positive income, positive return on assets, investments, and equity. Also, a good debt to equities will have low debt in terms of their assets. Moreover, they have a positive outlook for the coming years, especially in terms of COVID and lockdown. We feel that people will still use them because they're completely digital.
If you are a client of Investment Mastery, send us a mail at gabreiella@investment-mastery.com to become the client of the week. It'll be an honor for us to have you featured on our Instagram where your progress will be shared to inspire others for investing and trading. It will make a huge difference in the life of others!
---
Not much of a reader? No problem, watch the video below: