It's the end of 2021 now. What do you think will be the trends for next year? What do you think will be the best investments for 2022? In terms of the buffaloes, investments don't really matter because we go both long and short. We're getting a 3% average every month. Therefore, make sure that you're getting into longs and also shorts overall in the markets. It's been a quite quiet week because of Christmas and the holiday season. But it's actually allowed us some time to relax a bit which is how trading and investing has always been. Let's dig into the stock market news.
STOCKS
ChargePoint Holdings Inc.,
Ticker: CHPT
For ChargePoint Holdings Inc., we have moved our stop loss down to 2%. So we're locked into percentage and waiting here.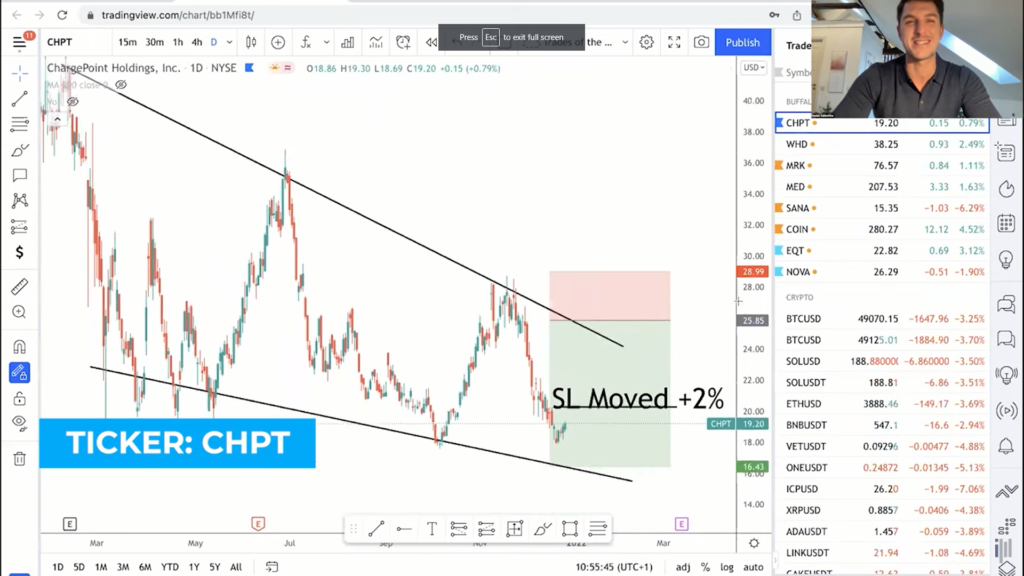 Merck & Company Inc.
Ticker: MRK
For Merck & Company Inc., we have moved our stop-loss finally to break even. So now we are in a good position here.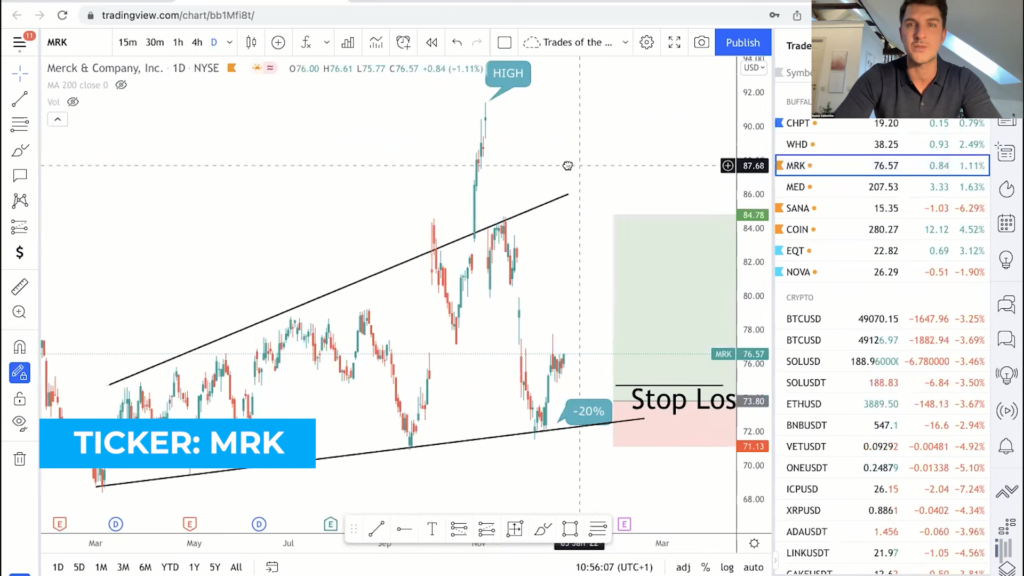 Sana Biotechnology Inc.
Ticker: SANA
For Sana Biotechnology Inc., there is no trade. That's the power of the stop order. It never went up enough for us to go in. So we just canceled the trade instead.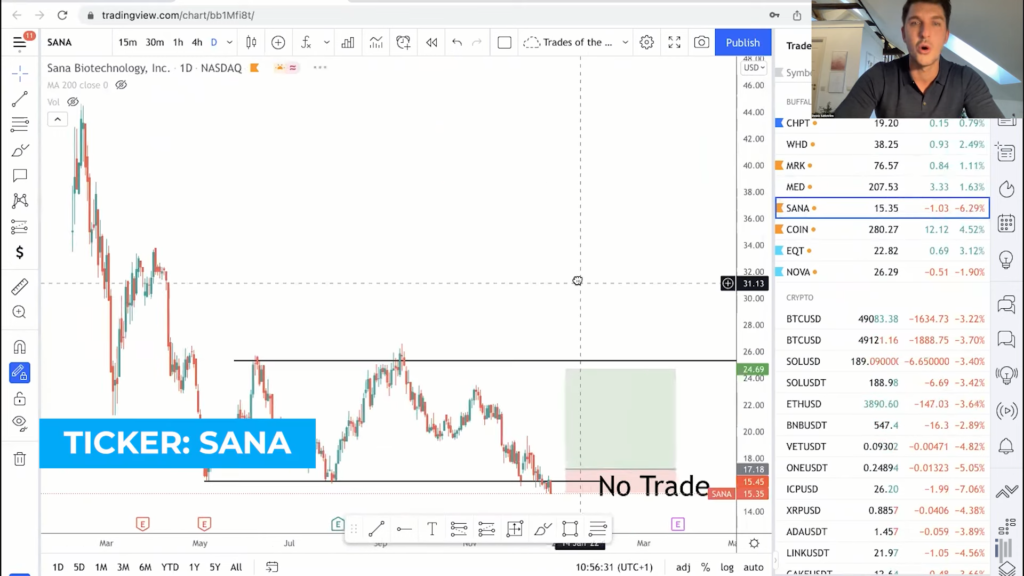 Coinbase Global Inc.
Ticker: COIN
For Coinbase Global Inc., we already had a great trade on that just recently. When it came down again, it was time for us to exit and we did exit it. But it was time for us to get back in again. It's such a perfect Buffalo. We had a green candle here.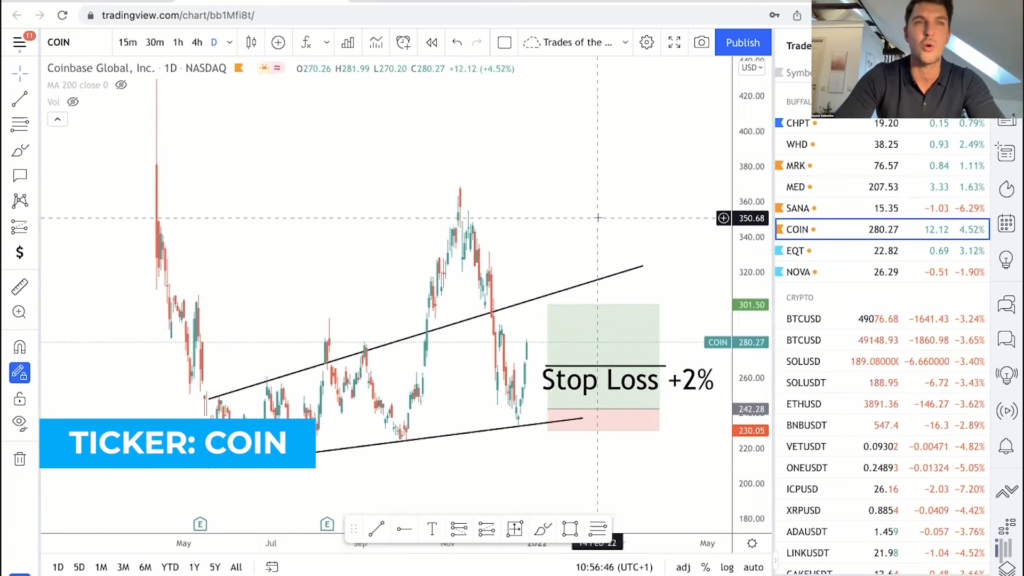 US30
Ticker: US30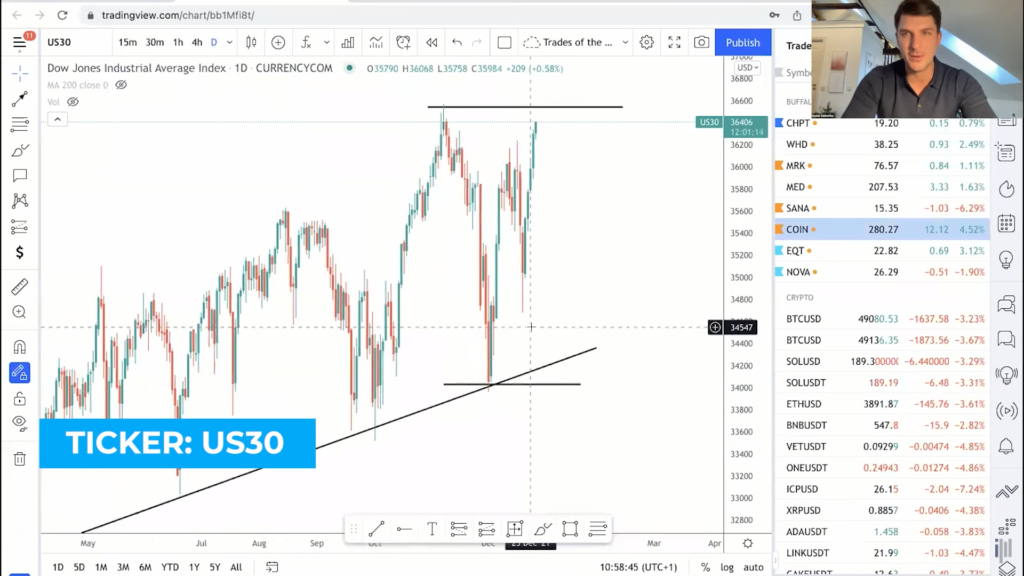 Let's have a brief look at the Dow Jones. We would stay in a consolidation here between the 34,030 6,500 area. This area does look like we can break higher here to our all time highs. So maybe it happens before the New Year. We are just hovering around that area and now breaking higher again. So if you have a look at the 21 weekly moving averages for the Dow Jones and even on the NASDAQ, we are definitely in an upper trending market. So even though a lot of people were scared, it was interesting for us because the fair ingredient index showed fearful readings just a few days ago when markets were at an all time high.
NEW STOCKS
EQT Corporation
Ticker: EQT
For EQT Corporation, we want to have a red candle first before we do anything else. There are some support levels at 19.5 or 20 marks. So we are waiting to go in.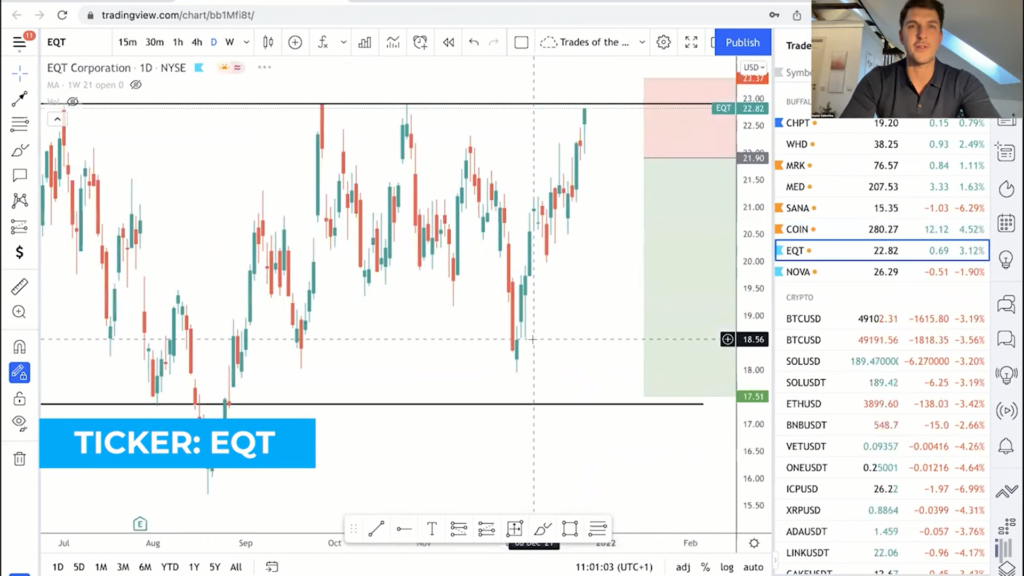 Sunnova Energy International Inc.
Ticker: NOVA
For Sunnova Energy International Inc., we had no trade on that because it broke lower. But this time we are at the three bounces, it is consolidating. We think it has a good range to move up as well and even higher than this. So this would be a 3-4-1 risk reward ratio. So a 3-1 would be even lower than this. We think this could be a really interesting trade if the energy markets choose to go higher from here.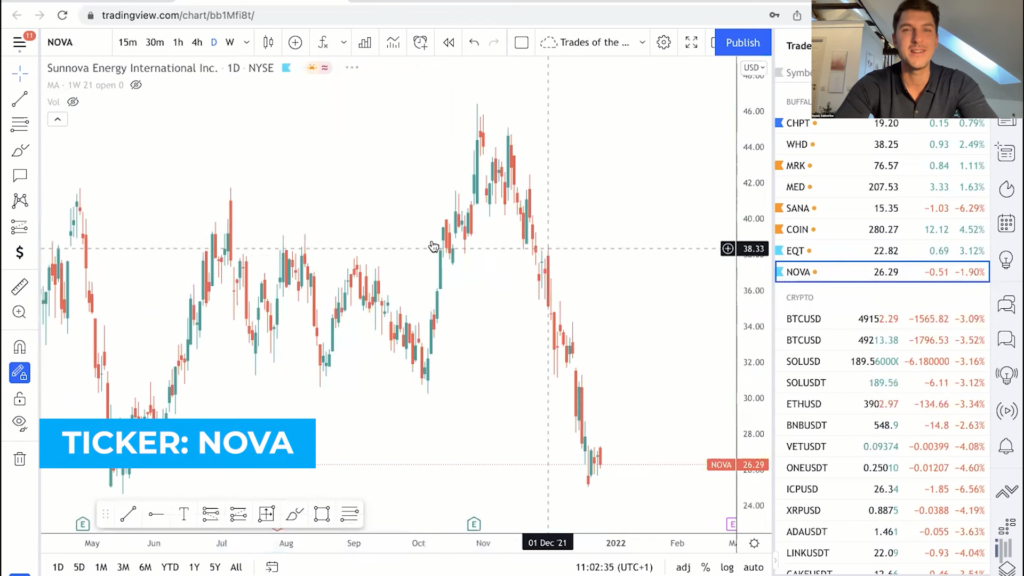 CRYPTOS
Cryptos did break out from the downward trend at 8,000. We had a retest at 45,000 a couple of weeks ago, and now it broke out of this shorter downward trend as well. Crypto market looks bullish for the longer term as well as for a shorter term. So let's see what happens. So we had a fall today with 3-4%, but we think it will be a strong investment next year as well.
MATIC Network
Ticker: MATIC
For MATIC Network, we have taken some profits up to another 100% close to all time.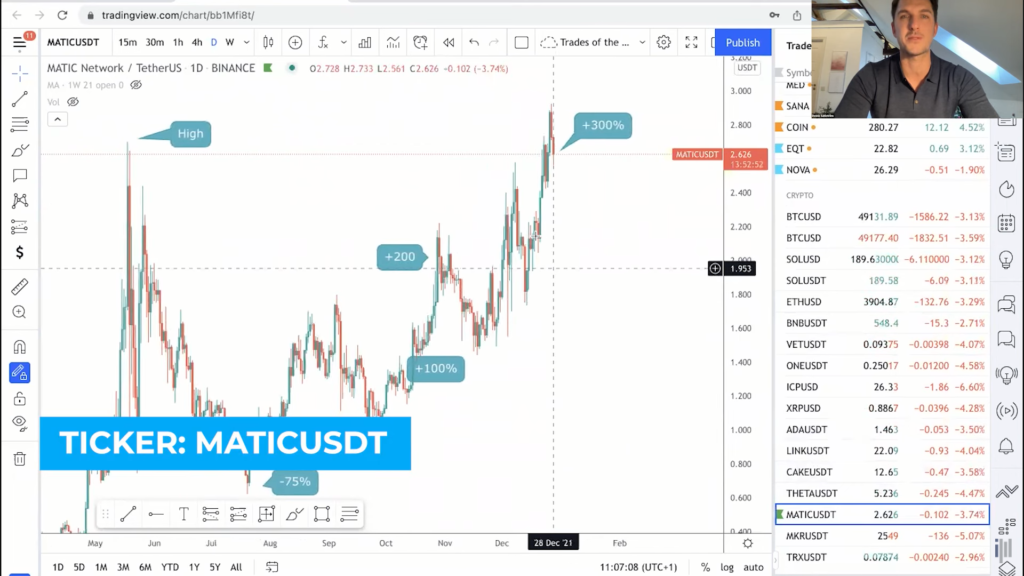 THETA
Ticker: THETA
For Theta Token, it did go from 80 up to 40 which has been quite disappointing.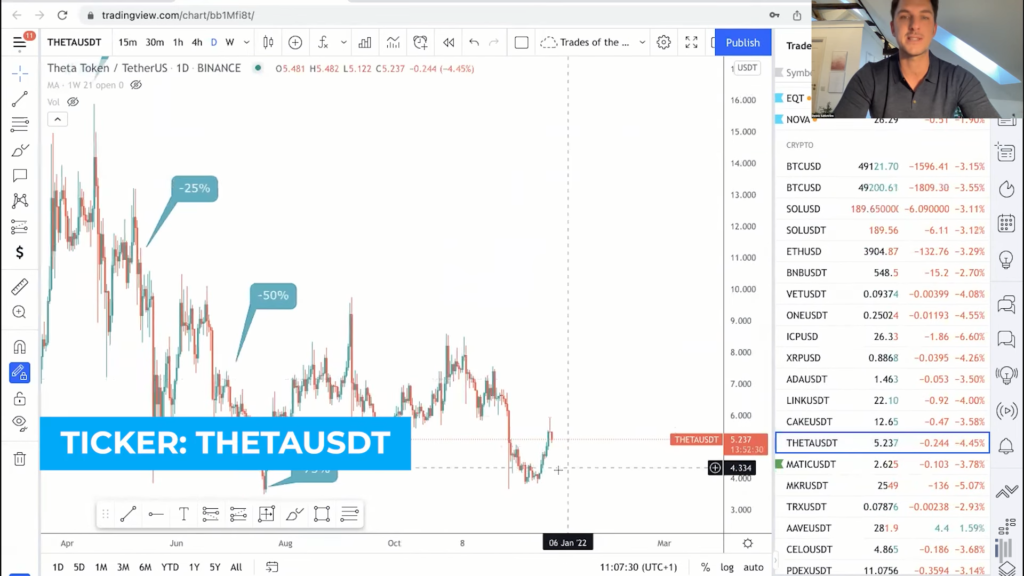 Ethereum
Ticker: ETHUSD
We suggest that Ethereum and Solana these bigger blockchains will be a great investment next year.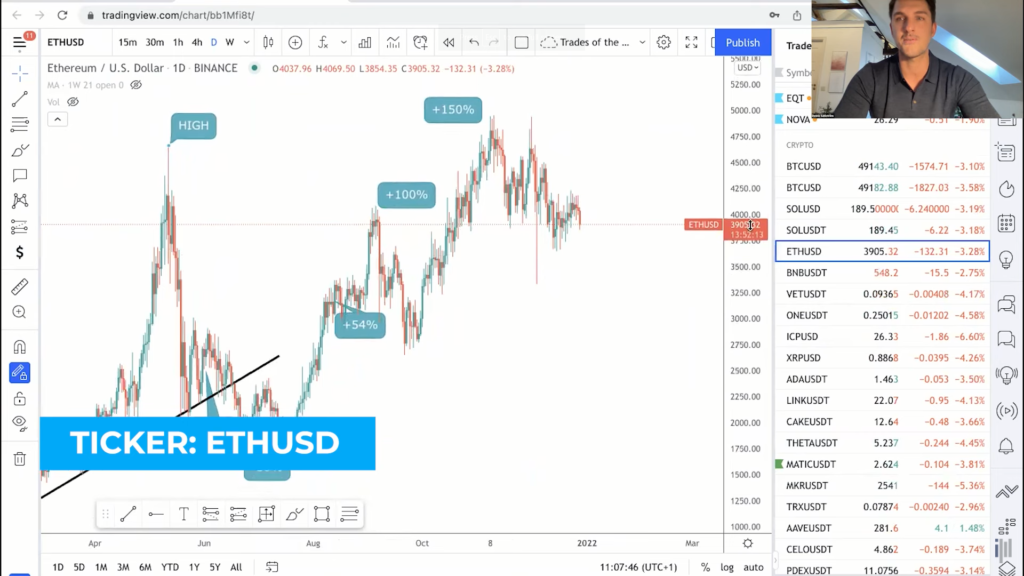 AAVE
Ticker: AAVE
Aave fell down from $670 down to $160.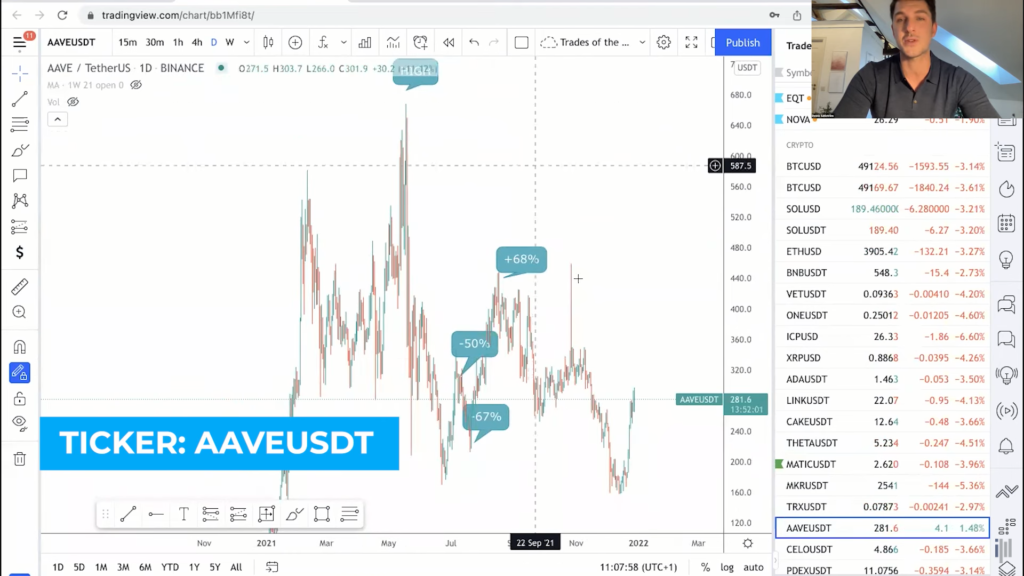 LUNA
Ticker: LUNA
We took a 100% profit on Tara Luna.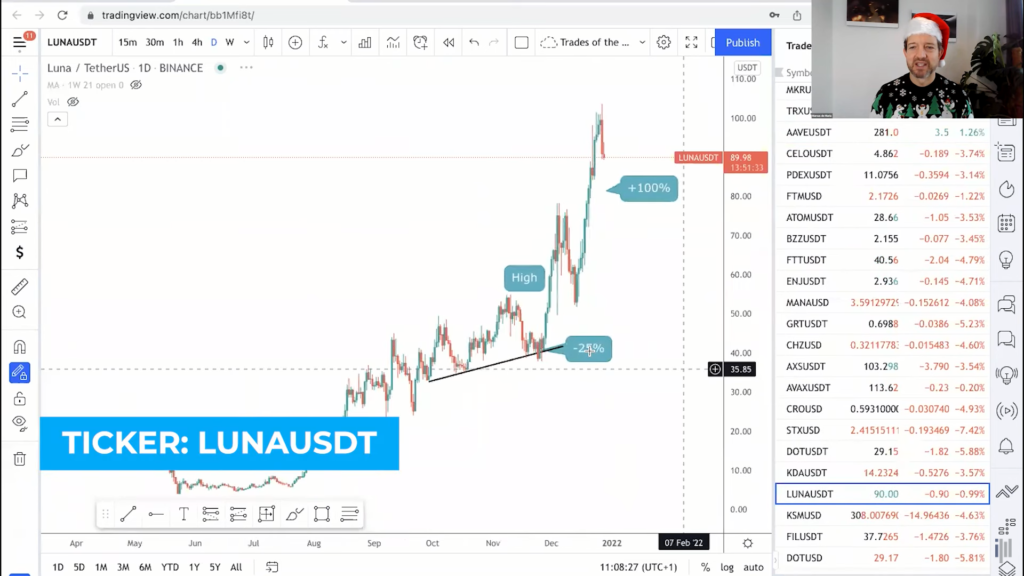 GALA
Ticker: GALA
We think that it's going to be a giant trend next year for Gala which is going to be one of those big competitors and contenders. So it's a great entry point for people who want to get in at a better price.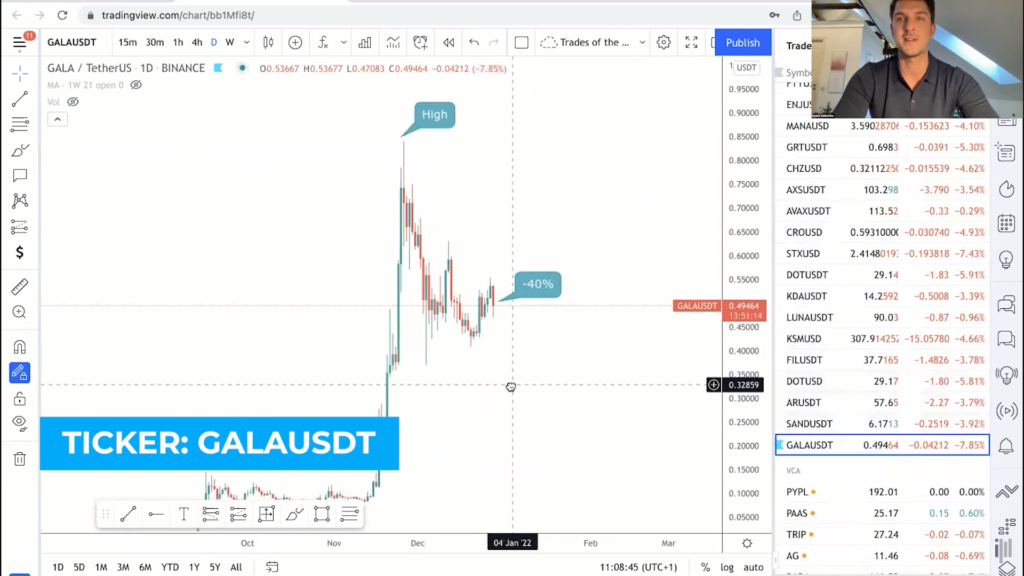 AVAX
Ticker: AVAX
AVAX is on an all-time high. So make sure to take your profits on it.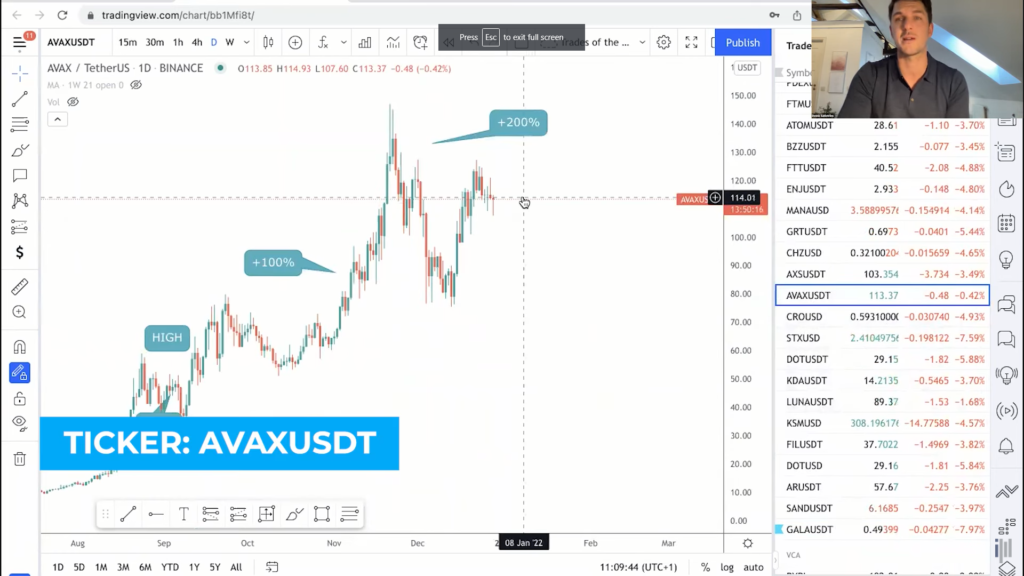 BITCOIN
Ticker: BTCUSD
For Bitcoin, we've can see these massive waves up where we are currently trading. So if it breaks within the 40,000 to 68,000 mark, we'll keep you updated.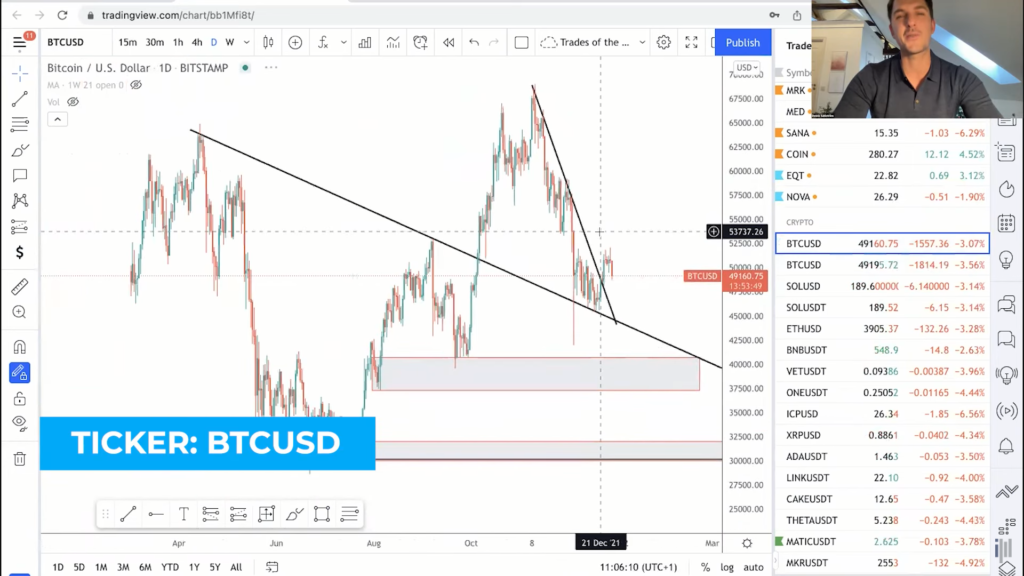 International Business Machines Corporation
Ticker: IBM
For International Business Machines Corporation, we're up around 10%,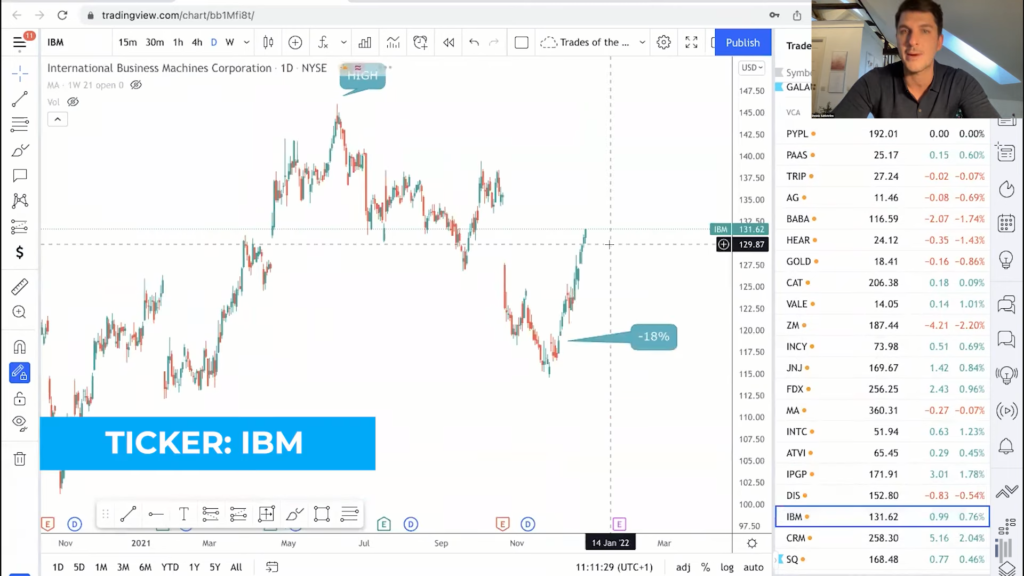 Salesforce.com Inc.
Ticker: CRM
We entered Salesforce.com Inc. last week. We're up a little bit on that.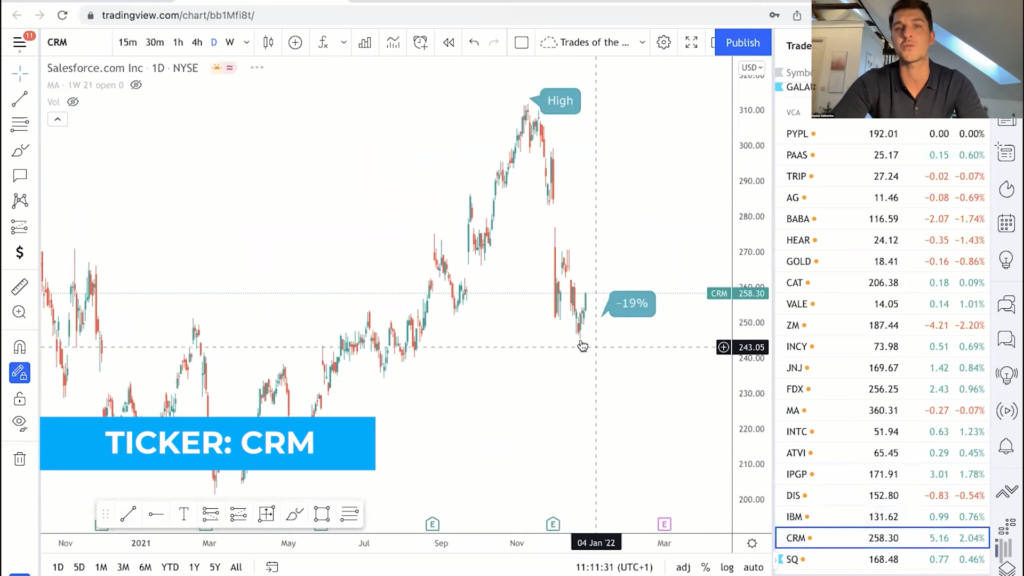 ---
NEW CRYPTO ADDITIONS
Block Inc.
Ticker: SQ
We're adding this week is Block Inc. After changing their name from Square Inc. to Block Inc., they went down to 40%. It's a great first entry point for us.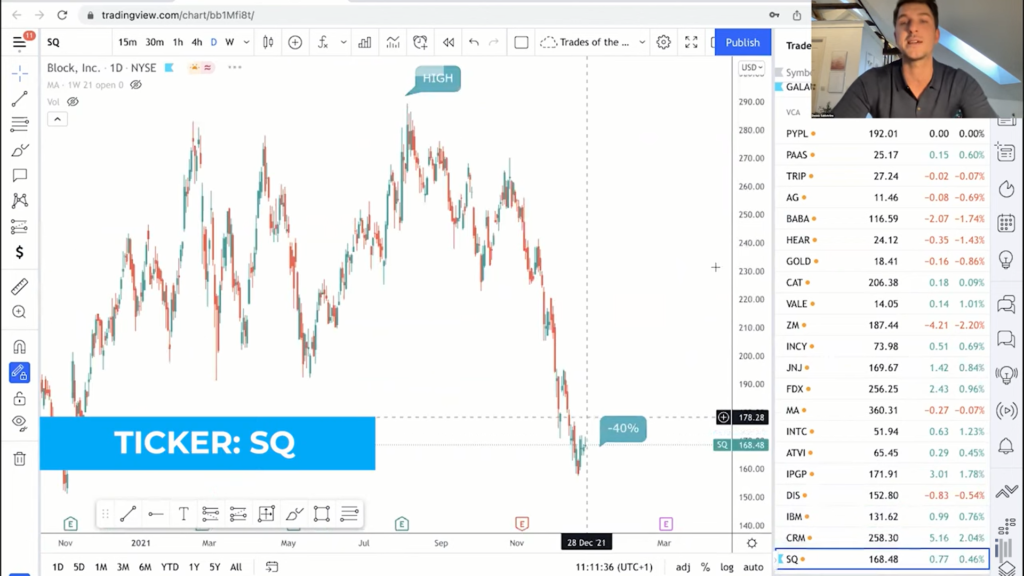 We think for every one new here. One piece of advice we want to give to the people new to cryptos is that you need to make an important distinction on Buffalo's total portfolio because we always risk 1% of the portfolio, no matter if the portfolio is $20,000 or a $100,000. Depending on how many you have in your portfolio, it's difficult to calculate VCA and CCN small cap. So make these distinctions to gain positive results. To gain all this information and the kind of results that we're getting here, keep referring to our channel.
If you are a client of Investment Mastery, send us a mail at gabreiella@investment-mastery.com to become the client of the week. It'll be an honor for us to have you featured on our Instagram where your progress will be shared to inspire others for investing and trading. It will make a huge difference in the life of others!
Not much of a reader? No problem, watch the video below: