Hi and welcome to you all, for the penultimate Trades of the Week for January!
Wow where has that time gone??? Well, maybe it's because there has been so much going on since the start of the year we've all been flying about like crazy trying to take it all in and make sense of the volatile stocks and crypto markets.
So, let's dive in as there is so much to discuss and analyse! Oh boy, oh boy, oh boy!
The stock market was down by 4% last week. Why is it so volatile? What are the reasons behind the crushing of stock market and then rising back to the top? Let's go through the Trades of the Week to understand the volatility of the stock market.
STOCKS
ChargePoint Holdings Inc.,
Ticker: CHPT
For ChargePoint Holdings Inc., as you know this is one we've been in for a long time now and if you remember, last week we wondering if we should take profit on this and Keith said… "No!" Which is exactly right, as we are following the strategies.
So what we are now doing is keep moving our stop loss down last week and now locking in to be 3.5% in profit.
But sometimes the candles aren't so kind to us, as we can see with…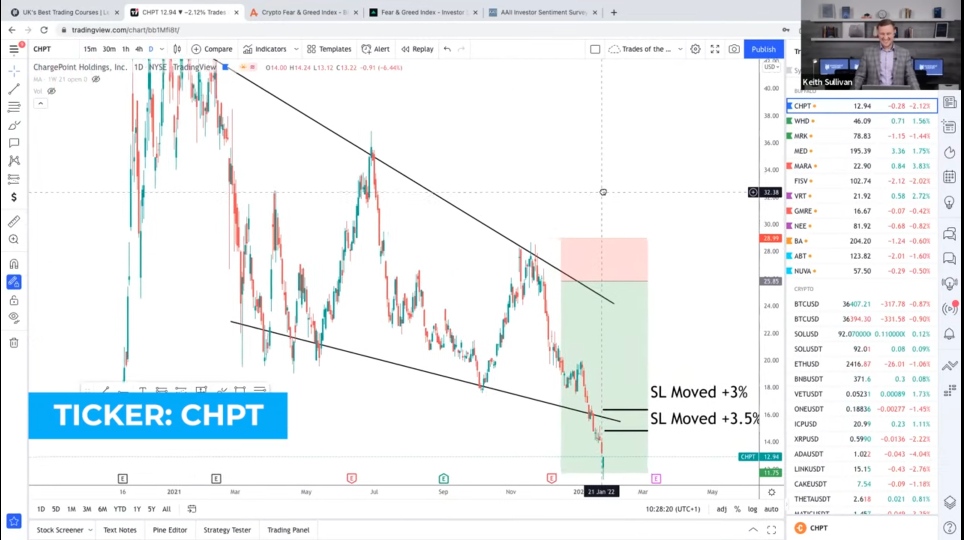 Cactus Inc.,
Ticker: WHD
Cactus Inc. went down, took us out and the reversed higher again so we could have got another one percent. But we don't know right, it's so difficult to know how the market is going to move. Nevertheless, we out with a 2% profit here.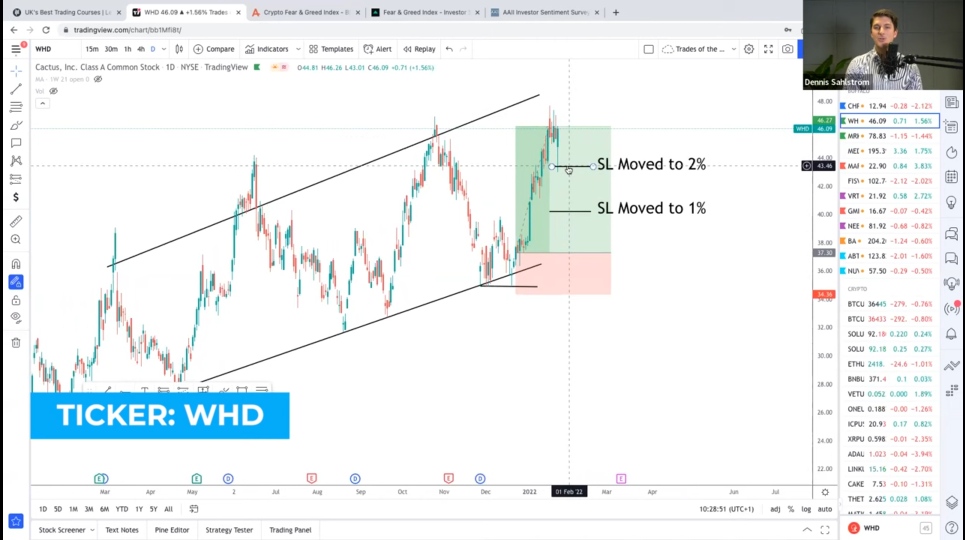 Merck & Company Inc.,
Ticker: MRK
For Merck & Company Inc., we put the stop loss to 2.3% and moved it up to gain profits, which we did on Friday actually.
Medifast Inc.,
Ticker: MED
For Medifast Inc., we got a little bit of profit there, so not much to look at here at the moment.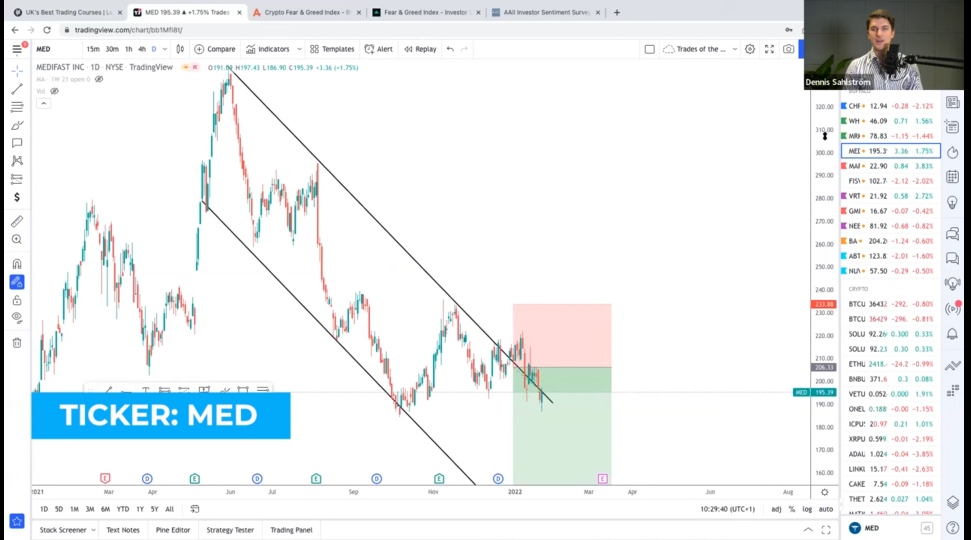 Marathon Digital Holdings Inc
Ticker: MARA
We had a 1% loss with Marathon Digital Holdings Inc., but I still think this is a good one as it's in the crypto space, so it has gone down a lot but we're getting out of this at the moment, we're not trading for revenge here, so we're leaving this for the moment.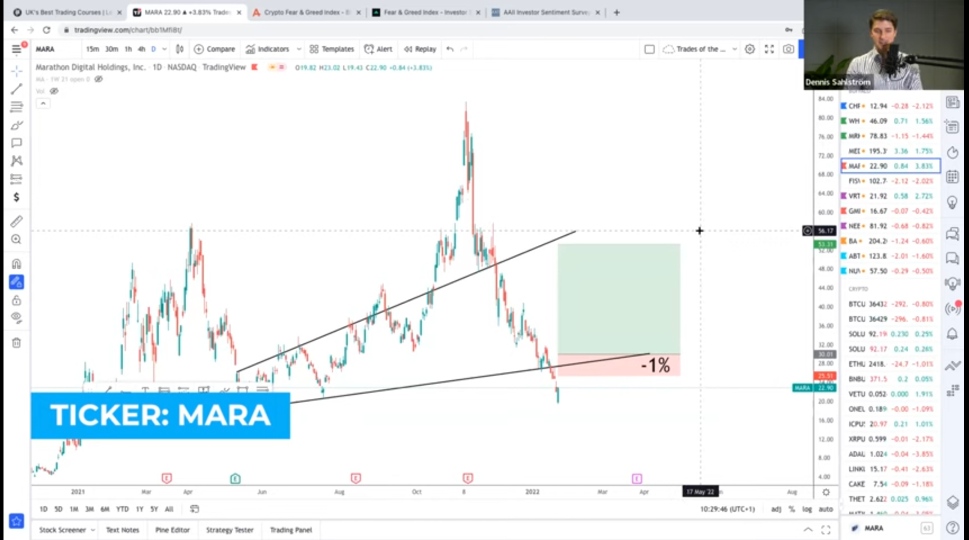 Veritiv Holdings LLC
Ticker: VRT
We had no trade for Veritiv Holdings LLC, it kept falling lower, so we have not entered this as from last week.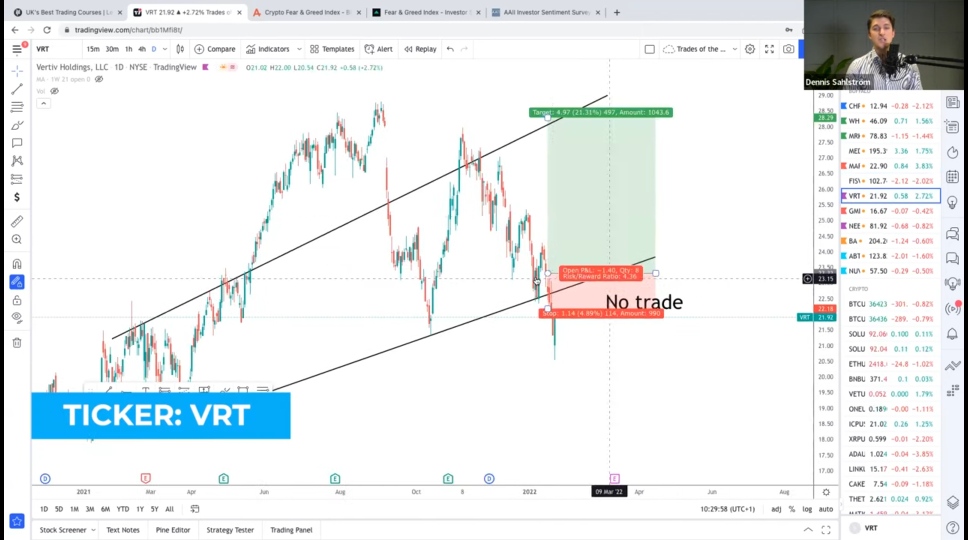 Global Medical REIT Inc
Ticker: GMRE
We thought this looked very good, but the market roamed lower, it just took us in and said peek-a-boo and then dropped down like a rock! We zeroed out at a 1% loss. No emotions there! Did Keith cry when this happened? No, no, because there are no emotions in trading, remember?
Next up is…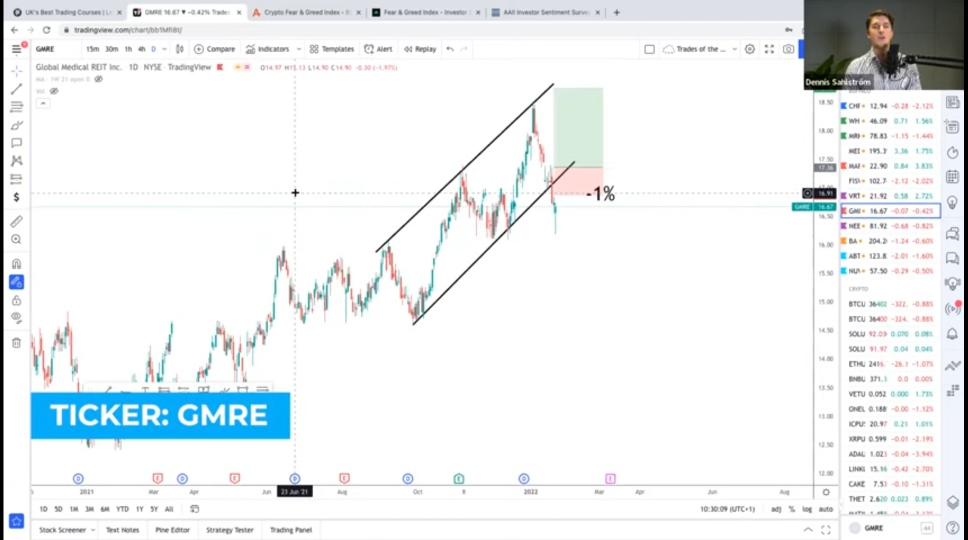 NextEra Energy Inc.
Ticker: NEE
NextEra Energy Inc. There was no trade here as it kept going lower than expected. But we'll keep an eye on it as there were some candles. We'll report back on it next week.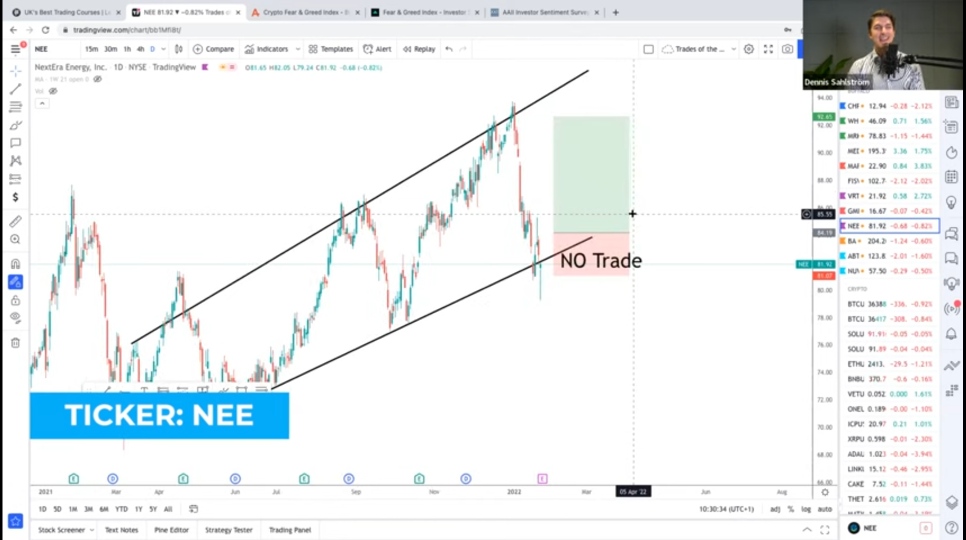 Boeing Company
Ticker: BA
Boeing Company has a stop loss of 2%, which went lower than last week. So we are locking our profits on 2% here.
So, as you can see, we had two losses of 1% and two profits of 2% each and we locked in on several more.
This is the thing right, even if the market is dropping, it doesn't matter for us while trading because we are taking advantage of the upward and downward movement.
Talking of ups and downs, what is happening in the markets??? Why is the market crushing, then coming back and soaring higher?
MARKET NEWS
Okay, so one of the main reasons the market has been very volatile, there is a bit of fear coming into the market as a result of the announcement last week from the Federal Reserve who were meeting to discuss how best to increase interest rates.
Now, obviously with an increase in interest rates it shows you the economy is going to start to shrink because more people will be saving money than spending money. This is one of the biggest driving forces which has caused this bearish move.
Would we call it a bearish market? No, we think this is just a short-term retracement. Why? Well, because the market itself was still massively over-valued.
The big thing is then, what is the Fed Reserve going to do about interest rates. We will know the answer to that within the next few days.
One of the main reasons for this once again, and we talk about this week in, week out, is it's all down to the inflation side. They are trying to pull inflation down and this is just a natural step in regards to an economic process. If inflation increases, interest rates increase, which in turn causes people to save money and this regulates the economy in America. It brings inflation down and we go back into a normal cycle.
As you can see from the chart, with the S&P 500, we had a massive bearish move and that as a direct result of the news we had on Friday. We had a lot of outside trading, on Saturday and Sunday, and then by Monday a lot of the sell orders began to be fulfilled. This is what caused this kind of retracement in the market, a little drop in the market.
With this movement, where the prices became cheap, the buyer's started to buy heavily. That caused a massive reversal in the market. So the candle from yesterday dropped to 4%. It went quite lower and closed to around 4-5%. This is when the buyer's started to pour into the market. At this time, we observed that the market closed at a positive number, that is, at an increased value. It is a great signal for the buyers to buy, and it is called a hammer where a reversal candle pops up. It shows that people are willing to buy in this market.
We feel that we could still trade below the support level on the S&P 500 mark because we still need to entice people into the market. Remember, for people to buy into the market, they've got to be enticed. And the way you do that is by buying in at cheaper prices.
Okay, as a result, we now expect a bit of a pullback, and then the markets rally and recover a bit more. Once again, it's great opportunities for us because we've got more VCAs, and more shorting positions. For us, it's a testament to being hedged in the market because we lost a couple of our shares in our long positions when the market was bearish, but we also made a lot in our shorting positions.
So, make sure that if the market becomes bearish, you want to be hedged in long and short positions but also have VCAs running and be liquid enough so you have the money to buy as that market drops.
Lastly, we would like to add that if there was selling happening outside the market, then where was the money going? Was it going in dollar or into the commodities? If we look at the dollar index, it has been increasing. At this moment, more money has been held in dollars than in equity or commodities.
So, what is the next stage for institutional investors? Are they going to pump more money into commodities to push gold and silver up, or are they slowly going to inject that back into the equities?
Once again, unfortunately the crystal ball from Amazon hasn't arrived, so we don't know what is actually going to happen. But we just need to have our finger on the pulse, we need to be on the right side of the fence and if we start to see the market fall, we know what we need to do.
And the best way to do that is obviously… by following Trades of the Week!
Only then can you get latest news and insights and you can see, right, that the performance is really good from the buffalos that we are in because we are hedged.
As you can see, we have added two more to the equation but, as well, if you look at gold for example, it's in this massive triangle. From a technical perspective, if it breaks from the triangle, we will see some nice and interesting moves in the gold and silver market. It looks like gold and silver might be benefitting and is looking quite nice compared to the stock market at the moment.
So, yes, a lot of eyes this week on the Fed, but what actions are we taking? Well, we've been telling you this as well that the companies we have been getting into, the VCAs, are solid companies. We do need to make sure we invest in companies that cannot go to zero, and we will show you how to measure that as well.
NEW STOCK ENTRIES
Abbott Laboratories
Ticker: ABT
We got a big reversal for Abbott Laboratories. It has an upper trend that is perfectly intact and has a good risk-reward ratio. We might get a green candle here.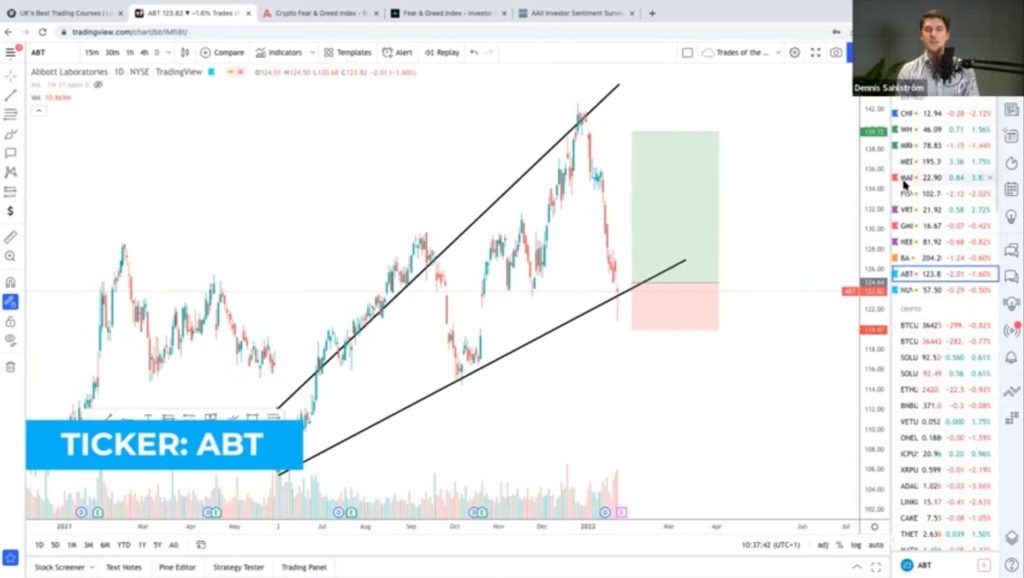 NuVasive Inc.
Ticker: NUV
NuVasive Inc. is working in the healthcare industry. It is a shorter opportunity for us because the trend is bearish here, it's going down. If it follows an upper trend, a red candle might appear here. We think there could be a big move in either direction in the coming week. That's why we're adding a short and a long because we might lose 1% on one but maybe the other goes down 3 or 4 percent. So, we can make some good profits on that.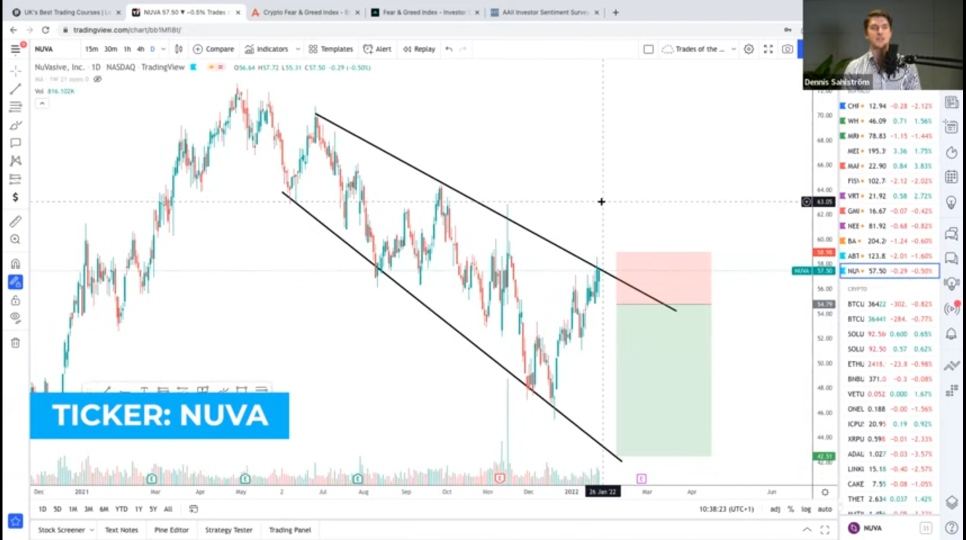 CRYPTOS
Now, of course cryptos is something everyone is talking about, and it really has been falling since last week.
We thought the 40,000 mark was going to hold. It has not held, yet. But here's some perspective. Take a look at Bitcoin Futures. Since the crypto market never sleeps, Bitcoin Futures are just open during trading hours. If the market trades during the weekend and opens on Monday, and opens a lot higher, you get a little gap in the market. These gaps are filled pretty fast, and the prices are boomed higher. If we don't manage to reverse higher from here, then we are definitely going to revisit the lower levels. So hopefully, we get a bounce in the market and maybe even stay a bit stronger.
Another important piece of news we want to share is that BlockTower Capital is one of the biggest hedge fund firms in the US but it is still a fairly new asset still. It is very volatile, as you can see, and an established asset doesn't really move this much. But that being said, in the beginning, Amazon, among other companies, fell down over 90% which would have been a great idea to buy Amazon back then. So, don't be scared of the volatility. Just make sure you follow a strategy.
One thing we look for in cryptocurrencies is how are people going to shake out the weak hands? How do we get out the weaker investors and keep the solid investors in the market? Because it's the solid investors that drive the market overall. The way you do that is to drive price down until people are selling out or being stopped out and then it's creating a lot of liquidity for the bigger whales to buy.
As seen in the chart, the 30,000 mark is a good liquidity point because each time we reached this mark, two brand new all-time highs were created. So we are looking into some sort of liquidation in that area. If it breaks and trades below that area, we could be seeing a retest of the 2018 all-time high, which was the last the stronger level of resistance. So, Keith is still feeling very bullish on crypto. Obviously, short-term yes, we're having a retracement, but it is a great time to accumulate.
"Only when the tide goes out, do you discover who's been swimming naked" – Warren Buffet
It's so true! For when there is fear in the market, we see who the proper investors are.
And hopefully everyone here on Trades of the Week are understanding that you need to be buying as this market falls. It's not about being fearful with the herd. We need to not follow the herd and start accumulating at cheaper prices.
After all, that is what both of us, Dennis and Keith, are doing, and all of the team are doing.
But overall, really positive news coming out. We're seeing good news about Phantom, seeing a lot about NFTs, a lot about Solana, a lot of positive news that could contribute to a push up in the market. Maybe not now, but over the next few months.
We've also been adding to our biggest positions here. And the only way to swim all the way is to have a strategy to follow.
Okay, onto the cryptos in a nutshell…
Solana
Ticker: SOLUSD
Solana has gone down quite a bit. We have added this company to our precision which is down by 65%. So we are adding our cryptos for this company.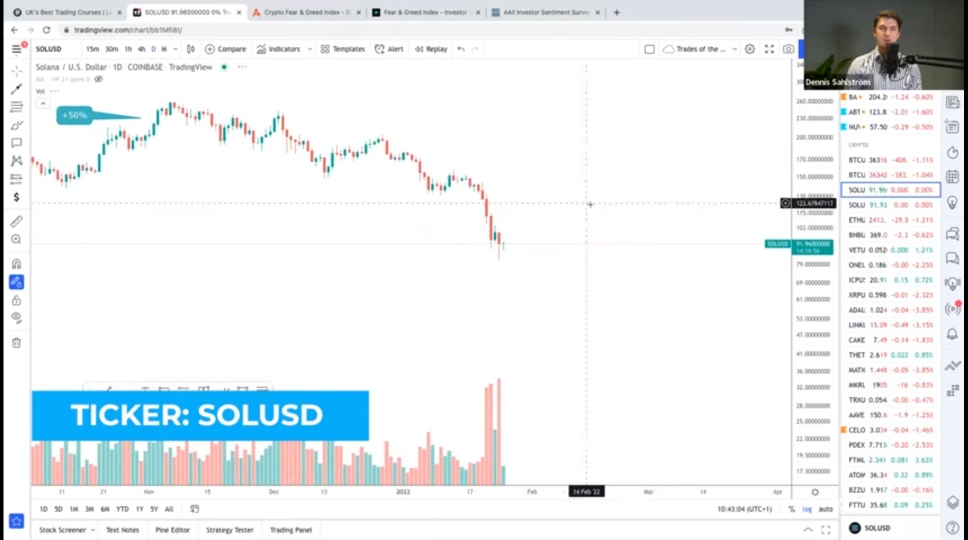 CELO
Ticker: CELO
This company is also down by 60%. So we are adding our cryptos to this as well.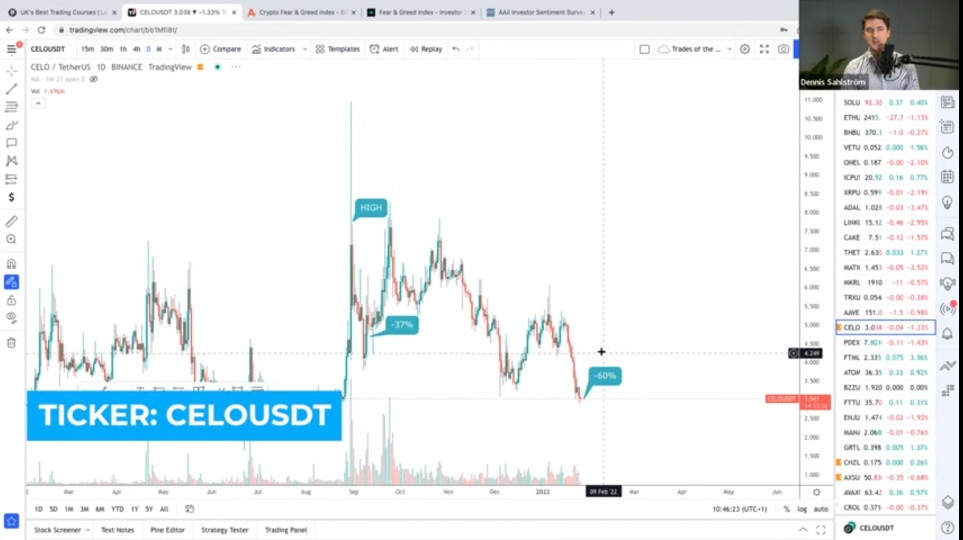 Chiliz
Ticker: CHZL
Chiliz is down by 80%. It is a platform for the Fantokens, which we think can be a really big deal.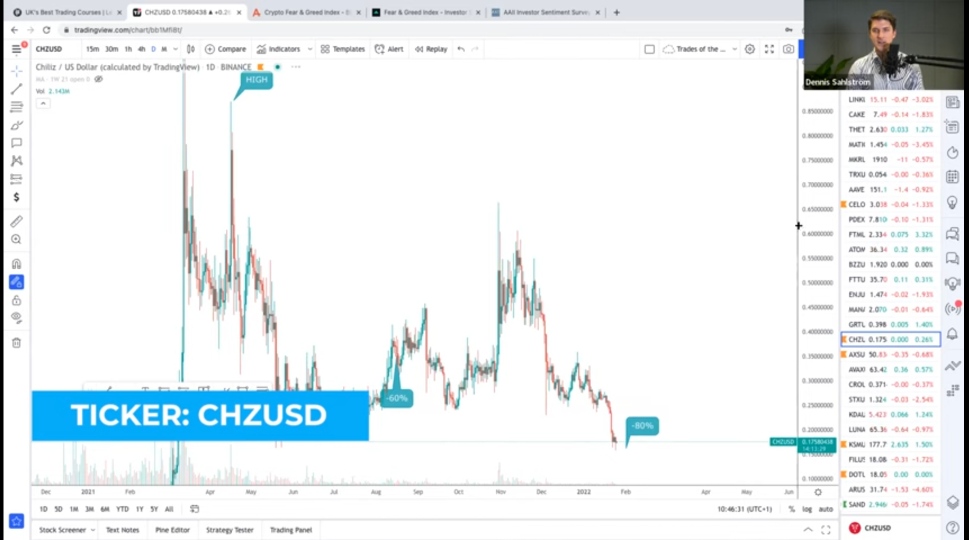 Axie Infinity
Ticker: AXSU
Axie Infinity made a 100M$ in the last quarter. So this is a great company to add to the portfolio. We are adding our position here.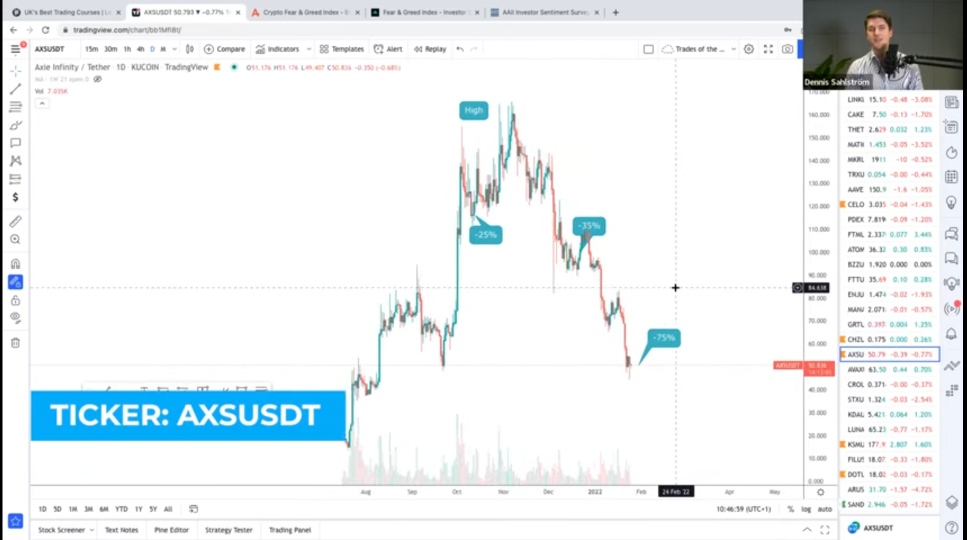 Kusama
Ticker: KSM
Kusama is down by 64%. So we have our money at the sidelines here.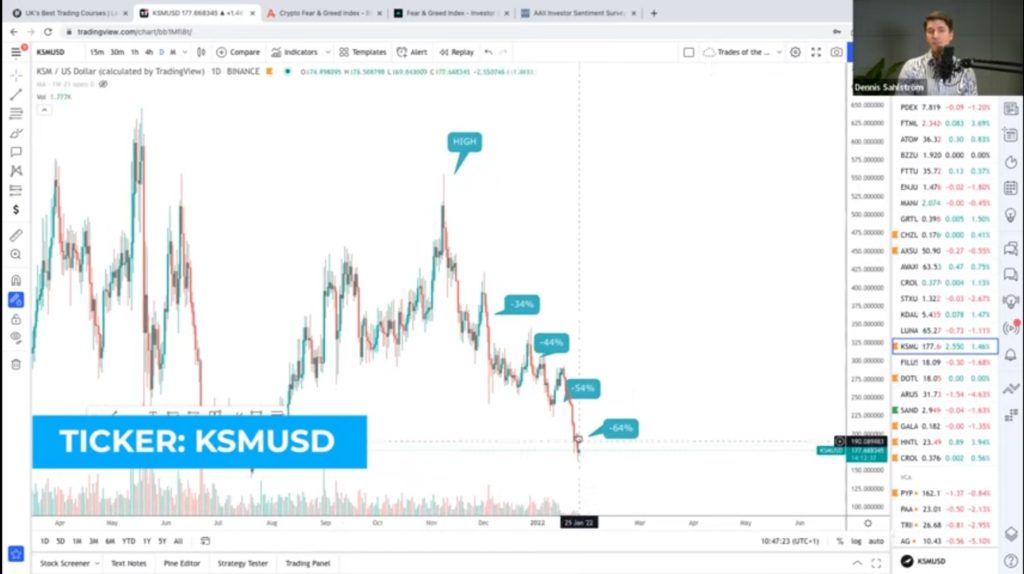 Polka Dot
Ticker: DOT
Polka Dot has a great ecosystem. So we are adding our position here too.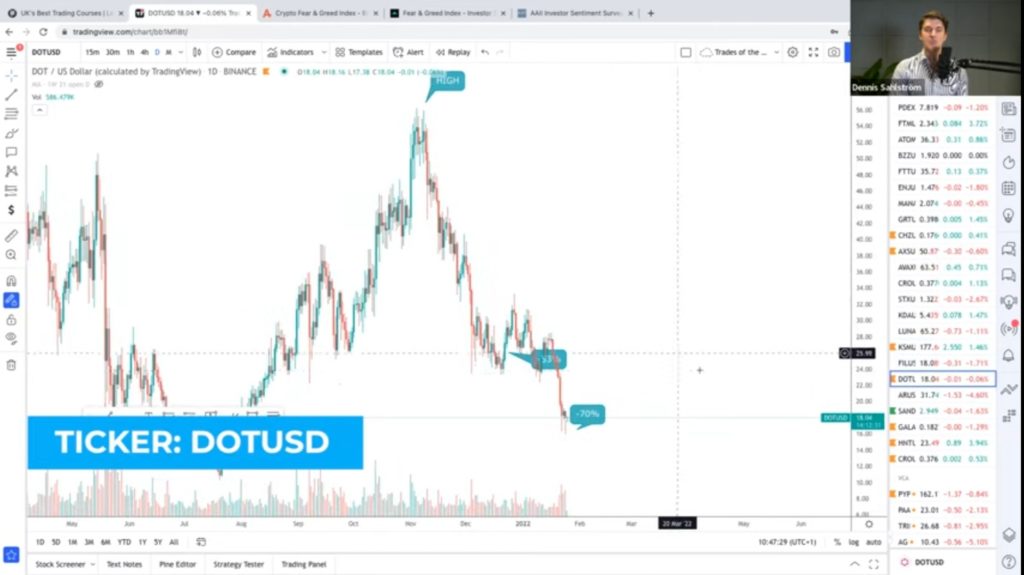 Sandbox
Ticker: SAND
Sandbox is down by 64%, which offers a great opportunity to enter.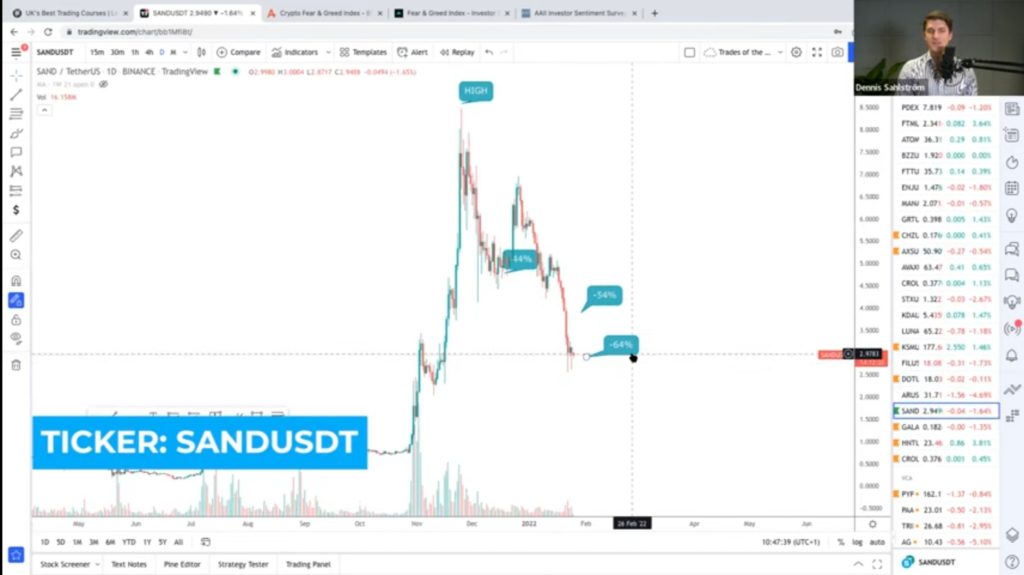 GALA
Ticker: GALA
It is down by 75%. We are adding our precision to this as well.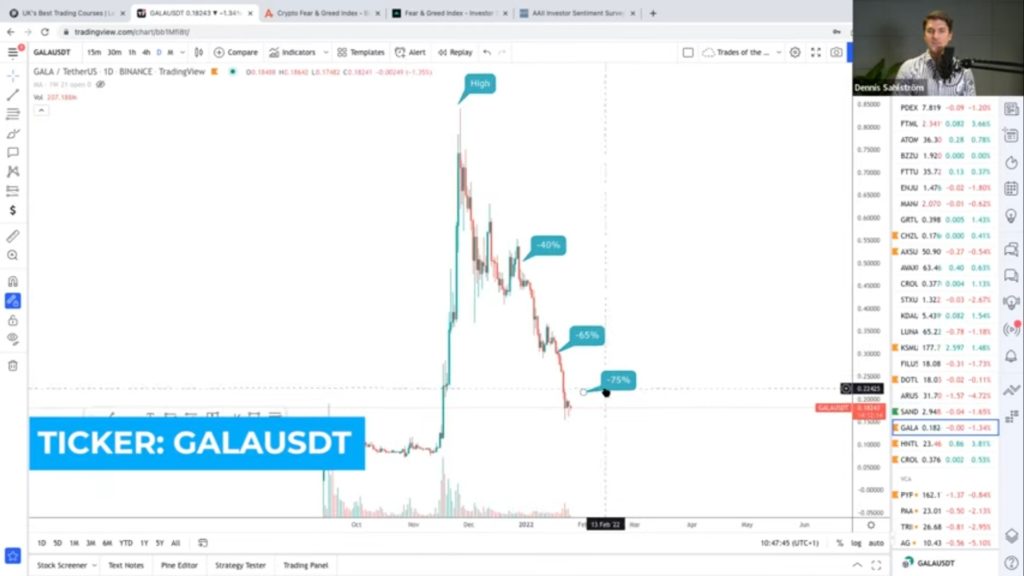 Helium
Ticker: HNTL
Helium is down by 60%.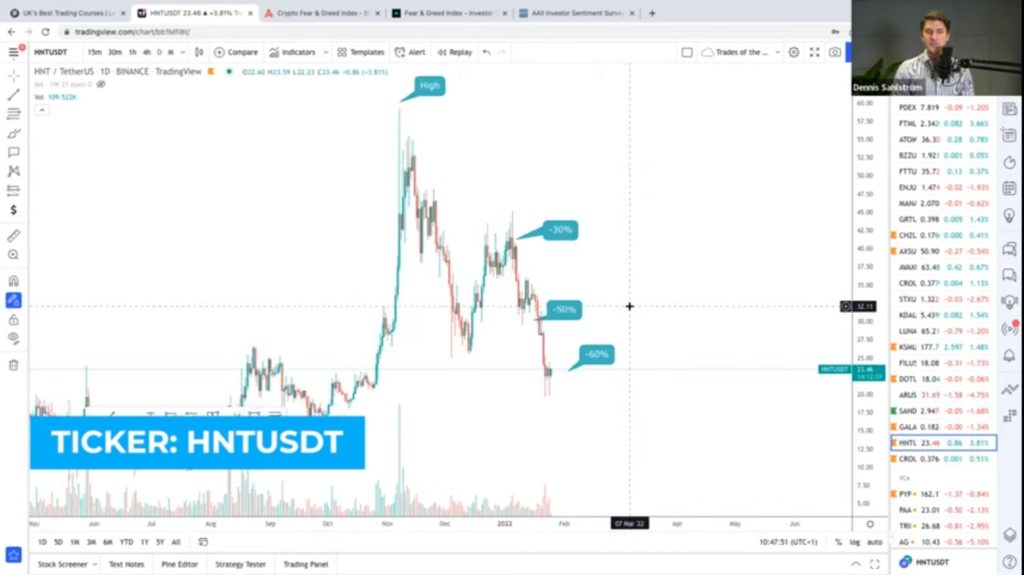 Crypto.com
Ticker: CRO
Crypto.com is down by 65% from a massive high. So we are adding our precision to this too.
The fear and greed index shows that it is at a mark of 13. So there is extreme fear in the market. But we are sticking to our strategy and not becoming fearful.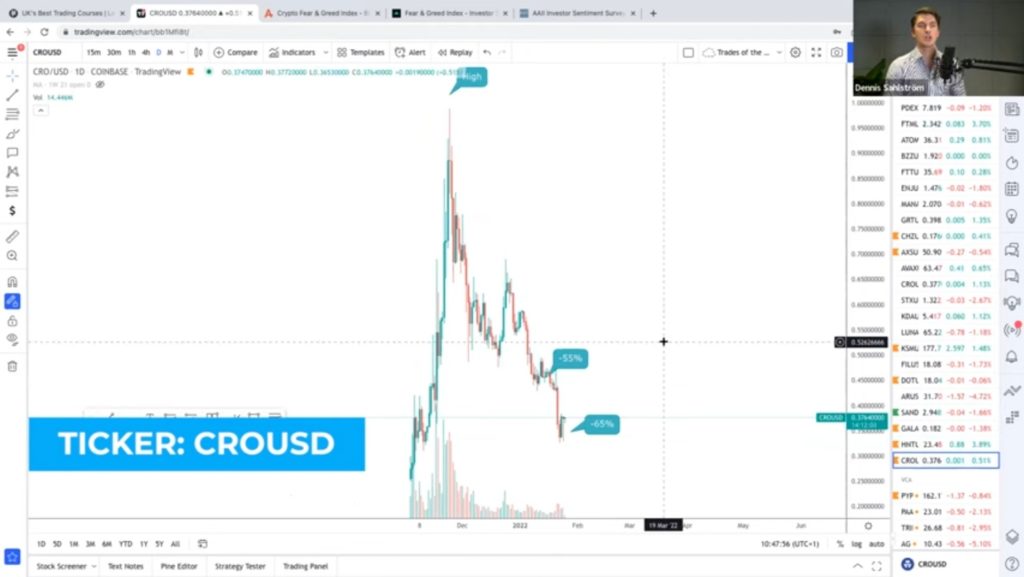 PayPal
Ticker: PYP
PayPal is down by 50%. Even during covid, PayPal wasn't down till 33%. So we think it's a great opportunity to enter and earn profits.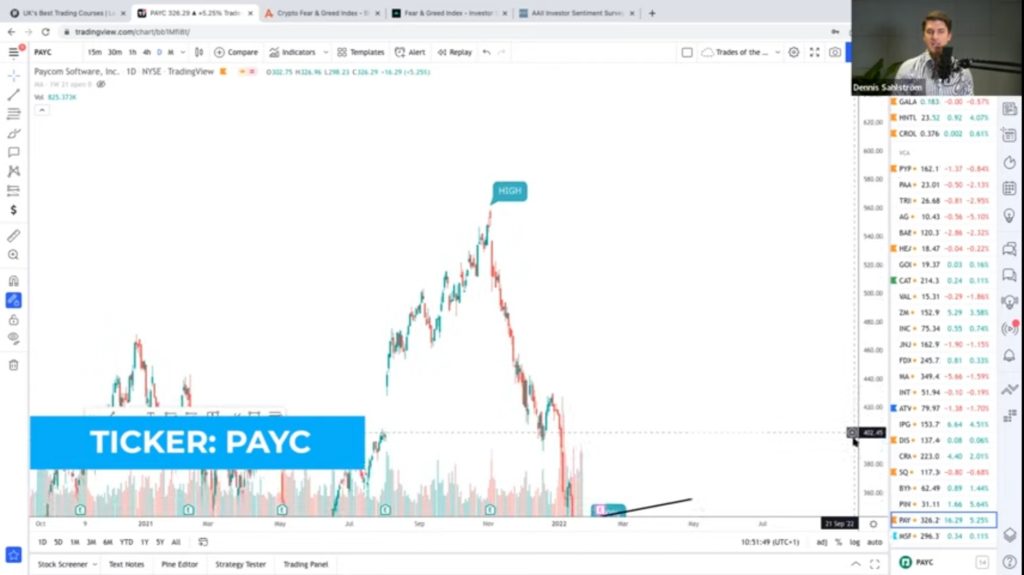 Pan American Silver Corp
Ticker: PAA
Pan American Silver Corp. is down by 36%. It'll be a good opportunity to add a commodity company to the portfolio because the commodity picks up really fast.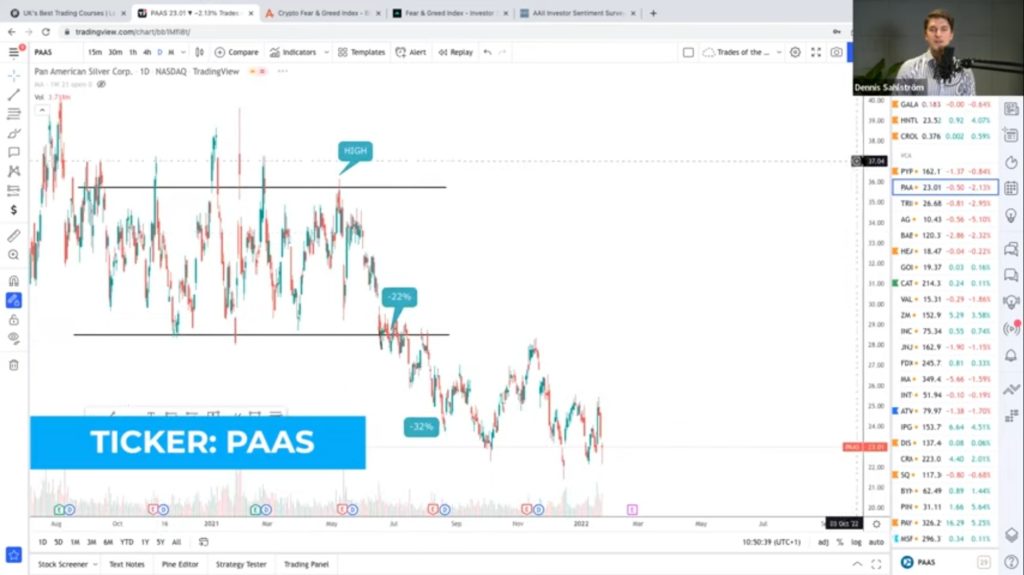 Caterpillar
Ticker: CAT
We are taking our profits at Caterpillar at 10%.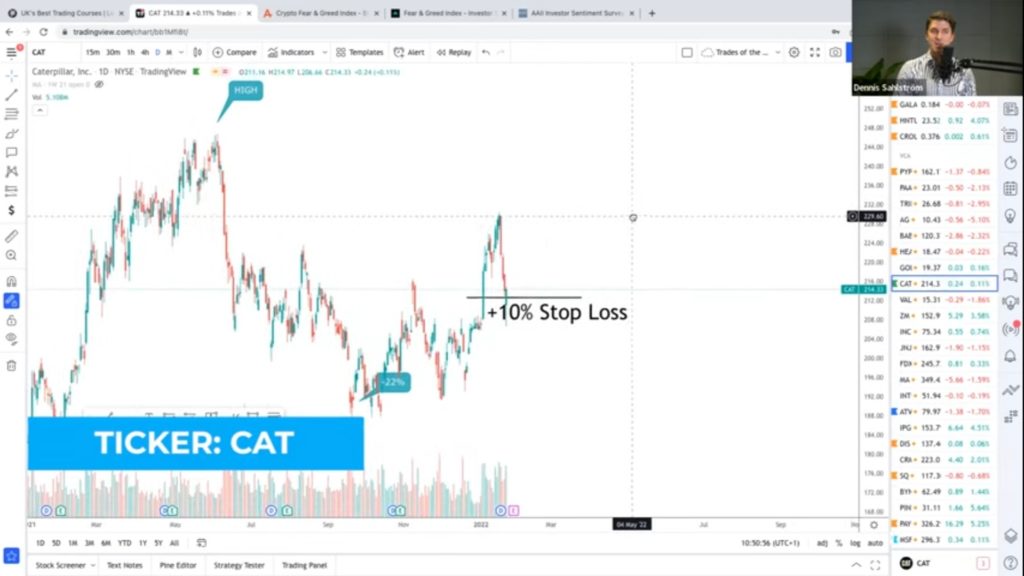 Activision Blizzard
Ticker: ATV
We have a stop loss of 20% for Activision Blizzard.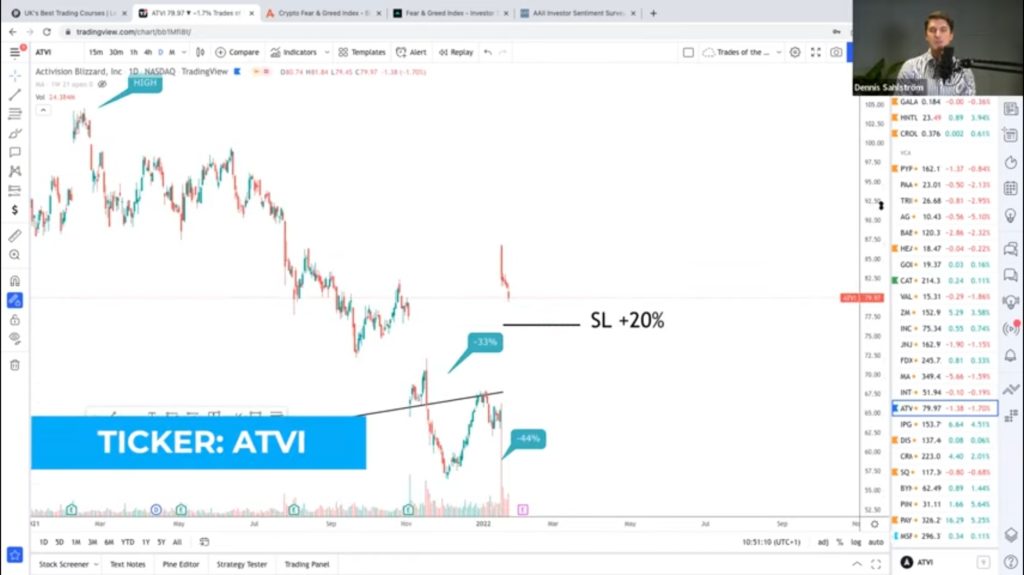 Disney
Ticker: DIS
We are down at Disney at -36%.
Block Inc.
Ticker: SQ
Block Inc. is down by 60%.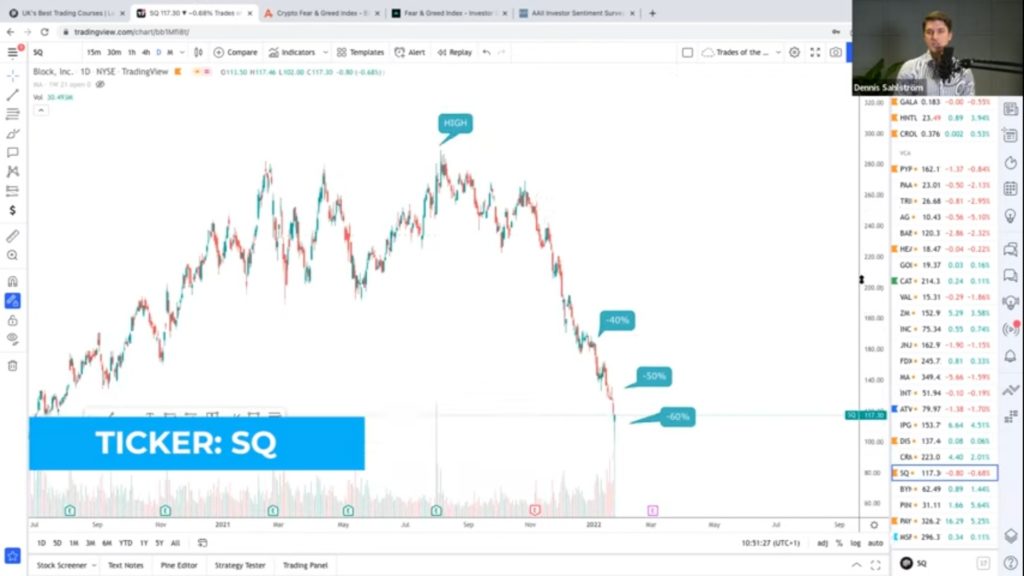 Paycom Software Inc.
Ticker: PAY
Paycom Software Inc. is at a good support level. We added this company last week.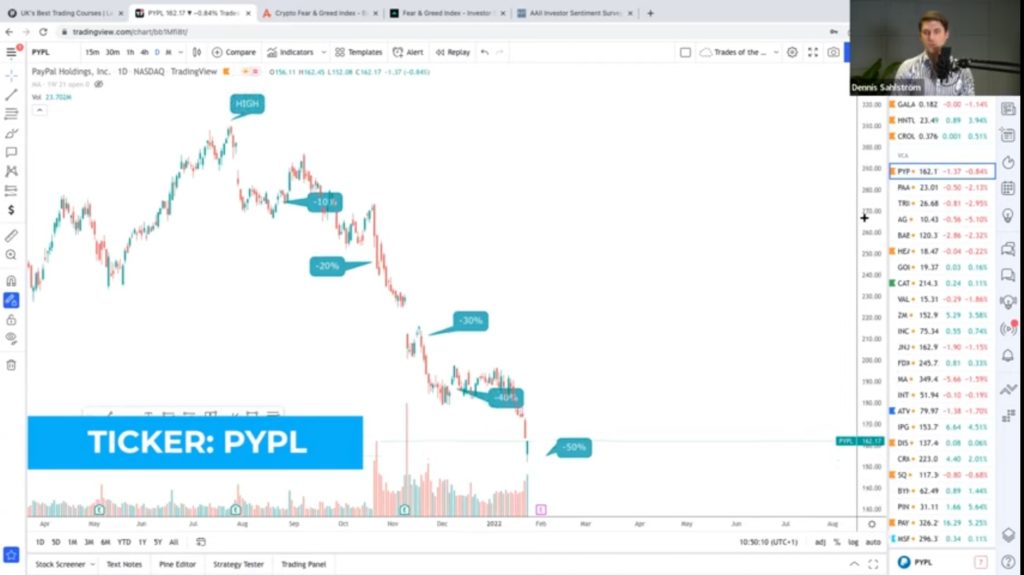 Microsoft Corp.
Ticker: MSF
Microsoft Corp. is down by 15%. We are adding Microsoft to our portfolio because it is a solid company that can handle any crisis at any time. Microsoft is fundamentally very strong and has gained well in the crypto market after it acquired Activision, which is a gaming Metaverse.
Microsoft is a great example of a VCA, so keep a lookout for companies that cannot become zero. A lot of big giants like Facebook, Amazon, Disney or Microsoft cannot become zero because they are big investors.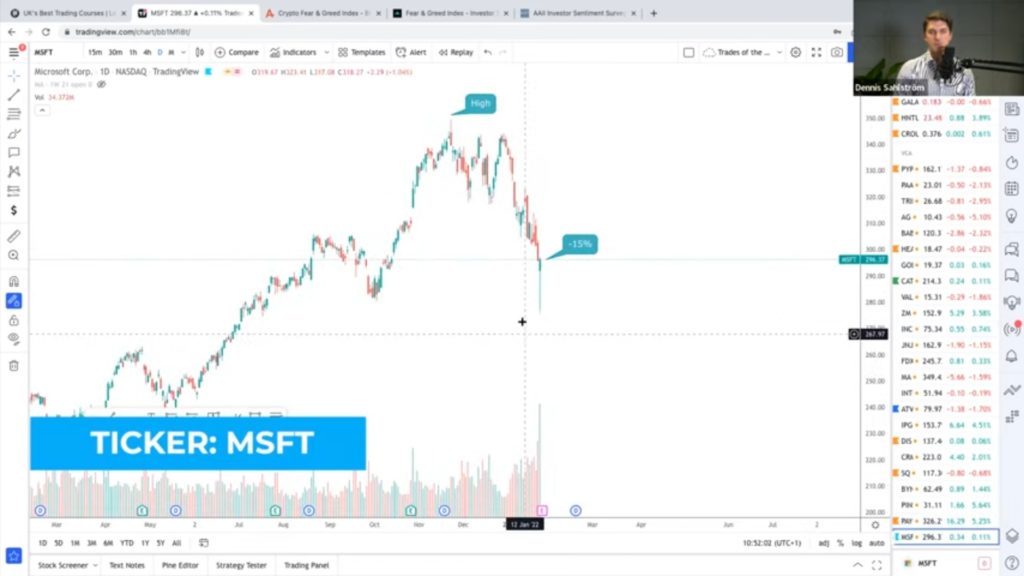 To conclude…
You may have heard in the news that Kim Kardashian was sued for acknowledging a fake crypto. This is important to take note of because even if celebrities endorse different projects, it doesn't mean these projects are legit. Just because they are celebrities, doesn't mean they necessarily know any more than you do. The moral of this story? Always make sure you do your research and do it properly, by that we mean thoroughly.
It's what we do here at Investment Mastery all the time. So given that we have years of experience and success behind us, we can pretty much say with extreme confidence – we know what we are doing.
So, why not join our community to know more about crypto and stocks. We're always happy to help and that way you in turn can help others who might want to find out how to become financially independent.
So, wrapping up now, and as we always like to remind ourselves, here's three important questions to ask yourself:
Are you following the right strategy to accumulate?
Are you committed to achieving success?
Or are you giving up halfway?
IMPORTANT ANNOUNCEMENT:
We have a FREE Crypto Masterclass on Thursday, 27th January, 6:30 PM. It's not too late to book your place.
As it's going to be a great opportunity for you to gain valuable insight into the crypto market, which is one of the fastest-growing markets on the planet, you should seriously consider coming along!
What have you got to lose? When there maybe everything to gain.
As you may know, we're all about teaching and education and learning. In fact, we are still learning because the world is changing FAST, which is why we will be looking at NFTs, which we're getting into in a big way as well as the big Metaverses that are springing up at speed.
Also, we will share some cool announcements about which big companies are getting into blockchain and cryptos.
So if you haven't been to any of our masterclasses before, this is an amazing opportunity to learn from Marcus de Maria himself, who is one of the world's best at teaching trading and investing.
Follow us to know more.
If you are a client of Investment Mastery, send us a mail at gabriella@investment-mastery.com to become the client of the week. It'll be an honour to have you featured on our Instagram, where we will share your progress to inspire others to invest and trade. It will make a huge difference in the life of others!
Not much of a reader? No problem, watch the video below: