Huge game-changing times ahead folks! A major Metaverse development is potentially great news for sports fans… and us, INVESTORS!
Oh yes… The future is coming… but not in the way we might have once imagined!
All is revealed in our latest Trades of the Week episode with Dennis and Keith as they analyse the market news and main economic developments across the world, as well as give details of our top trades, positions and profits.
But first, an important announcement – we have a special FREE Live one-day Masterclass coming up in just a couple of weeks on Saturday March 5th, hosted by the man himself, Marcus de Maria, who needs no introduction really, but we're going to give him one anyway… as he IS after all one of the world's most successful investors, and more importantly, one of the best educators in the trading and investment industry!
So make a note, Saturday March 5th 10am-6pm UK time. We only have a limited amount of seats, so grab yours now! You can do so by watching the video or clicking the link below.
Okay, so let's dive into our stocks news and movement of the past week.
STOCKS
APi Group Corporation
Ticker: API
We are almost down to our stop-loss. Hopefully the market reverses sooner, rather than later for this company. So, no emotions here!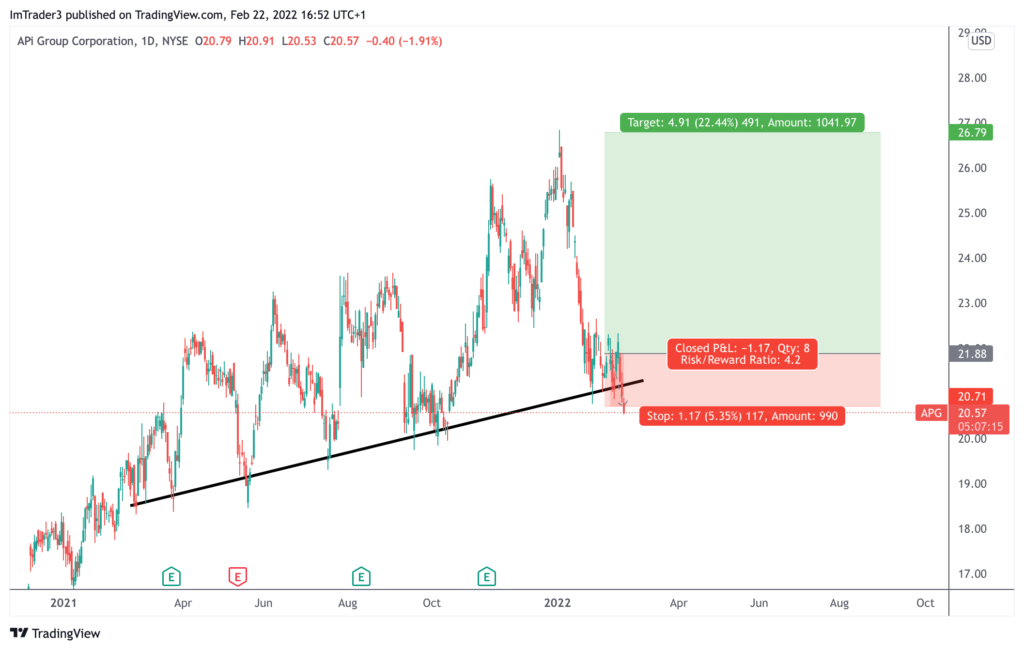 Northwest Bancshares Inc.
Ticker: NWBI
This company is heading up, and we are getting our profits on this. We will wait until we get 1% profit on this, and then we will move our stop-loss.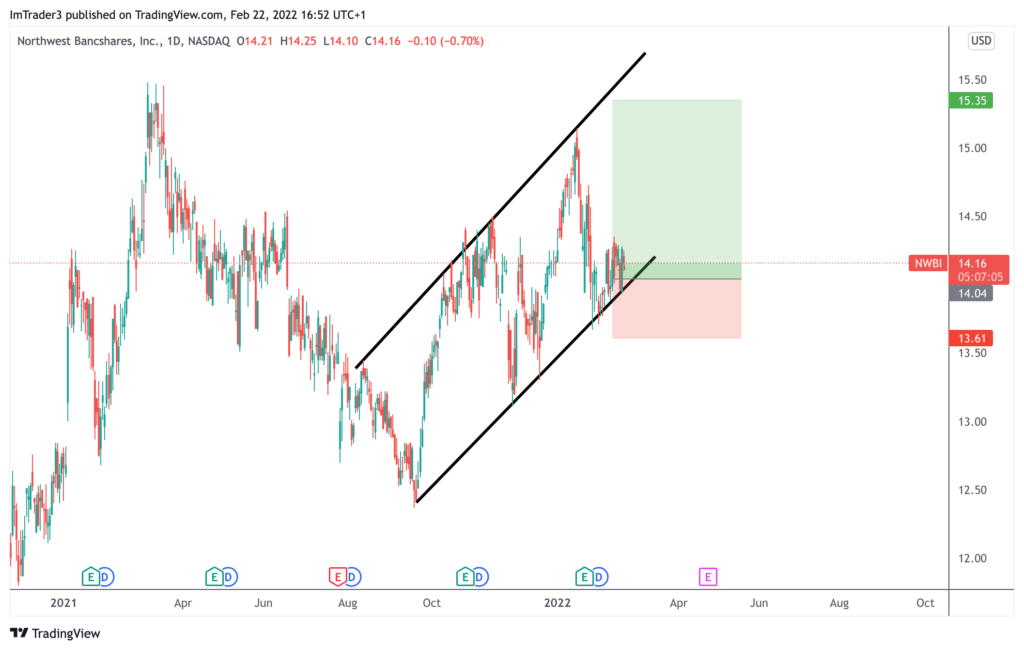 Warner Music Group Corp.
Ticker: WMG
Stocks here are just falling. So, no trade for us here. We are cancelling this trade.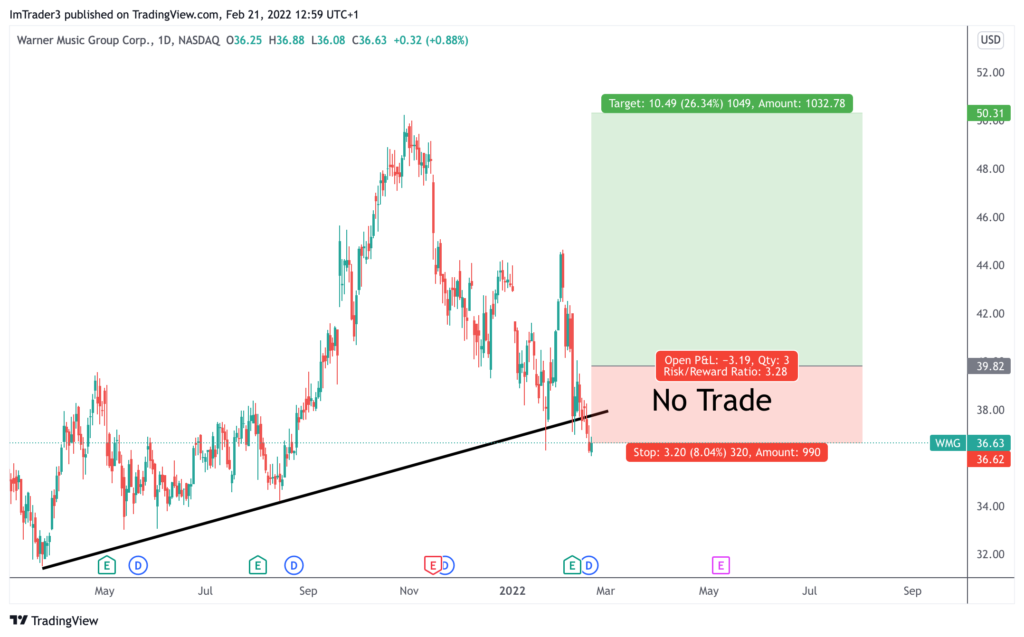 Market News
What is happening in the market? Do we have all hope in the market? Well, there is always hope in the market. We have witnessed bearish moves in the market over the past few weeks. The news is pretty much the same as it has been recently – it's all about inflation, interest rates, CPI, or PPI.
PPI is interesting though. In case you don't know, PPI is the Producer Price Index. It is the amount that it costs a business to create products. PPI has increased by 1%. To us this doesn't look like a lot but to a company, and in regards to their margin, a 1% increase is pretty substantial. This means that the companies are paying more now to produce products. This is in contrast to the inflation in the market, where the people in the market are paying less to buy the products these companies are creating. It's a double-edged sword – businesses are paying more to make the products and with less people buying, businesses are actually losing double the amount of money.
That's how we see a shrinking of the economy.
The next news is about jobless benefit claims. In the US, they have had a longer winter than usual which has caused the construction company to come to a standstill. There have been more people claiming jobless benefits because they can't work if a construction site is frozen. We have also seen a decrease in the number of homes or buildings being constructed. This decrease is around 4%. This has impacted the economy too.
In regards to the economy, "pandemic climbers" are those companies that grew massively during this pandemic, like Zoom, Spotify, Netflix, or Peloton. It has come down to the point that the investors see this price movement as circumstantial. What does that mean? It only means that the price movement is dictated by covid. Peloton grew massively in price because more people were exercising at home. Netflix prices also increased massively because more people were watching TV at home while on furlough. We have thus seen a drop in stocks of these companies.
It's all about making sure you just read the fundamentals of the company to know that, yes, short term they have had a pump, but longer term they are fundamentally strong for you to invest your money.
Point to Remember: We need to invest in companies that cannot go to zero.
In regards to the overall market, we have seen a lot of pullbacks in the US100 or SP500. It is the first signal we get when the bearish cycle begins to fall. Can we dictate how long this is going to be? No. This is just a great opportunity for us in regards to investments. Now is the time for us to start accumulating when it comes to investing. Keith, for instance, is looking at his shorting positions, rather than long ones.
As you can see in the chart, we have our first higher low, which is being targeted. This is the last time the buyers came into the market to push off. We will start testing this movement, and if we see any breaks below that, we will retest the next higher low at the 12,900 mark. If we break this short term level of support, 13,000 will be our target. We are seeing the same phase where the market is bullish and more fears are coming into the market. We are also seeing a natural replacement of pullback. Now is the time to accumulate our positions when it is about investing and look at more short term positions while considering long term positions.
1. Follow your strategies because this is why we have strategies. We don't know where the market will go, and no one knows.
2. We use buffaloes. We go on long and short of making money no matter if the market goes up or down.
3. We use VCAs to invest in the longer term and different asset classes.
NASDAQ has gone down to 18%. What's more interesting is that if you look at the investor sentiments, they are only 20% bullish and 43% bearish with situations in Ukraine and Russia.
We don't see ourselves going into a bear market where people are bearish. But we will see. We don't live on guesses here. We do follow the strategies! And we of course hope you do the same!
So NASDAQ going down to 18% is a big correction where we are coming to an end. We will have to seek the next level of support if this doesn't hold until 22%.
Cathie Woods, Founder of Ark Invest, is famous for investing in the growth companies like Tesla, Square, PLTR (Palantir Technologies Inc.) among others. She says this market situation is just a rough patch. Watch on YouTube for these stocks, you'll see where someone will say the market is going up or someone will say it is going down.
It doesn't matter – the only solution is to follow your strategy. Follow your proven strategy that works. It may be VCA or buffalos for stocks.
New Stocks
Kilroy Realty Corporation
Ticker: KRC
We saw a downward trend for this company. In case the market decides to fall lower, let us add it. We have a good risk-reward ratio and a good reversal candle. Let's hope this stays down. We have a stop order to ensure it goes with the trend before entering.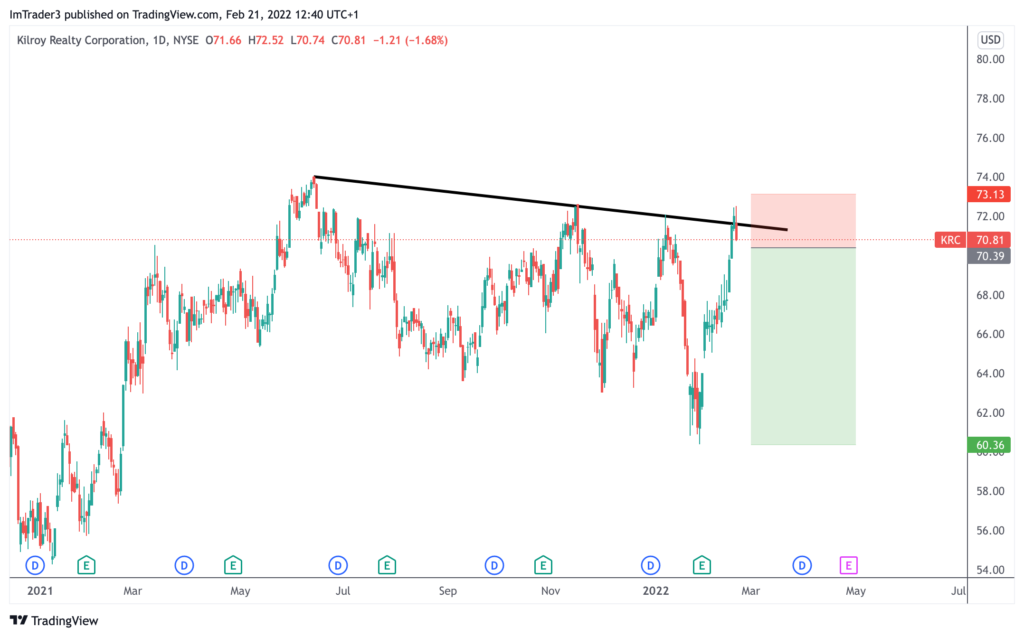 Woodward Inc.
Ticker: WWE
We have a green candle here. We do want to wait for the red candle here, preferably. That is why our stop order goes below where it can take us in.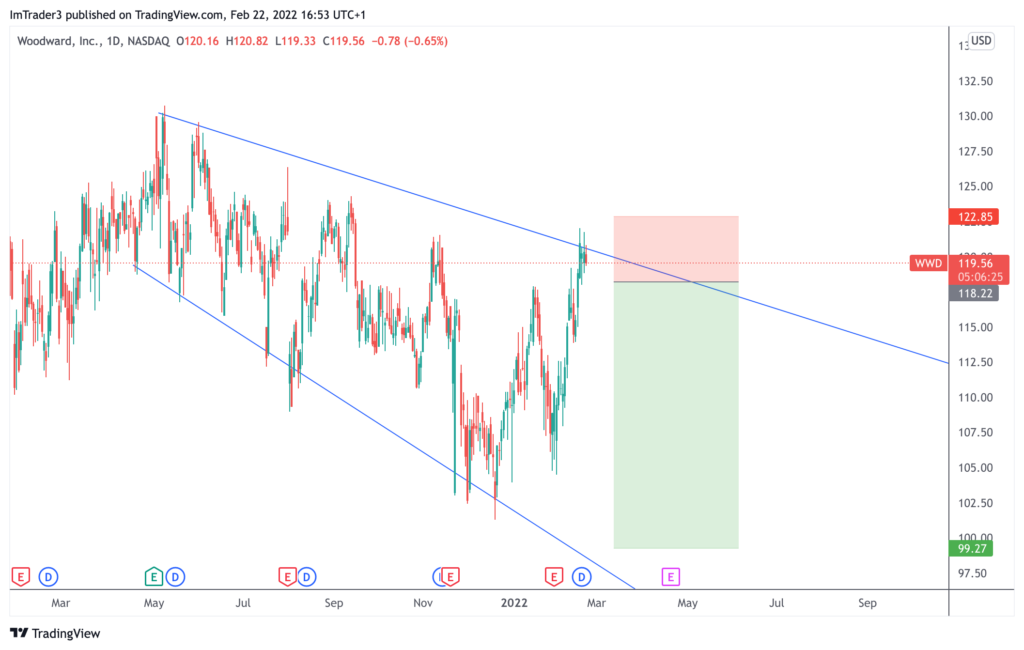 CRYPTOS
Many exciting things are happening in cryptos with some analysis of Bitcoin. We have broken the downward trending line a couple of weeks back. It could be targeting a region of 30,000 again. If this level holds, this could be higher, and we could start trading. We can go down with the trending line or higher than that, depending on the stop-losses, which go hand-in-hand with the crypto market.
We can see extreme fear in the crypto market, which is a good indication. When the market is greedy, you sell, and when it is fearful, you buy and be greedy. This is when the strategy becomes handy. With bitcoin, we are still bullish in the longer term. We are still creating higher lows and higher highs. We will see if it continues or breaks lower. The real region is the 30,000 mark. So no need to panic just yet. Well we never panic… because that is why we have our orders ready on standby to get in.
We enter at 50 and then go up to 90. We still think it won't go that far, but we need to be prepared for the unexpected. We do like the fact the volume is going below the bars of the 50,000 mark. If the volumes go lower and the prices go lower, it indicates that we are running out of several strategies.
Big News:
Keith loves this announcement as he is a football fan! Man City is looking to get into the Metaverse. Why is this so crucial – they are basically looking to create a stadium in the Metaverse! You'll be able to watch all of Man City's games live in virtual reality. You wear you VR goggles and its like you're at the game.
Now this is a massive game-changer because we've not seen many sports clubs doing something like this. And with Man City one of the biggest clubs in the UK, maybe even Europe, this is something we could see filter through to all sports arenas. It's all about watching your favourite sport in the comfort of your home.
So this could knock Sky and BT Sports right out of the game! This is important as well because this gets rid of TV rights. It gives the power back to the fans. You have the choice to watch the game whenever you want. Right now TV rights dictates when you can watch a live game which is unfortunate for the fans.
This is why Metaverse is one of the biggest growing areas because its giving experiences to people who cannot 1) go to the experiences or 2) afford the experiences, but can actually still attend.
It could be concerts, live parties, sporting events… all from the comfort of your own home.
Keith is really, really bullish on Metaverse and if Arsenal does this, the game changes! Not saying that because Keith is an Arsenal fan, well, he might be saying it because he is an Arsenal fan, but still he thinks it's a great step for the Metaverse and VR.
Dennis, we think, is more a fan of the odd-shaped ball after declaring: "If I have my VR goggles on, and I see you walking around in the Metaverse, Keith, I'm going to rugby-tackle you!"
Nevertheless!
That's why the Metaverse is one of the biggest growth areas. It is going to be the future! As you can see here:
Decentraland
Ticker: MANA
Mana is one of the biggest Metaverses and is down by 60% from the high. We invested in Mana and took out a lot of profits from this. So if you are not into Mana, it is a great time to start investing in it.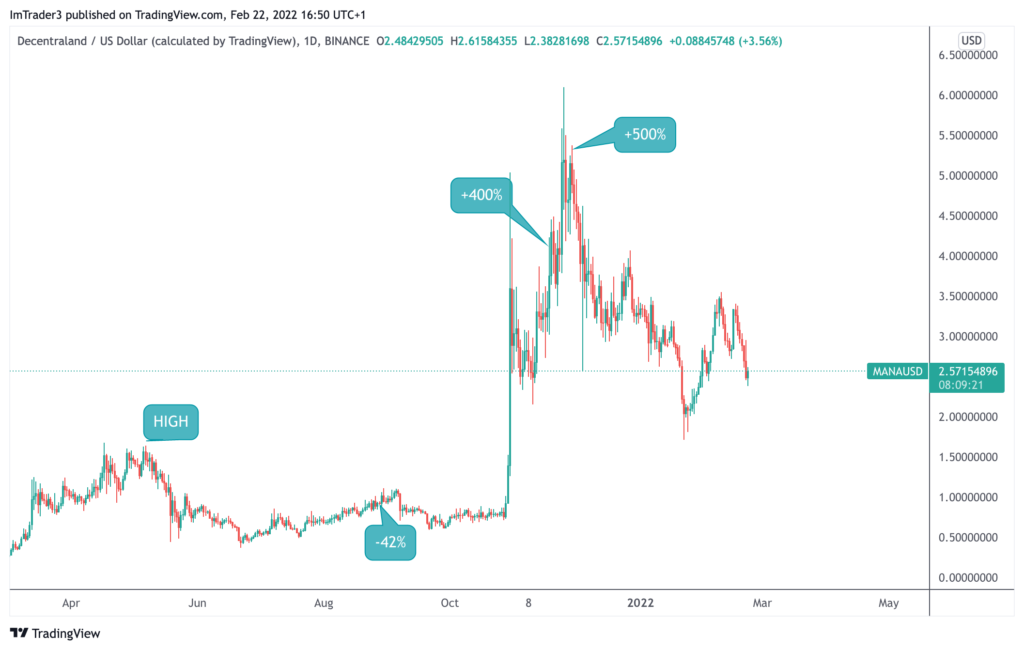 Sandbox
Ticker: SAND
Sandbox looks into a reversal here. It is down by 65%. So make sure to look at your positions here.
In 2017-18, we went through bear markets. When we were down by 70-80% in some of its positions, we wondered if this was ever going to change, and it changed. People who waited from 2017 to 2021 for the cryptos to change went from -70% to +700% profit. So be patient. Money will always move from the impatient to patient.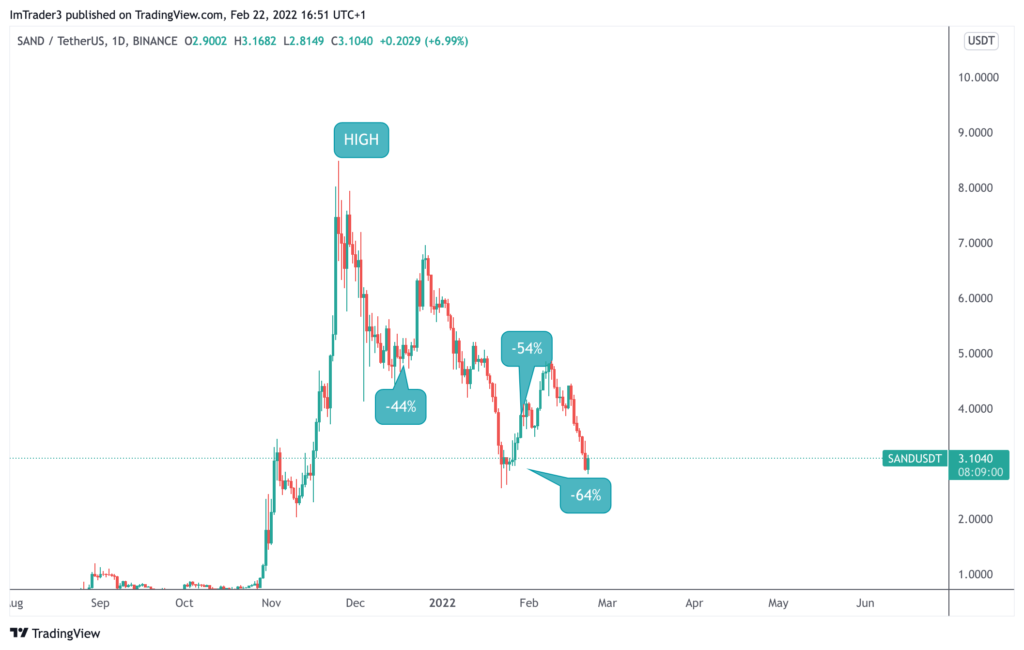 Aave
Ticker: AAVE
We were up by 68% on this one, but this is not enough because we aim for 100%. So it is now down by 80%. So we are adding it at -77%.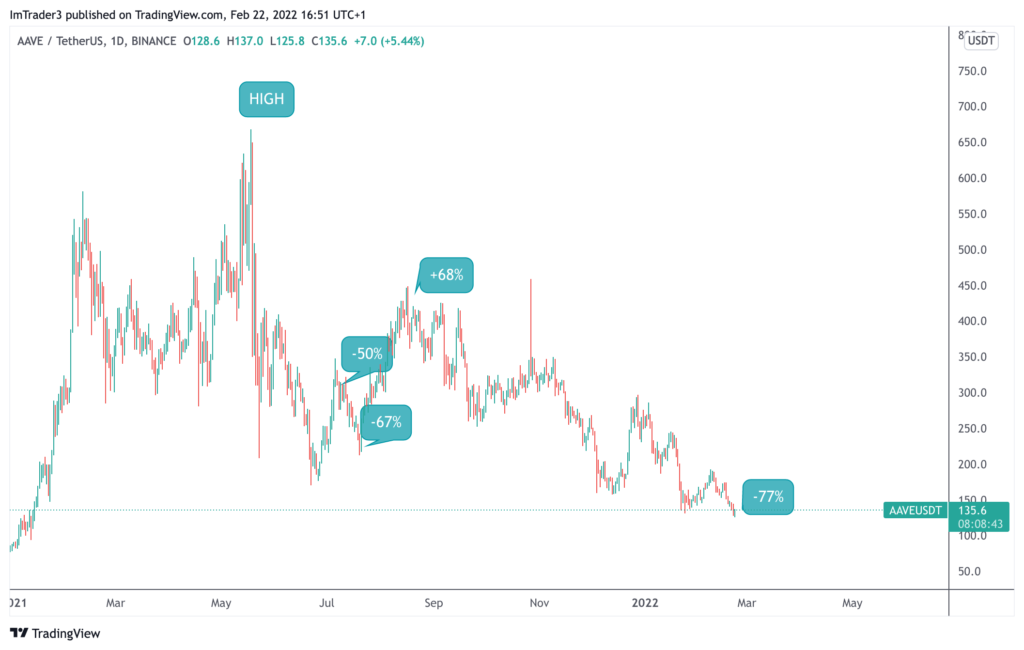 Kusama
Ticker: KSM
We are adding another entry at -74%, which has fallen quite slightly.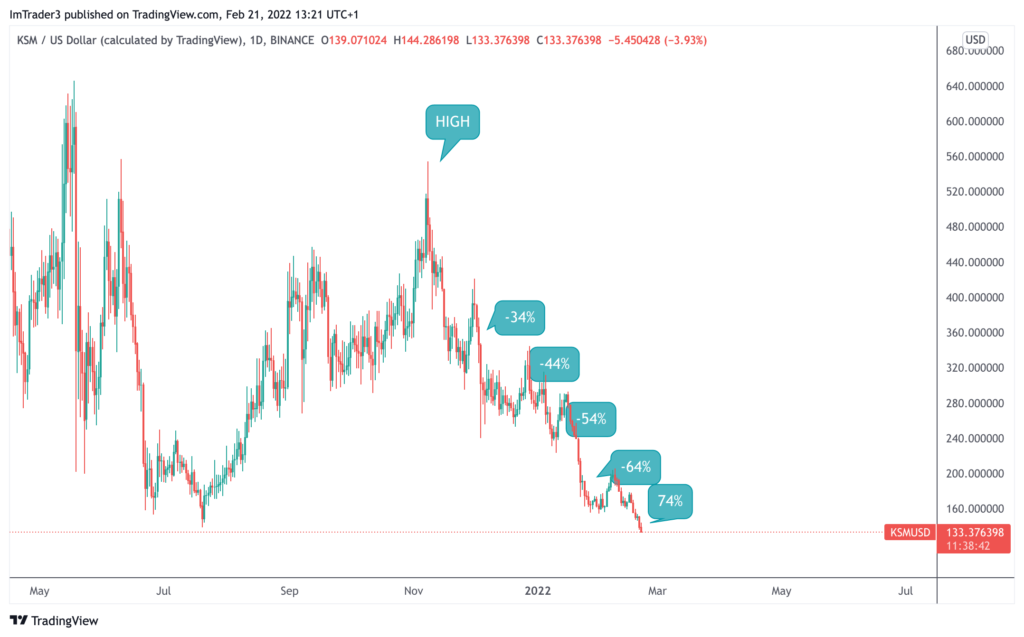 New Cryptos
Arweave
Ticker: AR
It is a data storage company for another company named Solana. If you already invest in Solana, then Arweave is another opportunity to invest in. It is down up to 23$.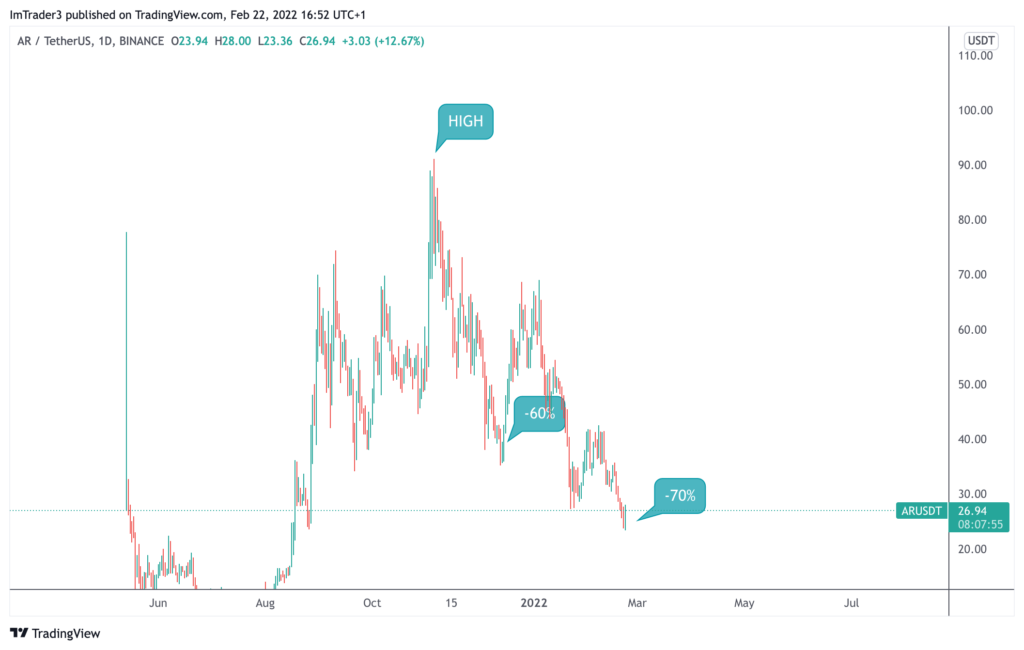 Enjin Coin
Ticker: EN
We were up by 200% on this, but it's time to build another position. Gaming Metaverse will be huge, and Enjin Coin is part of this, it's a very exciting project, -70%, we're adding new position here, as Enjin could be substantial part of the metaverse/VR world… it's a platform for gaming. You can use a small-cap strategy. It is not averaging down. So, when it goes up, we will milk the cow. When it goes down, you keep adding to your positions. It is a great time to enter, even for the first-timers.
Some people argue that the bull market is over, but we are not among them. But we do need to wait and check up on the consolidation phase on bitcoin. Till the level is broken on the 37069 mark, there are possibilities to level up. We are using the strategies. As soon as we observe a change, we will let you know. So you can adapt to the market accordingly.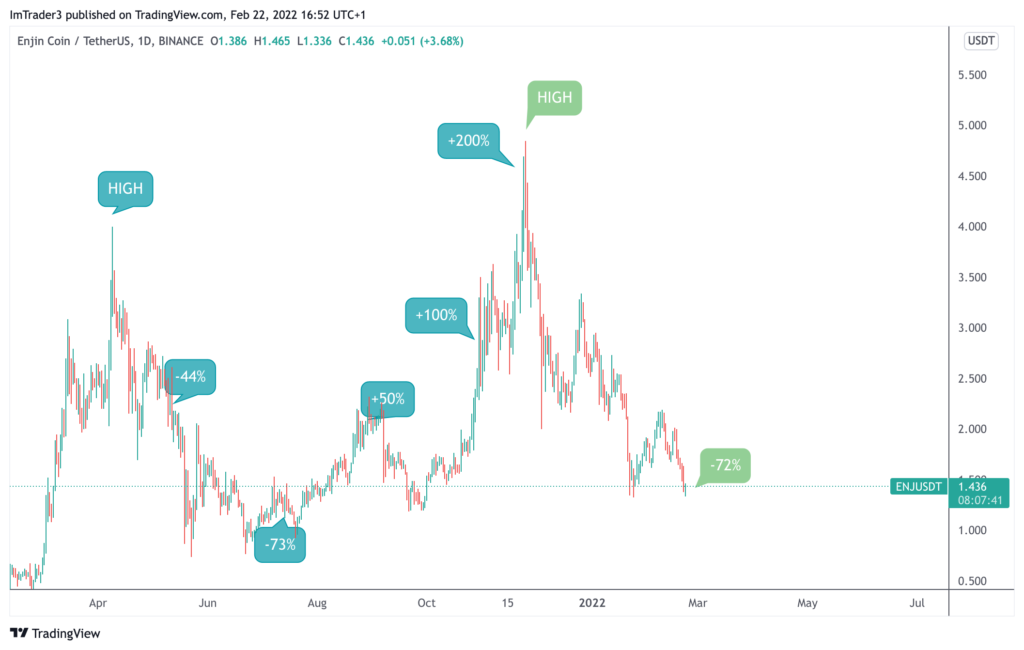 VCA
Barrick Gold Corp.
Ticker: GOLD
We have been moving our stop loss on GOLD. The gold and silver market has rallied, which is awesome. Understand the importance of following a diversified approach by investing a little bit in gold, silver stocks and then in cryptos. If one market moves up, another one moves down. For Barrick Gold, we put our stop loss to 15%.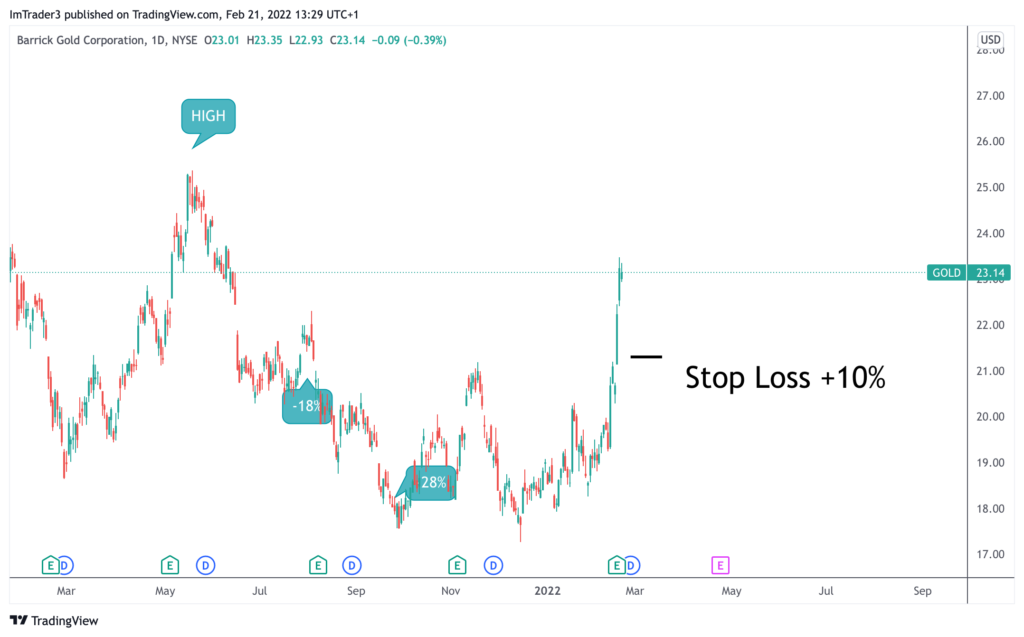 Vale
Ticker: VALE
It fell to 25%. Here we kept raising our stop loss and finally got out of it with a profit of 25%. It's a moo for us!
Intel Corp.
Ticker: INTC
We entered Intel at -34%.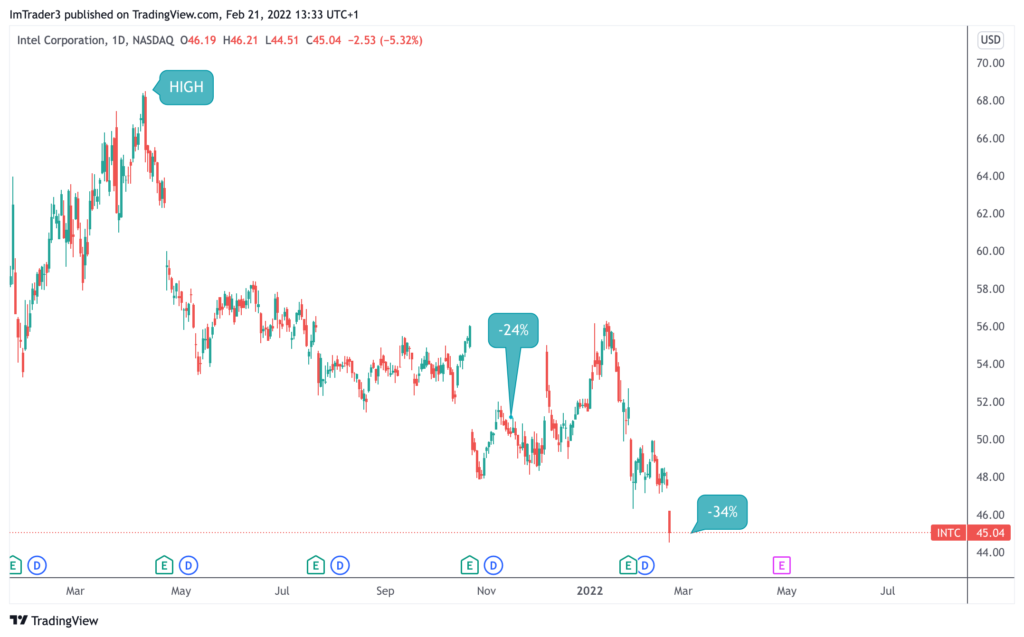 Moodys Corp.
Ticker: MCO
One new one – Moodys Corporation (MCO) at -20% looks exciting. Moodys is a financial data company that helps investors find data on a company's fundamentals. This data includes balance sheets, money coming in or going out, debts and so on. One of the essential things Moodys can find out is whether companies with higher debts can repay their debts sufficiently or without any troubles. That goes in the name of Moodys credit scores. Moodys is fundamentally really, really strong, part of S&P500, good market cap, overvalued PEG ratio but that is natural for larger Blue Chip companies, debt is a bit high (not going to sugar-coat it) but is decreasing longer-term which is great.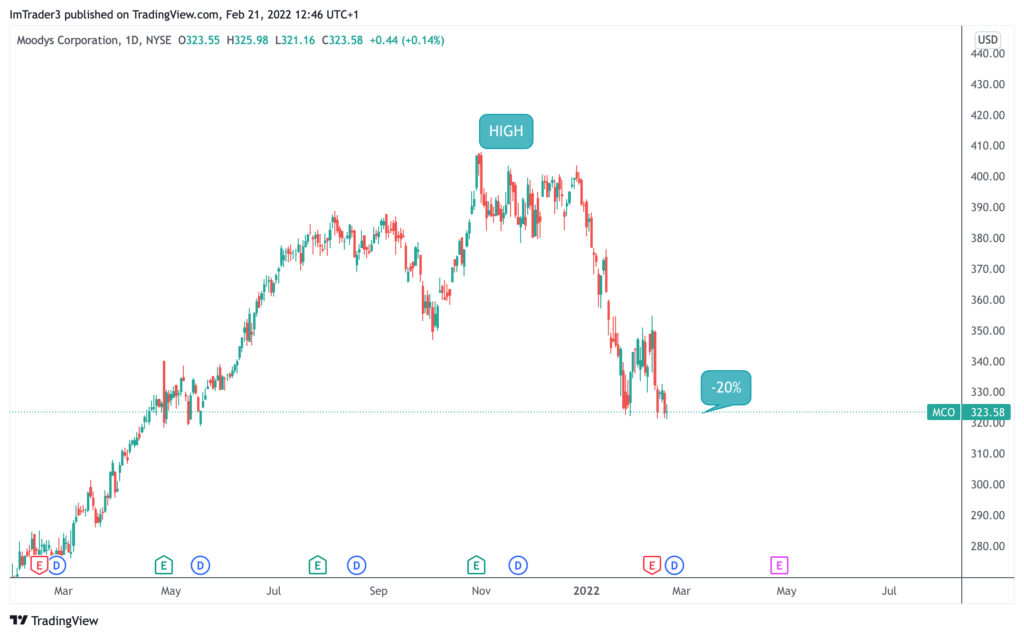 One thing we really like – #1: sales – sales been increasing since 2016. Gone from 3.6 billion up to 5.7 billion, earnings per share increased from 1.38 billion to 9.48 billion, one of my favourites is their return on assets and equity investments. Their return on equity is very high, which shows that the company effectively uses investors' money to generate new equity. This increases their book value.
Overall, this company is very strong fundamentally and has massive potential. Predictions for this company in the next year are relatively large. So now we have to see how the company takes its profits from the bottom line. They have a great profit margin as well. This company is down by 20%. Every single dip here offers a great buying opportunity. As a VCA strategy this a good entry point.
And that's it for this week!
If you wish to learn all of these strategies, don't forget to attend our one-day seminar about getting started in the stock market on 5th March. Learn about the foundations of the stock market in this seminar.
Follow us to know more about our strategies.
If you are a client of Investment Mastery, send us a mail at gabriella@investment-mastery.com to become the client of the week. It'll be an honour to have you featured across our social platforms, where we will share your progress to inspire others to invest and trade. It will make a huge difference in the life of others!
Not much of a reader? No problem, watch the video below: