Since the holiday season is about to begin and the fear of another lockdown is hitting the news, there might be a few questions popping into your mind regarding the stock or crypto market – What is happening in the market? What to look out for? Is it the right time to buy cryptos or is it time to sell? All your questions will be answered in today's trades of the week. Last week was an interesting one where a lot of our short positions played out. So last week we moved back down to half percent. Let's see where we could gain profits.
Betz
Ticker: BETZ
Stop Loss moved down to 3.5%. So we took out on a good profit here.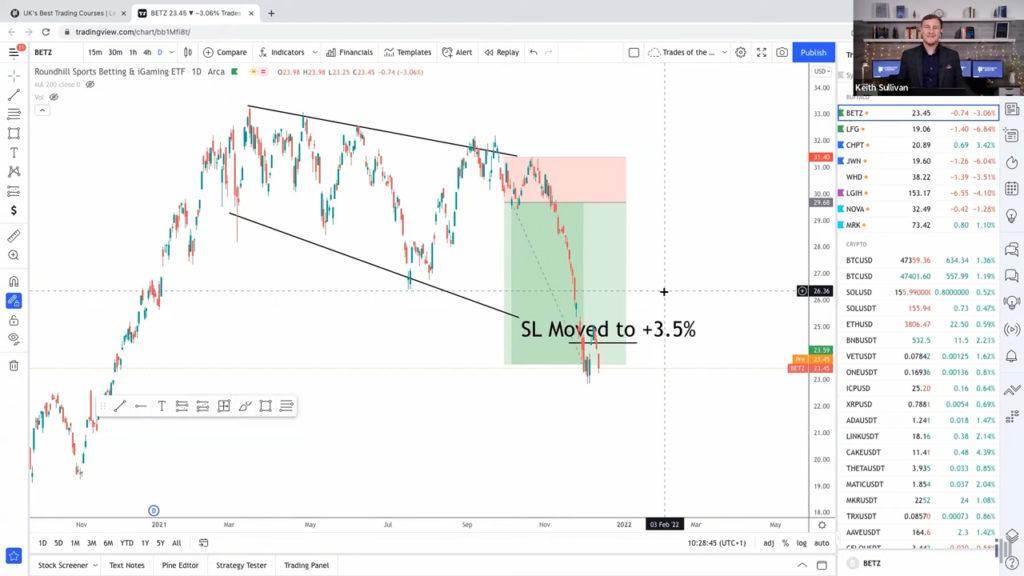 Archaea Energy Inc.
Ticker: LFG
For Archaea Energy Inc., our stop-loss was being taken down to 1% for which we got a massive red candle yesterday. This now has taken us out of our profit at 1%.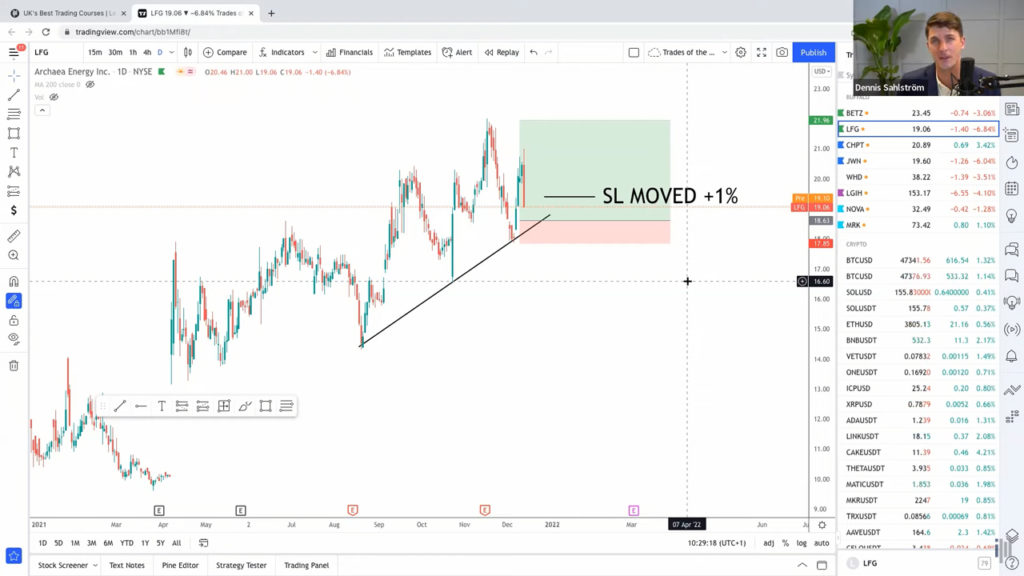 ChargePoint Holdings
Ticker: CHPT
For ChargePoint Holdings Inc., we moved down the stop loss to +1%.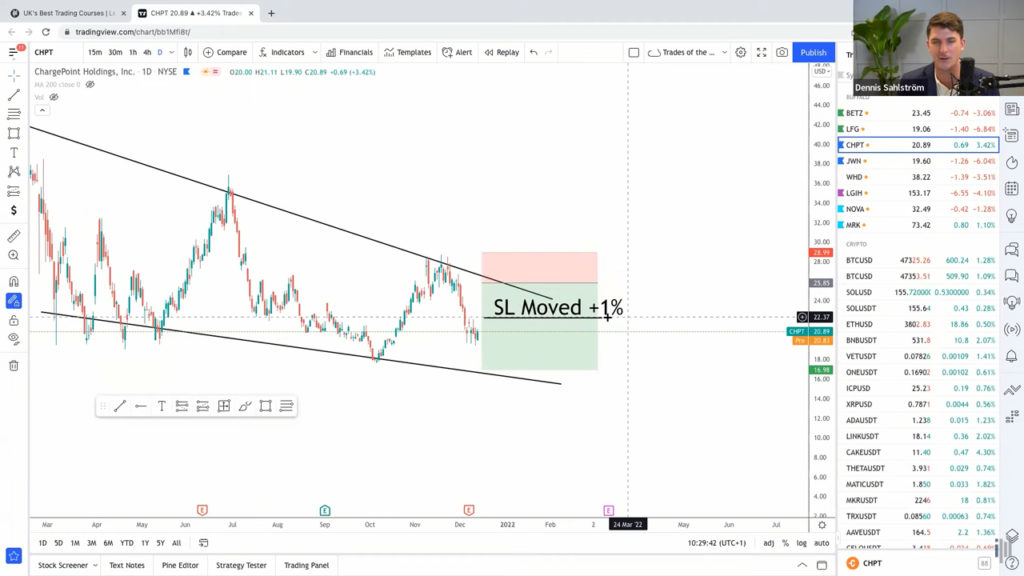 Nordstorm
Ticker: JWN
For Nordstorm Inc., we have made a good trade of +4%. Here we've moved our stop-loss down to 4%.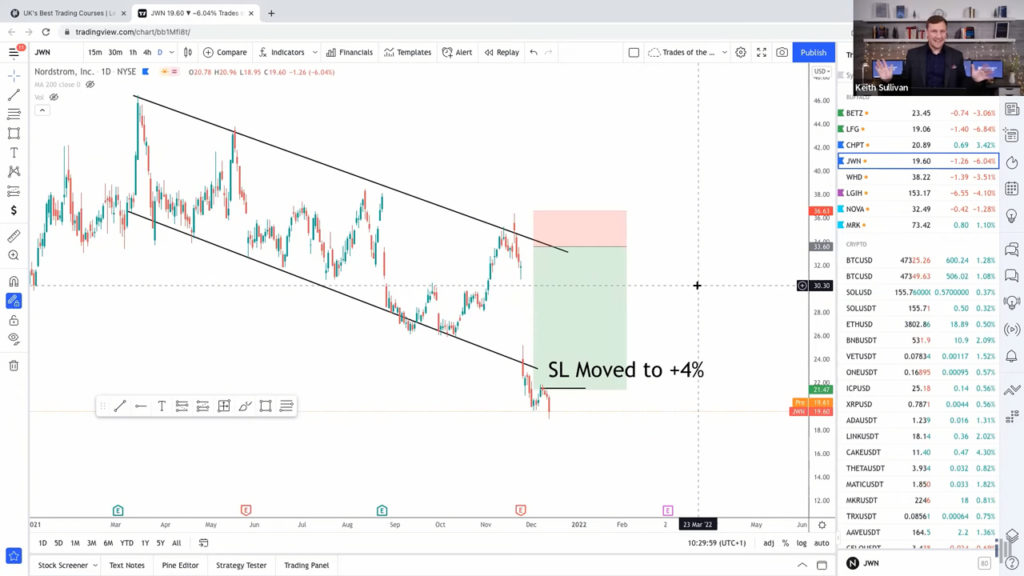 Golden Rule: When you are trading and investing, you do need to be hedged. It's not enough just to trade in one direction. You do need to trade in both the directions even if we have a stock market crash.
LGI Homes
Ticker: LGIH
For LGI Homes Inc., there is no trade. So we're canceling this trade.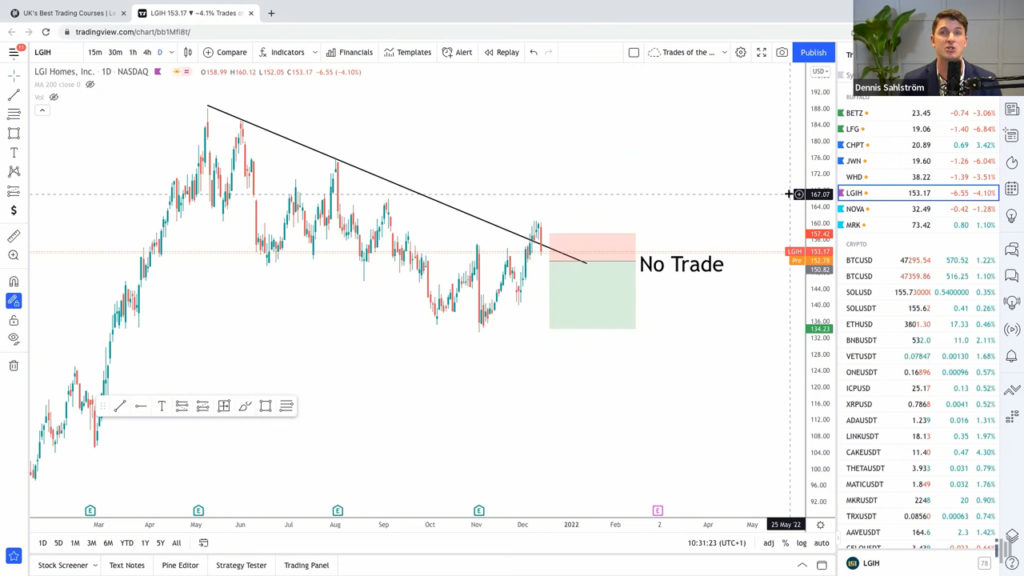 Sunnova Energy International
Ticker: NOVA
Sunnova Energy International Inc. has good upward trending support. This solar energy industry has taken quite a hit where we can rebound.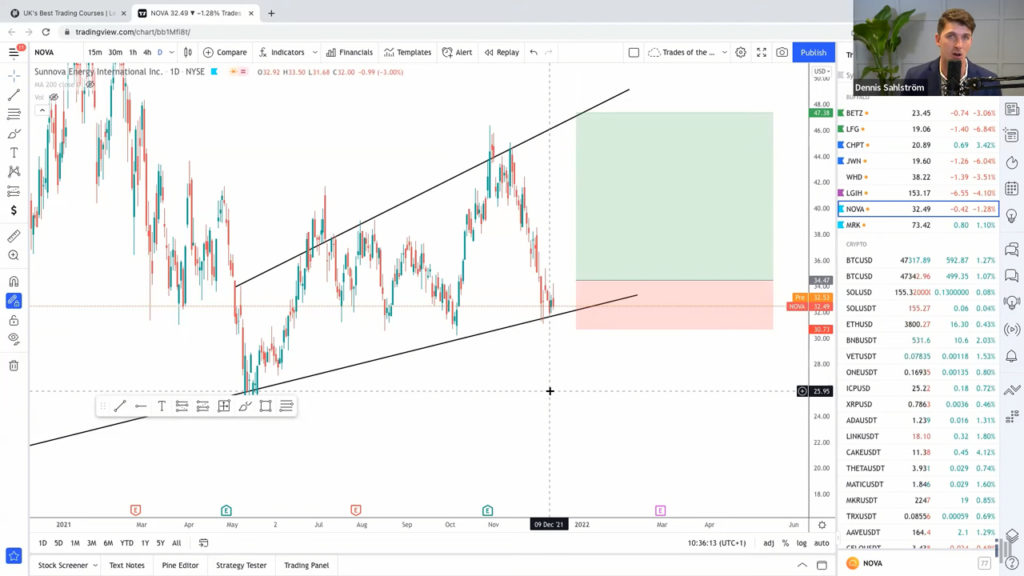 Market News
Two major driving forces are driving the market right now with actual inflation. This has been accelerating as quickly as it did in 1982 for the first time. Inflation basically is the costs for goods and services. So now it's becoming more expensive for Mexicans to get something they would have got a couple of months ago or even a year ago. This is hampering the economy and pushing the Federal Reserve into a corner. And what do they have to do? There are two things they can do:
1) They can continue increasing the stimulus packages and quantitative easing. But we don't think they're going to do that. I think the corner that they've been pushed into is more about interest rates to combat inflation. Naturally, they will increase interest rates which mean it will be more expensive for general populace to borrow money. So when people are not spending money, they're actually saving money that doesn't grow. The economy actually shrinks the economy.
2) They have one of the biggest institutions in America, JP Morgan, who is fairly positive for 2022. They believe the pandemic is nearly over with the effectiveness of the vaccines and also the rehabilitation against the COVID pandemic. So with that, JP Morgan believes that 2022 is going to be a stronger year than it was in 2021 and 2020. So it means that the economy could carry on growing.
Kryptos
Bitcoin
Ticker: BTC
Here we had a correction of 25%, 32%, 34%, 35%, and 54%. It's a positive sign that we are getting these corrections for the simple reason that it allows new buyers to enter and come into the market. The outcome of this is as follows:
We might bounce from the previous resistance. We just need to see if it will hold.

If we go below the 40,000 mark and break that down to the 30,000 mark, we have some support or resistance levels. The best thing to do is to follow the CCA and small cap strategy. But in the longer term, we are still very, very bullish. We're still creating higher highs and higher lows in the shorter term. Also, we're trading that for the longer-term asset as well. We are in this giant consolidation phase at the moment. So we'll see how long the price will be consolidated.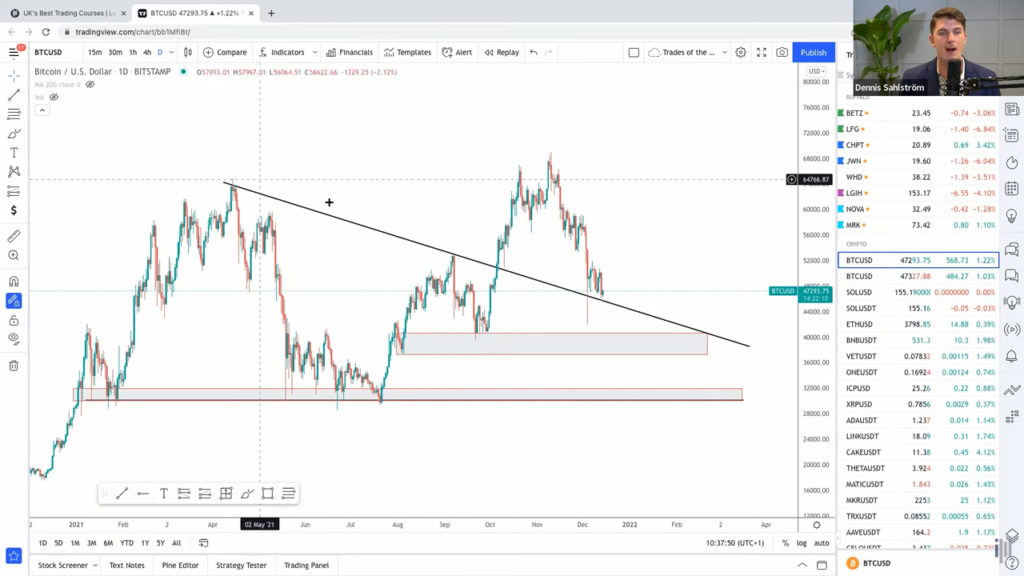 Good News
Dow Jones is among the 30 largest companies which is making higher highs, higher lows. It shows us that the market is still bullish and common in the market. It may look to make an all-time high once again which is fairly positive for us considering the pandemic situation and the fear of which is making the market run up. So, there is still confidence that this market is sustainable and investors can invest back into the market.

Swiss bank, one of the largest in Europe, has announced that they are now going to get some crypto services into their portfolio.

Sandbox will partner with another platform, named block space. It is currently down around 44% from the high.
We are getting the bigger movements down on 5-10%. This just gets sellers out of the market. New buyers can come in. And that is a sign of a very healthy market. What's not healthy is when something goes up way too fast, because then it also comes down a lot faster as well.
Solana
Ticker: SOL
Solana is down o 40% where we took some really good profits.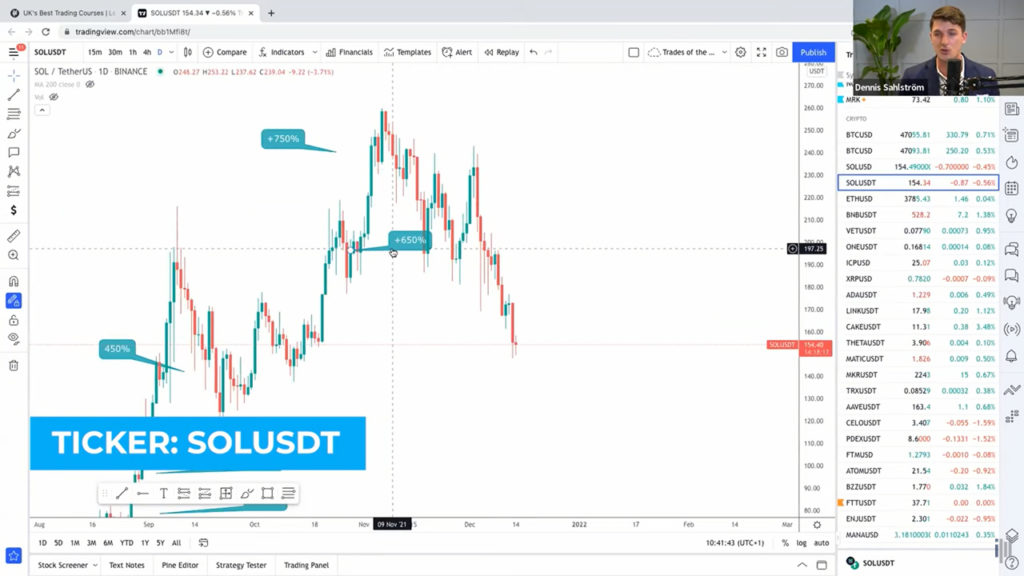 XRP
Ticker: XRP
It is down to 45%.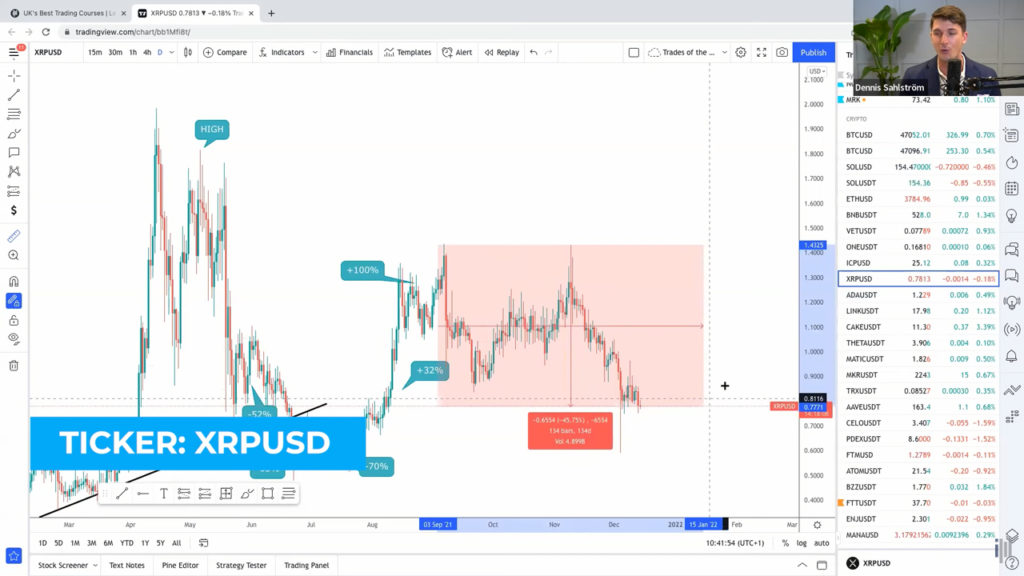 Cardano
Ticker: ADA
Cardano is down to 61%. We are looking at a long-term upward trend here. So let's see if we get the reversal for that. This is a good entry point though!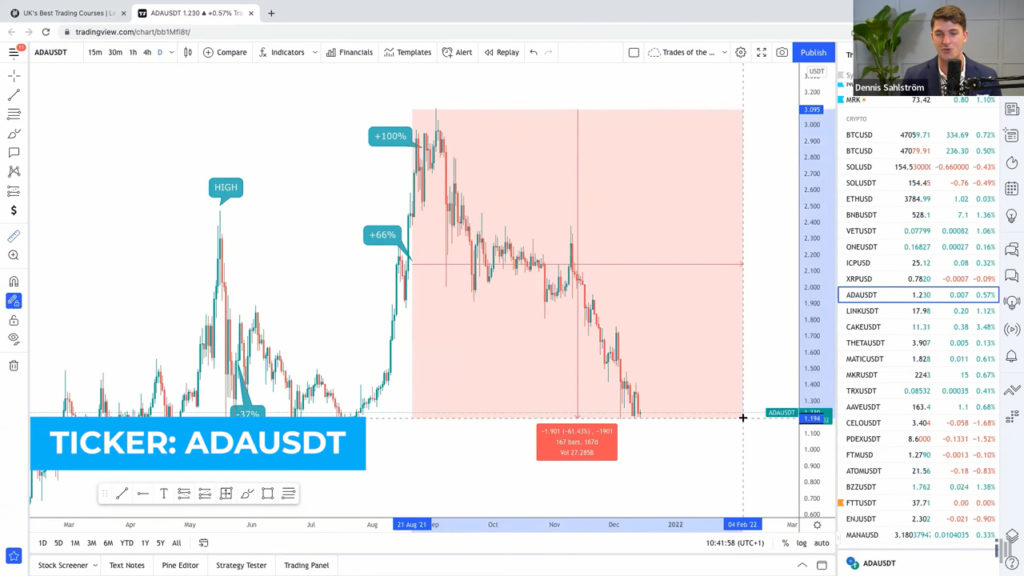 ChainLink
Ticker: LINK
ChainLink is 53% from the high.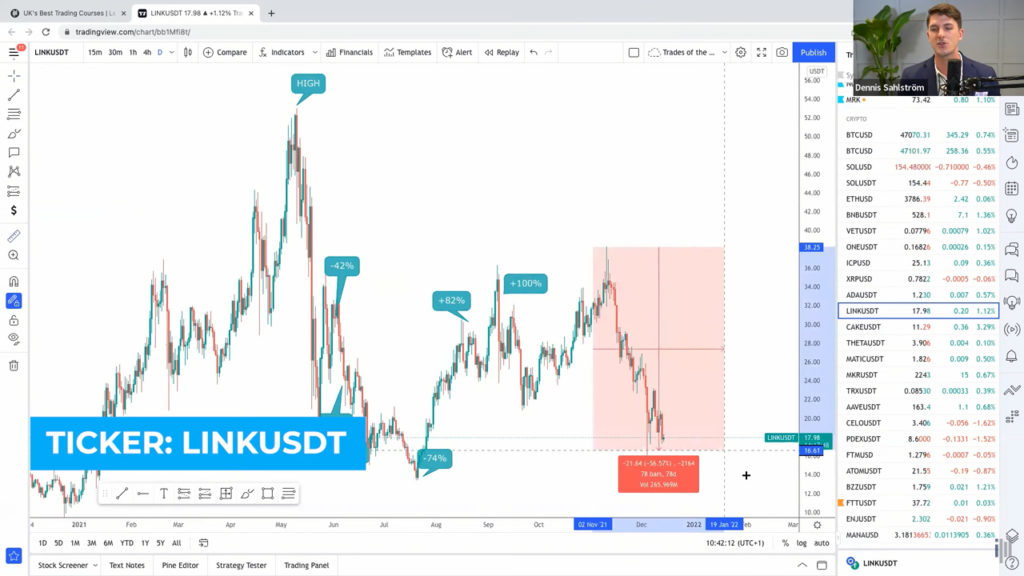 Mana
Ticker: MANA
For Dollar Tree, we've moved our stop-loss to 50% and now have been triggered out.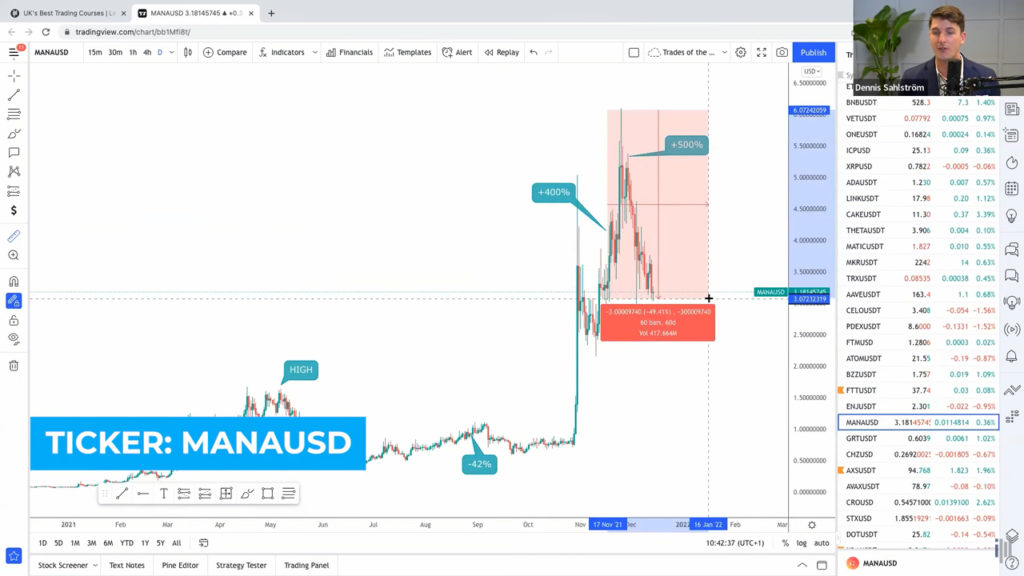 New Entries
FTX Token
Ticker: FTT
We're adding – 47% on FTX Token.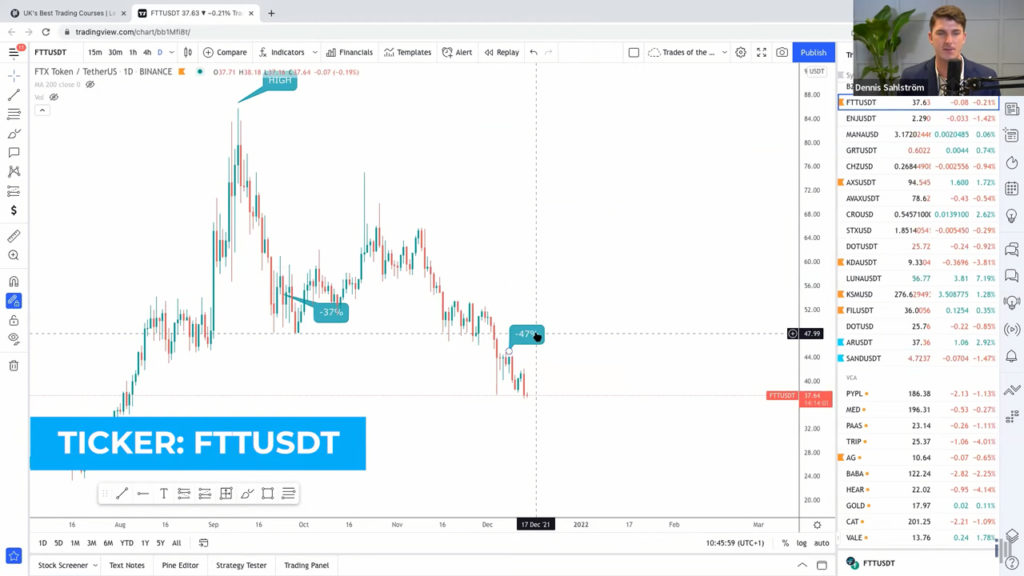 Axie Infinity
Ticker: AXS
We're adding one more new entry at -35% on Axie Infinity.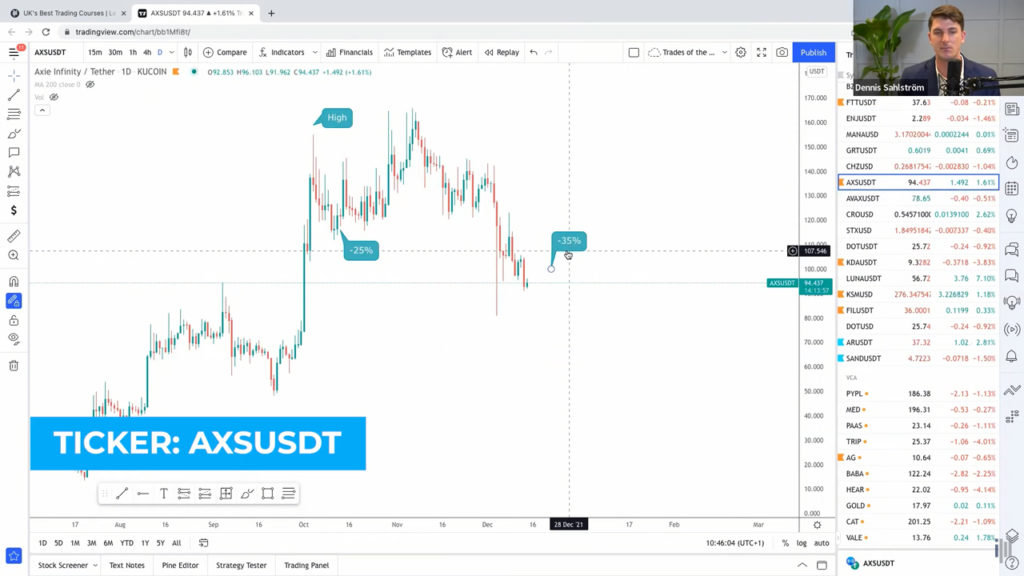 Kadena
Ticker: KDA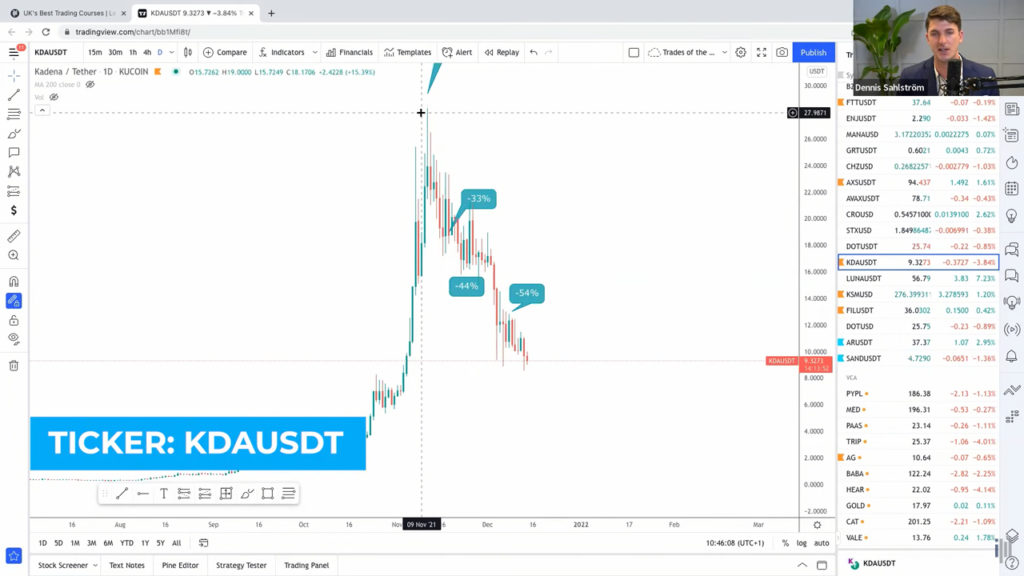 At Kadena, we're adding a new entry not only on -54% but also on -64%.
Kusama
Ticker: KSM
Kusama is down by 45%.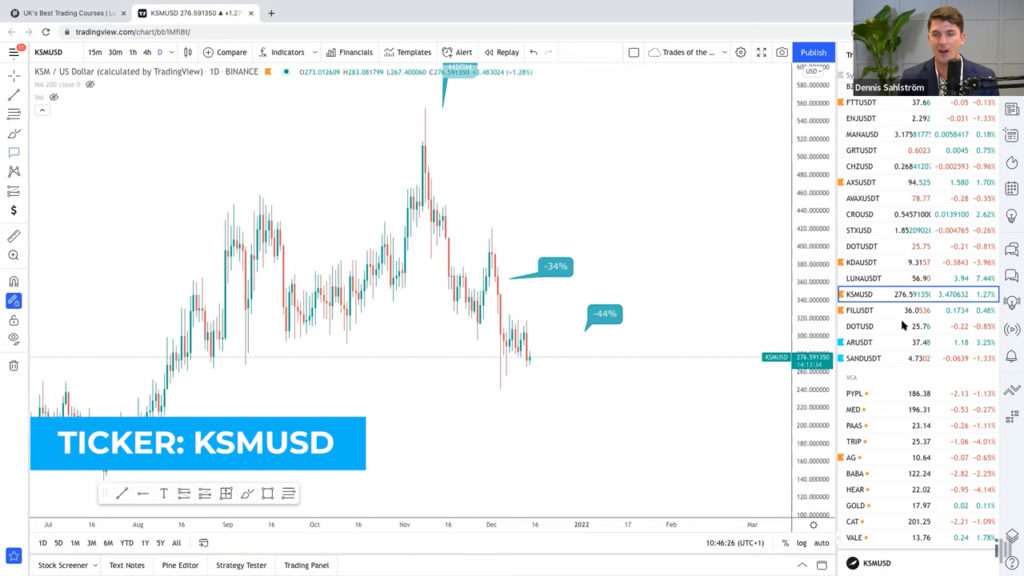 Filecoin
Ticker: FILU
Filecoin is down by 64%.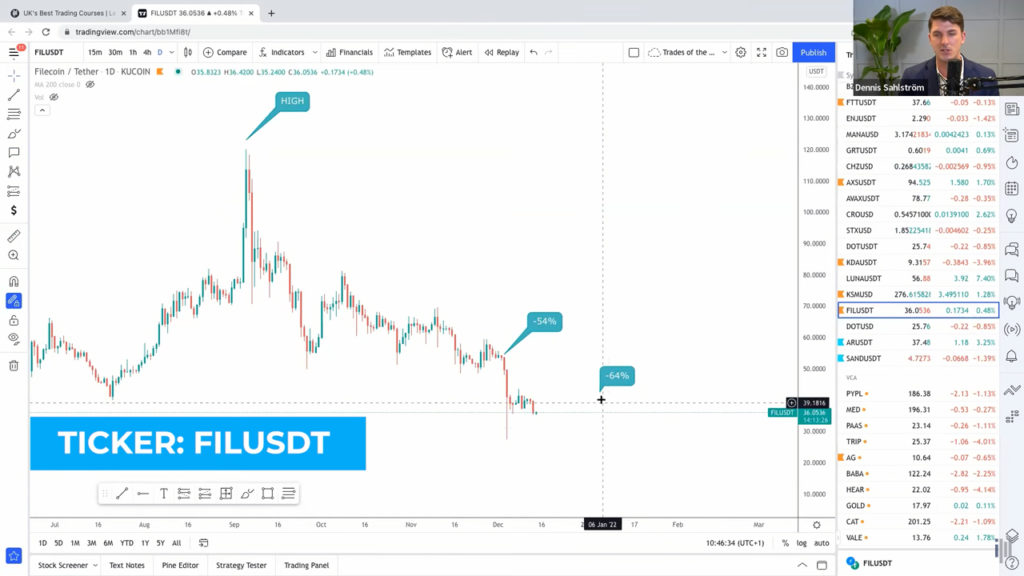 First Majestic Silver Corp.
Ticker: AG
We're adding an entry at -44%. On First Majestic Silver Corp. This company has really been hammered over the last couple of weeks. We'll see if Gold and Silver rates will break out or not. Whatever the situation be, we are hedged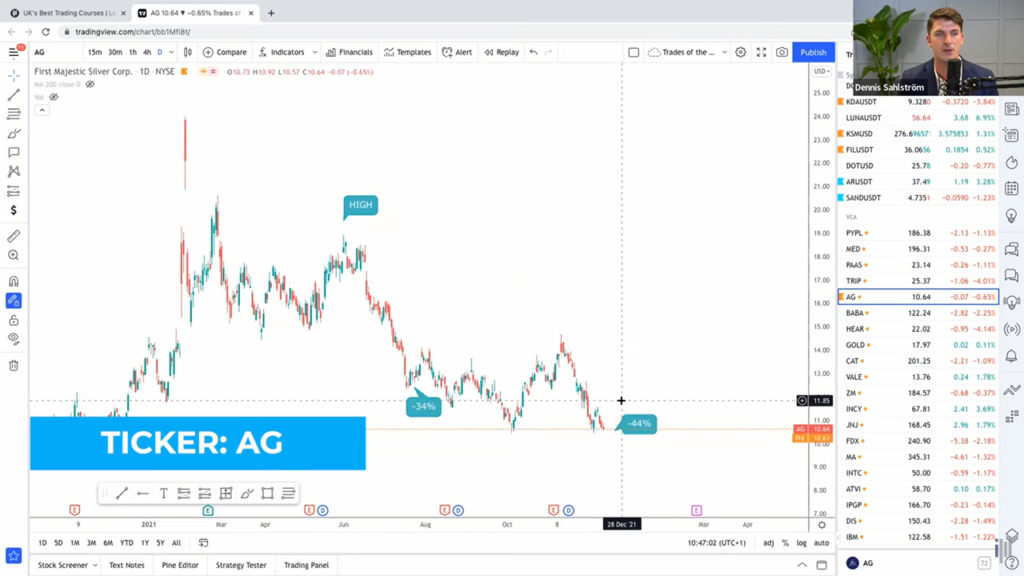 Merck & Company Inc.
Ticker: MRK
Merck & Company Inc. has an upward trending Buffalo. Here we have an opportunity in Buffalo because this is a good company. They have positive earnings per share over the next five years, a good return on assets, and a return on equity and investments. We can make a good percentage on this. So we added a buffalo at -20%. They're currently down to 20% from the high. This proves to be a perfect time to introduce a VCA!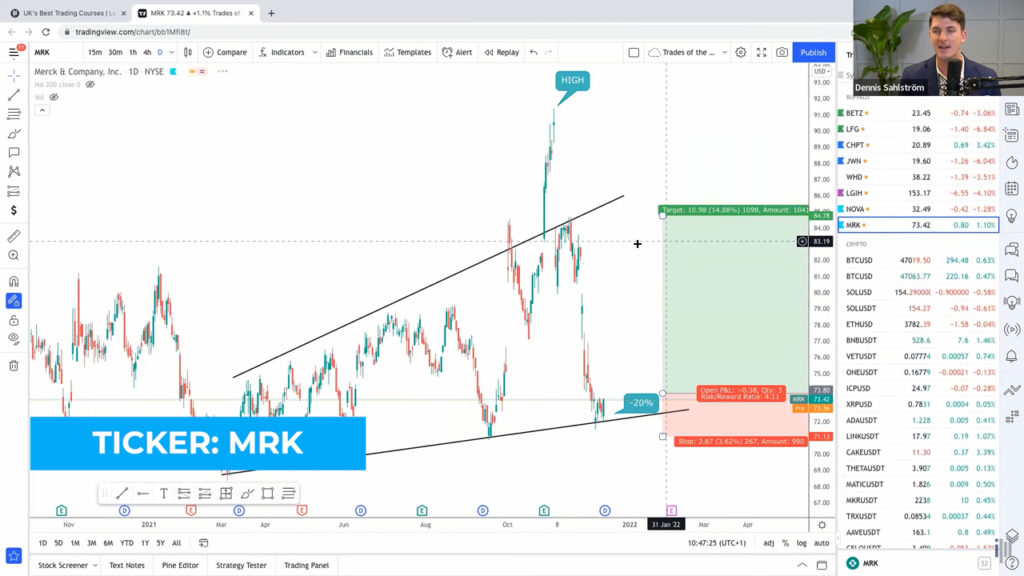 Concluding Thought
"When others are fearful, it's our time to be greedy!" – Warren Buffet
It's the accumulation period of cryptocurrencies because there is a market drop. Bitcoin Exchanges is at a one-year all time low. The whales in the crypto market are holding on to Bitcoin, which is raising the anticipation of all. This is a great indication for us to observe a healthy pullback. It is time to accumulate. There are some really good entries here. So make sure you have all of your entries already in the market. If you are liquid enough and if that coin does drop, you can buy and bring that average cost down. Bitcoin crypto is going to be around for the next 50 years. It's just starting. So do your research well and trade well.
Wenn Sie Kunde von sind Investitionsbeherrschung, senden Sie uns eine E-Mail an gabriella@investment-mastery.com um der Kunde der Woche zu werden. Es wäre uns eine Ehre, Sie auf unserer Seite begrüßen zu dürfen Instagram Hier werden Ihre Fortschritte geteilt, um andere zu inspirieren Investieren und Handeln. Es wird einen großen Unterschied im Leben anderer machen!
---
Du bist kein großer Leser? Kein Problem, schauen Sie sich das Video unten an: