With the New Year, we have new challenges and new goals set. Inflation is the biggest challenge that we face today. It has long been under scrutiny whether stocks provide a hedge against inflation. Rising inflation has a sneaky effect on – input costs rise, consumers buy fewer items, revenues and profits fall, and the economy slows economic equilibrium regains. Using live data, we can examine the link between inflation and stock returns in the short and medium-term and under other inflationary regimes. Value stocks outperform during periods of high inflation, whereas the growth of the companies outperforms during periods of low inflation.
We have seen the market's moving down due to inflation. We had an amazing day with some really interesting things happened in the market as an aftereffect of inflation. Let's dive into Trades of the Week.
STOCKS
ChargePoint Holdings Inc.,
Ticker: CHPT
For ChargePoint Holdings Inc., we have taken some actions this week to move the stock down to 2.5% profit. And the question is – Do you think we should move further? Or hold it? We believe it is a special occasion that we've locked in profit. To need that physical money in our hands, we move our stocks.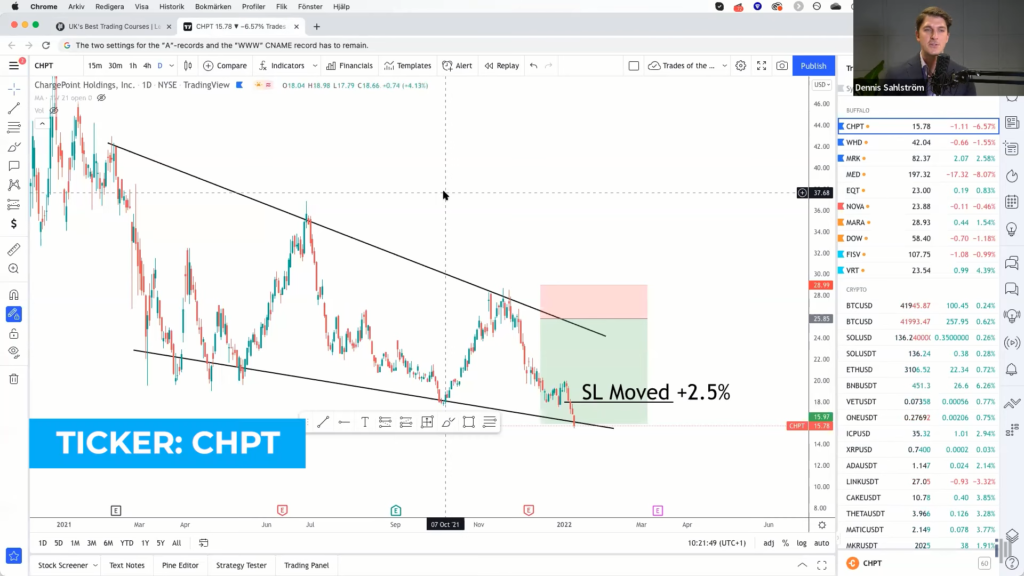 Cactus Inc.,
Ticker: WHD
For Cactus Inc., we moved our stop-loss to 1%. It looks to be consolidating, so we're waiting here for a new move higher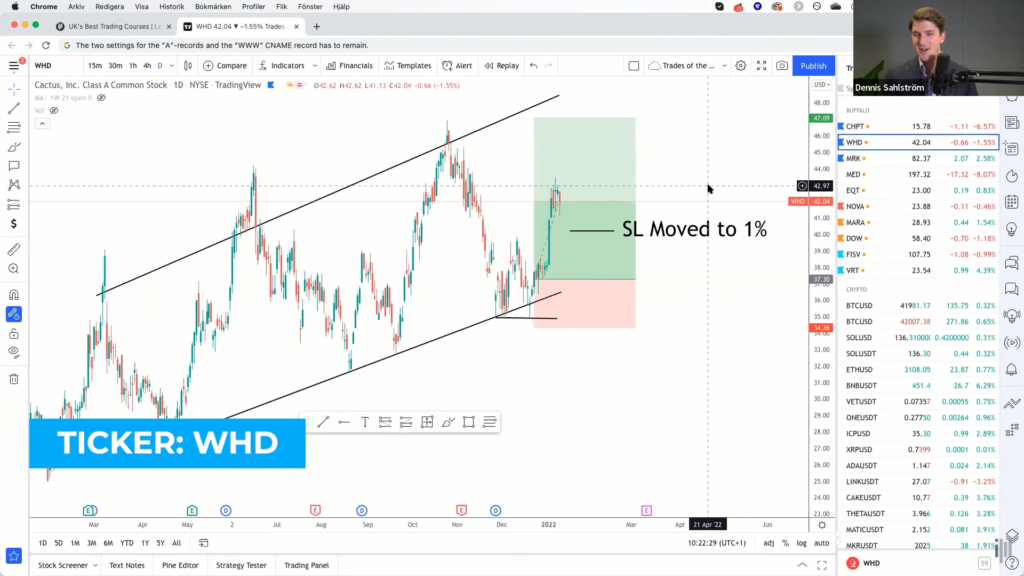 Merck & Company Inc
Ticker: MRK
For Merck & Company Inc., we're really going higher here to get 3% profit. We should be taking profits here because we're aiming for 3%, but we are not going to take profit here.
Point to Remember: We don't get out of the market emotionally. We do it logically. We allow our profits to run as high as possible.
So in MRK's case, it looks really, really strong in regards to a bullish movement. So we'll just keep moving up our stop loss to lock in profits. We've locked in 2% and we're hoping to get that 4 or 5% on this trade. We plan to wait and see.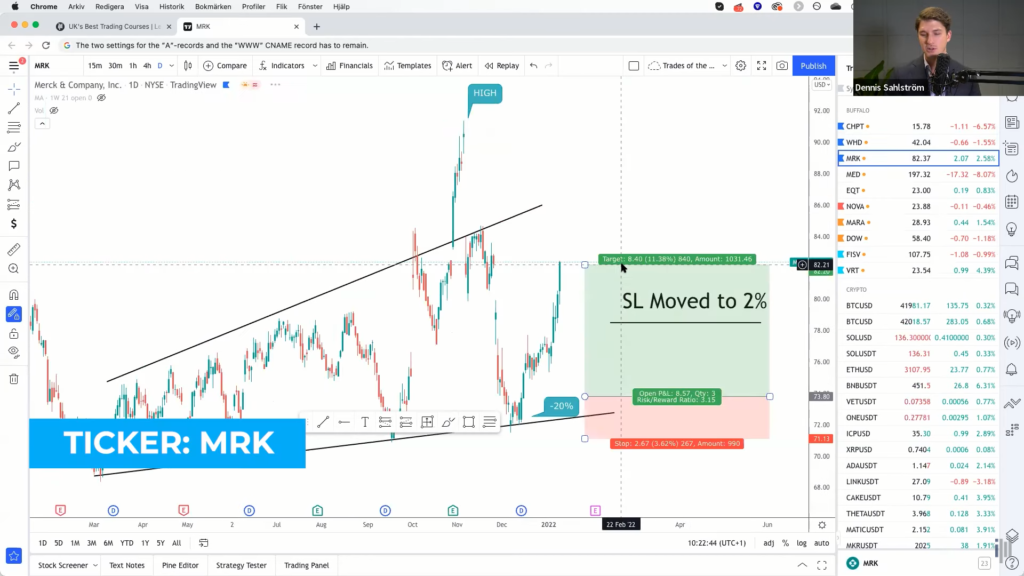 Sunnova Energy International Inc
Ticker: NOVA
For Sunnova Energy International Inc., we got stopped out. We have got a 1% loss.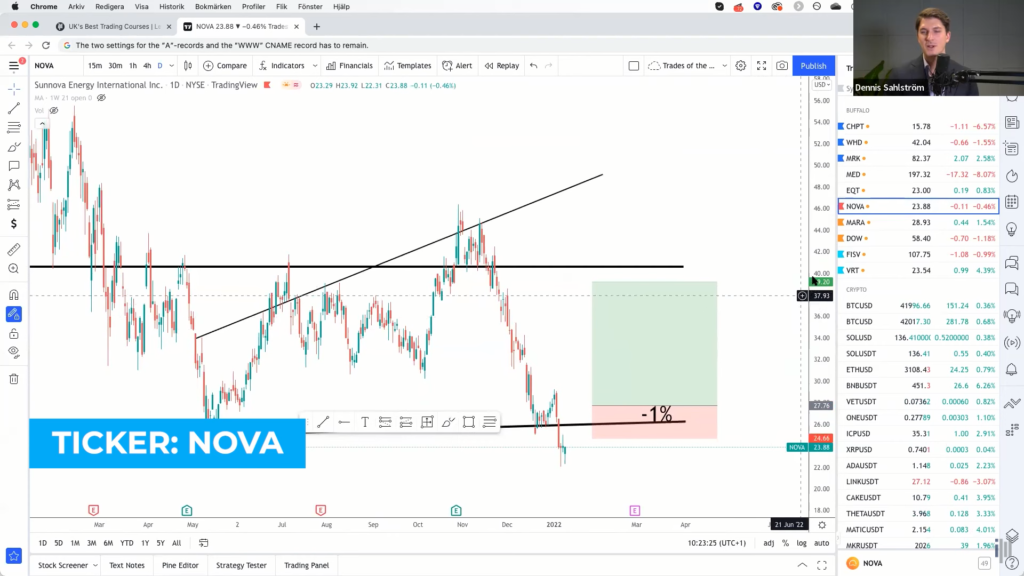 Marathon Digital Holdings Inc.
Ticker: MARA
For Marathon Digital Holdings Inc., we have no trade. So we're canceling that order. Here we still have three bounces and a good reversal candle. So this might be something to look into if you want to do this as well. We're not giving it officially here. We're canceling this trade. We might try it again and just reanalyze it. It is the correct support level for the stock, which is looking good for us because there's no trading below. It's looking like a potential option. The fundamentals are solid. And the probabilities are that this will go up. We would say because the market has been falling so much, including the crypto markets.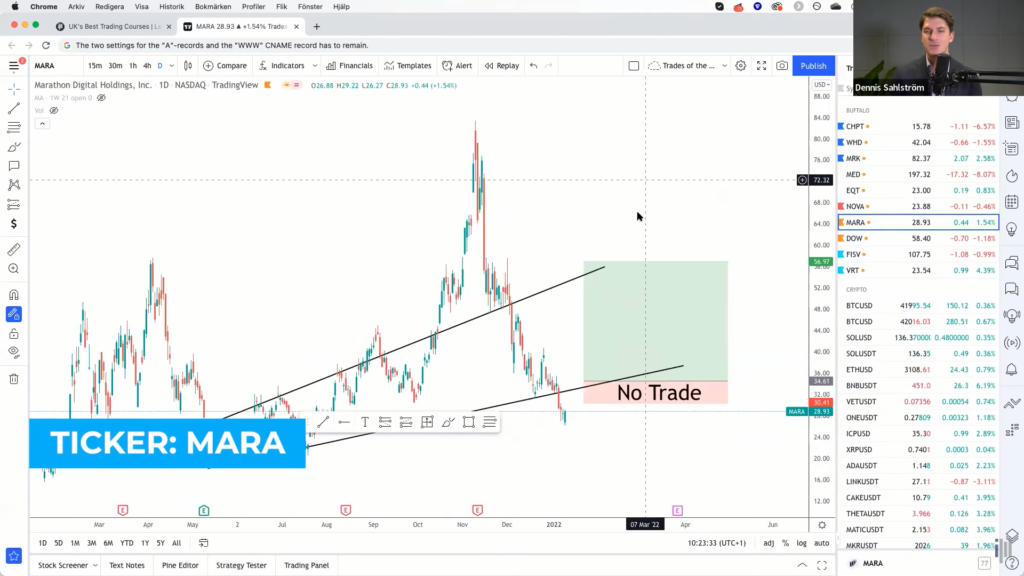 Dow Inc.
Ticker: DOW
Dow Inc. has broken the downward trend. This is no trade. We're not going to reanalyze this because it hasn't broken it. So we're canceling the doubt trade.
STOCK MARKET NEWS
Regarding the stock market, inflation news tells us about interest rates, job creation, and non-farm payroll. Latin non-farm payroll missed analyst predictions, which shows a weakened economy. Consequently, they didn't create enough jobs compared to what the analysts had expected, which led to weakening the economy or potential falling of the dollar rate.
The bigger news comes from the MC meeting at the end of December 2021, where they discussed the interest rates and the next agendas for 2022. In this meeting, ministers in the FOMC discussed inflation, which is a worry for America. Now, what does that mean? They are looking at a potential increase in interest rates earlier than before. So previously, they were looking at a quarter to quarter free for 2022. That could be moved over to maybe a quarter to quarter free or 2022. If interest rates begin to increase, it naturally means people won't spend and hold their money, which will shrink the economy. So what we would expect is the market to have some bearish reaction. If this happens, we have great opportunities for investments. So remember – do not be fearful after seeing the market condition.
"When others are fearful, we must be greedy." – Warren buffet
So the market is potentially going to have a bearish move or reaction due to the news of the interest rates which will cause a longer-term retracement. But if we're still looking at the market right now at the US 100, we are seeing a nice level of support holding up the market from the previous higher high that the market created. So we are seeing that this market is not too big right now and we could still see extensions above new highs for the coming weeks. Till then, the interest rates will be increased.
That's the shorter term picture. When we look at the chart, the prices don't lie, right? Whatever happens live is the truth. So currently the support is being held if it tried to break it before. This is a good learning lesson because we have a support level here. A lot of people have stop-losses placed below that mark. And this is not only in US 100 or NASDAQ, but also in the other companies, we'll see similar candles. So what usually happens, it goes down and takes everyone out, and then the reverse reaction is higher. It seems like the market did react to the news, but it is closing above. This is very bullish in the shorter term.
We're waiting for two things – either we trade within this range or we close below. If we close below the mark, retracement would be possibly faster down around the 14,400 mark. So watch out at the 15,500 mark for a potential deeper retracement.
New Stocks
Fiserv Inc.
Ticker: FISV
Fiserv Inc. did go down quite a bit. We locked in good profits when we went all the way up.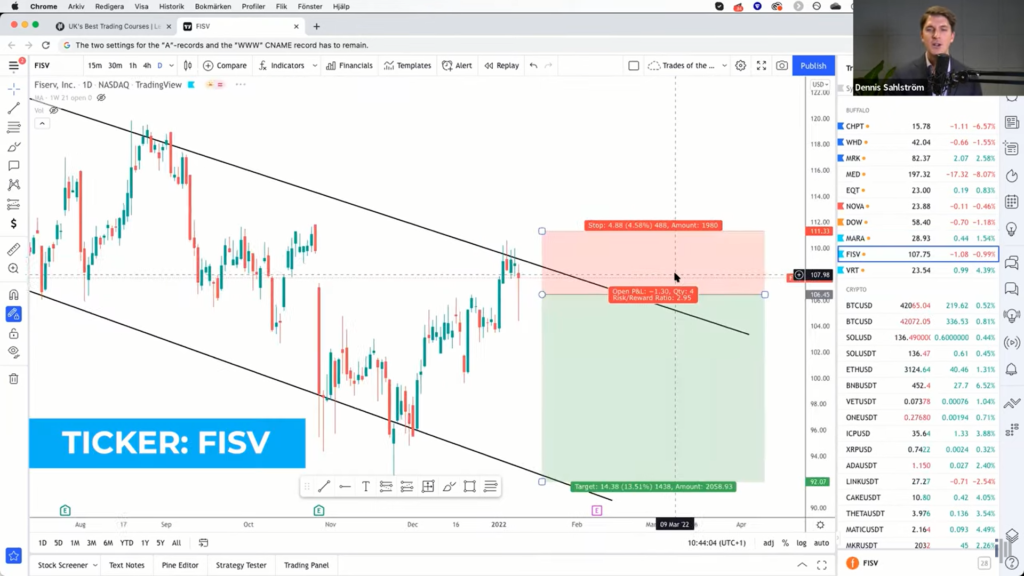 Vertiv holdings
Ticker: VRT
Vertiv holdings looked at a good support level. No candles closing out aside and we're a bit in profit on this. So you could actually look at entering this new stock. It looks like a good green reversal candle.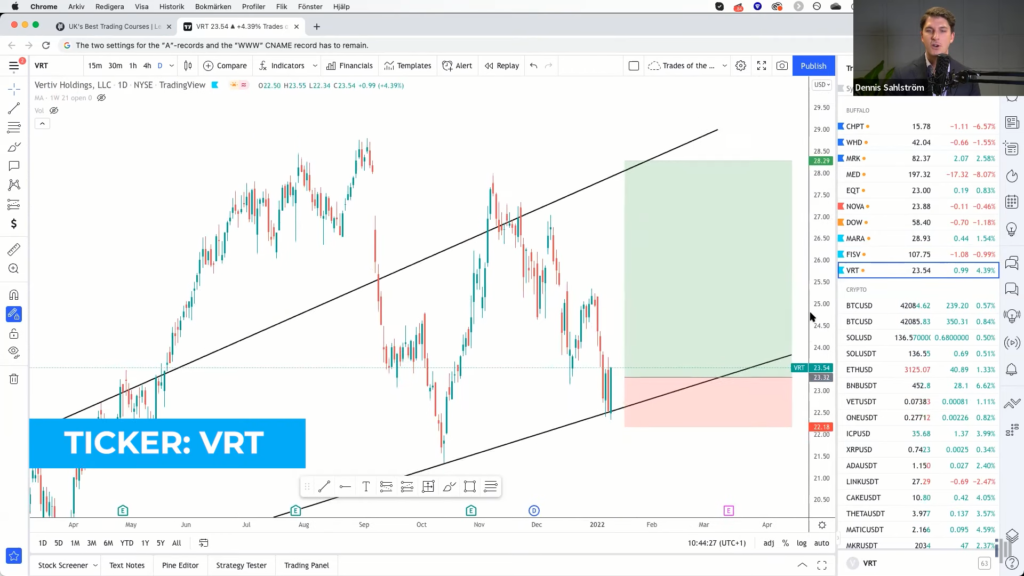 Kryptos
Bitcoin has taken a giant fall in the market. If we are a bigger player in the institution, we would be robbed by buying at the highs of the market because it is the most expensive at the moment. We had to observe a bit of pullback to entice buyers back into the market. We can see a nice level of support around the 40,000 mark. So this could potentially be the area that entices the bigger players now to start buying and accumulating more Bitcoin. It's a good sign that it has fallen!
We had a reversal yesterday down here to 39,000 which was a reaction to the same news about inflation with the stocks. This has moved very similarly to the stock market as well, even though it's a little bit more volatile. We see this as a buying opportunity.
So currently we're holding about the 40,000 level. So these candles are usually quite bullish during those turnarounds, but we do need to see higher highs and higher lows being traded. That will be the first signal that we are breaking into a reversal higher or a potential bull market again or a continuation of the bull market.
Cardano
Ticker: ADA
Cardano is currently down to a 63% drop. It looked interesting because it's also a level of support that we hope is going to hold.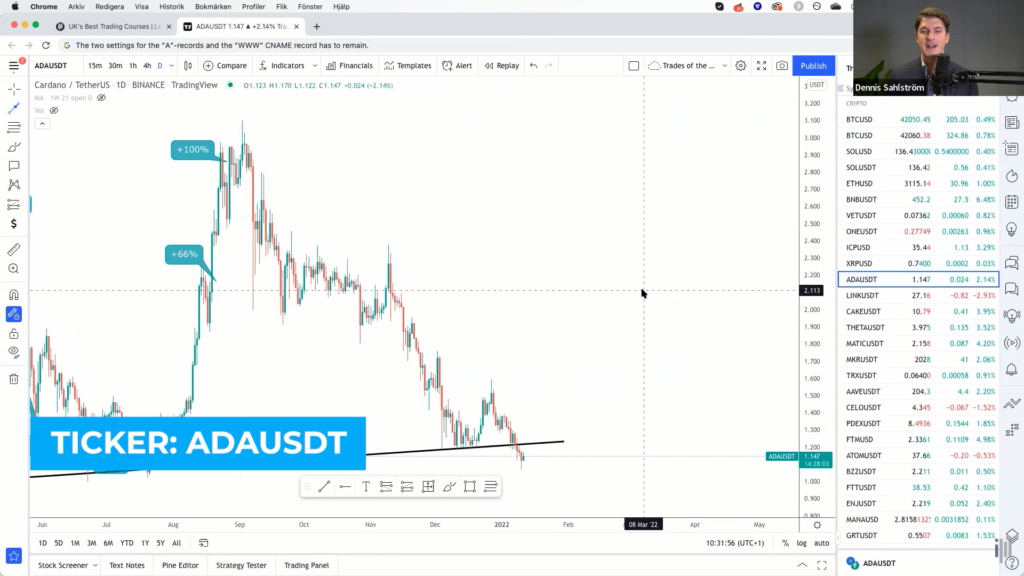 Matic
Ticker: MATIC
Matic Network is down by 25-26%. It looks like a really good opportunity, but we are in this quite a bit. So we're not going to add to this. If you are not into this crypto and if you're looking at this the first time, it's a great level to be looking at.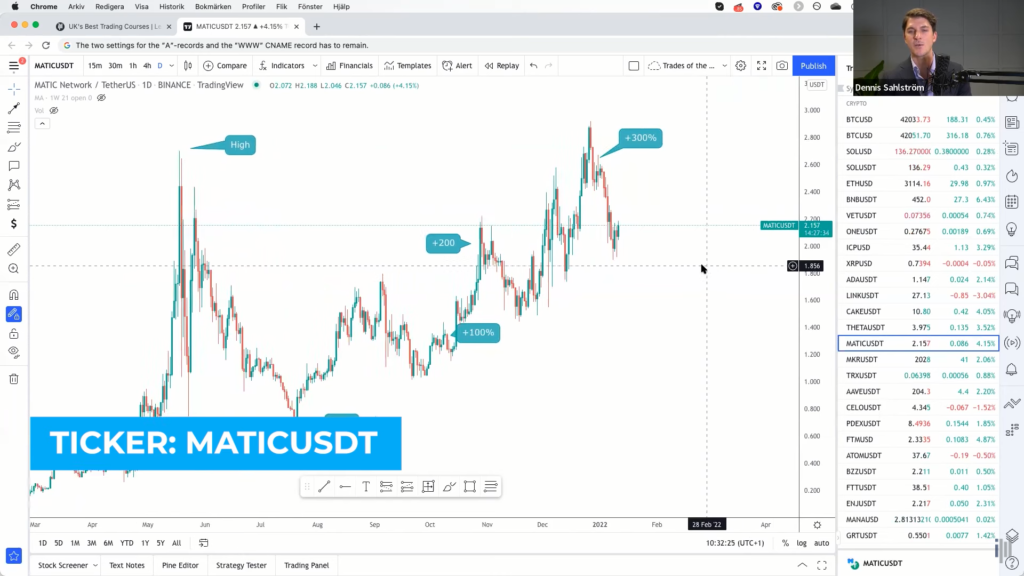 Kusama
Ticker: KSM
We have entered Kusama down at around 54%. We've entered thrice to bring the average price down. So when this turns in, we are locked and loaded and we are ready to go.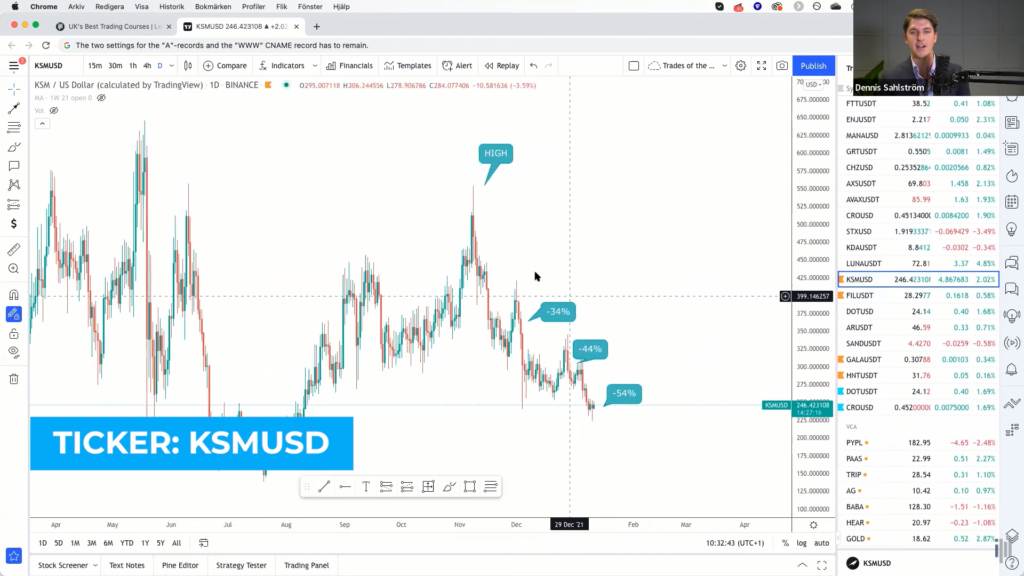 Filecoin
Ticker: FIL
Filecoin is 76% down. It is a bit scary when it falls this much, but we've seen it before when these turn, they turn a lot. Filecoin is also entering the metaverse space.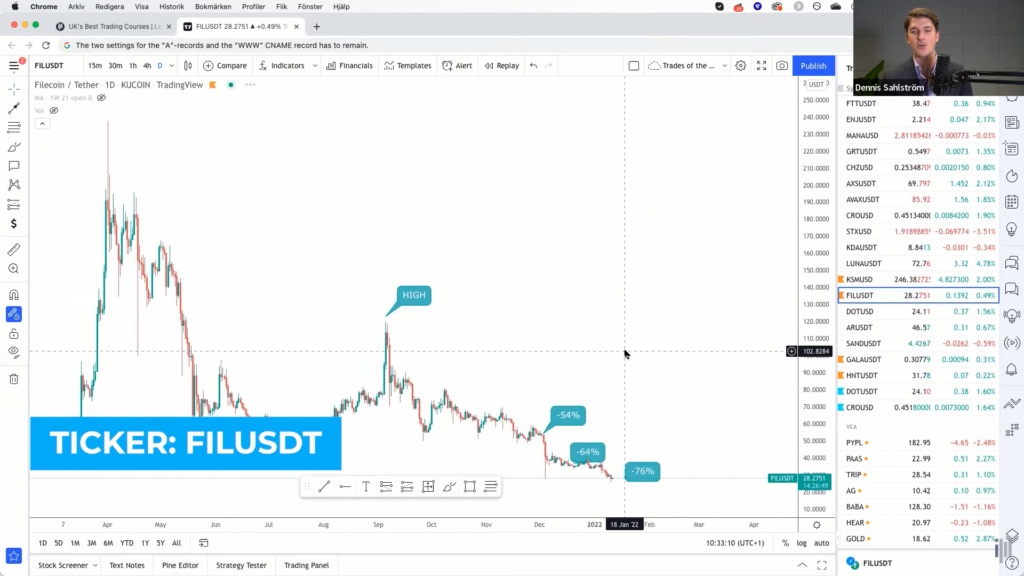 Metaverse
Ticker: GALA
We are adding another entry at Gala which is 65% down. This is a metaverse and a competitor to MANA and potentially sandbox as well.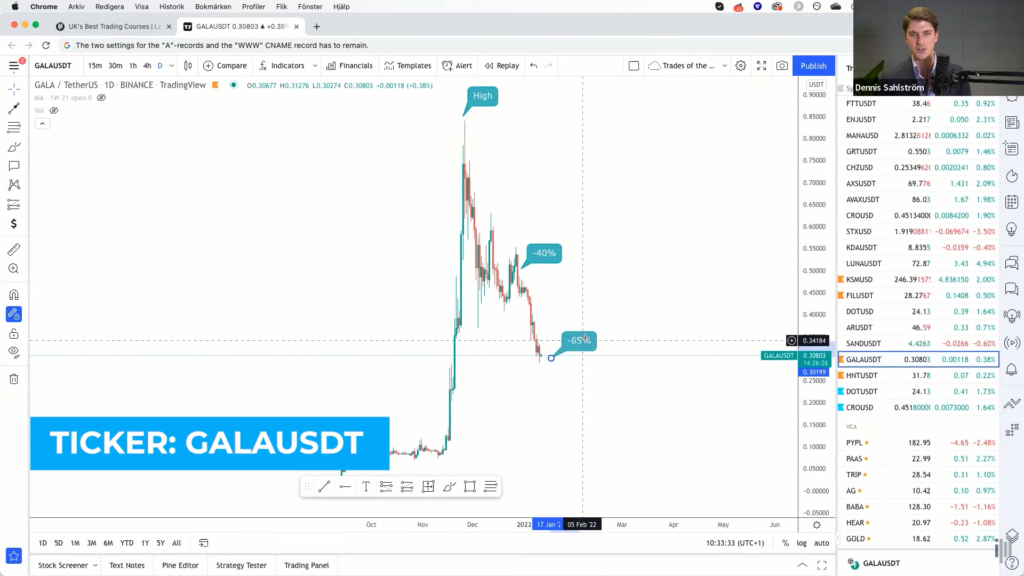 Helium
Ticker: HNT
Helium is down to 50%. So we entered when it fell down. 30 and then 50% down looks like a great level to enter at.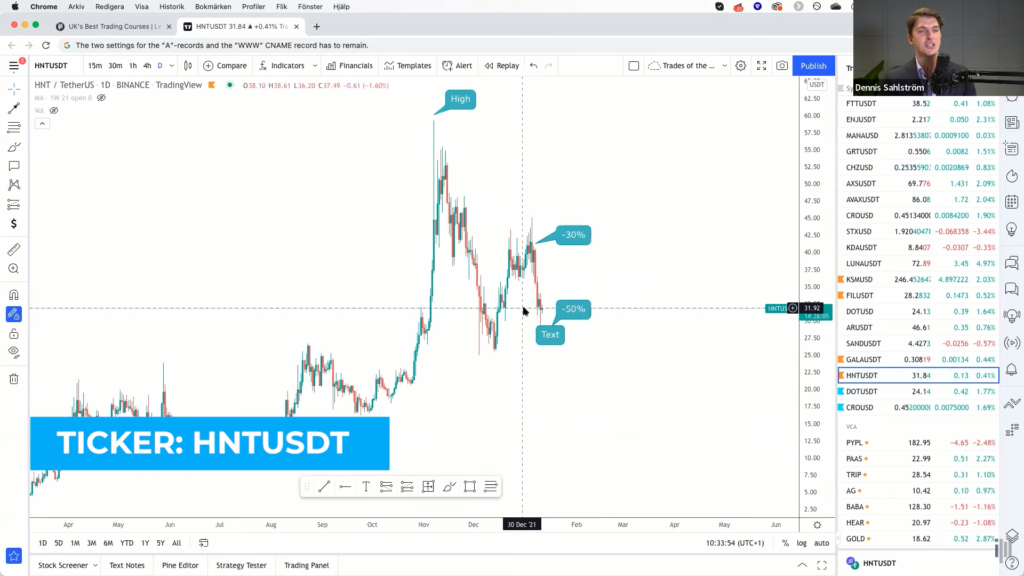 Polka Dot
Ticker: DOT
Today, we want to add Polka Dot because it is a big marketplace for NFTs. It is down by 57%. It is a bargain. We will find out if that is the case, but we think it looks really interesting, and hopefully, in the longer term, we will make it higher.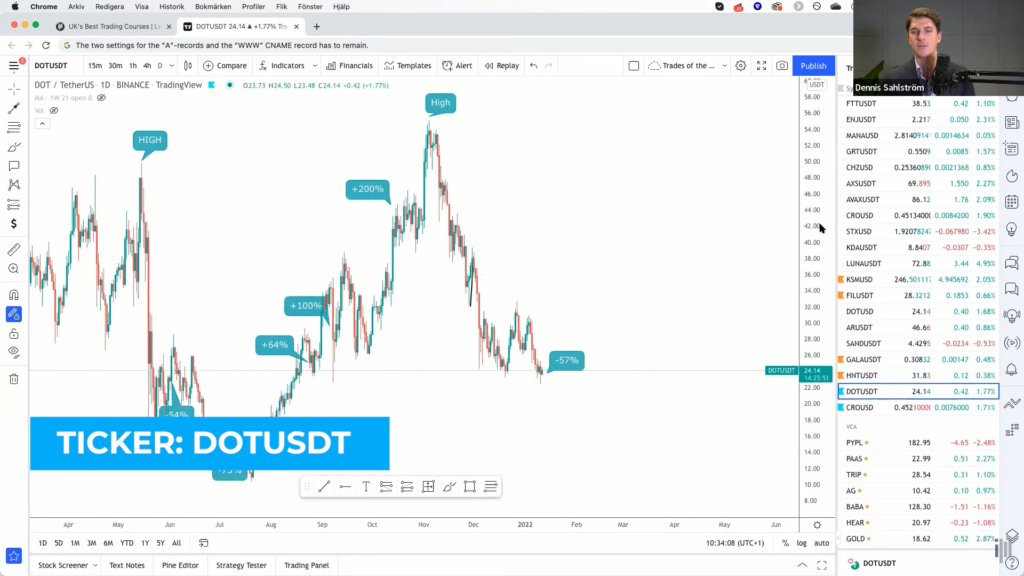 Crypto.com
Ticker: CRO
Crypto.com is down to 55% from the high. We think it's a great entry point if you're not in it.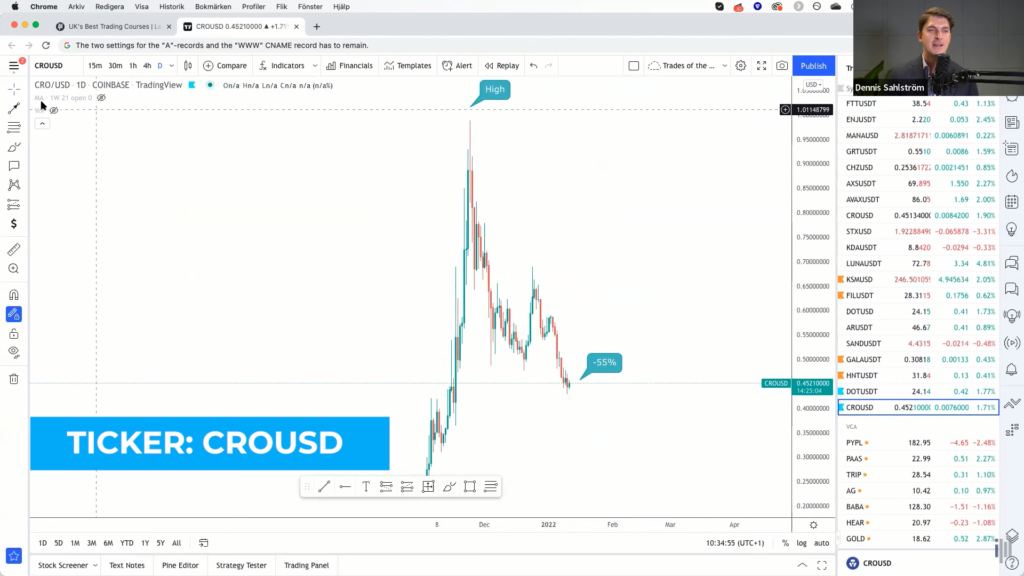 Crypto's looks really good. We are at very fearful levels. When people are fearful, we should be buying and looking at the number of transactions or the money being moved from exchanges to wallet. So people are definitely accumulating, especially the longer term holders, which is a bullish sign as well. In order for Bitcoin to become bullish, once again, we do need to see these higher highs and higher lows being created. Currently, we have lower highs, lower lows. We need to change that in order to change the movement of the price. So let's keep an eye out for that. It could be a signal for the next higher move.
In regards to crypto, there's so much positive news coming out, especially within gaming. Big players like Adidas, Nike, and Disney are now coming into the Metaverse. So gaming industry is massively booming right now. While whales are accumulating, you would rather accumulate at lower prices than more expensive. So it's just to entice a brand new wave of buyers to come into the market.
Key Lesson: Don't get emotional. Don't get fearful. When we see the next extension higher, we will make good returns. Follow the strategy and bring your average costs down by buying as the market falls.
Raupe
Ticker: CAT
We are adding a stop-loss to Caterpillar at plus 10%.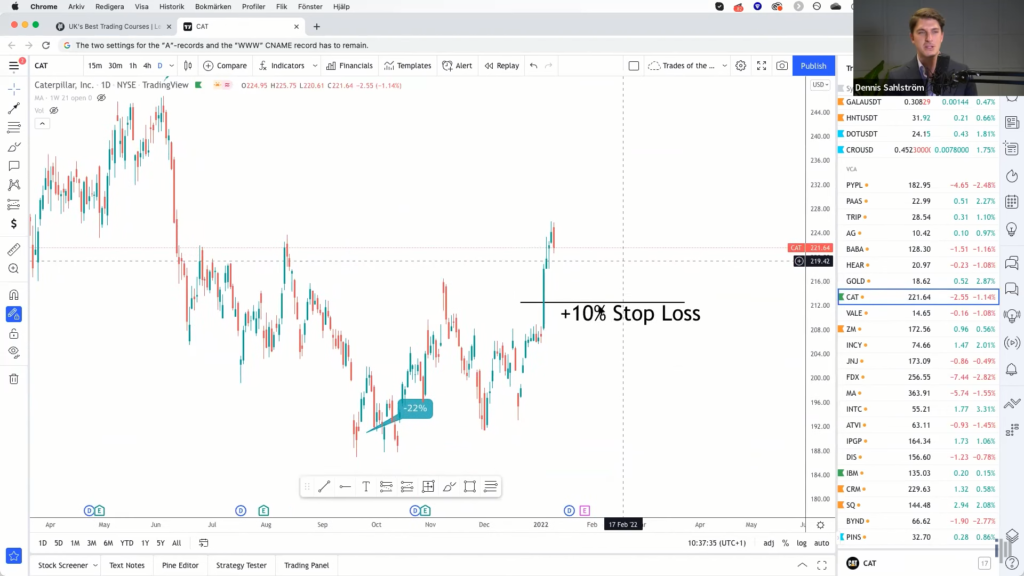 Zoom Video Corporation
Ticker: ZM
For Zoom Video Corporation, we've added another entry at minus 54%.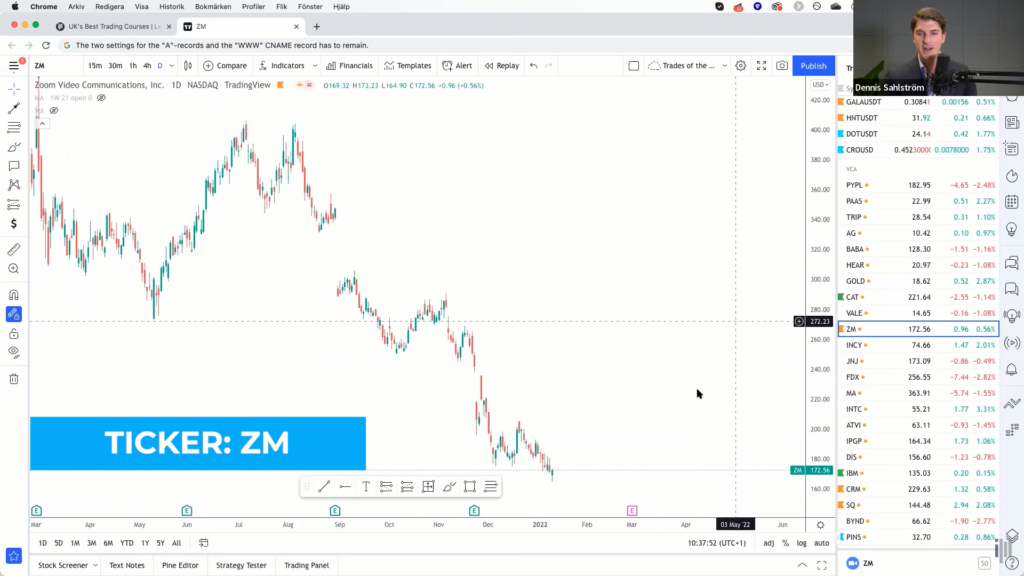 International Business Machines Corporations
Ticker: IBM
We moved the stop loss to 10% for International Business Machines Corporations.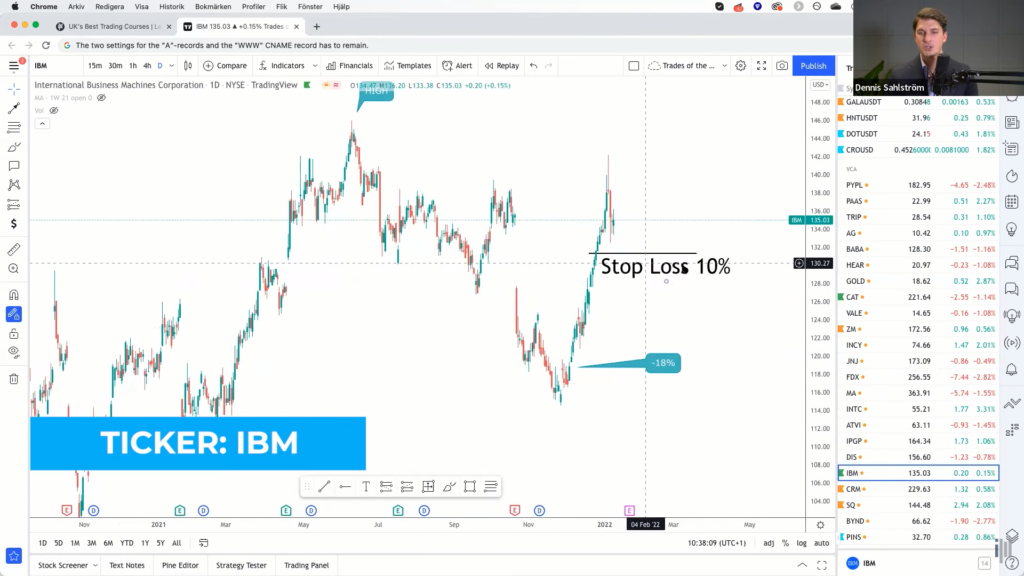 Salesforce.com Inc.
Ticker:CRM
Salesforce.com Inc. is looking good with the reversal candle at minus 29% when we entered twice. We just caught it down here at the week.
Important Note: You put a limit order when you do the VCA. With a limit order, when the price goes down, you enter. If it goes up quickly, it automatically gives you an entry at a level below the current price of your choice.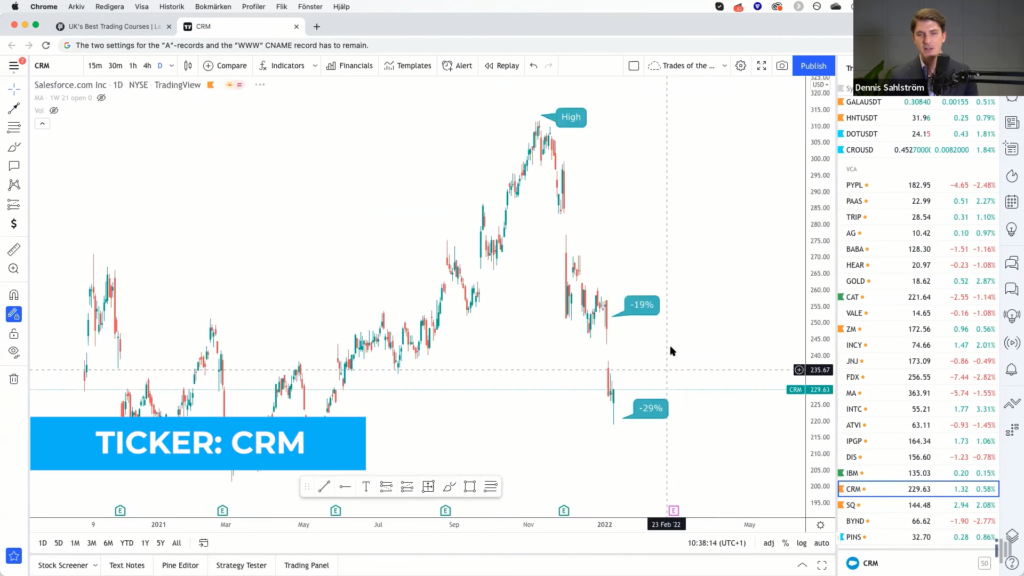 Square Inc
Ticker:SQ
Square Inc is down by minus 50%, which looks exciting, very exciting. We entered another position yesterday on this as well.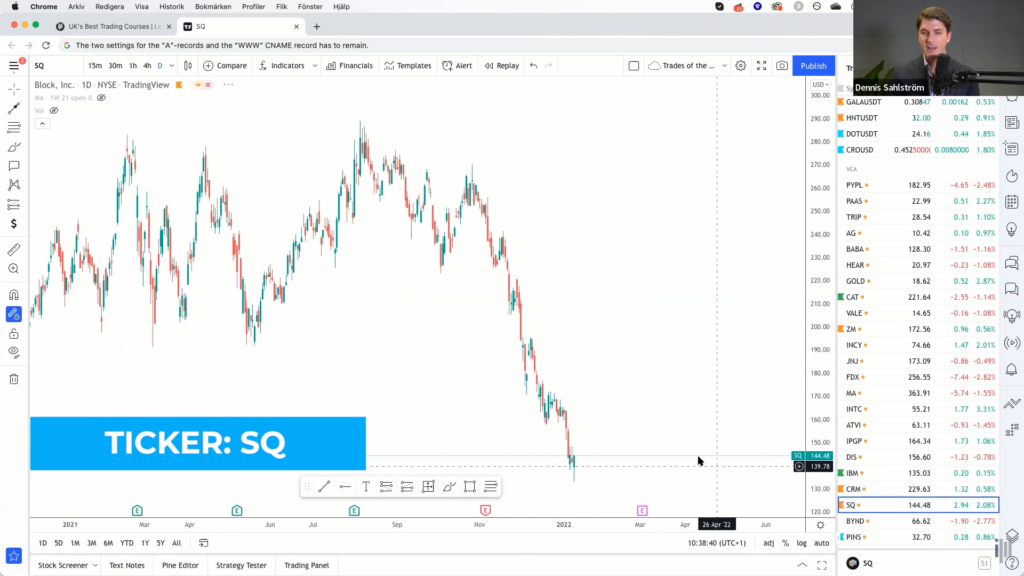 Pinterest
Ticker:PINS
Pinterest has good earnings that are making profits. We think that this is going to be a good investment as well. It is down by 50%. They are doing a lot of business and projects. They have a really good return on assets, equity posted, earnings per share for the next five years, and good levels of institutional ownership as well. Remember if institutions are investing in this company, they've done their own due diligence. They are happy that this company is fundamentally strong enough for them to invest. So let's follow what the experts are doing. And by experts, we mean Goldman Sach, JP Morgan, etc.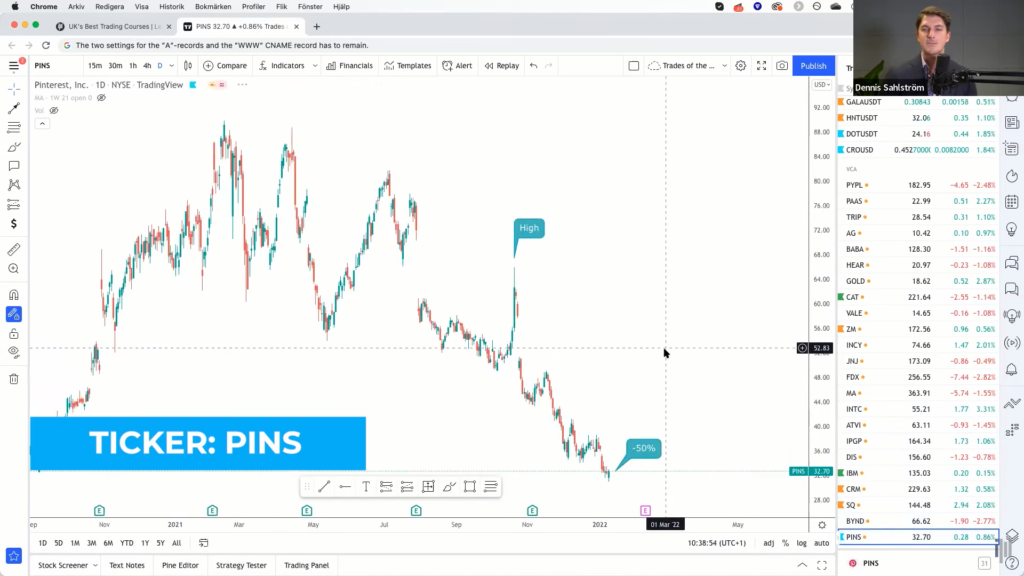 Are you using us as a springboard? Are you getting into these positions because that's the whole reason we're doing it. If you are a client of Investitionsbeherrschung, senden Sie uns eine E-Mail an gabreiella@investment-mastery.com to become the client of the week. It'll be an honor for us to have you featured on our Instagram Hier werden Ihre Fortschritte geteilt, um andere zu inspirieren Investieren und Handeln. Es wird einen großen Unterschied im Leben anderer machen!
Du bist kein großer Leser? Kein Problem, schauen Sie sich das Video unten an: