Another year, another record-breaking price increase!
In December last year, inflation reached a new 41-year high, as a decline in energy costs was insufficient to offset a relentless march upward in other basics – such as food, rent, and motoring, accompanied by persistent supply-chain bottlenecks and workforce shortages.
Phew!
So… the question is… Are we going to fall, or are we going to go up? Today, we will find out as we take a look at stocks and crypto in our weekly Trades of the Week special.
STOCKS
ChargePoint Holdings Inc.,
Ticker: CHPT
For ChargePoint Holdings Inc., we have taken some actions this week to move the stock down to 2.5% profit. The question is – Do you think we should move further? Or hold it? We believe it is a special occurrence so we've locked in for ChargePoint Holdings, we've moved the stock further down. We might be tempted to take the profit of 3%, but we don't want to limit the amount. We want to allow our profits to run as far as possible. So if the stop-loss goes down, don't get emotional let the profit run as much as possible. So CHPT covered 3 losses for us. But that's okay.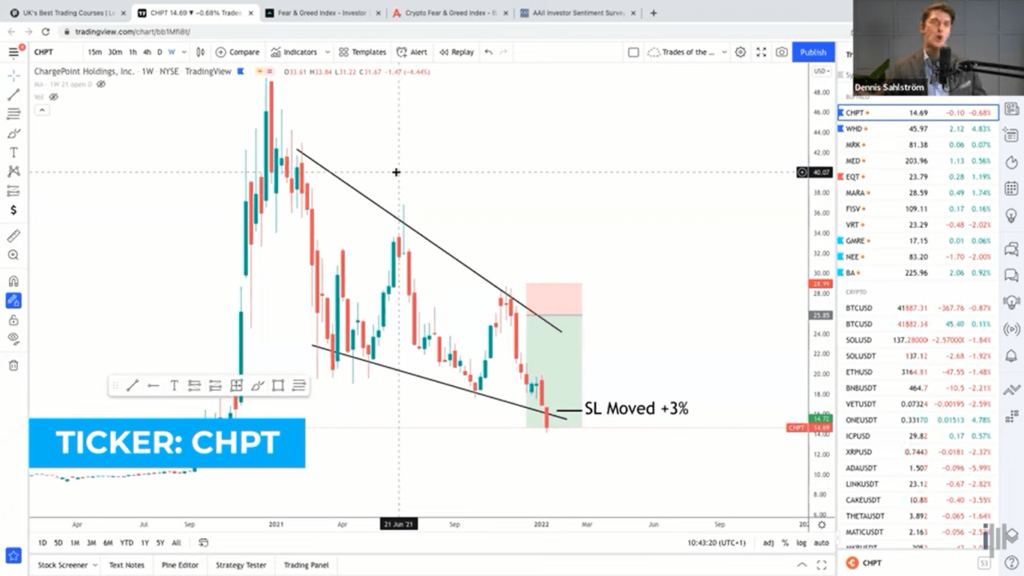 Cactus Inc.,
Ticker: WHD
For Cactus Inc., we moved the stop loss to 2%. Let's see how far it does move up. It will actually be up at 2 or 3% profit share. However, to move it just underneath the trough would mean we will get a profit of 2.3%. In regards to today's market which is a tad bearish, if it does break below the higher low, then it's a confirmation to come back down to the support.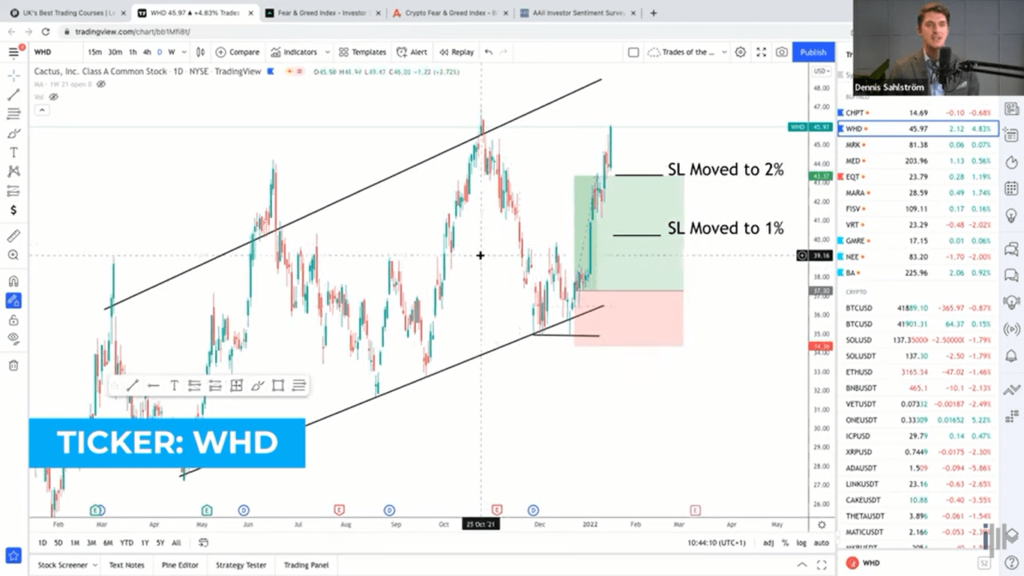 EQT
Ticker: EQT
EQT went in the wrong direction, took us in, and then out with a 1% loss. Make sure you keep your stop-loss and take that 1% loss because, as you can see that some of this 3% was up 2%. It does cover the losses, but make sure you let your profits run, not the losses ; these losses you want to cut short.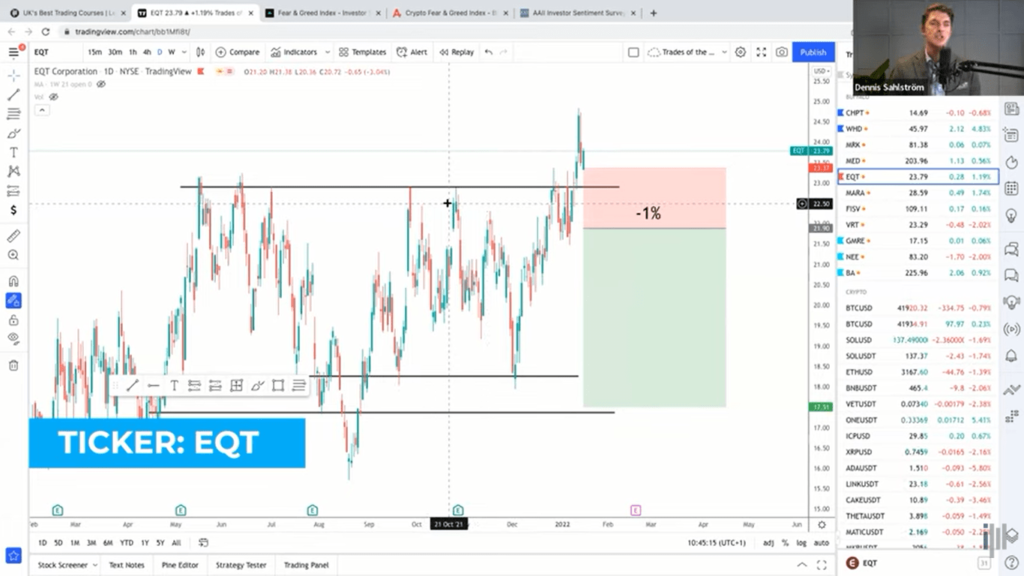 Marathon Digital Holdings Inc
Ticker: MARA
You can get in at a better opportunity than we did. If cryptos do move up, then we're also hovering here. We're close to being stopped out, just hovering in a slight loss at the moment.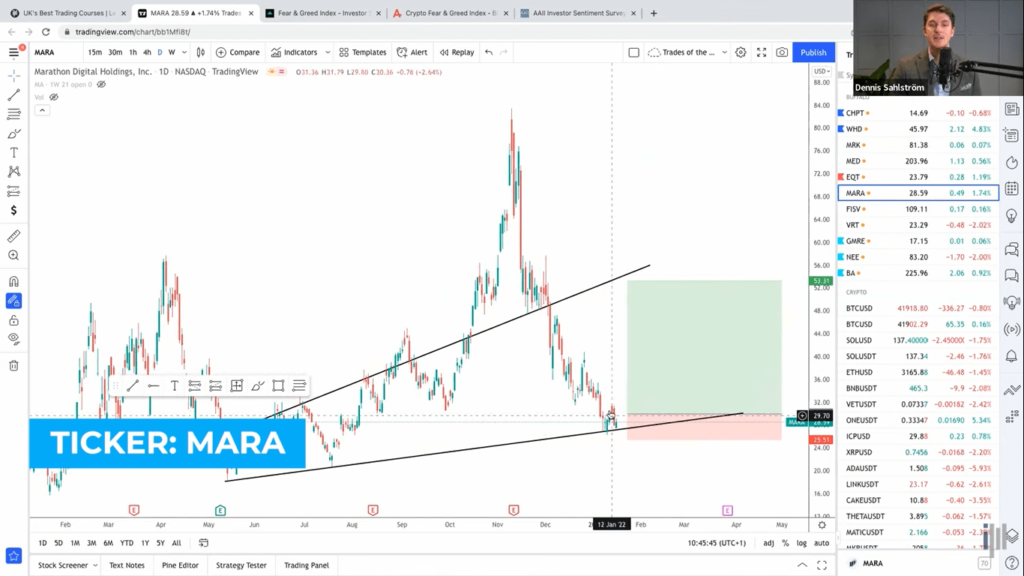 Global Medical REIT Inc.
Ticker: GMRE
For Global Medical REIT Inc., we have had a retracement, and currently, we have a Doji. So that could be a bullish sign. This could mean we will potentially have a 3:1 on this as well. So it's bouncing from the support. We like that we have higher highs and higher lows. Hopefully, this pattern will continue. We see a nice reversal candle – it's a green candle. The overall market for GMRE is bullish, which is a good signal, this could give us 2, 3%, or even more. If it breaks out high happy days for us, we just move our stop-loss as we do with the other companies.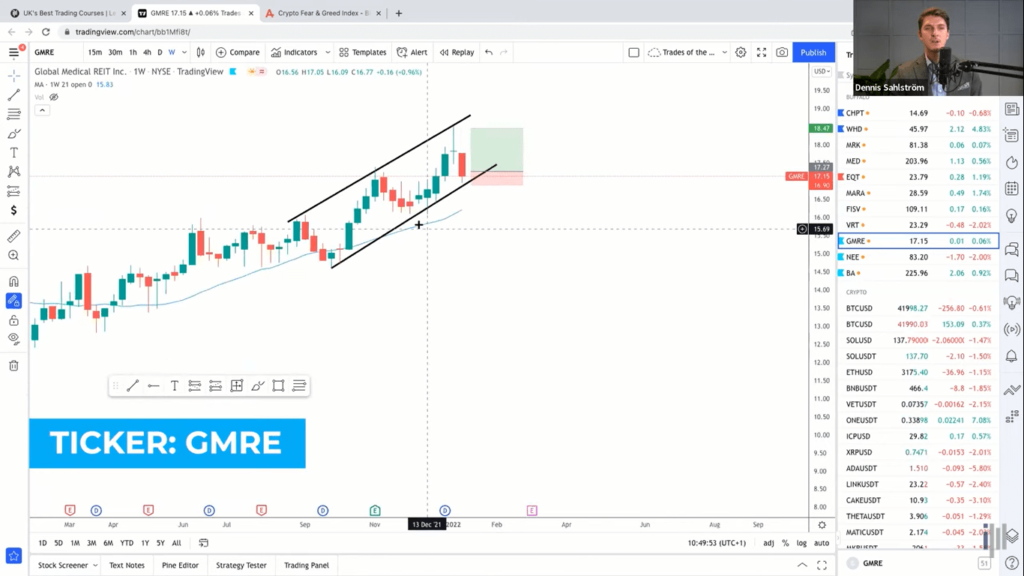 NextEra Energy Inc.
Ticker: NEE
NextEra Energy Inc. is moving up in a very nice Buffalo range. We only see a big red candle here. So, be aware that earnings are coming up. We would like to see it here in the graph before we go in, this is a nice green candle. Do make sure to wait for one of those before entering. It will be ideal if we get a red reversal candle next.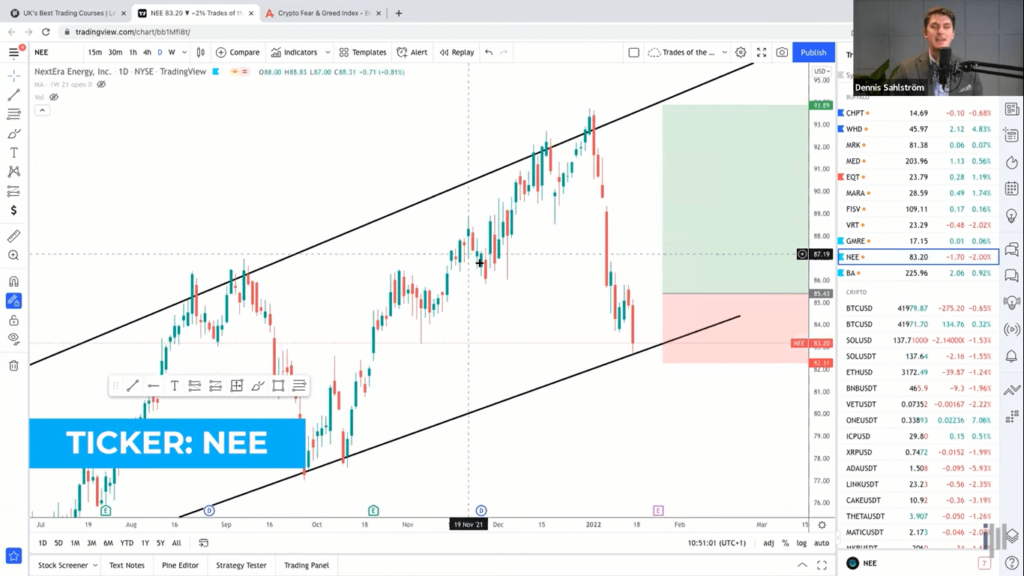 STOCK MARKET NEWS
Inflation has hit a 41 year all-time high, which has caused extreme fear within the Federal Reserve. There have been talks now about increasing interest rates, and if it increases, you will see a shrinking in the economy because people are more willing to save money than spend money. That will naturally bring inflation down. So if we have a quick look at the fear and greed of US30, the market is having a pullback, yet the overall sentiment and market is being greedy. We are seeing that buyers are still looking to hold up. The market is still looking to buy because prices are cheap.
Looking at the weekly timeframe, we've seen that the stock or the index has closed below the 21 days moving average for the first time in a long time. This is a signal, there may be a potential bearish move. Do we call it a bear market? Do we call it a retracement? We can't dictate that just yet. The market was making higher highs and higher lows. And we are now seeing that this market is potentially looking to target the previous higher low. Now, if it starts breaking and trading below that higher low, then that is a signal, a sign that we could potentially now be seeing a longer-term retracement in the market. If we start seeing the market become bearish, we don't get scared and sell our shares. We follow the strategies. We do the VCA, buy the shares as they fall, and look at shorting opportunities.
The first thing we start looking at is the media indices. If we look at the overall economy, we are seeing that the dollar is weakened against the major currencies like the pound or the Euro. That is a signal too, that the economy is not doing as well as they believe. That being said, we are now seeing the recovery of the economy in the US since the COVID pandemic.
The second signal will be breaking out of the structure. If we break below the 14,400 mark, then we are definitely getting into a BMR cut. The only thing that is important is to be hedged. Make sure you make money when it goes up. And when it goes down. Which is what we're doing with the Buffalo. At the beginning of the week, we did have a slight pullback, before it then rallied higher.
Cryptos
Bitcoin has not really been doing much since last week. We have been testing the support level, and it's now likely bearish, just moving in a horizontal direction. It is the same with the stock market. People are waiting to see what is going to happen here. Looking at the fair ingredient X, the market is very fearful at the moment.
Big News: Bank of America in Sierra believes that Solano might become the next visa of cryptocurrency. This is one of the new blockchains, which is super fast and can do great things.
Solana
Ticker: SOLUSD
Solana is down to around 47%. We think Solana is a bargain and could be great for a first entry using the CCA strategy.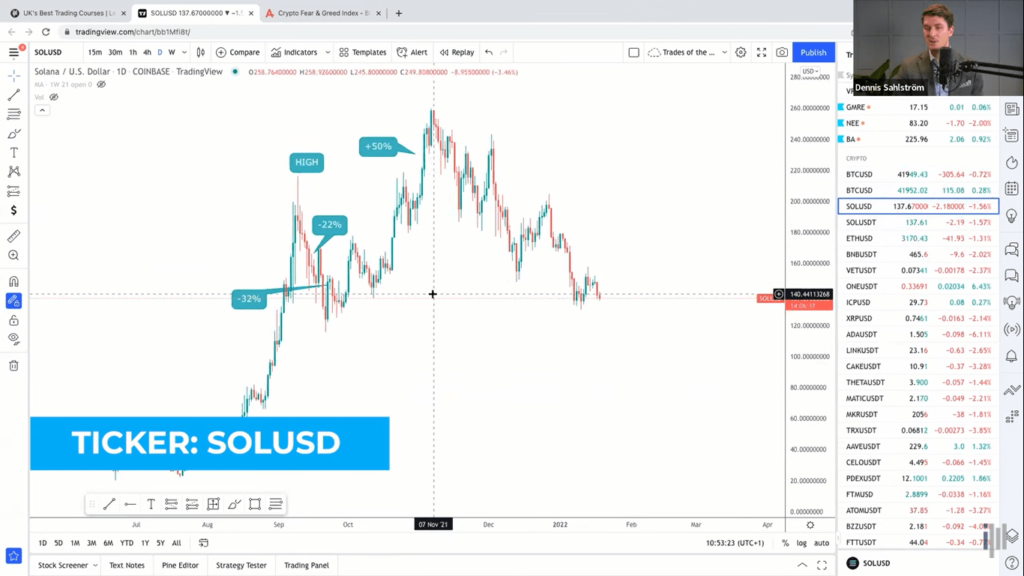 Cardano
Ticker: ADAUSDT
A week ago, Cardano was down at the support, which rallied at around 30% up. Some information of interest the co-founder of Ethereum, Charles Hoskins, announced that Cardano was "just getting started." We found it interesting that on one of the days, it had the second-highest number of transactions on the blockchain. They are really going for it this year; 2022 might be Cardano's breakout year where they're launching NFT platforms, DeFi. They've actually launched the first metaverse on Cardano as well.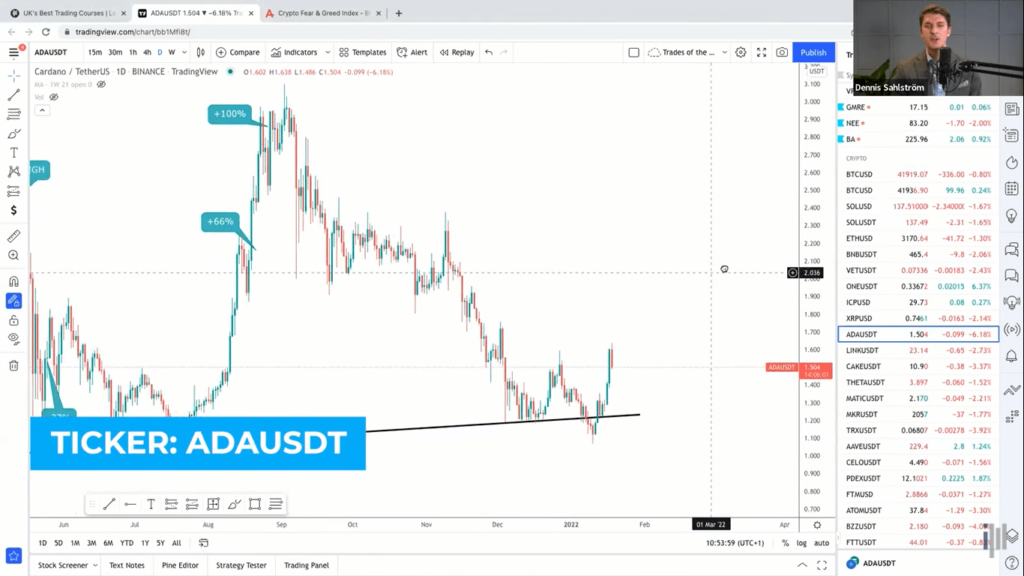 Harmony
Ticker: ONE
Harmony is one of the blockchains that has been really strong. It is also building a lot this year, and going up, while the rest of the market is going down, which is a great sign of strength.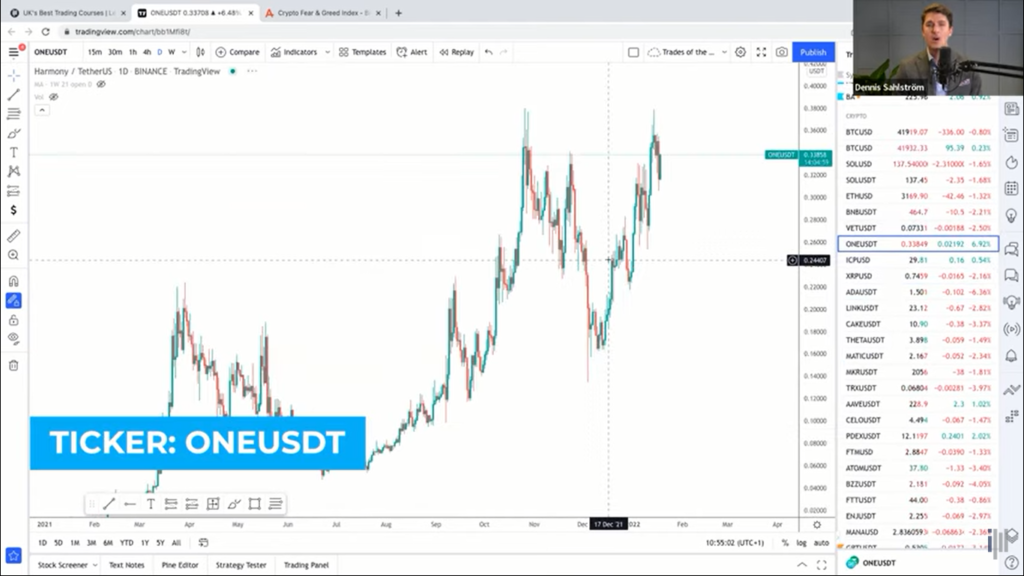 New Entries
GRT
Ticker: GRT
For GRT, we are down around 61%. This is an awesome time to get in here. Which is what we did, at 35%, it went up quite a bit. We were quite a bit in profit, almost one hundred percent. Then it fell down to 60%. GRT is a good project.
SAND
Ticker: SAND
We went into the sandbox at a great entry point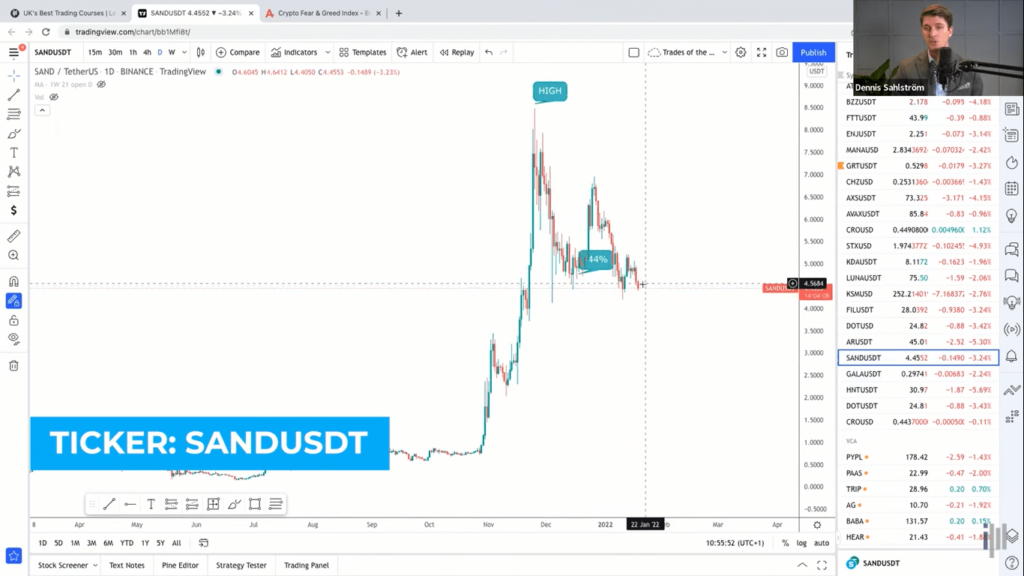 GALA
Ticker: GALA
We got into Gala at minus 65%. So do make sure you look over your position there. This is a big metaverse. Both Sandbox, Gala, and Mana/Decentral and are some of the biggest metaverses that could be a really big trend this year as well, according to Grayscale and a lot of other sources. For this week, we're not adding anything new. The latest one we added was triptych.com, but we think we're very well positioned for when the market really turns with all these positions there. So. there is a waiting game. Money will now move from the impatient to the patient.
It's the time of accumulation, the time to be patient with the crypto market. There are such great projects out there you can invest in. For us, we've been looking more at the NFT section; buying, looking and even how to create NFTs.This could be a boom in 2022, along with the metaverse and gaming.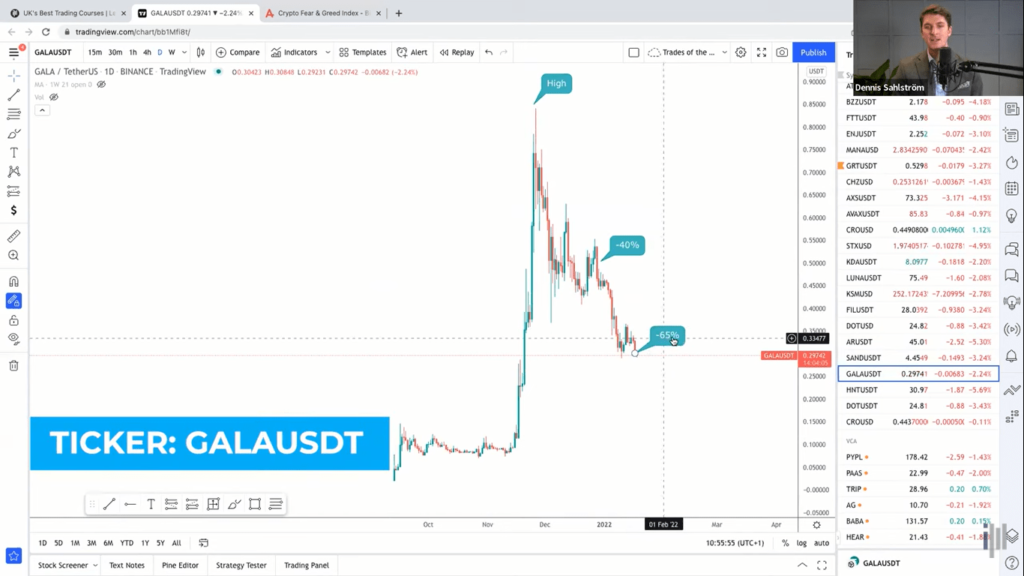 XRP
Ticker: XRP
We got some information on XRP that it has been moved back another month. This has increased the timeframe of XRP. It was meant to be done by June this year which has been postponed to September. So if you feel that XRP is going to massively grow this year, it potentially cannot. We still think it is a sleeping giant. In all fairness, we think it is one of the most undervalued points. Let's wait and watch here. We had some big movements here from 15 cents up to $2, but nowhere near its all-time high, which was back in 2017. That being said, we think it will easily break if they win. So, you need to get excited about XRP again. It is a high-risk reward game. Invest smaller amounts potentially, but definitely, the one that we have been averaging into as well.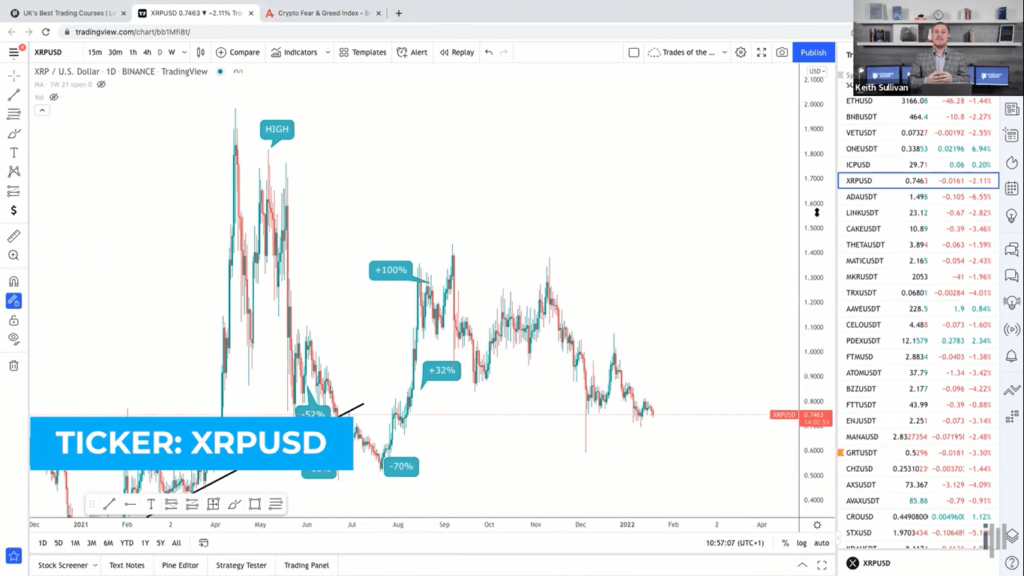 CAT
Ticker: CAT
We moved the stop close to 10% profit on Caterpillar Inc. We don't think it's time to move just yet.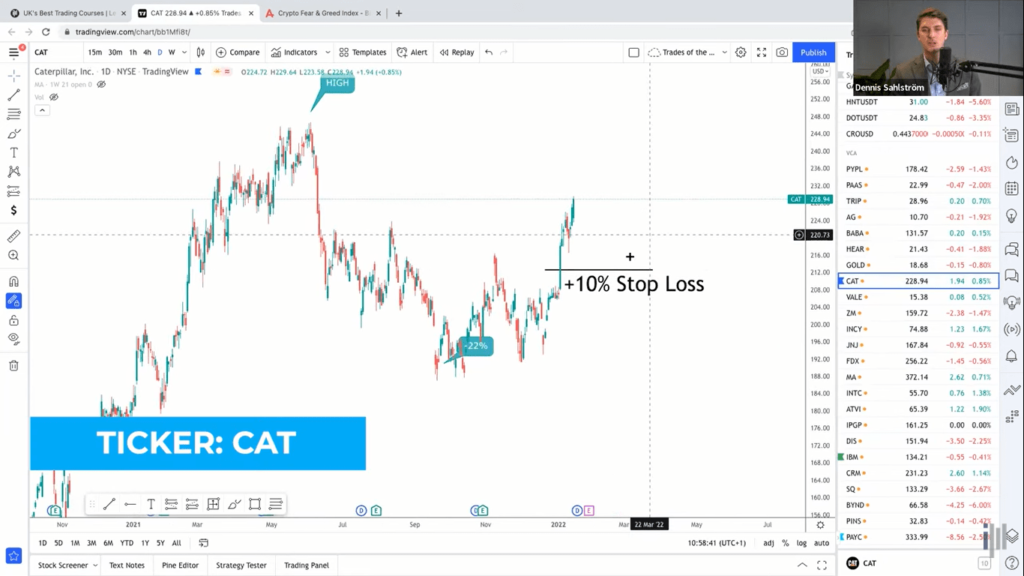 IBM
Ticker: IBM
IBM did actually fall down. That took us out at a 10% profit. We're taking IBM off the equation now. We are leaving this until it goes down 20% again.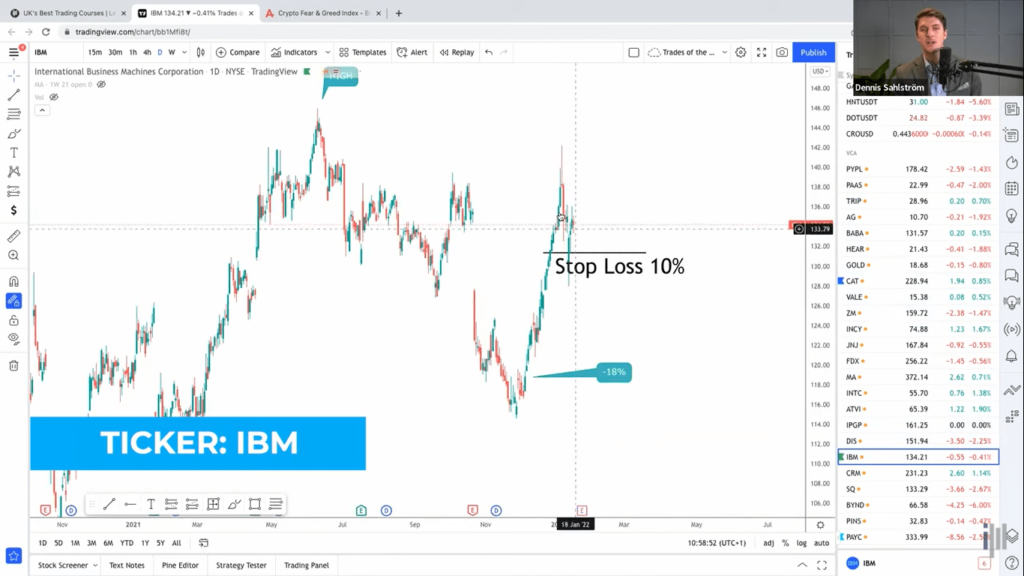 Paycom Software
Ticker: PAYC
Paycom Software is quite an interesting one, and they actually have really good income. They have really low debt, positive earnings per share, are looking to grow over the next five years, great return on assets, great internal equity, and a good amount of institutional ownership as well. It is down at the previous level of resistance. This could be a scenario where it's also creating a higher level. But remember, with the sales strategy, we're not really trying to time the market. So this is just the first entry where we are entering at 40. Next time it will be minus 50, minus 60, and so on.
We have a lot of red candles here. In regards to VCA, we don't really mind the technical side of the chart. If we see red candles, it means we got more entries, so it is good for us because we want to enter at those cheaper prices. With PAYC, it is fundamentally strong, and we see a lot of growth. We still feel that is an undervalued aspect of this company. We think it's a good investment.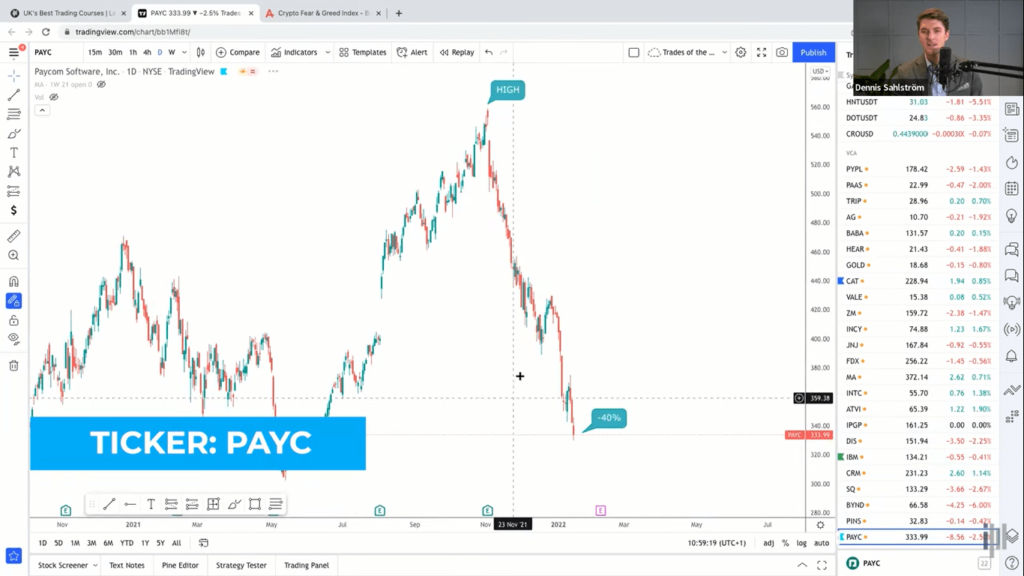 IMPORTANT ANNOUNCEMENT:
We will have a crypto masterclass on 27th January, next Thursday at 6:00pm. It is going to be a free event. Please click the link right now to book your place because we have limited space. It's going to be an opportunity for you to get a good insight into the crypto market, which is one of the fastest-growing markets on the planet. And it's time to learn. We will also speak about which NFTs we're getting into and the big metaverses present. Also, we will share some cool announcements about which big companies are getting into blockchain and cryptos. So, if you haven't started yet, this is an amazing opportunity to learn from Marcus himself, who is one of the world's best at teaching trading and investing. If you are a client of Investment Mastery, send us a mail at gabriella@investment-mastery.com to become the client of the week. It'll be an honour to have you featured on our Instagram, where we will share your progress that will inspire others to invest and trade. It will make a huge difference to the life of others!
Not much of a reader? No problem, watch the video below: