In the last two weeks, a lot has happened. Luna almost disappeared and Bitcoin fell to 25,000 USD but the question is of course, what happens now?
All the analyses I share are only my own educated guesses, stemming from my eight years of experience trading and investing. My views are not truth, only the product of my individual experiences.
Bitcoin continued to fall and so far, has found a bottom at around $26,700. In contrast, the weekly light closed over the important support of $28,800. Should we fall and close below $28,800, the likelihood of a continued fall toward $25,000 is high. However, there are many factors that indicate an uptick sooner or later.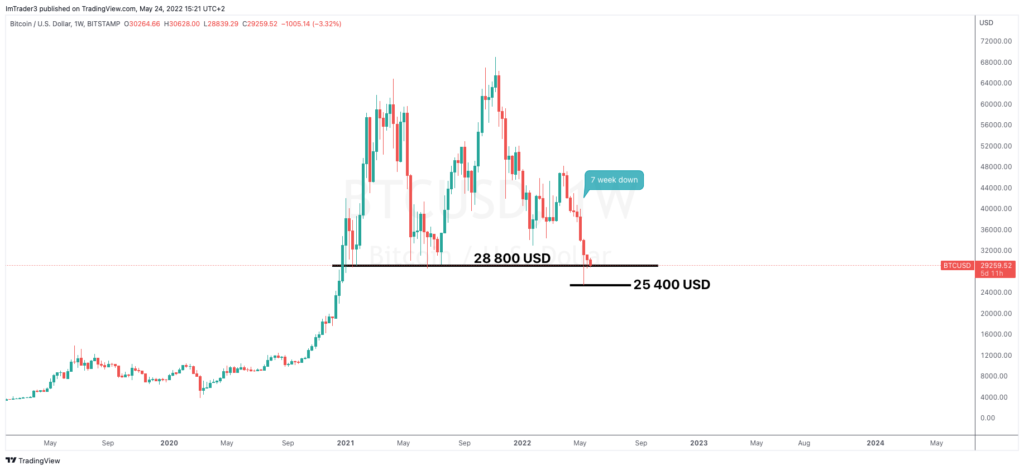 I don't need to discuss Luna's situation in greater depth because it has been the main topic for many analysts and news outlets over the past few days. However, there are some lessons to be learned. For a few weeks, Luna was worth around $100 per coin and went from being the sixth-largest cryptocurrency to largely disappearing. The lesson? NEVER invest ALL your money in a cryptocurrency or stock. Anything can happen.
Despite that situation, there are many aspects to be grateful for.
First, it should be noted, in a Bear market (declining market) is when most MILLIONAIRES are created – if you, as an investor, follow a strategy and invest all the way down, then your chances of great wealth is enhanced. For example, we identify a peak and investors then buy at predetermined levels, along with predetermined amounts of money. The lower the price percentage drops, the more money we make once it turns. However, it is important that the asset is stable.
There are two aspects in particular that I find interesting right now.
On the graph below, you can see that many traders and investors are now preparing for rising prices. The fact that the graph increases in value mean that more and more investors (larger investors) are buying contracts that will reflect an upturn for bitcoin. In previous periods, we have seen that during a downturn, the number of contracts for a rising bitcoin price has increased. Now, it's up to an all-time high.
Secondly, the market is in extreme fear which often indicates that a bottom is near. As Warren Buffet so wisely said, "When others are greedy, be fearful and when others are fearful, be greedy."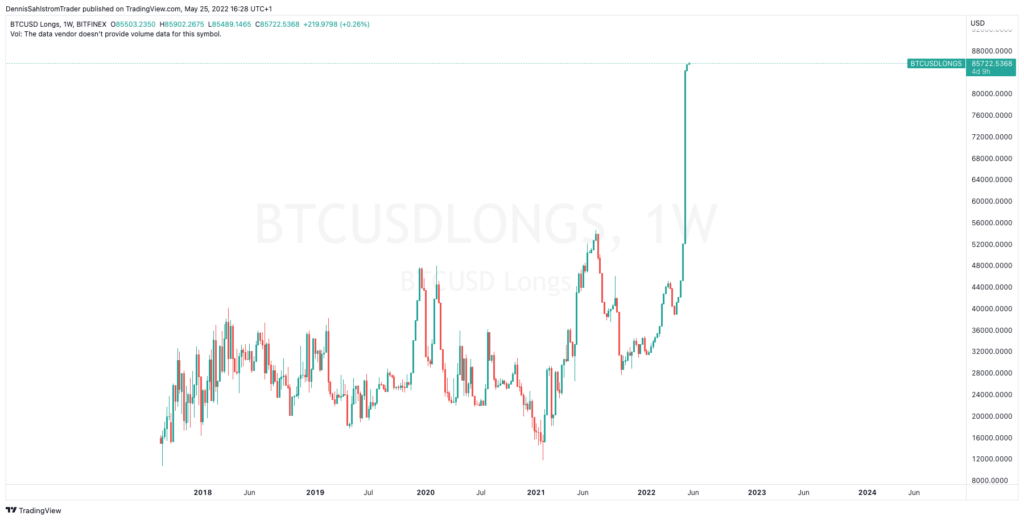 I hope you find this analysis useful. Should you want to learn how we use our strategies, join IM insider for free.
Have a nice and successful week.