Hey everyone, we need your help!
It appears there are people out there pretending to be part of our awesome Investment Mastery Team, and even impersonating our founder and chairman, Marcus de Maria.
Worse still, they are trying to scam others by offering our services and products… in return for payment.
They are trying to do this through multiple social media channels whilst using our name and images.
These scammers are using all kinds of ways, such as giving investment advice or promoting certain platforms or programs.
They are even pushing bogus get-rich schemes.
So we just want you to know that neither Marcus de Maria nor anyone in our team will ever reach out directly to people through social media or engage with them in this way, so it is not us and never will be!
It's not on, it's criminal, fraudulent, deceitful, illegal and makes life unnecessarily disruptive for us all.
So, we are asking you to be extra vigilant, be aware, and be on guard for anything that seems out of place or wrong.
If you have any doubts – do not click any links… then report them.
Here's an example of a fake message: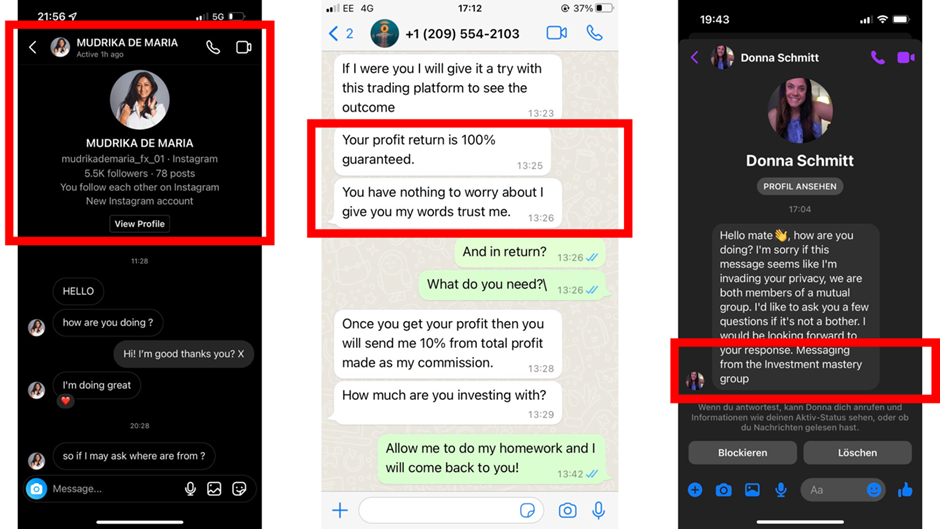 This is just not how he works or indeed any of his team.
So be careful – because if you engage with these people or click on any of these scams links you could end up being a victim of a phishing attack and have your data hacked or have money stolen from your bank.
You could even lose cryptos and NFTs.
Remember – we will never ever approach you or anyone else directly through DM's.
If someone pretending to be Marcus, Investment Mastery or one of our individual team members gets in contact on social media, please report them through that site's reporting process.
Here's an example of a fake profile: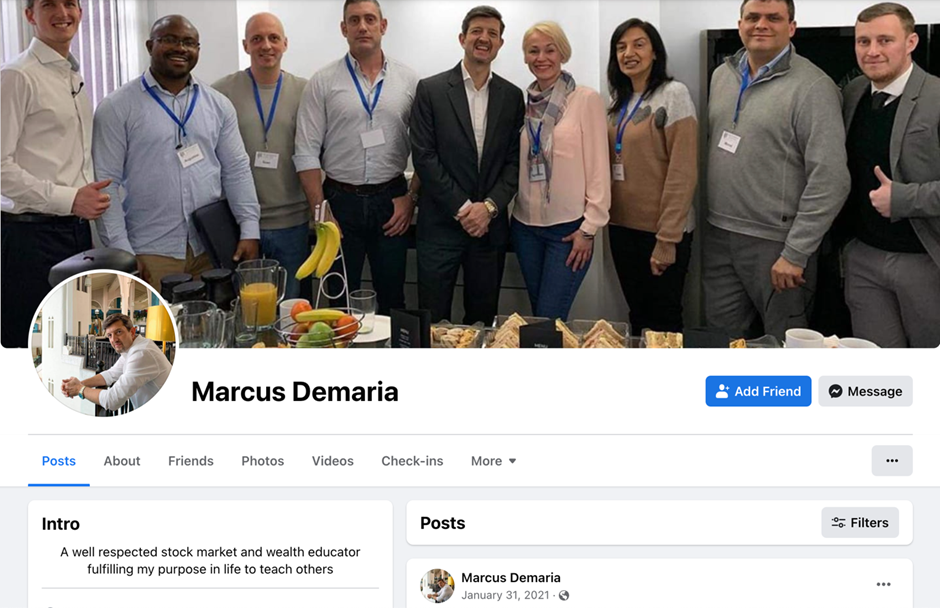 These scams are actually getting more frequent, week-by-week, so it is vital you be extra careful.
We know it is hard when there is so much activity online these days, but when it comes to anything where it seems too good to be true or someone of renown like Marcus is asking you to part with information or money – then you should know or at least suspect it is not legitimate.
It's fake.
Avoid clicking that link.
Report it to your social media support team.
Notify us.
If you find you have been a victim of online or social media hacking notify the police.
For reassurance, here's the full list of all our official channels, social media addresses and platform support contacts:
Linked In:
https://www.linkedin.com/in/marcusdemaria/
https://www.linkedin.com/company/investment-mastery/
https://www.linkedin.com/in/mudrikademaria/
Facebook Page:
https://www.facebook.com/InvestmentmasteryLTD/
Facebook Page Germany:
https://www.facebook.com/Investment-Mastery-Marcus-de-Maria-196720663866443/
Facebook Page US:
https://www.facebook.com/InvestmentMasteryUS/
Facebook Group:
https://www.facebook.com/groups/InvestmentMasteryTraining
https://www.facebook.com/groups/yourcryptoclubmembers
https://www.facebook.com/groups/yourtradingclubmembers https://www.facebook.com/groups/goldfasttrack
Facebook Group Germany:
https://www.facebook.com/groups/yourcryptoclubdach
https://www.facebook.com/groups/yourtradingclubdach
https://www.facebook.com/groups/goldfasttrackdach
Instagram:
https://www.instagram.com/investmentmastery/
https://www.instagram.com/marcus.demaria/
https://www.instagram.com/mudrikademaria/
YouTube:
https://www.youtube.com/investmentmastery
YouTube Germany:
https://www.youtube.com/channel/UCXqkCn3yepiu7sxLS51CkrQ
Website:
https://www.investment-mastery.com/
Membership Clubs:
https://clubs.investment-mastery.com/