It seemed like a great project at the time… it still might be a great project… but when an asset suffers the hardest of all possible falls, it does leave you wondering.
Yes, the crash-landing of Terra Luna left a lot of heads spinning, panic ensued as if it were the end of the world, and the natural reaction for many was to sell.
Well, it stands to reason, doesn't it? Why hang on to something if it is worthless, right? It's the sensible thing to do, isn't it?
We don't think so.
Here at Investment Mastery, we're not one of them. We don't think like that. It's not in our psyche.
That is what makes us strong and so successful.
So when Terra Luna came crashing down, we did nothing.
We've seen it all before. It's just one of those things. Nothing to worry about here… it's all part of the fascinating trading and investing world.
To recap, during the week of May 10, Terra Luna had pegged its stable coin UST to the US dollar – i.e. 1 Luna token = 1 USD $.
The trouble occurred almost instantly. It turned out it didn't have enough cash reserves to meet the peg. Things got worse when it had to sell its entire bitcoin holding.
It then got even worse when its Terra price fell from $120 to $90 to virtually ZERO… in the space of that one week!
As of writing, Terra is valued at just 9 cents!
That ranks as a Great Depression-sized type of catastrophe.
And yes, we took a -100% hit.
We don't mind revealing that. We have nothing to hide here at Investment Mastery. We didn't see that coming… because NO trader or investor has a crystal ball.
In fact, we welcome the opportunity to explore this with you because it touches upon very fundamental learning that is at the heart of all we do as trading and investing educators.
You see, it all comes down to FEAR or to be more precise, how you tackle and handle that fear.
It's a serious point to consider because trading and investing shouldn't make you depressed or cause you to feel like jumping out the window in despair.
So maybe those people who do get wrapped up in the fear should ask themselves… if they can't take the heat, perhaps trading and investing isn't for them.
Maybe you are one of them? We hope not.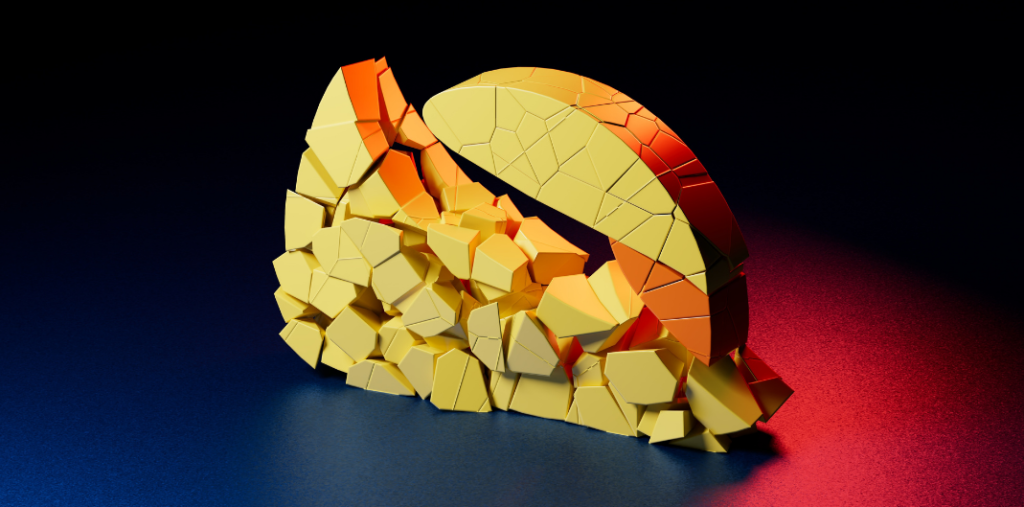 Terra Luna's collapse is a huge development, it was alarming, so out-of-the-blue but we just want to be honest with you and hopefully bring you reassurance – that these things happen and there's nothing to worry about… unless of course, you DID put your mortgage into Terra! (The door's on the left).
And yes… there are times when it may all seem scary… but really they're not.
IF YOU FOLLOW THE STRATEGIES WE FOLLOW!
It is these strategies we teach that allow you to then let go of your EMOTIONS, not be gripped by the FEAR that everyone else gets consumed by…
And be able to trade and invest with TOTAL CONFIDENCE.
So… we suffered a -100% loss with Terra Luna. But we have no shame or regret.
BECAUSE THE THING TO REMEMBER IS… well there are a lot of things to remember, which is why we repeatedly talk about them in our training and this blog and our webinars and books.
For starters, when it comes to TERRA LUNA, it has to be remembered that the entire cryptocurrency market is only a decade old. It's still evolving and it's evolving FAST.
It's VOLATILE.
So, yes, it is inherently risky to invest in cryptos… which brings us to our #1 LESSON point…
YOU MUST NEVER PUT ALL YOUR EGGS IN ONE BASKET!
You must DIVERSIFY your holdings – have 10, 20, or 30 different stocks, shares, cryptos, and commodities.
Because… if you take a hit with one or two, the others will absorb that loss so in effect you are never actually losing at all overall!
It is a very important point to remember. Because one of our key strategies is our 1:3 Risk-Reward Ratio.
Properly deployed, it means we only ever lose 1% on a trade. (You can find out more about this too, here).
What has happened to Terra Luna, therefore, we welcome, as educators, because it is a perfect example of what can happen and how, if you have followed our strategies, you will NOT BE LOSING SLEEP over this.
So what will we be doing with our Terra Luna holdings now and in the foreseeable future?
Nothing. We are assessing the situation. Waiting. Holding. Not doing anything.
Firstly, there is no point in selling them! They are more or less worthless!
BUT no one knows what will happen tomorrow or the next day or the next…
It was a great project when we invested, it might still be a great project in the future.
Should you invest?
Well, if you were of a mind to invest – we would say, do so wisely. Invest small. $100. Maybe just $10. Then wait.
Terra Luna's crash-landing has rocked the crypto world. It's as seismic as Bitcoin's first free-fall.
But remember what happened next to Bitcoin?
Exactly.